Every hardcore gamer, especially those who like retro games, should check out this review of X-Arcade's Trackball controller. Say hello to real arcade gaming in your living room or wherever you may lay this 15-pound beast!
Introduction
---
Last summer, I had the pleasure of reviewing the X-Arcade Two-Player Joystick, considered the top arcade joystick on the market by many. This time, I get to play more games and take a break from benchmarking to test the X-Arcade Trackball Mouse, the latest offering in XGAMING's high quality arcade peripheral arsenal.
A trackball uses the same buttons that you're used to on an arcade machine, but instead of a joystick, you use a large ball for movement. The ball resembles a cue ball, and you simply use your hand to move the ball around, which then controls your movement in a game. You may have seen a trackball used for some classic 1980s arcade games or perhaps for golf, pool or bowling games.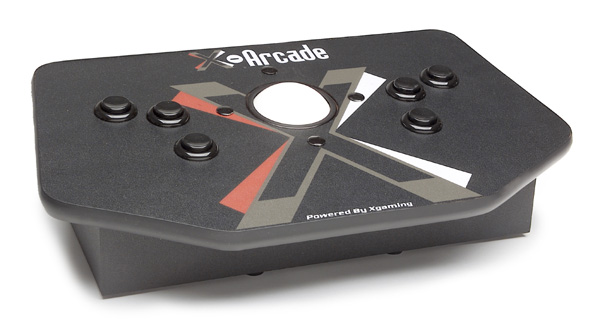 A trackball controller is a niche device, best-suited only for certain games, like Centipede, Marble Madness, Missile Command and others. Imagine using MAME to play Centipede or a bowling game and getting that authentic arcade feeling in your very own living room. That's what the X-Arcade Trackball is all about. You can actually use the Trackball to control any existing mouse-based PC/Mac game as well. That's right; the Trackball simply acts like a mouse when you hook it up to your PC or Mac. So, if a game supports a mouse, then you can use the Trackball instead without any drivers or software to install.
So, let's get this trackball…er, ball…rolling to see if X-Arcade's Trackball Mouse can help you relive classic arcade games and if this controller deserves to be on an arcade enthusiast's shelves beside the X-Arcade Joystick.
Features & Benefits
---
Features
XGAMING takes great pride in the quality of its controllers. Every joystick and trackball the company creates is "built like a friggin' tank." One general rule of quality is weight, and you can tell XGAMING doesn't skimp on parts when it builds controllers. The Trackball weighs over 10 pounds and the high quality is instantly recognizable once you pick it up and start playing with it. It really does feel like XGAMING went to an arcade and ripped it out of some machine. Here are the Trackball's features (ripped from the X-Arcade.com).
Built Like A Friggin' Tank
Authentic Arcade Parts Ripped From A Real Arcade Machine
Dual Layout For Left/Right – Handed Players
Nifty PS/2 and USB Support
Functions As A Standard 3 Button Mouse
Compatible With Any Mouse-Based Game
Dual Left/Right Pinball Flipper Buttons
Indestructible Arcade Design With Lifetime Warranty
15 LBS Of Industrial-Grade Retro Gaming Pleasure
Another prime example of XGAMING quality and how confident the company is in its products is the lifetime warranty. XGAMING says it best:
NO Gimmicks, Industry Leading Lifetime Warranty

The X-Arcade™ is built to be bulletproof, and so is the warranty that comes with it. Xgaming's Lifetime Warranty covers your X-Arcade™ for LIFE. It's that simple. No gimmicks, industry leading warranty.

In the event that your X-Arcade™ can't take a beating or is defective, Xgaming will either fix it, send you replacement parts, or send you another one. We'll even pay the tab for the shipping charges! (See Terms).

No other gaming company on the planet has the huevos to offer such a warranty. Ever wonder why?
How can you not love a company that offers lifetime warranties?
At the risk of being a little redundant, I'm also going to rip the Trackball "benefits" from the product web page as well to give you a better picture of what this controller offers.
Indestructible X-Arcade Trackball Arcade Mouse Benefits
Fully Compatible With Emulation Software To Play Thousands Of Arcade Classics
Withstand Thousands Of Hours Of Button Smashing Action
Use With Any PC Or Mac™ Through USB or P/S2 Port
Use With Any Game That Supports A Mouse
100% Compatible With All Arcade Emulators (MAME™ And Gametap™)
Inject Arcade Control On Games Like Marble Madness™, Simpson's Bowling™, Golden Tee Golf™ & Tiger Woods PGA Tour™
100% Fully Serviced Lifetime Warranty
Use In Conjunction With X-Arcade Joystick Or As Stand-alone
Closer Look & Bundle
---
Now, that all the basics have been covered, and you know what the Trackball is good for, let's take a closer look at the controller and the bundle that is packaged with it. First, here is a list of what's included with the Trackball.
X-Arcade Trackball™ Arcade Mouse
Manual
30 Day Money Back Guarantee
100% Fully Serviced Lifetime Warranty
Toll Free And Online Live Technical Support
PS/2 And USB Connectors Included
PC-CD Titles: Asteroids®, Asteroids™ Deluxe, Battlezone®, Centipede®, Crystal Castles™, Gravitar™, Millipede™, Missile Command®, Pong™, Super Breakout®, Tempest® and Warlords®.
Kudos to XGAMING for including the Atari classics CD-ROM. There are 12 classic games in all on the CD, and each is a full version, licensed reproduction. The games only work on IBM-clone PCs and not Macs, though, unfortunately. XGAMING is working hard to create a game bundle for Mac users too.
The packaging and bundle is rather simple for the Trackball, and that's a good thing. The manual is simple and to-the-point, also a good thing. It mentions almost everything you need to know about the physical setup of the Trackball and not much else.
The Trackball features three arcade buttons on each side of the centrally-positioned trackball, making this controller equally great for right-handed people and lefties. As was mentioned earlier, the Trackball's weight and quality are immediately noticed as soon as you pick it up and take it out of the box.
In addition to the six buttons and ball on top, the Trackball also features left and right pinball flipper buttons. You can see the left one in the second image above. You can also see the Trackball's PS/2 and USB connectors, which split off of a single cable on the back of the unit. I was very glad to see that XGAMING opted to include a USB connector; that makes it really easy to plug it into a home theater PC with front USB ports.
Testing the Trackball
---
On the previous pages, you could see that everything about the X-Arcade Trackball screams authentic arcade experience. It doesn't really matter if it has all the authentic features and looks, though, if it doesn't really feel authentic. No worries…XGAMING delivers on the feeling as well.
To test out the Trackball, I loaded up the games on the included Atari CD-ROM. Not all of the games on the CD are well suited for the Trackball, but Centipede and Millipede were a nostalgic blast. Missile Command was also extremely fun with the Trackball. I also tried out some games in MAME, and the Trackball was flawless for hours of gaming in them as well. The ball responds exactly as I had expected it to, smoothly and with a good amount of resistance.
Although I didn't fully test whether or not the Trackball is "indestructible," I did get a little thuggish with the buttons to see how much punishment they could take. They responded perfectly before and after the beating. Thumbs up on the durability.
Impressions & Conclusion
---
Initially, I was very impressed by the quality and weight of the X-Arcade Trackball. I was very excited to see how well XGAMING could once again bring the arcade experience to my living room. I'm happy to report that I was not disappointed. The feel and construction of the Trackball is topnotch. The inclusion of the classic Atari games PC CD-ROM was icing on the cake to me.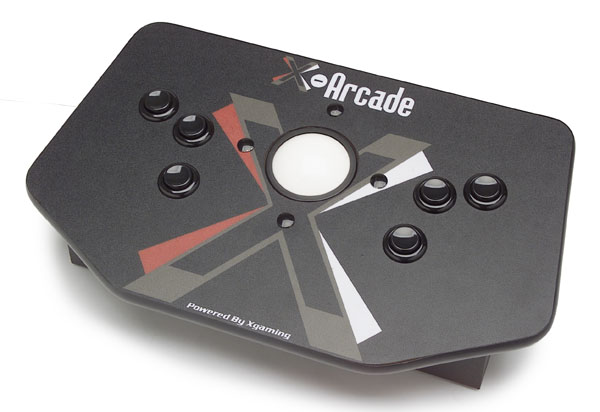 If you've been thirsting for a better way to play some of your old arcade favorites, then the X-Arcade Trackball might be just what you need to quench that thirst. If you're not into retro gaming and instead want a new way to control your mouse-based games, then the Trackball can possibly fill those desires as well. For those of you wondering what games the Trackball is best suited for, the crew over at XGAMING was clever enough to start a list of customer-suggested trackball optimized games.
The X-Arcade Trackball is not cheap at $99.95, but the saying "you get what you pay for" is applicable in this case. With the lifetime warranty, 30-day money back guarantee and toll-free support, there's not much of a reason not to try it out if you are even somewhat curious about it or other XGAMING products.
Pros:
+ Very strong and durable
+ Easy to hook up and use
+ Set up for righties and lefties
+ Will also work with PlayStation 2 via USB cable
+ Toll-free support and online live help
+ Lifetime warranty
+ 30-day money back guarantee
+ Free arcade classics included
+ Fun!
Cons:
– Not cheap
– Not exactly small and therefore not easy to store
Final Score: 9 out of 10 and the Bjorn3D Seal of Approval