While becoming infatuated with the mid- and high-end video card segments is quite easy, we must not forget the entry-level cards. This review focuses on Sapphire's Radeon X550, which is a step up from the X300.
Introduction
---
Although Sapphire may be best known for its high-end ATI video card solutions, the company also offers a variety of entry-level ATI-based graphics cards. I actually took a look at Sapphire's X300SE HyperMemory card back in may. Today, it's time to review a card that is a notch up in the entry-level segment — the Sapphire Radeon X550. While the X300SE HyperMemory costs around $50, the X550 can be found for about $75.
The X550 is available with both 128MB and 256MB of memory. Additionally, it is a PCI Express card with either a 128-bit or 64-bit memory interface. The X550 I received from Sapphire features 256MB of DDR memory and a 128-bit interface, and it is a silent, heatsink-only card. The fanless design will definitely appeal to any system builder, especially the living room media PC crowd.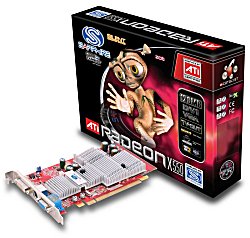 Let's get right into the review and see how the silent 256MB X550 compares to the X300SE HyperMemory card and Leadtek's 6200 TurboCache card.
Features & Specifications
---
Features
64-bit and 128-bit memory interface supporting 64MB or 128MB DDR1 memory configurations
Four extreme parallel 3D rendering pixel pipelines
Two programmable vertex shader pipelines
PCI Express® x16 lane native support
Full Microsoft® DirectX® 9 support
SmartShader™ 2.0
Hyper Z™ III
VideoShader™
Dual integrated display controllers
Dual integrated display controllers
Integrated 165 MHz TMDS transmitter (DVI 1.0 / HDMI compliant and HDCP ready)
Integrated TV Output support up to 1024×768 resolution
ATI Catalyst™ Software Suite
Specifications
Chip set: X550
Engine clock: 400MHz
Memory clock: 500MHz
Memory interface: 128 bit
Memory Support: 256 MB
Bus Interface: PCI – Express
Variable Display Outputs: VGA + TV out + DVI
Max 3D resolution: 2048 x 1536 @ 85Hz (VGA); 1024 x 768 (TV out)
Hardware Features:

DirectX® 9
SmartShader™ 2.0
SmoothVision™ 2.1
Fullstream™

Software Feature: HydravisionTM
ATI's Radeon X550 specs page: http://www.ati.com/products/radeonx550/specs.html.
Closer Look & Bundle
---
Closer Look
As expected, the X550 is a relatively small and simple card. This version from Sapphire is part of the company's "Silent Cooling Series," which means it has only a heatsink for cooling and no fans. Silent is good! You can see below that the chips on the back of the card do not feature any type of heatsinks. That means only the VPU and chips around the VPU are cooled by the heatsink.
These images give you a better look at the heatsink that Sapphire planted on this X550. You can see that the aluminum heatsink is basically made up fins of varying sizes. Since the X550 is not a higher-end card, there is no need to supply extra power to it, which is why a power connector is absent. In the last picture, the VGA, DVI and S-video/TV-out connectors can be seen.
And finally… a couple of good, professional shots of the card to give you a better image of what it looks like since my photos aren't the greatest.
Bundle
Considering that the X550 is an entry-level card, not much can be expected for the bundle, and that's what Sapphire delivers. In the alien-adorned box, you will find the following items:
User manual
Driver CD with overclocking utility
PowerDVD 6 (2.0 version)
S-video-to-RCA video adapter
Sapphire case sticker
Test System & Benchmarks
---
Test System
AMD Athlon 64 3200+
DFI LANParty NF4 SLI-DR Motherboard (review)
Video Card 1: Sapphire Radeon X550 256MB
Video Card 2: Sapphire Radeon X300SE 128MB HyperMemory
Video Card 3: Leadtek WinFast PX6200 TC TDH
Maxtor 120GB Serial ATA 7200RPM Hard Drive
Windows XP with Service Pack 2
DirectX 9.0c
Catalyst 5.7 or ForceWare 77.71
Benchmarks
3DMark03 v3.6.0 – default settings
AquaMark3 – NoAA / NoAF, high quality
Half-Life 2 – NoAA / 2xAF
Doom 3 – various settings
X2: The Threat, Rolling Demo – automatic quality set in benchmark with bumpmaps and shadows enabled in benchmark; antialiasing on or off as indicated
Performance – 3DMark03 & AquaMark3
---
Let's start things off with the well-known 3DMark03 benchmark so we can have an idea of what to expect from the X550 when compared to the other two cards.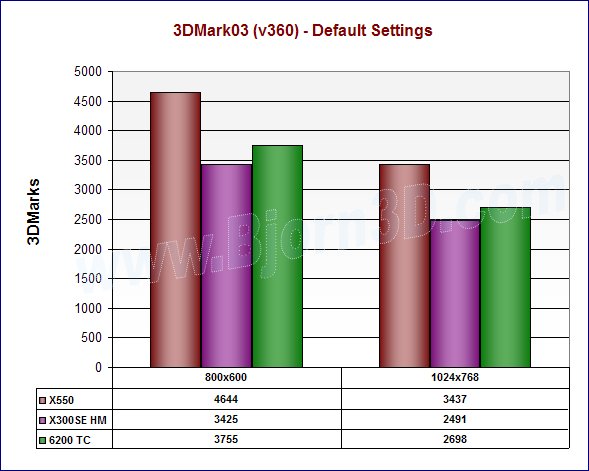 The AquaMark3 benchmark is based on an actual game engine, and it can really stress even the most modern cards. Higher end cards don't even score very high in this benchmark with 4xAA and 8xAF on, so I disabled both AA (anti-aliasing) and AF (anisotropic filtering) for these less capable cards, but I left the quality setting at High.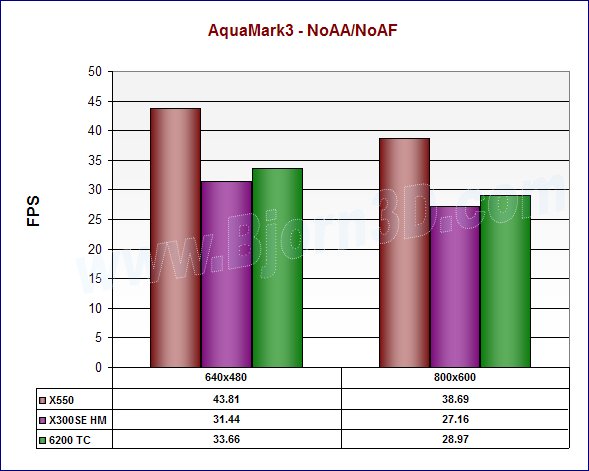 Performance – X2 & Doom 3
---
This demo is based on a game, and that is X2: The Threat of course. The Rolling Demo renders a bunch of different game scenes and reports scores for each scene and an average score in frames per second (FPS). The chart below just shows the average. This benchmark was run with bumpmaps, shadows and anti-aliasing set to "On" or "Off" as indicated in the application and with "Application Preference" set in the driver control panel.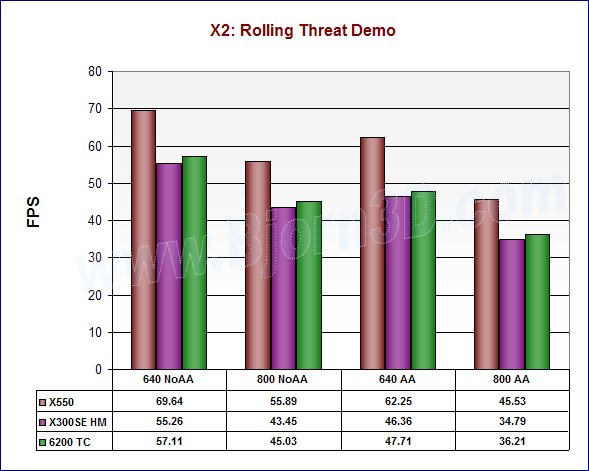 Doom 3's impressive graphics can really test cards, which means that low-end cards really struggle at typical playing resolutions and detail levels. That is why I turned the quality level down to medium and turned off AA. I also disabled the high quality effects for the first setting and then disabled all effects in the last two. Your game experience would be far from optimal if you really chose to lower your settings this much. It was quite easy to see the negative impact on visuals.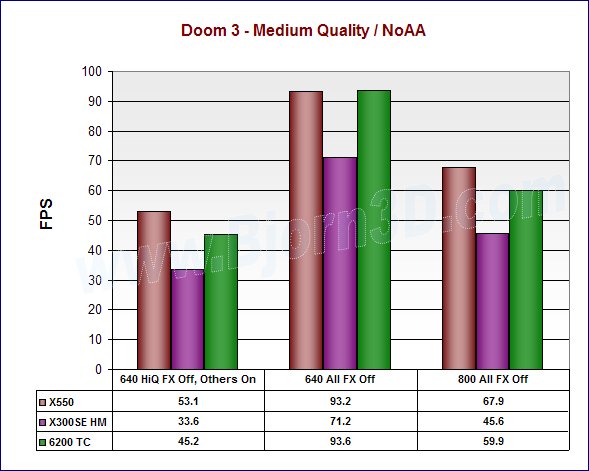 Performance – Half-Life 2
---
To benchmark Half-Life 2, I used the HL2 benchmark utility created by HardwareOC. I used the included HOC d3c17 map demo and Guru3d demo5 for testing.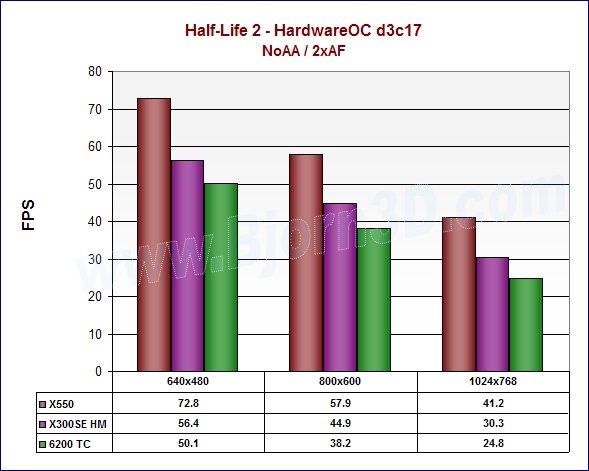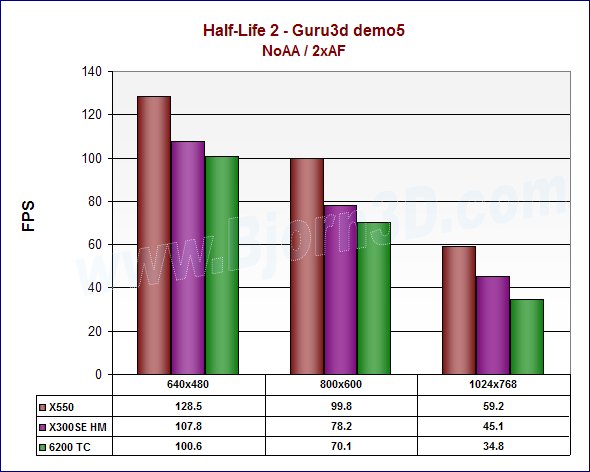 Conclusion
---
The Sapphire X550 is made for those users who don't want to live with sub-par on-board graphics but also don't need insane pixel power for 8-hour frag fests. It's also made for those who want a little more than what the very bottom of the pile, like the X300 or 6200, offers. If that fits your bill, then the X550 is easy to recommend. It's a simple package that does a simple job and does that job pretty well.
One of the best applications of this card would undoubtedly be for a media PC or HTPC, where silence is a must. The card is also small and should easily fit in any standard case. So, if you're thinking about building a Windows XP Media Center Edition box, then give this card a look.
Right now, the Sapphire X550 PCI Express video card is selling for around $75 for the Lite version that does not include PowerDVD.
Pros:
+ Good value
+ Affordable
+ Silent
Cons:
– Still just an entry level card
Final Score: 8 out of 10