Xoxide is a popular PC and mod components store on the WWW. In addition to fans, heatsink, cables and mod supplies, Xoxide also sells its own branded cases. Read this review to learn more about Xoxide's interesting and colorful X-Treme case.
INTRODUCTION
---
Xoxide has sold Xoxide-branded cases for a few years now and have gotten some good reviews of their cases around the web. This is the first case that Bjorn3D has looked at from them. Before we look at the case, let's look at some company info.
"Xoxide.com was founded in early 2000 with a goal to provide the best computer case and computer cooling accessories available. We have been leading the cooling and modification industry, and vow to always provide the most cutting edge products. We ship our products throughout the US and Canada and are located just outside of Philadelphia, Pennsylvania."
If you go to Xoxide.com, you will find a lot of hardware and mods for sale for the computer enthusiast. Xoxide also sells a lot of other companies' computer cases.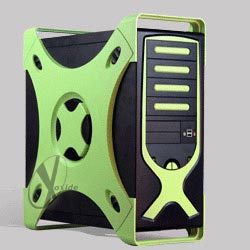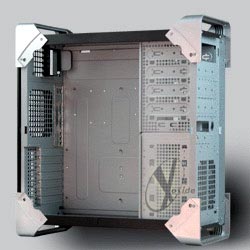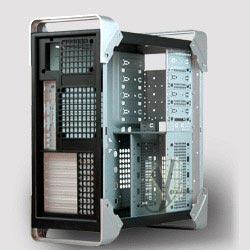 SPECIFICATIONS
---
The first thing you notice about the case is it looks like it may be a giant X-Box. Actually I even took it over to Sessions, our local gaming center, and a lot of people thought is was some strange X-Box. So with that said, let's look at the specifications of the case.
Specifications:
• Dimensions: 234 x 535 x 486mm, 9.2" x 21.1" x 19.1" (W x H x D)
• Chassis Material: Steel
• External 5.25" Bays: 4
• External 3.5" Bays: 2
• Internal 3.5" Bays: 5
• Expansion Slots: 7
• Case Entry: Tool-less Entry
• Power Supply Compatibility: Standard ATX
• Included Fans: 1 x 120mm Rear
• Front Panel I/O: 2 x USB2.0, Speaker and MIC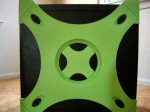 CLOSER LOOK – EXTERNAL
---
At first looks of the case, you would say with the front and back handles this would be a great case for LAN parties. The problem is the handles are made out of plastic. With the computer loaded up (and therefore heavy), I fear the handle or handles could break. Just lifting the case up and down with nothing in it, I could feel the handles flexing. Also, the handles are riveted in, so easy handle replacement doesn't seem possible. Screws would have been much better in case you did need to replace a handle.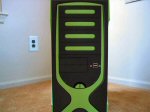 Both sides of the case are held on with four latches. This makes for easy case opening. Looking at the front of the case, we found two USB 2.0 connectors, speaker and microphone inputs/outputs. From looking at the outside of the case, we have four external 5.25" bays and two external 3.5" bays.
CLOSER LOOK – INTERNAL
---
The first thing I always look for when looking at the inside of a case is the edges. Sharp edges could mean getting cut during installation, and I have seen guys even have to get stitches due to case cuts. Xoxide did a good job on this front with rounded edges.
We also notice we have a nice 120mm fan in the back of the case. There appears to be room for a fan in the front and one that could be put on the side panel with some taking apart of the case. The problem I see for putting fans in either of these places is that you only have small areas to draw air in, which would lead to wind noise. And since there are no dust filters, this could also be a problem. But, since Xoxide did not include fans in these spots, they may have never been intended to be used.
We see we have plenty of space for 3.5" hard drives in the case. The one problem I have found is that there are two 3.5″ external bays on the front, but I have no idea how you would use the second one. Internally, the lower 3.5" bay does not have an opening, and it is riveted in. I do not know how they plan for you to use that.
CONCLUSION
---
The Xoxide X-Treme Case is kind of a mixed bag. It looked like a really cool case when we first got it. I even took it over to Sessions to have it under the black lights, hoping to see a cool green glow. Nope, the color is not fluorescent at all. Once again, Xoxide did not say it would glow, but by looking at the case, I thought it would have.
On the positive side, the case does have a lot of room in it, and thought was taken not to have sharp edges in it.
Pros:
+ Tool-less design
+ Room for a lot of drives
+ Front access USB and audio ports
+ Has handles on top
+ Includes 120mm fan
Cons:
– No security features
– No motherboard tray
– Second 3.5 External bay not usable
– Handles may break and not easy to replace
I give the Xoxide X-Treme case a 6.5 out of 10.