Check out this review to see how well Leadtek's GeForce 6600 GT performs in single and SLI configurations. Leadtek includes a nice bundle to accompany the good performance of this mid-range solution.
INTRODUCTION
---
Any geek, regardless of how into gaming he is, can appreciate the simple concept and logic behind NVIDIA's SLI technology. If you want more gaming power, just add another video card. It doesn't get any simpler than that, right? You of course have to have the right ingredients — SLI-compatible video cards and an SLI-capable motherboard. I know this is one geek who was excited to get his hands on an SLI motherboard and video cards, preferably 6800 GTs or Ultras of course, but I'm happy to review cards from the 6600 family, especially since the majority of gamers will be looking at this more affordable set of cards. I'm especially looking forward to seeing how a 6600 GT SLI setup compares to a single 6800 GT.


My first couple experiences with SLI will be with the DFI LANParty NF4 SLI-DR motherboard and some GeForce 6600 GTs. The first pair of 6600 GTs I'll be checking out consists of two Leadtek WinFast PX6600 GT TDH PCI Express cards.
I won't only be examing SLI performance though. I'll also test the single WinFast PX6600 GT TDH performance and see how well it overclocks. Continue reading if you want to see how the WinFast PX6600 GT TDH performs by itself, when in SLI mode and when compared to a single GeForce 6800 GT.
FEATURES and BUNDLE
---
Features
GeForce 6800 features at midrange prices!
Features to the mainstream

Shader Model 3.0
UltraShadow II
Consumer Electronics Video

SLI Multi-GPU Ready
PCI-E–SIG certified
Drivers that pass WHQL
Leadtek Ultra Cooling System
Full-version Game Bundle (Prince of Persia & Splinter Cell)
Video-editing software bundle (WinDVD 5.0, WinFox II, Muvee)
For a full list of features and specifications, go here.
Bundle
WinFast PX6600 GT TDH graphics card
HDTV cable
DVI to VGA adapter
Software

DVD Player
WinFox II
Cult 3D
Coloreal Embedded
Coloreal Visual
Coloreal Bright
Prince of Persia: Sands of Time (full version)
Splinter Cell: Pandora Tomorrow (full version)
You can see that the PX6600 GT TDH box follows Leadtek's current wizards/fantasy theme that has adorned its packages for quite some time now. The bundle is pretty simple, but Leadtek manages to throw in two full version games – Prince of Persia: Sands of Time and Splinter Cell: Pandora Tomorrow. Both are good games that have received very high review scores in magazines and online, but they are not very new. How about Prince of Persia: Warrior Within instead of Sands of Time? It looks like Leadtek is including Warrior Within in its SLI 6600 GT twin pack. In addition to the games, you get some decent software and utilities. Leadtek also includes a handy DVI-to-VGA adapter and an HDTV cable.
CLOSER LOOK
---
As you would expect from a mid-range card, the design of the PX6600 GT is quite simple. It features a green PCB and simple but custom Leadtek heatsink/fan. It definitely doesn't look as impressive as some of Leadtek's other coolers, but all that matters is that it gets the job done without too much noise.
This card is of course SLI multi-GPU ready. Because of its small size and small heatsink/fan, a pair of these cards should make for a great SLI setup. The PX6600 GT also features 128MB of DDR3 memory and 8 pipelines (half as many as the 6800 GT and Ultra). It also includes Pixel Shader 3.0 and HDTV support.
The connectors on the card include a DVI, a VGA and video-out connector. Based on the specs and size, this card would probably be good for a home theater PC if video-in capability is not needed.
You may have also noticed that the 6600 GT PCI Express cards do not require a power connector since the PCI Express x16 slot provides enough power to the card by itself. This is another nice aspect of these small and capable cards. You should still have a good quality PSU though if you are going to run a 6600 GT SLI setup just to ensure solid stability.
TEST SYSTEM, OVERCLOCKING and BENCHMARKS
---
Test System
My test system features the DFI LANPARTY NF4 SLI-DR, which I recently reviewed, and an Athlon 64 3200+. Although I'd love to put a faster processor in this test system, I have a feeling the 3200+ makes for a lot more practical reference point for 80% or more of our readers, since most of us can't or aren't willing to spend $300+ on a CPU.
The result charts on the following pages will show you how a single PX6600 GT performs compared to dual PX6600 GTs in SLI and a single reference NVIDIA GeForce 6800 GT. I have also included the percentage difference between a single 6600 GT's performance and the 6600 GT SLI's performance on the charts. Here are the components that make up my test system.
AMD Athlon 64 3200+
DFI LANPARTY NF4 SLI-DR (review)
Vid Card 1: NVIDIA Reference PCI-Express GeForce 6800 GT
Vid Card 2: Leadtek GeForce 6600 GT (single and SLI)
Maxtor 120GB Serial ATA 7200RPM Hard Drive w/ 8MB Buffer
Windows XP with Service Pack 2
DirectX 9.0c
ForceWare 66.93
Overclocking
The default GPU and memory clock speeds of the PX6600 GT are 500MHz and 500MHz (1.0GHz DDR3), respectively. The PX6600 GT has a decent cooler on it, so I figured I could get a nice little overclock at least. After a little tinkering with just a single PX6600 GT, I got a stable overclock to 560MHz on both the GPU and memory, which is a 12% overclock. That seemed promising for sure, so I ran some benchmarks to see what the performance gain was. The gain in 3DMark05 was 10-11% at the default settings, and the performance boost in Doom 3 was 4-10.5% at High Quality and with anti-aliasing disabled.
Benchmarks
3DMark03 v3.6.0 – default settings
3DMark05 v1.2.0 – default settings
AquaMark3 – NoAA / NoAF and 4xAA / 8xAF
Counter-Strike: Source – Video Stress Test – NoAA / 2xAF and 4xAA / 8xAF, both with highest details set in game with drivers set to application controlled
Doom 3 1.1 (demo1) – NoAA / High Quality and 4xAA / High Quality, both with highest details set in game with drivers set to application controlled
Far Cry 1.3 – NoAA / 1xAF and 4xAA / 4xAF, both with highest details set in game with drivers set to application controlled
PERFORMANCE – 3DMARK
---
There is no need for introduction to Futuremark's 3DMark benchmarking applications. Although many people question their benchmarking relevance, their popularity and ease of use is undeniable. As long as people seem to love comparing their 3DMark results, I'll probably include them in my reviews since they provide a good reference point.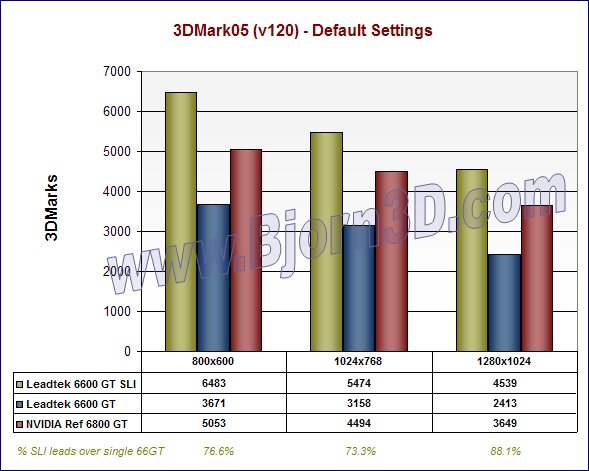 You can see that at the default settings (no anti-aliasing – AA – and no anisotropic filtering – AF), the 6600 GT SLI setup puts up some impressive numbers, even besting the 6800 GT by quite a margin. The single 6600 GT also performs relatively well, but you can see that the SLI 6600 GTs outperform by 55-88%. This is the kind of performance gain NVIDIA wants us to see and brags about regarding SLI, but we have to keep in mind that this is just a synthetic benchmark.
PERFORMANCE – AQUAMARK3
---
The AquaMark3 benchmark is based on an actual game engine, and it can really stress even the most modern cards. I ran the benchmark AA and AF disabled and also with 4xAA and 8xAF in the application and "Application Preference" set in the driver control panel.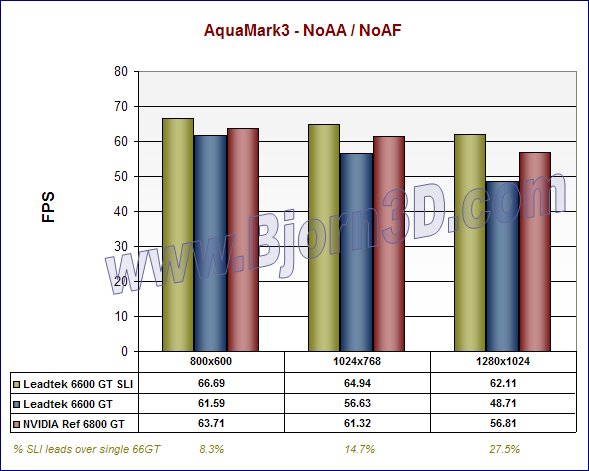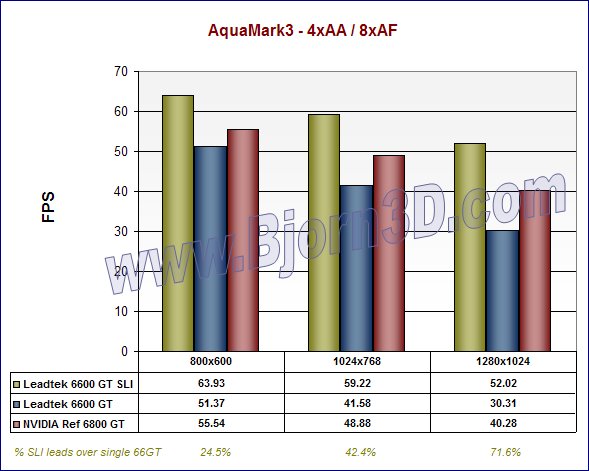 The SLI 6600 GTs really start to shine at higher resolutions and with 4xAA and 8xAF set, and they even outperform the 6800 GT again by a considerable margin.
PERFORMANCE – CS: SOURCE STRESS TEST
---
The Source Video Stress Test can be accessed within the Counter-Strike: Source game menu. The benchmark is rather short but involves rendering some very complex imagery. The final result is shown in frames per second (FPS). I ran the test with two different AA / AF settings in the game's options — NoAA / 2xAF and 4xAA / 8xAF. Also, I selected high details for all quality options.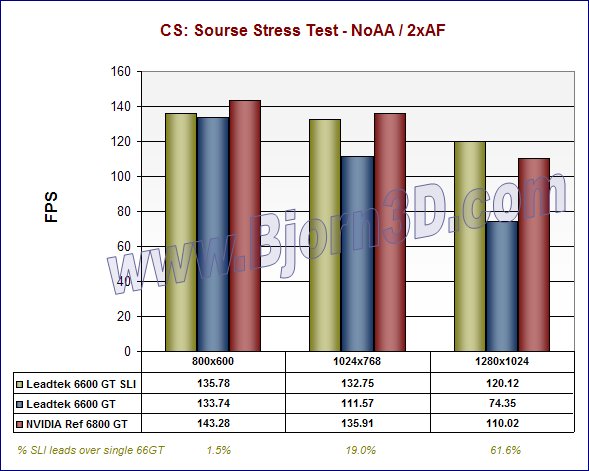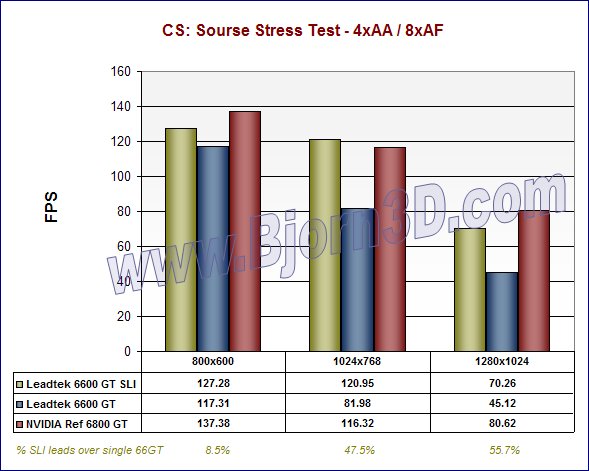 Now that we get into the game testing, we see results that are a little more like what I expected. The 6800 GT shows its superiority for the most part while the SLI setup outshines the single 6600 GT more and more as the rendering job gets more difficult (higher resolutions and enabled AA and AF). It's nice to see the SLI setup offer over 50% performance gain over the lone 6600 GT. Those kinds of gains are what will make it worth investing in the technology.
PERFORMANCE – DOOM 3
---
While it can play fairly well on low-end systems at lower resolutions, Doom 3 can really punish a system if you crank up the details and resolution. I ran the included demo1 timedemo with quality set to high and AA turned off and also with quality set to high and AA set to 4x in the game.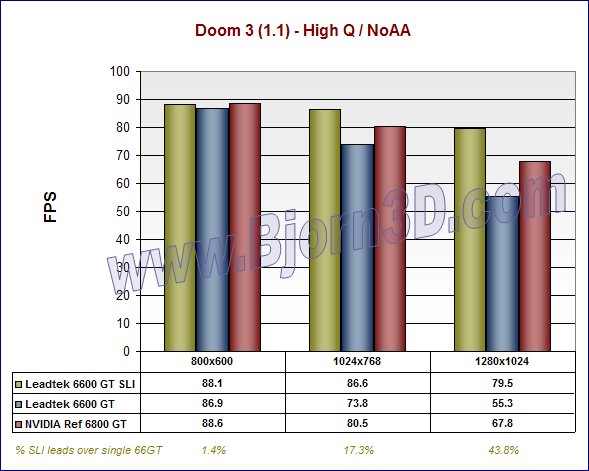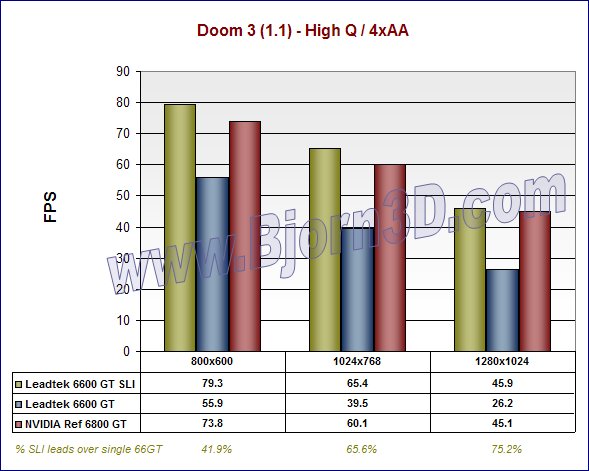 These results keep telling a similar story. The SLI setup really shines as it gets pushed harder, showing a 65.6% performance edge over the single 6600 GT at 1024×768 with 4xAA enabled and a 75.2% gain at 1280×1024. Once again, these are the type of results that will make someone who decided to buy that second 6600 GT happy.
PERFORMANCE – FAR CRY
---
Far Cry is currently one of the most pipeline-punishing PC games available. Playing at the highest resolution with eye candy maxed out and still getting playable frame rates is not really possible for even the most powerful systems and graphics cards. The demo I have chosen to use with Far Cry is the PCGH_VGA Timedemo from 3dcenter.
Note: The 6800 GT tests kept producing weird numbers, so I didn't include them here. The 6600 GT results also seem a bit strange, but I decided to include them for now.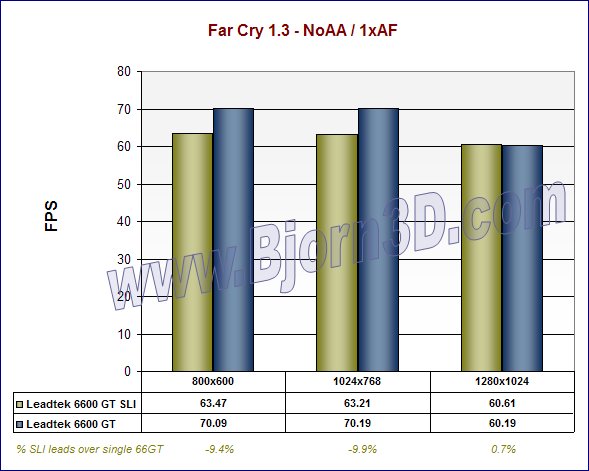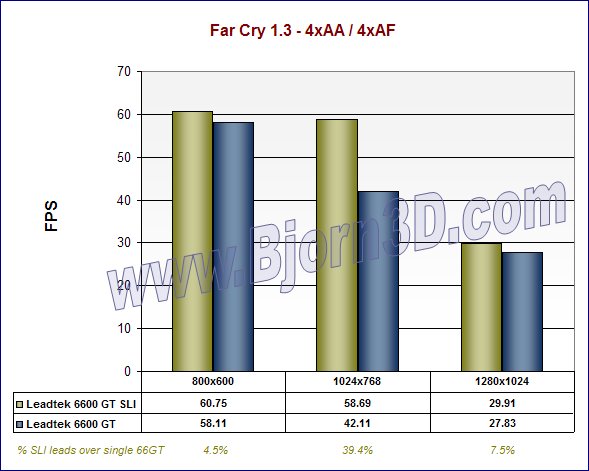 I'm not sure how the SLI system gets outperformed at NoAA and 1xAF setting, but there must be a system limitation causing unexpected results. I ran them over and over and got these numbers consistently, so they do represent the performance I was seeing. The only time the dual 6600 GTs provide a significant benefit is at 1024×768 with 4xAA and 4xAF. Otherwise, the results are either baffling or show very little improvement in performance.
CONCLUSION
---
Overall, the Leadtek WinFast PX6600 GT TDH is a great little card for around $200. The included bundle adds a considerable amount to the package. The software and utilities are useful and handy while the games are very popular even if they aren't all that new. The PX6600 GT's performance is quite good and at times impressive, especially when in SLI mode.
I see the 6600 GT SLI setup as a "grow into SLI" type of solution. If you can only afford one card now, and it can't be $350+, then starting with one 6600 GT is a great way to go. Adding another one later will definitely boost your performance and make it close to and sometimes better than a 6800 GT. If your budget is $400 though, then going with a 6800 GT makes more sense to me than buying two 6600 GTs. If you really want to hop on the SLI boat, then two 6600 GTs should make you happy for at least a couple years, but don't expect to be able to run the latest games at 1280×1024 or higher at 4xAA and 8xAF or higher.
The recent good news about SLI is that NVIDIA is showing stronger support for it with its newest driver release this month. In order to get anything out of SLI, the games you play must support it. Or, more accurately, the ForceWare drivers must support the games. At first, the supported game list was rather short, but it has recently grown much longer with the 71.84 driver release. Over 60 games are now supported; you can check out the list at http://www.nzone.com/object/nzone_sli_certifiedapps.html.
The Leadtek WinFast PX6600 GT TDH card and retail package offers a lot of bang for your buck. If you're looking for a mid-range performance card, then you should take a look at it. It's worth your consideration.
Pros:
+ Good performance
+ SLI capable
+ Decent bundle
+ HDTV support
+ No power connection required
Cons:
– Included games could use an update
Final Score: 8.5 out of 10 and the Bjorn3D Seal of Approval