The LANParty NF4 SLI-DR and LANParty UT NF4 SLI-D are two of the most popular SLI motherboards out right now. With all of the features, included goodies, and overclocking options, it's not hard to see why. Check out our review of the DFI's nForce4 flagship – the LANParty NF4 SLI-DR.
INTRODUCTION
---
DFI is undeniably a leader in the enthusiast motherboard segment. What makes that fact most impressive is that DFI only started competing for the enthusiast's dollar two years ago when it first introduced the now hugely popular LANPARTY line. The company has only gained momentum over the past couple years and shows no signs of slowing down as it continues to produce some of the best performing and overclocking boards for all mainstream chipsets. The LANPARTY line isn't all about performance and features though. DFI also wants to lead in the bundle department, and it does just that by offering one of the biggest bunch of goodies available in any retail motherboard package.


DFI's latest offerings come from the nForce4 family and were, not surprisingly, some of the most anticipated nForce4 boards to hit store shelves. Recent reviews show that DFI continues to flex its muscle in all the right ways to leave users satisfied and then some. But, it's time for us to do our own evaluation and review of the new LANPARTY flagship board, the LANPARTY NF4 SLI-DR, one of the most feature-packed boards ever created.

When the LANPARTY NF4 SLI-DR's features, specifications and bundle are considered as a whole, I can't imagine how someone could be left wanting more, but s/he shouldn't be since this is one of the most expensive motherboards available today. Read on to get more details and check out the performance of this promising socket 939 solution.
FEATURES, SPECIFICATIONS and BUNDLE
---
DFI always brings it when it comes to the features, specs and bundle of its LANPARTY line. The LP NF4 SLI-DR is of course no exception. This board boasts eight SATA ports (four courtesy of the nForce4 chip and four via Silicon Image's Sil 3114 chip), RAID (nVRAID allows arrays to span across SATA and PATA drives), nVIDIA ActiveArmor (nForce4 hardware firewall), dual gigabit LAN, 8-channel audio (with Karajan daughter card), onboard power and reset buttons, CMOS Reloaded and more. You can read more details about the features, specs and package contents below.
Features
SLI graphics card bridge
Karajan Audio (Theater like 7.1 / 8ch supported)
Dual Gigabit LAN
nF4 chipset supported Serial ATA (3Gb/s)
100% Japanese Capacitors
UV sensitive slots
UV kits (Round Cables & Cable sleeving bundled)
New FrontX panel
PC Transpo
EZ-on / EZ-touch onboard switch button
RAID (with nVIDIA nVRAID)
nVIDIA nTune (embedded overclocking solution)
nVIDIA ActiveArmor (Embedded hardware firewall & network solution)
CMOS Reloaded®
All New Genie BIOS
Specifications
CPU
* AMD Athlon 64 FX / Athlon 64 / Sempron
* Socket 939

Chipset
* NVIDIA nForce4 SLI
    – Supports NVIDIA SLI (Scalable Link Interface)

Front Side Bus
* 2000MT/s HyperTransport interface

Memory
* Four 184-pin DDR SDRAM DIMM sockets
* Supports dual channel (128-bit wide) memory interface
* Supports up to 4GB system memory
* Supports DDR266, DDR333 and DDR400 DDR SDRAM DIMM

SLI / Single VGA Mode
* SLI mode
    – 2 SLI-ready graphics cards (use identical cards) on the PCI Express x16 slots
    – The graphics cards are connected via the SLI bridge
    – The bandwidth of each slot is x8; when the graphics cards are connected via the SLI bridge, it runs at x16 bandwidth
* Single VGA mode     – 1 PCI Express graphics card on the PCIE1 slot will run at x16 bandwidth
    – The other PCI Express x16 slot (PCIE4) will run at x2 bandwidth

BIOS
* Award BIOS
* CMOS Reloaded
* CPU/DRAM overclocking
* CPU/DRAM/Chipset overvoltage
* 4Mbit flash memory

Power Management
* Supports ACPI STR (Suspend to RAM) function
* Wake-On-Events include:
    – Wake-On-PS/2 Keyboard/Mouse
    – Wake-On-USB Keyboard/Mouse
    – Wake-On-LAN
    – RTC timer to power-on the system
* AC power failure recovery

Hardware Monitor
* Monitors CPU/system/chipset temperature
* Monitors 12V/5V/3.3V/Vcore/Vbat/5Vsb/Vchipset/Vdram voltages
* Monitors the speed of the CPU fan, Fan 2 and chipset fan
* CPU Overheat Protection function monitors CPU temperature during system boot-up

LAN
* Dual Gigabit LAN – Vitesse VSC8201 Gigabit Phy and Marvell 88E8001 Gigabit PCI
* Fully compliant to IEEE 802.3 (10BASE-T), 802.3u (100BASE-TX) and 802.3ab (1000BASE-T) standards

Audio
* Karajan audio module
    – Realtek ALC850 8-channel audio CODEC
    – 6 audio jacks
    – 1 CD-in connector
    – 1 front audio connector
* S/PDIF-in/out interface

IDE
* nForce4 chip supports two IDE connectors that allows connecting up to four UltraDMA 133Mbps hard drives
* NVIDIA RAID allows RAID arrays spanning across Serial ATA and Parallel ATA
* RAID 0 and RAID 1

Serial ATA with RAID
* Four Serial ATA ports supported by the nForce4 chip
    – SATA speed up to 3Gb/s
    – RAID 0 and RAID 1
    – NVIDIA RAID allows RAID arrays spanning across Serial ATA and Parallel ATA
* Four Serial ATA ports supported by the Silicon Image Sil 3114 chip
    – SATA speed up to 1.5Gb/s
    – RAID 0, RAID 1 and RAID 5

IEEE 1394
* VIA VT6307
* Supports two 100/200/400 Mb/sec ports

Rear Panel I/O Ports
– 1 mini-DIN-6 PS/2 mouse port
– 1 mini-DIN-6 PS/2 keyboard port
– 2 S/PDIF RCA jacks (S/PDIF-in and S/PDIF-out)
– Karajan audio card (6 audio jacks)
– 1 IEEE 1394 port
– 2 RJ45 LAN ports
– 6 USB 2.0/1.1 ports

I/O Connectors
– 2 connectors for 4 additional external USB 2.0/1.1 ports
– 1 connector for 1 external IEEE 1394 port
– 1 connector for 1 external serial port
– 1 front audio connector for external line-out and mic-in jacks (on the Karajan audio module)
– 1 CD-in internal audio connector (on the Karajan audio module)
– 1 S/PDIF connector for optical cable connection
– 1 IR connector
– 8 Serial ATA connectors
– 2 IDE connectors
– 1 floppy connector
– 1 24-pin ATX power connector
– 1 4-pin ATX 12V power connector
– 1 4-pin 5V/12V power connectors (FDD-type and HDD type)
– 1 front panel connector
– 5 fan connectors
– 4 diagnostic LEDs
– 1 diagnostic LED connector for external 4 diagnostic LEDs display
– EZ touch switches (power switch and reset switch)

Expansion Slots
* 2 PCI Express x16 slots
* 1 PCI Express x1 slot
* 1 PCI Express x4 slot
* 2 PCI slots

PCB
* ATX form factor
* 24cm (9.45″) x 30.5cm (12″)
Package Contents
One system board
One Karajan audio module
One SLI bridge
Two IDE round cables
One floppy round cable
Four Serial ATA data cables
Two Serial ATA power cables
One I/O shield
One SATA driver diskette (for RAID)
One "Mainboard Utility" CD
One User's Manual
One FrontX device equipped with:

4 diagnostic LEDs
1 S/PDIF-out
1 mini 1394 port
1 Serial ATA port

One thermal paste
One PC Transpo kit
One LANPARTY sticker
One case badge
One UV sleeve kit
One LANPARTY Features User's Manual
One Quick Installation Guide
One CMOS Reloaded User Guide
One BIOS chip/jumper removal tool
Those of you unfamiliar with DFI's very popular LANPARTY line are no doubt surprised by the extensiveness of this package. Heck, I've been following DFI's progress with the LANPARTY motherboards ever since they were introduced a couple years ago, and I'm still shocked by how much they manage to throw in. To hold all the goodies, you get one of the biggest motherboard boxes ever made, but don't worry, DFI throws in a handle so you can actually manage to carry the box to your installation destination. All kidding aside, it is a nice bundle, and DFI has made a few changes to it in the last several months.
One positive change is the addition of a UV-reactive cable sleeving kit, which I'm sure many modders and modder wannabes will appreciate. The kit includes three feet of 3/8″ sleeving, three feet of 1/2″ sleeving, 20 tie wraps, one foot of 9mm heatshrink tubing and one foot of 20mm heatshrink tubing. Another noticeable change is that the included FrontX device is now black instead of beige. The FrontX parts included are much different from the first couple LANPARTY boards that were released. DFI now includes a connector for four diagnostic LEDs, an S/PDIF out, a mini FireWire port and a SATA port. It's an interesting assortment; I'd really like to see a USB 2.0 part included in there like in the older packages. It is true that most newer cases include USB 2.0 ports up front, but if you have an older case that you really like, this FrontX kit will be no help in getting USB 2.0 to the front of your system. But, you can of course always buy other FrontX parts at FrontX.com.
The rest of the bundle is pretty typical of the LANPARTY package. Fitting in perfectly with the LAN party theme, DFI continues to throw in the PC Transpo carrying harness. One of the new items seen in this bundle is the BIOS chip/jumper removal tool (seen in the second picture above). This was included to make removing the SLI jumpers easier. I'll get to that a little later.
BOARD LAYOUT
---
With the board layout, DFI takes the less common approach of putting the CPU socket more towards the middle of the board, rather than towards the edge. As a result, the DIMM slots are to the left of instead of above the CPU socket. I can't think of any inherent disadvantages to doing it this way, and overall, DFI has done a good job laying out the LP NF4 SLI-DR. Only the corner with the nForce4 MCP is really busy, which you can see in the first picture below. The second picture shows the back (or bottom) of the board. I just happened to flip it over and noticed what appears to be a custom socket 939 backplate. I've never seen one like the one DFI uses anyway.
The busiest corner of the board features the nForce4 chip, its custom cooler, eight SATA ports, two USB 2.0 headers, EZ-on/EZ-reset switches, floppy connector and more. The cooler on the chip is "DFI's first magnetic levitation chipset cooling fan that moves almost twice the air compared to standard chipset fans while producing extremely little noise" (according to DFI's press release). I'm not sure that this cooler is much quieter than some other chip coolers I've seen, but it does look pretty cool. Plus, the magnetic levitation design should decrease wear and tear on the cooler over time, which hopefully equates to longer life. I've had to replace a northbridge heatsink/fan before on an nForce2 mobo because the fan started making noise, so I appreciate DFI's choice here.
If we move to the other side of the board, we can see the two IDE connectors, 24-pin and 4-pin power connectors, some heatsinks and a big jumper set. The rather large heatsinks cover and help cool the MOSFETs. The interesting jumper set in the very corner of the board is an enthusiast-oriented feature for sure. Switching this jumper, referred to as "DRAM 4V Select," allows users to increase memory voltage up to 4V! You better know what you're doing if you even think about upping your DRAM voltage anywhere near those levels.
It is worth noting how close the CPU socket is to the nearest DIMM slot. This could pose problems with larger coolers used in conjunction with taller memory modules, but I was able to install the beefy Thermalright XP-90 heatsink and Corsair XMS PRO modules without a problem. I wouldn't call it an ideal installation though.
Turning the board around reveals a very noticeable gap in the rear I/O connectors. This is where the Karajan audio card would be installed. You can see a couple more fan headers here. There are a total of five 3-pin fan connectors, which is much better than the three fan connectors on the Foxconn nForce4 Ultra mainboard I reviewed here recently. In the corner opposite of the rear I/O ports, the main feature of note is group of expansion slots, which include two PCI Express x16 slots, one PCI Express x1 slot, one PCI Express x4 slot and two PCI slots. If you look closely at the second image below, you can see the two rows of jumpers in between the two PCI Express x16 slots. This is how DFI chose to implement switching between SLI and single video card mode. How you have the jumpers set affects how each slot functions. In other words, the jumper configuration dictates the lane widths assigned to each of the PCI Express slots (the first four slots, starting from the left).
In the default, single-GPU configuration (as shown in the picture above – jumpers are in the 1-2 position), the first slot from the left (the x4 slot) actually operates at x1 lanes; the second slot operates at x16; the third connector (the small x1 slot) runs a x1; and the final connector (the other x16 slot) only operates at x2 lanes. Moving the jumpers to the 2-3 position enables SLI or dual-GPU functionality, and then the slots run at x4, x8, no lanes and x8, respectively.
As always, I'll wrap up the board layout discussion by showing the rear I/O ports. In this case, you see one picture without the Karajan audio card installed and one with it installed. With the Karajan card installed, the LP NF4 SLI-DR includes the following ports: PS/2 mouse and keyboard, S/PDIF in and out (coax digital), six analog audio connectors, one IEEE 1394 (FireWire), two Gb LAN and six USB 2.0 ports.


INSTALLATION – NOTES
---
Before getting to the BIOS and performance of the LP NF4 SLI-DR, I want to quickly cover some key points regarding the physical installation of the mainboard and components. The first thing I wondered about was how far longer video cards would overlap the MCP heatsink/fan since I had already experienced that with my previous nForce4 review. Just as with that board (the Foxconn NF4UK8AA-8EKRS), longer video cards will hover over the main chip's HSF. Additionally, that area at the end of a longer card will tend to get pretty crowded if you have SATA cables, USB header wires and a floppy cable plugged in.
I am happy to report that I had no problems installing the rather large Thermalright XP-90 heatsink with a 90mm fan. The main thing worth noting here is that any heatsink that hangs over towards or above the DIMM slots may limit the height of your memory modules, which is only an issue with Corsair's PRO and XPERT modules right now I believe. Not that these modules can't be used with the LP NF4 SLI-DR; it's just not the optimal setup when a beefy heatsink is utilized. The positive side of the DIMM slots being where they are is that you won't have to remove your video card to remove your memory as is the case with so many other motherboards. Although the manual neglects to mention it, the POST screen directs you to install one RAM module in DIMM2 for single channel and two modules in DIMM2 and DIMM4 for dual channel mode.
I am happy to see that the issue I had with Karajan audio card included in the LANPARTY UT 915P package seems to be resolved, at least with the LP NF4 SLI-DR. The issue I had with the UT 915P's Karajan card is that it was essentially incompatible with the Lian Li V1000 case (and I suspect other cases with large 120mm fans in the rear). With the Karajan installed on the UT 915P, the Karajan card hits the rear 120mm fan, preventing the mainboard from sliding in for installation all the way. This problem, however, doesn't exist with the LP NF4 SLI-DR Karajan card because it is a good 1/2″ shorter than the one in the UT 915P bundle. I'm glad to see that DFI listened to my concerns and resolved the problem.
One of the key points of interest on this board is of course SLI. Configuring the LP NF4 SLI-DR for an SLI video card setup is straightforward. You just move the jumpers in between the two PCI Express x16 slots from the 1-2 position to the 2-3 position. It might not be as "clean" and quick as other solutions, but it works just fine. DFI even includes a tool to help you get the job done. I installed a couple Leadtek GeForce 6600 GT cards on this board, and I have been quite pleased with the SLI performance.
BIOS
---
The LP NF4 SLI-DR uses the Phoenix AwardBIOS, and I'm using the latest version, dated 2/17/05. Overclockers and tweakers will be delighted with the configuration options they see below. The path to tweaking fun is of course through the Genie BIOS screens, which offer a plethora of advanced options that could keep the most skilled overclocking busy for many hours.
| | |
| --- | --- |
| Mostly common stuff on the main menu plus DFI's Genie BIOS and CMOS Reloaded | Advanced BIOS features |
| Advanced chipset features | Basic integrated peripherals section with RAID setup |
| RAID config under the integrated peripherals | PC health status with temps and voltages and a shutdown temp setting, can set full speed and off temps for fans |
| Genie BIOS – a tweaker's best friend! | Memory config – many advanced memory timings are available for changing |
| "FSB" goes up to 456 in 1MHz increments! | HyperTransport multiplier |
| CPU clock multipliers available up to 10x since I'm using a 3200+ | CPU voltage goes up to 1.550V |
| CPU voltage can be increased a bit more here – max is 2.108V (1.550 x 136%) | HTT bus voltage |
| Chipset voltage ranges from 1.5-1.8V | Memory voltage can go up to 3.2V! (actually can go higher if you enable the 4V DRAM jumper on the board) |
| CMOS Reloaded: name and save a BIOS config | CMOS Reloaded: set a hotkey for your saved BIOS config |
TEST SYSTEM, OVERCLOCKING and BENCHMARKS
---
Test System
Since I'm comparing the LP NF4 SLI-DR to the Foxconn NF4UK8AA-8EKRS nForce4 Ultra motherboard I reviewed recently, I used the same components from that review with a couple exceptions. I switched the RAM to a better overclocking kit, the Corsair TWINX1024-3200XL. I ran some tests on the Foxconn board to see if the memory change impacted the results from that review much, and I found that the performance difference was negligible. The second difference in this test system is that I switched out the 6800 GT for two Leadtek 6600 GT's in SLI after running the same benchmarks from the Foxconn review. So, you will get to see the gaming performance of this board with a single 6800 GT and dual 6600 GT's.
AMD Athlon 64 3200+
Mobo 1: DFI LANPARTY NF4 SLI-DR
Mobo 2: Foxconn NF4UK8AA-8EKRS (review)
Vid Card 1: NVIDIA Reference PCI-Express GeForce 6800 GT – DirectX 9.0c, ForceWare 66.93
Vid Card 2: 2 x Leadtek GeForce 6600 GT in SLI (DFI NF4 only) –  DirectX 9.0c, ForceWare 66.93
Maxtor 120GB Serial ATA 7200RPM Hard Drive w/ 8MB Buffer
Windows XP with Service Pack 2
Overclocking
In their short time on the market, this board and its brothers (the LANPARTY UT NF4 Ultra-D and LANPARTY UT NF4 SLI-D) are already becoming overclocking favorites. All three of the boards are based on the same PCB design and layout, which means their performance and overclocking abilities will be very similar. With that in mind, take a look at the fun MrIcee is having over at XtremeResources.
Since I was left wanting more with the Foxconn NF4UK8AA-8EKRS's overclocking, I was hoping for a much better and easier overclock from the LP NF4 SLI-DR. Honestly, I was expecting it because of all the impressive things I've seen on the WWW. From what I've gathered, a "front-side bus" (FSB – in quotes because it's not really FSB although DFI labels it that way in the BIOS; I use it for simplification) overclock to around 330MHz or greater isn't too uncommon.
I was quite surprised and impressed when I reached 300MHz, but after I tried going higher, my Windows install somehow got corrupted. The BSOD was indicating a memory problem, but the memory turned out to be just fine. Here are the settings I used when I hit 300.
CPU Voltage = Auto
CPU Multiplier = 6.5
CPU Clock = 1.95GHz
HTT Multiplier = Auto
Memory Voltage = 2.8V
Memory Clock = 600MHz (1:1)
Memory Timings = 2.5-4-4-7 1T
I also tried to get the highest 1:1 overclock I could with the default 3200+ multiplier of 10. The limit I reached there was 230MHz, which I found to be surprising, but I'm wondering if my processor hit its limit at 2.3GHz. I'm not sure, but I'll be sure to experiment with the settings more and update this article if I achieve a higher overclock.
Benchmarks
SiSoftware's Sandra 2004 SP2b (CPU Arithmetic, CPU Multi-Media, Memory Bandwidth and File System)
Futuremark's PCMark04 v1.3.0
AquaMark3
Futuremark's 3DMark03 v3.6.0
Futuremark's 3DMark05 v1.2.0
Doom 3 (1.1)
Far Cry (1.3)
Counter-Strike: Source Video Stress Test
PERFORMANCE – SYSTEM
---
You can see in the charts below that the LP NF4 SLI-DR performs very similarly to the Foxconn nForce4 Ultra board.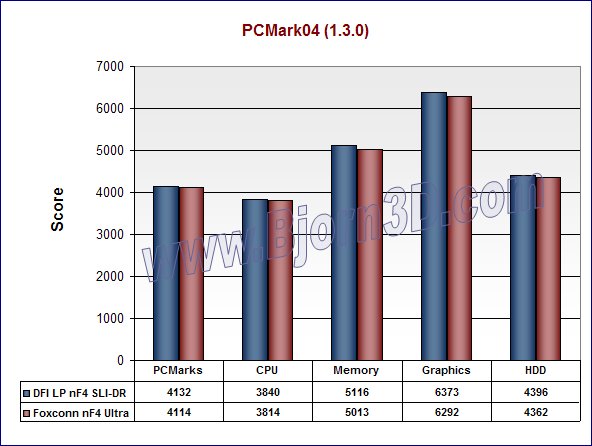 The LP NF4 SLI-DR slightly edges out the Foxconn board in all areas of the PCMark04 test. The Sandra tests show them performing almost exactly the same though.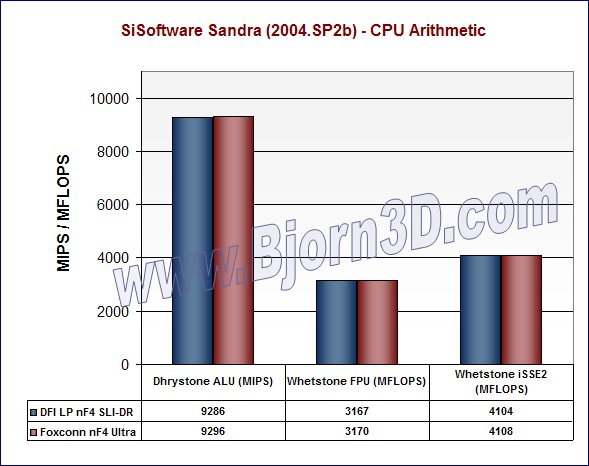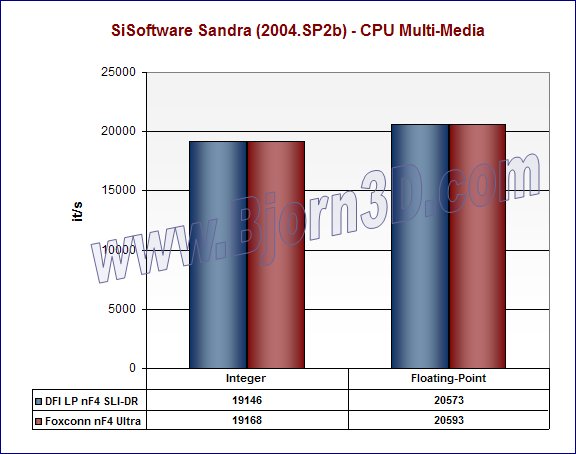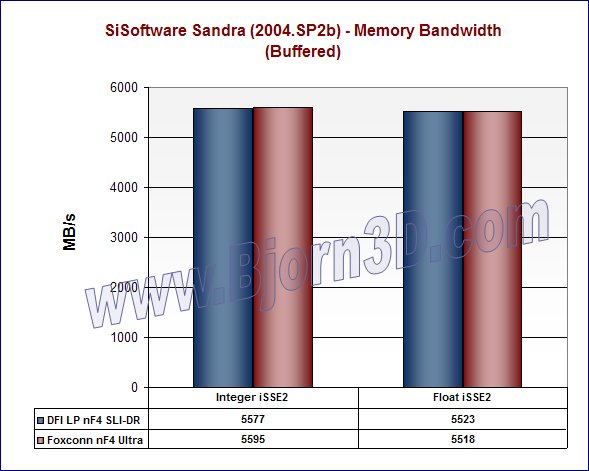 PERFORMANCE – GAMING
---
As I mentioned on the test setup page, I'm throwing in some SLI benchmarks in the gaming tests. The SLI setup I used consisted of two Leadtek GeForce 6600 GT's. So, the comparison is of these three configurations: the LP NF4 SLI-DR with two 6600 GT's in SLI, the LP NF4 SLI-DR with one 6800 GT and the Foxconn NF4UK8AA-8EKRS with the same 6800 GT.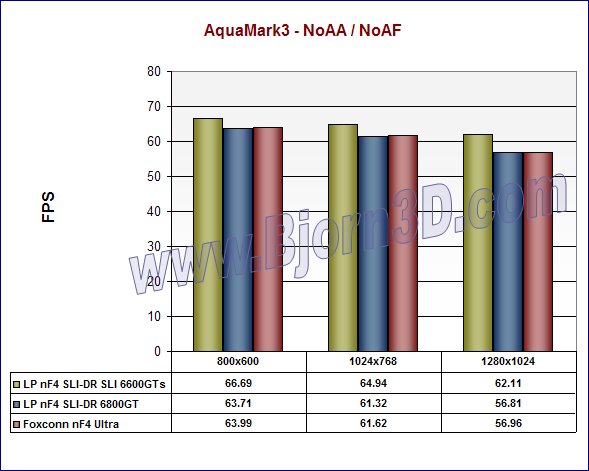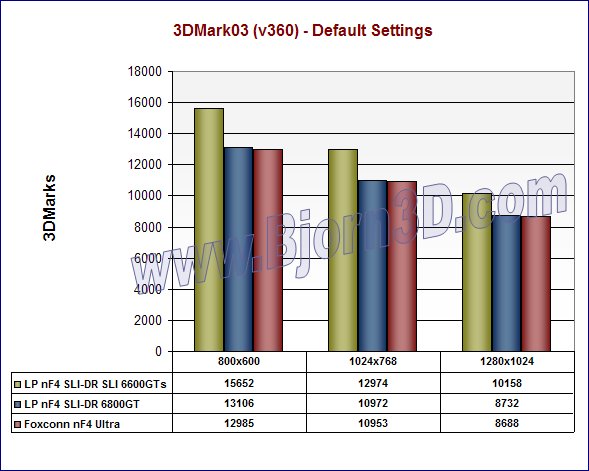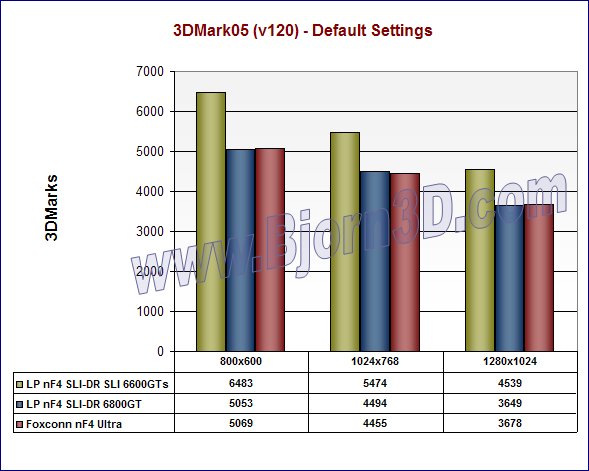 I will take a deeper look at SLI performance with this board in a couple upcoming SLI reviews, but for now, you can see that the two 6600 GT's offer nice performance, at least when anti-aliasing and anisotropic filtering are disabled. Additionally, you can see that the two motherboards perform almost identically when using the 6800 GT.
PERFORMANCE – GAMING (cont'd)
---
Let's wrap up the benchmarking with a the Doom 3 test and the Counter-Strike: Source video stress test.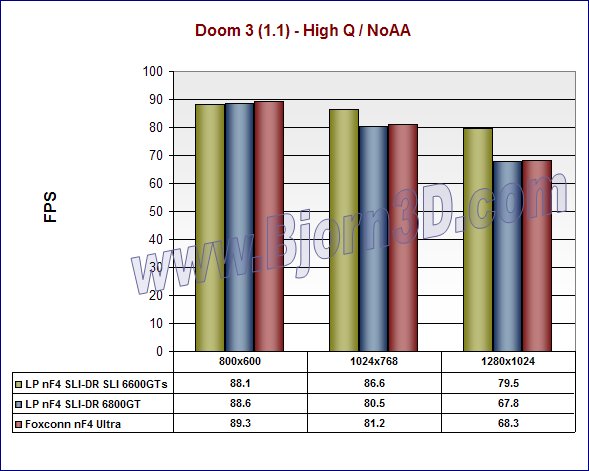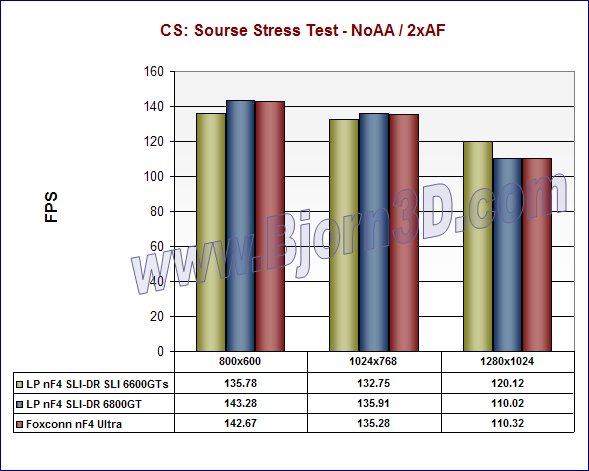 CONCLUSION
---
In a recent interview at LegitReviews.com, DFI's Vivian Lien claims that DFI's goal with the LANPARTY line "is to deliver total user experience, rather than just another motherboard with pretty packaging." With the LANPARTY NF4 SLI-DR, DFI continues to do just that. People are snatching up these boards as fast as they hit virtual store shelves, and I'd have to say they are smart for doing so. This package and the board's features are in a league of their own. The default performance is average, but the overclocking features and BIOS options are worth writing home about. Most users won't even know what all the options are for. I'm still trying to figure a lot of them out. It would actually be nice to be able to hide some of the more advanced options.
DFI really set the stage for tweakers and overclockers with this board and are now reaping the benefits of its hard work and research. As of today (March 18), fifteen of the top twenty systems in the 3DMark05 hall of fame use DFI SLI systems! With an option for DIMM voltage up to 4V, a "FSB" clock up to 456MBHz, CPU clock multipliers and plenty of memory dividers, DFI has made sure its board would come out on top and that its users' performance would as well. This board more than likely won't be your bottleneck when you try to squeeze out every ounce of power from your components. Kudos to DFI for putting together such an awesome package and well-designed board.
All of this silicon goodness comes at a price of course. If you want te LP NF4 SLI-DR, it will set you back about $220 right now. Yeah, it's expensive, but it's a fair price for what you get. If you don't need all the extra goodies in the bundle but want the same performance and overclocking potential, then go for one of DFI's LANPARTY UT nForce4 boards instead. You can't go wrong with DFI's current nForce4 line-up.
Pros:
+ Good performance
+ Excellent OC'ing potential and BIOS options
+ Great bundle
+ Extensive features
+ UV sensitive slots and cables
+ nVIDIA RAID and FireWall
Cons:
– Not cheap
Final Score: 9.5 and the Golden Bear Award