SilverStone's LC11 is built specifically for the needs of the home theater PC. Is it really "The most advanced Micro-ATX HTPC case in the world"? Read the review to find out!
Introduction
---
Acrylic windows, neon and strobe lights, Day-Glo colors, and vaguely alien shapes may be appealing for desktop PC cases, but you probably don't want a large, showy case as part of your home theater setup, especially if you share your home with a significant other who has significantly more style than you. Additionally, home theater PC's need to be quiet. Fan and disk noise are easy to overlook if you're blasting MP3's while blasting Ant Lions, but white noise isn't welcome when you're watching a movie, especially if it's a quiet passage involving romance (I'm thinking of your significant other again). Purpose-built home theater PC cases are becoming more readily available, and today I look at SilverStone Technology's LC11 from their LaScala line of home theater PC enclosures.
The LC11 is a microATX case designed to look like a home audio component. Additionally, SilverStone touts its room for expansion, "super slim profile of less than 100mm," and "innovative underside cooling layout." I will review its aesthetics, functionality, and its applicability in a home theater setup.
Specifications & Features
---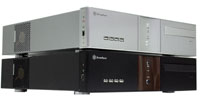 Specifications:
Dimensions: 424 mm (W) x 96 mm (H) x 430 mm (D)
Drive bays:
Cooling:

Front and rear 80mm intake, 2050rpm, 21dB fans
Oversized mesh grill CPU air intake vent

Front multi-media I/O:

USB2.0 port x 4
1394 Firewire x 1
Earphone jack x 1
MIC x 1

Expansion slots: 3
Material: Aluminum front panel, 0.8mm SECC body
Motherboard types: MicroATX
Power Supply: TFX 240W PFC
Riser Card: 1 AGP + 2 PCI
Colors: Black or Silver
SilverStone sent a silver model for review, which features a brushed aluminum front panel and silver painted sides. The black model has a wood grain appliqué on the front panel, which seems a bit odd since I haven't seen wood on a stereo component since the 70's (yes, it was an 8 track player).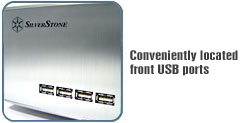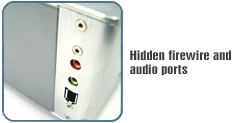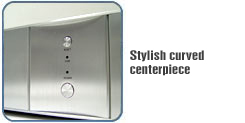 Installation
---
Installed Components
Biostar M7NCG 400
RADEON 9600XT Ultimate (Sapphire)
AMD Athlon XP 1800+
256 MB Kingston ValueRam
Lite-On 16x DVD-ROM
Maxtor 7200 RPM ATA133 hard drive (x2)
Reviewer's note:  Most of the images of the review subject do not show the true color of the LC11.  Flash photography reflected off of the silver surfaces and obscured detail, while the non-flash images make the case look a pewter color.  When I say the case is silver, it really is even if the photos here do not do it justice.
Installation of the LC11 is helped by a useful manual and some intelligent packaging. The shipping box cradles the case in a stiff, foam frame mounted on two pieces of cardboard. The cushioned frame supports the LC11 during installation and helps protect it from scrapes and dings. In addition, the top, painted surface is wrapped in plastic film to further ensure no blemishes will besmirch the case during assembly. Once assembled, the plastic film is easily removed and leaves no unsightly residue.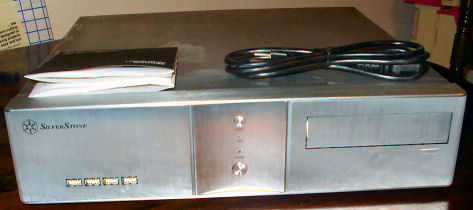 Fresh from the box, still wrapped in plastic.
The case is well put together, with nicely finished paint and no hidden jagged edges in the interior. The case is also substantial enough to prevent flexing or dings from falling objects. The drive brackets are not of a very high gauge metal, but since they screw into place this presents no strength issues.

The neatest this case will ever be!
The bottom cover of the case is removable and is held in place with two Philips head screws (not thumbs screws, unfortunately). The hard drive bracket is secured by one screw and holds two 3.5″ drives. I suggest that you install your IDE cables on the drives before mounting the bracket to the case because there isn't much clearance between the front case fan and the drive bracket. It is easier to attach the bracket with the IDE cables in place rather than plugging them in later. The milled aluminum front panel has to be removed to install an optical drive, but this only involves unscrewing a few hex screws (a wrench is included). The optical drive bracket can hold an additional 3.5″ hard drive. Three of the four optical drive mounting screws are are obscured by the frame and impossible to reach with your fingers, so a magnetic tip screwdriver is a necessity. There is no place to secure or access a floppy drive and there is only one external access tray for an optical drive. If you need more than one optical drive or a floppy drive, you'll have to make use of the USB ports and use external devices.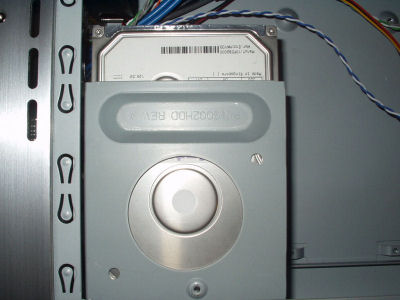 The hard drive bracket installed.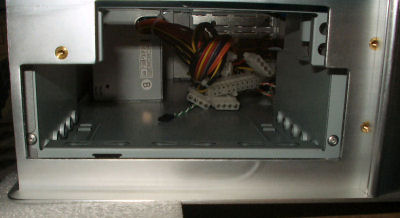 This gaping maw is the entryway for the optical drive and additional hard drive.  The access panel must be removed before getting to them.
Motherboard installation is simple as the case has plenty of room in which to maneuver the board. The CPU abuts a case fan, and I thought that this might make heatsink installation difficult, but I was easily able to secure a stock AMD heatsink fan using a medium flathead screwdriver to secure the clips. Please note that the LC11 is a low profile case, and the CPU cooler's height is restricted to 75mm.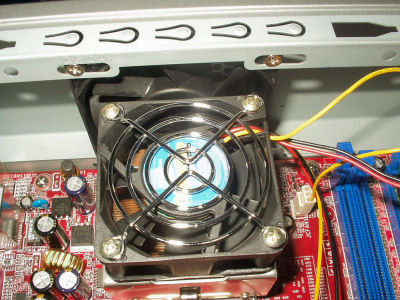 That's an exhaust fan immediately to the top of the CPU fan.  Hot air pulled from the CPU is immediately sucked out the side of the case by the exhaust fan.
Installation gets quite interesting after the motherboard and drives are installed. As noted in the specifications, the LC11 makes use of two riser cards to invert the AGP and PCI cards. This is done to lower the case's height, of course. The AGP and PCI risers are two separate cards that are secured together using three metal posts. They attach to a sheet metal riser card bracket, which in turn is fastened to the case with two screws. The AGP and up to two PCI cards then install in the risers and are held in place horizontally by a swinging bracket. The riser cards are held in place rigidly by the riser bracket.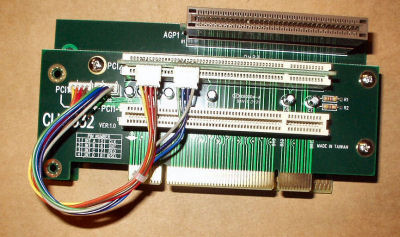 Mr. Mojo Riser.  Top slot is AGP, bottom two are PCI.
Wiring is relatively simple as well because of the open case layout. However, all wires enter the case through the same spot in the front next to the intake fan, and care should be taken to secure them with braids or cable ties else they might block the airflow coming into the case.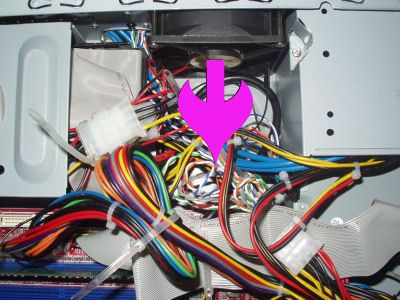 Air comes in, but it doesn't get out if you leave a rat's nest in the path!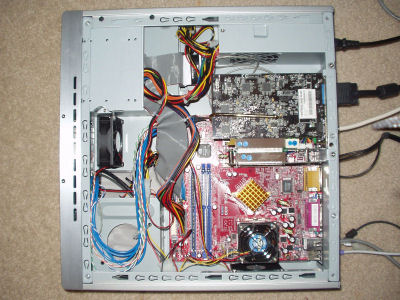 Still some wiring cleanup to do, but it's put together now.
Operation
---
The LC11 features two very bright, very blue status lights; one for power and one for hard drive activity. They do look pretty cool but are a little distracting if the PC is within line of sight of the display. Disabling them is as easy as removing their respective plugs from the motherboard, of course, but I quickly got used to the light and left them on.
My choice of video card created an interesting challenge for me. The Radeon 9600XT Ultimate is air-cooled, much like my old VW Super Beetle. Only the 9600 is air-cooled to be silent, not to make incredibly loud, flatulent exhaust noises (it had a header exhaust). And it's not German. But it is an excellent choice for a HTPC because it's powerful enough for gaming, has excellent video output, and is completely silent because it has no fan. Instead of a fan, it uses two heatsinks connected by a heat pipe. It's quite an efficient design and has always run coolly even in my home state of Florida's brutal summers. But there's a catch: the second heatsink extends fairly far from the back of the card's PCB. Not enough to take two slots, but enough so that the LC11's case would not fit over the card. The LC11 is actually assembled upside down from the typical ATX case. The horizontally mounted video card is on the bottom of the case and is nearly flush with the top. And the top is actually the bottom once the case is assembled. The end result is that the perfectly silent 9600 just wouldn't fit in the LC11.
Never one to shrink from a challenge, I decided to whip out a rotary tool and cutting wheel. A few minutes and showers of sparks later, I had an external heat sink and heat pipe for the 9600. Although it sounds rather nasty in concept, it actually turned out quite well. The hole and heatsink are completely hidden from view because they exit from the bottom of the case. It should be an even more effective heat solution because the heatsink and pipe are now out of the case and into the cooler external airstream. It must be noted that this is in no way criticism of the LC11. Almost all video cards use fans for cooling and very, very few have any type of protrusions from the bottom of the card.

This heatsink and heat pipe would normally be on the back of a Sapphire 9600XT Ultimate,
but a rotary tool helped it poke its head out the bottom of the case.
One area of concern I had was the size of the power supply (240 watts). We typically see outputs of 400 watts or greater recommended for modern systems, but the mATX design precludes a full ATX power supply. My concerns have evaporated after several hours of use of the LC11. The power supply has had no problems powering two hard drives, one video card, one DVD drive, and several USB peripherals simultaneously. You may not want to throw in a big honking P4 and 6800 GT, but it should handle typical HTPC duties with ease.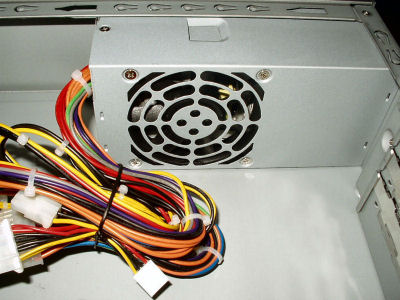 It may be small, but it works!
SilverStone touts the quiet nature of the LC11. It is a quiet case. However, it's not quite as quiet as I thought it may be, especially given the silent video card. It is by no means noisy, but there is audible white noise from the case and power supply fans. Fortunately, it completely disappears when any kind of audio output is present. I have yet to notice any operational noise from the case when watching TV, movies, or listening to music through the LC11 HTPC.


It would be shinier with better lighting.
Hyperbole vs. Reality
---
SilverStone makes a very bold claim by describing the LC11 as "The most advanced Micro-ATX HTPC case in the world." The product's Web page supports that claim with these statements:
Premium audio component styling
Super slim profile of less than 100mm
Innovative underside cooling layout
Remarkably slim profile but top-notch cooling capability
Surprising room for expansion
A front panel that will integrate seamlessly next to world-class AV components
Let's address these assertions by grouping them into subject areas:
Styling – The LC11 is a beautiful case and it does indeed look like it belongs in a home entertainment center. The brushed aluminum front panel is distinctive, but subdued (in a good way). The optical drive bay door blends in well with the front panel and its "soft closing" action exudes the class of high-end A/V components. The front-mounted USB ports certainly look like any other USB port, but convenience overrides hiding them on the side or behind a small panel, in my opinion.
Verdict: It's hard to apply the adjective "advanced" to styling, but the beauty of the LC11 is its greatest strength. It is truly a classy, beautiful case. I would have to agree that it should "integrate seamlessly next to world-class AV components."
Cooling – The two case fans, PSU fan, front intake vents, and mesh grill on the bottom of the case should provide more than adequate cooling. While low profile, the case is wide enough so that components are not crowded together, allowing air to circulate throughout the case. The mesh grill does provide substantial access to fresh air for the CPU fan and the case fan that sits adjacent to the CPU should immediately vent the hot air. There are design issues, however. That large grill is unfiltered, meaning easy entry for dust, hair, and other gunk. The front intake vents are a novel idea, but as I noted before, could be partially blocked by the case wiring. Left a rat's nest, the wires are smack in the middle of the front intake fan. The intake vents are also unfiltered.
Verdict: "Advanced" may be stretching things a bit, but innovative is a good description of the LC11's design. The lack of filtration and the placement of the case wires in the air path do take this down a notch, however.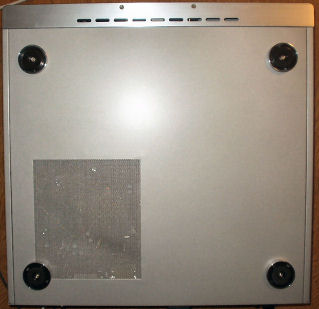 Bottom vent; the CPU fan is directly below it.
Expandability – This is a curious claim. The LC11 allows for the three 3.5″ hard drives, and storage is a huge consideration for a HTPC. An internal floppy drive and a second optical drive are out of the question, however. Although floppy drives are essentially useless today, my motherboard's manufacturer (Biostar) saddles its BIOS update utility with a floppy drive anchor. Its BIOS cannot be updated unless one uses a 3.5″ diskette. Fortunately, I have a USB diskette drive and can boot from it. The use of a riser card limits you to two PCI cards. Everything else must be added externally, which could detract from the integrated appearance of the LC11. The LC11 is low to the ground, but it is still has a fairly large footprint. In fact, a full ATX motherboard will fit in the case if the optical drive cage is removed. So it is true that the case is roomy, but it's not a lot of room you can use.
Verdict: A little bit of marketing hype this time. Other MicroATX cases have room for additional 3.5″ drives as well as a full complement of PCI slots.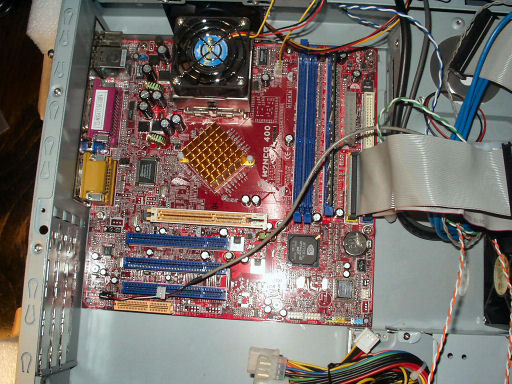 Lots of room around that motheboard, but what are you going to put there?
Functionality – The LC11 achieves its low profile through the use of riser cards. If you can get by with two PCI expansion slots, then the space saving styling that the riser arrangement allows is definitely an advanced feature.
Verdict: Reality, if you can give up PCI slots. And are willing to hack your case a little if you are one of the very few with a video card suffering from Protruding Bottom Syndrome.
Final Impressions
---
The LC11 would look right at home in any audio/visual enthusiast's entertainment center. It doesn't look like a big, squat PC and that's a good thing for HTPC's. In addition, it has some good design ideas for cooling and makes effective use of the riser card to reduce case height. Limiting factors include lack of space for more than one optical drive, only two PCI slots, and a smallish power supply dictated by the mATX form factor. The lack of space for a floppy-type disk drive is barely notable given its inapplicability to HTPC functions, although keep this in mind if your BIOS updates require a floppy. The limited power and PCI situation is something each prospective buyer will have to assess as to whether the LC11 is suitable for his or her project. Neither are limiting factors my HTPC needs are met with with an older video card and two one PCI card. My HTPC is currently the only A/V equipment attached to my very modest home theater, so the styling of the LC11 isn't really a major factor for me. However, I will appreciate its classy appearance in the event I ever have the money to add other components to my entertainment lair. In the meantime, the overall system runs coolly and reliably and looks damn nice sitting in a cheap TV cabinet.
The cheapest online price I found for the LC11 was US$139. This is fairly expensive for a mATX case, but it does offer a high degree of style, is compact in height, is reasonably quiet, and is also a cool runner (literally, because of the heat dissipation design).
Bjorn3D recommends the SilverStone LC11 and awards it an 8 out of 10.