Thermalright has brought forward an innovative new design to the market; here is the full scoop on this excellent heatpipe-based heatsink!
Introduction
---
Prior to receiving this product, my technological standpoint on heat-pipe technology was more one of curiosity rather than one of practicality. Experience gained from working on laptops had increased my interest, but I still saw heat-pipes as more of a necessary evil than anything else. Why do I say necessary evil? Well, I would never consider using a heat-pipe anywhere where there was any other option.
Finally, an opportunity to discover the true efficiency of heat-pipes arrived from the good folks at CrazyPC.com in the form of the Thermalright SI-97 Heatsink. Will this unique piece of CPU-cooling hardware turn my beliefs on their head or will conventional wisdom come out the winner? Read on to see who delivers the knockout punch!
Features and Specifications
---
First, let's delve into the nitty-gritty details regarding the SI-97's hardware specifications and features, as per Thermalright's web site:
Features
Multiple heatpipes for well spread heat around aluminum fins
Enormous wingspan gives extra cooling to surrounding components
Soldered fins to copper base (nickel plated) to make effective contact
Light weight and easy installation
Specifications
Physical Dimensions: L116 x W96 x H75 (mm) heatsink only, without fan
Weight: 280g (heat sink only)
There are a few things I would like to point out before we go on any further. First, this heatsink is very large. Thankfully, the "large portion" of the device is raised far above the surrounding motherboard by the heat-pipes, so compatibility issues should be minimal, if any. Second, don't let the size fool you. This device is very light. Compared to my Thermaltake Volcano 9 heatsink (which is in itself a fairly light heatsink compared to the giant copper monstrosities on the market), the SI-97 seems surprisingly light for its size.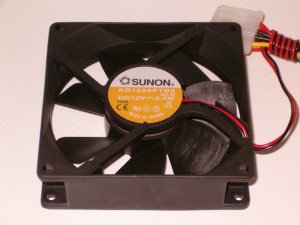 The included fan
Here are a few statistics on the SUNON 92mm fan that CrazyPC.com graciously provided:
Physical Dimensions: 92x25mm
12V DC, Brushless
0.2A, 2.4W
4 Pin Molex Connector
2 Ball Bearings
48.5 CFM, 2600RPM @ 33dBA
Packaging, Components, and Appearance
---
The first thing that hit me when I received the package in the mail was how light it seemed. I opened it to make sure that there was indeed something within, and I was immediately impressed. CrazyPC had opted to include not only the SI-97, but had managed to include a fan as well. Within the heatsink's packaging was a simple product manual, a series of fan clips for 80mm and 92mm fans, a tube of thermal compound, and a pair of rubber soundproofing strips.
| | |
| --- | --- |
| | |
| Lots of goodies included | Superb packaging |
The first thing you notice about the SI-97 is how large yet light it is; next, you marvel at how intricate it is. The reason why it is so light is because the actual heatsink portion of it is made up of many thin slices of aluminum soldered to the heat-pipes. This allows plenty of surface area for heat dissipation, and the quad heat-pipes help distribute the heat evenly to all parts of the fins.
| | |
| --- | --- |
| | |
| The heatsink is large yet light | Foam rubber protects from crushing |
The CPU block of the heatsink is composed of nickel-plated copper and has been polished such that no lapping is necessary. You may be surprised to see just how small the CPU block is, but it allows the heat-pipes to be close to the CPU slug (and the CPU block is merely meant to shift the heat to the heat-pipes).
| | |
| --- | --- |
| | |
| Excellently machined surface | The heat pipes are firmly attached |

Installation
---
Installation was performed in my test chassis, a Silverstone Temjin 6 Series case. Featuring a "wind tunnel" to carry fresh air straight to the processor to be exhausted out the rear of the case, this Silverstone case presents an interesting installation challenge. It also uses the increasingly-popular "rotated ATX" design where the motherboard is flipped 180 degrees; this allows for better airflow similar to Intel's BTX specification.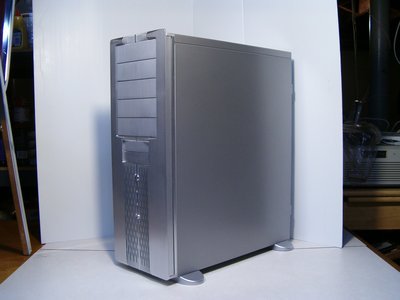 The review chassis, Silverstone's TJ06
My first concern was the SI-97's size. Would it even fit within the wind tunnel? Luckily, it fit perfectly. In fact, I noticed that the heatsink's fin alignment was such that the airflow through the wind tunnel would be parallel to the fins; my curiosity got ahold of me, and I decided that I would try the SI-97 without a fan first to see if it would work.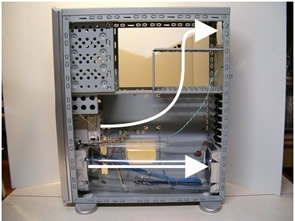 The wind tunnel is on the bottom
Installation wasn't hard, but it wasn't the "easy installation" promised, either. This is likely because my installation environment didn't allow me to turn my case over on its side, but in this world there rarely (if ever) is an entirely ideal situation. The small size of the CPU block and separate mounting mechanism require a different alternative in order to keep the CPU block level on the processor die, so Thermalright includes a copper clip-on riser. The riser snaps onto the CPU itself and keeps the CPU block level, so that your processor isn't damaged during installation or transport. What made the installation a challenge, however, was how the clip wasn't fixed to the heatsink; it simply sits nestled in a groove on the CPU block. Since the case was standing up, this meant that the heatsink had to be held in place for the entire installation in order to prevent it from sliding off while I was trying to secure the clip to the CPU socket. Make sure that you have the CPU block centered over your CPU and that you don't forget the riser!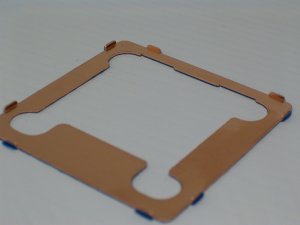 The riser snaps onto the CPU
Another thing that slightly alarmed me was how the heatsink seemed to slide about a tad after it was mounted. I'm used to heatsinks having some "give" so that they can be nudged around a bit, but this one seemed to move about more easily than any others I have used. After analyzing the situation, I came to the conclusion that it was nothing to worry about. The heatsink seemed to maintain firm contact regardless of the sliding, and the clip itself remained secure. The notch that the clip sits in simply offers some extra elbow room.
| | |
| --- | --- |
| | |
| Fanless installation | Note the fan clips – these are for the 92mm fan |
Later on (after successfully running without a fan!), I decided that it was time to actually try the included fan. Thermalright includes two sizes of fan clips that allow either an 80mm or a 92mm fan to be fastened to the heatsink. Thankfully, these clips made the fan installation easy and tool-less, so I was up and running with the new fan installed in no time.

Performance
---
Since overall construction quality seems solid, how does the unit actually perform? We don't want to buy a cool looking heatsink for visuals alone. Performance testing was done equally across the board, under these conditions for all cases:
Ambient Temperatures
Calculating from a thermal diode placed about 6 inches away from the case, to one side.  Readings were taken from my Matrix Orbital MX4 LCD Display.
Normal Temperatures
Readings taken from Motherboard Monitor 5 high temperatures.  Stress created from normal use: browsing the web, reading email, typing documents.  [email protected] or other software disabled.
Load Temperatures
Readings taken from Motherboard Monitor 5 high temperatures.  Stress created from heavy use: [email protected] on to take over free CPU cycles while playing Counter-Strike: Source for at least 30 minutes per session.
Difference
Here is where the actual grading takes place.  The load temperature minus the ambient temperature is recorded, and a direct comparison with another heatsink under the same conditions shows which one performs better.
Performance Results

Thermalright SI-97
Thermaltake Volcano 9
Ambient
Normal
Load
Dif
Ambient
Normal
Load
Dif
No Fan
20.25C
40C
46C
25.75C
N/A
N/A
N/A
N/A
SUNON 92mm Fan
20.25C
33C
36C
15.75C
N/A
N/A
N/A
N/A
TT 80mm Fan (4800RPM)
20.50C
29C
32C
11.50C
20.94C
32C
35C
14.06C
TT 80mm Fan (AUTO)
22.31C
35C
37C
14.69C
20.94C
36C
39C
18.06C
As it is plain to see, the Thermalright SI-97 heatsink performs very well under all circumstances. This unit truly is a marvel of efficiency, as it trounces a decent heatsink of yesteryear with relative impunity. It even functions properly without a fan, when installed in an effective environment.
One more potential concern is fan noise.  Cranking up the Thermaltake fan to 4800RPM made it downright horrific, but considering how well the SI-97 functioned with the fans in low-RPM mode (or auto mode), there really is no reason to use it otherwise.  The best part about this is how (depending on the CPU fan used) the fan noise then becomes nearly inconsequential (and unnoticeable) when compared to the intake/exhaust fans in the case.
Conclusion
---
Thermalright has impressed me in nearly all ways with this product. To make things short, this is easily one of the best bang-for-the-buck Socket A (Socket 462) heatsinks you can buy today. Satisfying a wide variety of needs (silence, performance, or in-between), Thermalright has designed a sure winner. What can be improved? Well, the device is just a tad large (and tall). Thankfully, its design should ensure compatibility with pretty much any motherboard (because of how the heat-pipes lift the heatsink off the board and above capacitors and such), but its height may cause problems in tighter situations. I don't have an SFF (Small Form Factor) system to test it in, so things might not be quite as successful in such an environment. However, due to its sheer efficiency, it certainly would seem ideal. It may seem to be slightly expensive, but the Thermalright SI-97 would be a great addition to any Socket A setup.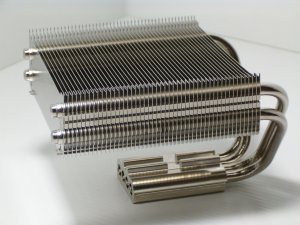 The SI-97: An excellent all-around choice
In addition to all of the values above, Thermalright deserves kudos for such a unique, innovative design. Achieving a cooling potential offered only by high-end copper units, the SI-97 achieves excellent scores without weighing like a brick, thus bringing forth an awesome performance/weight ratio. This is definitely a LAN party heatsink.
Finally, Thermalright has made the SI-97 worthy of a 9.0 out of 10 and (as a first for me) a Golden Bear Award. This is a must-have if you want something light, powerful, and quiet.
Price: $34.99 US at CrazyPC.com
Pros:
    + Innovative design
    + Lightweight
    + Highly efficient
    + Well-constructed
    + Package includes a full tube of heatsink compound
    + Looks good
Cons:
    – A bit large
    – A tad expensive