In addition to the feature rich nForce4 SLI and nForce4 Ultra chipsets NVIDIA also has released a more basic nForce4 chipset. Today we've taken a look at a motherboard using that chipset, the Foxconn WinFast NF4K8MC-ERS.
Introduction
---
NVIDIA has come a long way since they released their first nForce chipset several years ago. I don't think anyone expected a video card company being able to compete with companies like Intel and VIA but if you got a AMD CPU these days chances are high you are using a NVIDIA chipset on the motherboard.
NVIDIA's latest chipset, the nForce 4, has gained a lot of attention mainly for its support for 2 NVIDIA PCI-Express card in SLI-mode. The chipset is available in three versions. SLI, Ultra and non-Ultra. Those who want to save a few pennies and do not need the SLI feature can get motherboards using the cheaper nForce4 non-Ultra chipset. Today I am testing one of those cheaper motherboards, the Foxconn Winfast NF4K8MC-ERS, the little brother to the Foxconn nForce 4 motherboard Shane reviewed a few weeks ago.
Features & Specifications
---
Processor

AMD Athlon™ 64/Athlon 64 FX, Socket 939 (939-pin), 1600/2000MT/s

Chipset

NVIDIA nForce4 (CK8-04 Standard)

Memory

Dual channel, unbuffered, 2.5V DDR266/333/400, (2) 184-pin DIMM sockets, max 2GB

Graphics

Discrete (non-integrated) – use expansion slot

Expansion Slots

1 x PCI Express x16, 1 x PCI Express x1, 2 x PCI

IDE/ATA Support

2 x ATA/133 + 4 x SATA/150 (w/ RAID)
Supports RAID 0, 1, and 1+0; cross-controller (IDE & SATA)

Audio

Integrated, 5.1 channel AC97 (Realtek)

LAN

Integrated Fast Ethernet (10/100) MAC + PHY

IEEE-1394

2; 1 x 6-pin in rear I/O area + 1 front via internal header; 1394a

USB

Up to 8; 4 in rear I/O area + 2 internal 2-port headers; ver. 2.0

Rear I/O Ports

1 x PS/2 keyboard
1 x PS/2 mouse
1 x RJ45 (LAN)
4 x USB 2.0
1 x line-in/line-out/mic (audio)
1 x parallel (SPP/ECP/EPP)
1 x COM (16550-compatible UART)
1 x IEEE-1394
2 or 4 ports USB 2.0 via cable/bracket from internal headers (shared w/ front)

Internal Connectors/Headers

1 x floppy disk drive
Front audio header
1 x S/PDIF (coax out) header
2 x USB 2-port headers, ver. 2.0
1 x IEEE-1394 header

BIOS

4Mb flash EEPROM w/ LAN boot, PnP, ACPI, WfM, DMI 2.0,

Special Features

Wake-on-LAN (WOL), suspend-to-RAM (STR, S3), suspend-to-disk (STD, S4), SuperUtilities – SuperBoot, SuperBIOS-Protect, SuperRecovery, SuperSpeed, SuperStep, SuperLogo, and SuperUpdate

Overclocking Features

Adjustable bus speeds
Adjustable memory timing

Accessories

Support CD, user's manual (or installation guide), rear I/O shield, 1 x floppy drive cable, 1 x HDD/ODD drive cable (supports UDMA/ATA 33/66/100/133 drives)
RAID driver on floppy disk(s)
2 x SATA data cables, 1 x SATA power cable (supports 2 drives),
1 extra HDD/ODD drive cable (supports UDMA/ATA 33/66/100/133 drives)
Rear cable/bracket assembly w/ 2 x USB 2.0 ports
Processor heat sink retention mechanism

Form Factor

microATX, 9.6" x 9.6" or smaller – see User's Manual
Since this is a microATX motherboard it has limited space. Thus the motherboard only has 2 DIMM sockets and just 2 PCI slots in addition to the 1 x PCI Express x16 and 1 x PCI Express x1 slot. It does however have both 4 USB ports (and support for 4 more through headers on the motherboard), 2 IE1344 ports as well as 3 sound ports for the built-in 5.1 sound.
In addition to not having support for SLI, the basic nForce4 chipset also lacks support for SATA/300 and instead 'only' has support for the 'old' SATA/150.
The package
---
After being used to motherboards and video cards coming in all sorts of creative packaging it is quite surprising to see the bland packaging Foxconn has choose for this motherboard. It certainly won't be sold because of getting noticed on the shelf.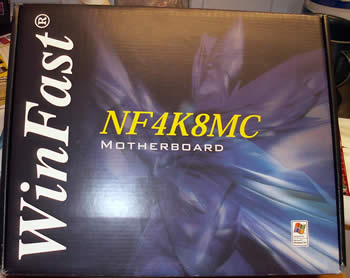 When you open the package you find the usual stuff including a backplate for the case, 2 additional USB-ports through a bracket, 2 IDE-cables, 2 SATA cables as well as a SATA power cable.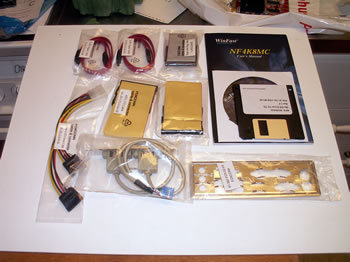 The CD includes both drivers as well as a monitoring software.
The layout
---
The layout of the motherboard is pretty good. The IDE and SATA connectors are on the side of the motherboard making them easy to reach.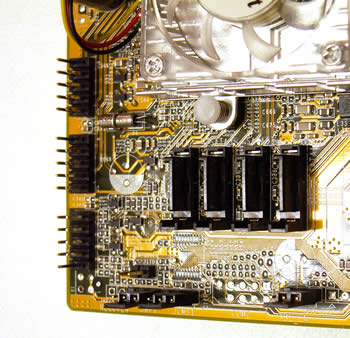 The 24-pin ATX 2.0 power connector also is on the side making it easy to stow away the cable. The extra 4 pin power connector though is placed behind the CPU making it a bit hard to reach. The cable also must be placed around the CPU.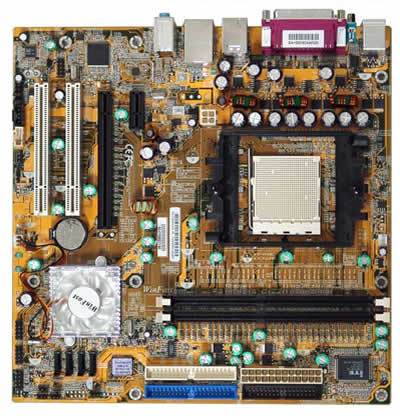 There are a lot of capacitors placed around the CPU but as far as I can see they should not block even the larger coolers.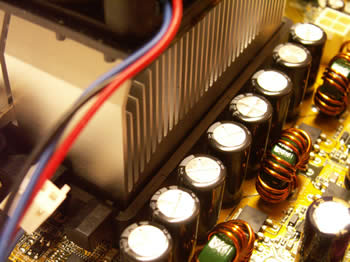 After installing the motherboard I noticed one issue. Since it is so small there is not much room for more than 2 PCI slots. After I installed the two-slot HIS x850XT PE card I realized that not only did it block the singe PCI Express x1 slot but it blocks at least one of the PCI slots and I'm not sure that I could fit anything in the last PCI slot since it is very tight. At the very least it would definite limit the airflow for the video card.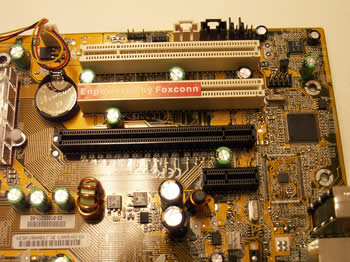 The video card also is placed so that the end is right above the fan that sits on the nForce4 chip. It doesn't interfere with the SATA connectors though.
On the back of the motherboard we find the customary mouse and keyboard PS2 connectors, 4 USB2.0 ports, one 10/100 MBit/s Ethernet port, one IE1344 port, a serial and parallel connector as well as 3 connectors for the 5.1 sound.
Installing the motherboard
---
Installing the motherboard is easy since it is a small micro-ATX motherboard. This motherboard probably would fit well in a smaller HTPC case.
The CPU I choose for this system was a Socket 939 AMD64 3200+ CPU. Installing it was easy since all you have to do is placing it in the socket, putting the heatsink/fan on top of it and fasten it to the motherboard. Next came the ram. I decided to use the high quality Corsair XML PC3200 sticks I had from another system (400 Mhz, heatsinks).
Unfortunately I quickly ran into a problem. Every time I started the system and tried to install Windows XP it crashed during install. In the end I had to turn down the memory speed for 200 MHz (400 MHz) to 166 MHz (333 MHz) to get it to work. Usually when I have had issues like this I've just increased the DIMM voltage a notch but in their infinite wisdom Foxconn seems to have decided not to include that option on this motherboard.
The bios
---
The bios used is the Phoenix AwardBIOS and it is almost identical to the other Foxconn nForce4 Ultra motherboard Shane reviewed. There is one important difference though. As I mentioned in the previous chapter this motherboard lacks the important X-Bios II overclocking menu. You still can change the timings for the memory as well as the bus speed but since you cannot tweak the voltage of either the CPU or the memory this motherboard severely is lacking in this department. This doesn't just affect the overclocking potential as I mentioned earlier in the review. If your memory chips need a bit more voltage you are out of luck.
Performance
---
I choose to compare this system to the 2 other systems I have available right now.
System 1: The Foxconn system
• AMD 64 3200+
• 512 MB DDR clocked at 333 MHz
• Foxconn nForce 4 motherboard
• HIS 850 XT PE (PCI-Express)
System 2: My nForce 3 AMD64 system
• AMD64 3000+
• 1024 DDR clocked at 333 MHz
• MSI K8N Neo nForce 3
• HIS 800XT PE (AGP)
System 3: The Intel system
• Intel P4 3000
• 512 MB DDR clocked at 333 MHz
• Powercolor mobo with ATI chipset
• Built-in ATI 9200 class graphics
The software used was
• PCMark 04
• SiSoft Sandra 2005
PCMark 04 (v1.3.0)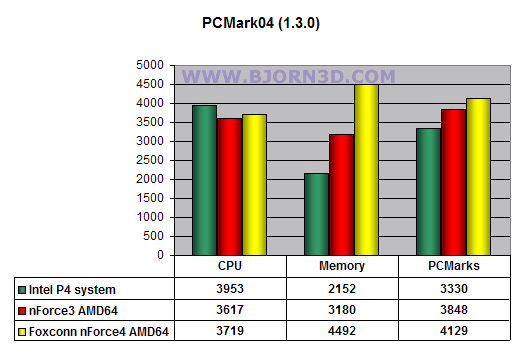 The area where the nForce 4 shines the most is the memory performance. Overall it manages to beat both the AMD64 nForce 3 system and the Intel system.
Sisoft Sandra 2005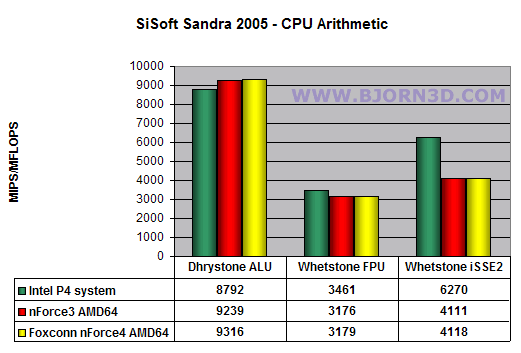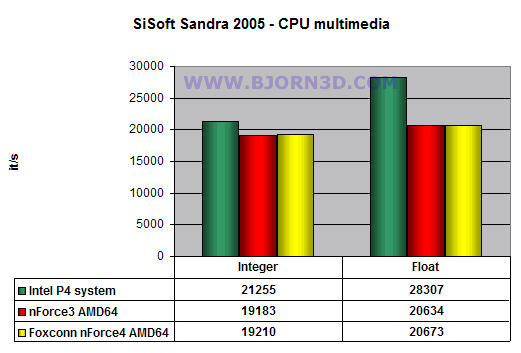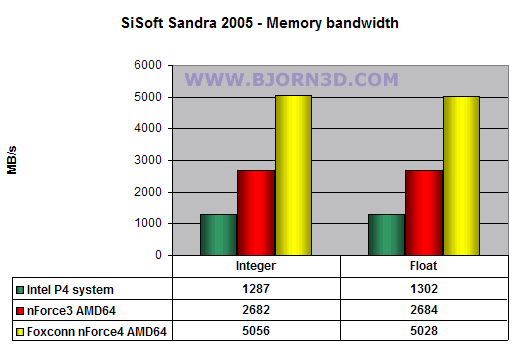 The SiSoft Sandra scores tells a similar story as PCMark04. It is the memory performance where the nForce4 shines.
Overclocking
---
Even though the motherboard doesn't let you tweak voltages you of course still can overclock it by chaning the bus-speed. I decided for fun to use the nTune application from NVIDIA to find a stable overclock. The utility runs through a series of tests and both increases the bus-speed and memory speed independantly until the system crashes. It then reboots and records the last stable overclock. I let the application do its thing and after 2 reboots it found that it could increase the memory speed to 378 MHz and the bus-speed to about 210 MHz. Using the inbuilt small benchmark feature showed a whopping 16% increase in performance. I then decided to test it with PCMark04 and SiSoft Sandra 2005. That is when I ran into a problem. My system crashed and wouldn't reboot. It wouldn't even come up with the bios screen. In the end I had to clear the CMOS overnight to get it to run again. Thats when I stopped trying to overclock the motherboard.
Support
---
Regardless how good a piece of hardware is it is no use if the support behind it is lousy. The Foxconn website isn't exactly packed with helpful information. There are no drivers, no new bios, no manuals to be downloaded, nothing. While there is FAQ for other products there still are nothing written for this or any nForce 4 based motherboards.
It is however the lack of drivers and a manual that disappoints me the most. While doing this review I needed the manual several times and couldn't find it in my room. With other motherboards I've always just had to visit the website and download it but in this case I just had to keep looking.
Conclusion
---
The Foxconn Winfast NF4K8MC-ERS is the first nForce 4 and the first PCI-Express motherboard that I have had the chance to review and it is a nice motherboard. Since it is a micro-ATX motherboard I didn't expect it to have tons of ports and connectors and to still get 4 SATA port and 2 IDE ports with full RAID support as well as both USB2 and Firewire ports is a definite plus with this motherboard.
The downside with the size is of course the fact that you only get 2 DIMM slots and only 2 PCI slots which easily are blocked by a larger video card. The biggest negative though is the lack of the X-Bios II settings in the bios. I shouldn't have to run my high quality memory at a lower speed just because I cannot increase the voltage.  I am also quite disappointed by the sparse support you can find on their webpage. Even if it just a link to NVIDIA's homepage it at least would point users to the right place to get the latest drivers.
I pretty soon realized that this motherboard should be perfect for a smaller HTPC machine. If you put in a smaller fanless video card as well as a TV-tuner and then use the Cool'n'Quiet feature of the AMD64 CPU's you'll get a silent yet powerfull machine.
Summary: The Foxconn Winfast NF4K8MC-ERS might not blow you away with features but does what is is supposed to do. Some stability issues with my high-end memory as well as lacking support for overclocking will make it less interesting for advanced users.
Pros
+ Small
+ 4 SATA ports
+ Support for mixed (IDE/SATA) RAID
+ Good performance
Cons
– No way to change RAM voltage
– Limited overclockability features
– PCI slots easily blocked by large videocard
– Videocard extends over chipset fan
– Sparse support on Foxconn website