Samsung continues to bring new LCD screens to the public. This time we look at the Samsung SyncMaster 920T. I am very impressed with this monitor.
Introduction

Samsung is a company that continues to release new models of LCD monitors as technology for the monitors continues to improve.  This is usually good for consumers since they will get a monitor that should be as good if not better than earlier models.  The other effect of this is usually as price drops, more people move to LCD displays, lowering the overall cost for components.
The monitor I am looking at today is the Samsung SyncMaster 920T.  It is one of the latest 19" offerings from Samsung.
Specifications

 
 

Model

 

920T-Silver

Panel

 

Type

 

a-si TFT/PVA

 
 

Size

 

19″

 
 

Pixel Pitch (mm)

 

0.294

 
 

Brightness

 

250 cd/m 2

 
 

Contrast Ratio

 

1000:1

 
 

Viewing Angle (H/V)

 

178/178

 
 

Response Time (ms)

 

25

 
 

Aspect Ratio

 

5:4

 
 

Interface

 

Analog/Digital

Frequency

 

Horiz. Rate (kHz)

 

30-81

 
 

Vert. Rate (Hz)

 

56-75

 
 

Bandwidth (Mhz)

 

135

Resolution

 

Maximum

 

1280×1024

Colors

 

Supported

 

16.7 Million

Signal Input

 

Input Video Signal

 

Analog RGB, DVI Digital Link

 
 

Sync Type

 

Separate H/V, Composite H/V, SOG

 
 

Input Connectors

 

15pin D-Sub, DVI-D

Plug and Play

 

DDC

 

2B

Power

 

On/Working (Watts)

 

37

Wall Mount

 

VESA®

 

75mm (optional)

Cabinet Color

 

Front/Back

 

Silver

 
 

Available Colors

 

Silver

Dimensions (W*H*D)

 

Physical (inches)

 

17.1 x 16.8 x 8.5

 
 

Packaging (inches)

 

21.1 x 18.1 x 6.6

Weight

 

Physical

 

15.4 lbs

 
 

Packaging

 

20.7 lbs

Features

 

Special

 

MagicStand TM , MagicColor TM , MagicTune TM , MagicBright II TM , Height adjustment

 
 

Included

 
 

Multimedia

 

Speakers

 

Built-in 1.5 watt speaker

Warranty

 

Parts/Labor/Backlight (yrs)

 

3/3/3
Magic Tune Software

Samsung includes with the SyncMaster 920T their Magic Tune software, which lets you configure the monitor without having to use the button controls on the monitor.  This can come in handy if you are like me and hate using buttons to get through menus.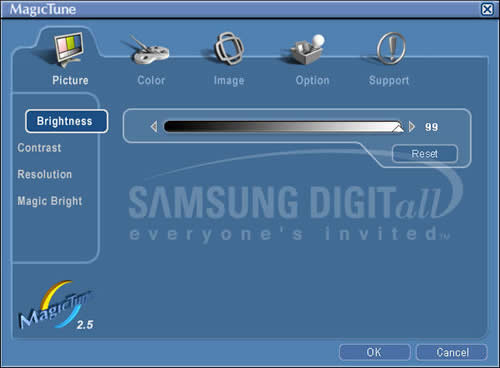 Here is the menu for adjusting the brightness.
Here is the menu for adjusting the contrast.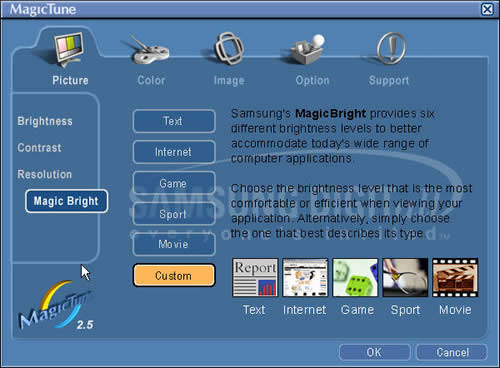 Here is Magic Bright, which Samsung has included a long time for their monitors.  It lets you set the brightness and contrast to predefined settings, depending on what you are using the monitor for.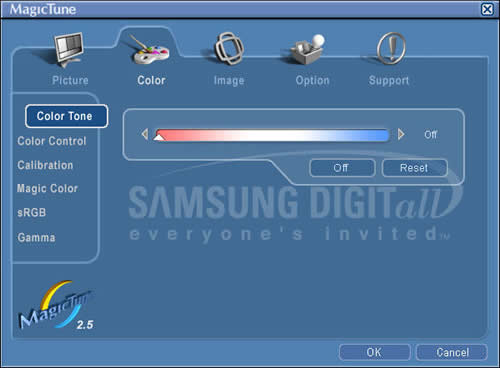 Here is the menu to set the overall color tone of the monitor.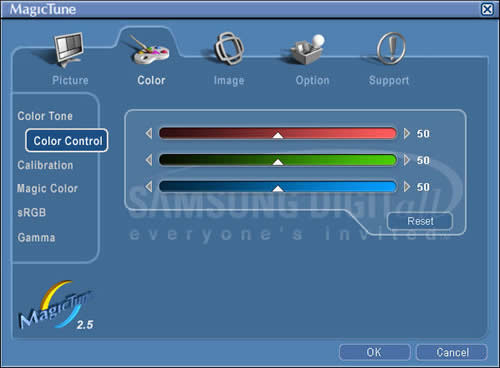 Here is the menu to set the three color levels.
Here is the menu to set the gamma level of the monitor.
Testing the Monitor

The monitor was tested on the following machine:
Asus A8N SLI Deluxe
AMD Athlon 64 FX-55
2 x 512MB Corsair TwinX 4400
2 x 6800GT in SLI
2 x 250GB Maxtor Diamond 10  in RAID 0
DirectX 9.0c, ForceWare 66.93
Windows XP SP2
Antec True Power 550Watt
SB Audigy 2 ZS
For testing I used both a VGA and a DVI cable when hooked to my PC.
I used to use a tool from Monitors Direct to test monitors, but their site seems to be either down or they have gone out of business.  So I used Monitor Test from Passmark.com to test this monitor.  This runs the monitor through 28 tests; I will be summarizing the key things about the monitor that the end user would notice.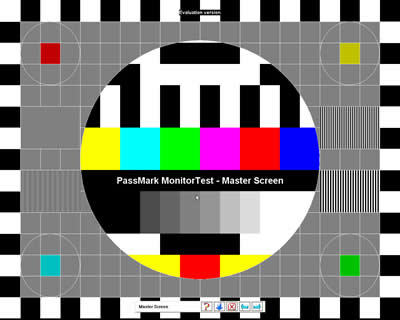 The Master Screen from PassMark MonitorTest
In this test, we look to make sure that the circles do look like circles and not eggs or stretched ovals.  We also want to make sure the lines are straight.  The 920T passed this test fine on both the DVI and VGA cable.
The solid color test runs a solid Black, Red, Green, Blue and White screen. What we are looking for is the colors not staying the same color thoughout the screen.  The 920T passed this test fine on both the DVI and VGA cable.  The only thing I did notice is one dead pixel that was only noticeable on the White screen.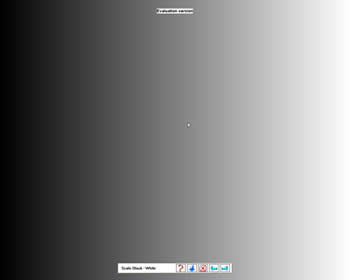 The image used for the Black to White test
In this test, we are looking at the monitor moving from Black to White. We also ran this test on Red, Green and Black.  The 920T passed these tests fine on both the DVI and VGA cable.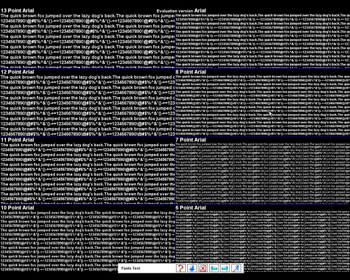 The image used for the font test
This test displays from 13 point Arial font to 6 point Arial font on the screen.  We look to make sure we can read all the text clearly.  The 920T passed this test fine on both the DVI and VGA cable.
Game and Video

Samsung points out that this monitor is not meant to be a gaming monitor.  The response time is rated at 25ms, and you really want 16ms or less for gaming.  But I always like to look and see how the monitor does anyway.
 
I played Pacific Fighters, which is a flight simulator, and the monitor worked fine for this game.  No ghosting was noticed.  In Counter-Strike and Unreal Tournament, though, ghosting was noticed in fast movements.  But it was not as bad as seen in other 25ms monitors I have looked at.
For video playback, I tested the monitor watching the following WMV-HD videos: Step into Liquid and Terminator 2.  Both videos played where the 720P version to work with the 1280×1024 of the monitor.  No ghosting or banding was noticed at all.  I also used this as a chance to test the internal speakers of the monitor.  The speakers performed okay but lacked any low end bass.  This was expected due to the speakers small size.  But the speakers would work fine in an office environment where desktop space is crucial.
Conclusion

The SyncMaster 920T is a solid performing monitor that would work great in any environment of computer use except the hardcore gamer.  I found even after playing Half-Life 2 for an hour, after about the first five minutes, I was able to get used to the slight ghosting, and it did not bother me anymore.
PROS:
Very good display and colors
Pivot feature of monitor easy to use
Good video playback
Price 618.00 to 720.00 (Find best price at Pricegrabber)
CONS:
Speaker sound lacks bass
For being a non-gaming monitor and doing what it is designed for very well, I am giving it a 8.5 and the Seal of Approval!!