Not content to just bringing the best mousepads for gamers, Icemat also has released gamer headphones. We've tested them to see if they are any good.
Introduction
With all the talk about surround sound, 5.1 speaker systems and 7.1 speaker systems, it is sometimes easy to forget that in some cases a pair of good headphones is to be preferred or even a necessity. I, for instance, cannot turn up the volume of my 5.1 system too high since I don't want to disturb the neighbors or my wife. At the same time, I want to be able to experience a good gaming session of World of Warcraft or Doom 3, and we all know that the sound is just as important as graphics.
Icemat is mostly known for their mouse pads, but they also have a new line of audio products. Today, I am testing their headphones, the Icemat Siberia, to see if Icemat makes gamer headphones that match the level of quality of their gamer mouse pads.
The Headphones

Let's look at the specifications:
HEADPHONE:
Frequency resp: 18-28.000 Hz
Impedance: 40 Ohm
Cable length: 1,0+1,8=2,8m.
Jack: 3,5 mm. + 6,3 mm. converter.
MICROPHONE:
Frequency Response: 80-15.000 Hz
Pick-up pattern: Sensitive uni-directional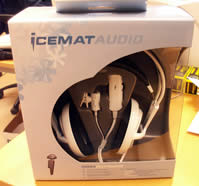 The headphones come in a small box, which displays them through plastic. Unlike most headphones, which are black, these are in white, fitting perfectly with the name Siberia. The material they are made of is plastic, but it isn't cheap plastic. The feel the headphones have is very professional and even a bit luxurious. To make the headphones more comfortable, Icemat has put a soft black material on each headphone. In addition, the headphones have an auto retractable wire system for the headband, which makes it fit your head perfectly without you having to do anything. These headphones really are comfortable. I've used a lot of headphones, but none have been as comfortable as these.
The headphones have holes in them, letting the outside sound 'leak' in. This, however, also lets the sound 'leak' out, which means you won't want to listen to music with a high volume in public unless you want to annoy others.
The cord from the headphones is made out of an unusual material, making it very flexible yet sturdy. It's hard to explain in words, but once again, it works very well, allowing the cord to bend easily. The basic cord is just about a meter long, and this feels a bit short. Included is, however, an extension cord that is 1.8 meters long and also includes a volume control as well as a microphone.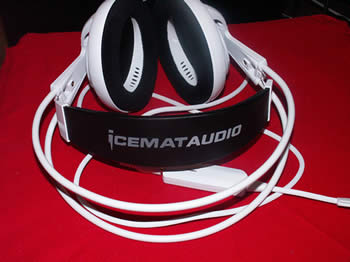 The microphone is not of the normal boom type but instead completely separate from the headphones. It can easily be clipped on your shirt.
Performance
As I mentioned earlier in the review, these are comfortable headphones. They do, however, make you look pretty strange wearing them. I personally never would use them in public.
Music
Even though these are mainly gaming headphones, they also can be used for listening to music. Icemat even sells their own branded MP3 player.  I chose to test the headphones both together with my Creative Zen Micro and with the computer. I chose to listen to a variety of music including some classical music, 80s rock as well as some modern music. I chose music both with lots of bass as well as higher notes to get a feel of the range these headphones could pump out.
As a comparison, I chose my
KOSS Porta-Pro
. The frequency response of these headphones is 15-25,000 Hz.
The result of the testing is that these headphones really are capable of pumping out excellent sound. The bass has a bit less oomph than the KOSS Porta Pro's, but overall it still is rich and nice. If there is anything that I could complain about, it is that at higher volumes, I felt that the higher frequency sounds were a bit too loud compared to the mid and lower frequencies. While finishing up this review, I had to switch motherboard from a MSI K8N Neo Platinum (nForce3) to an ASUS K8NE-Deluxe (nForce3). They both use the same sound (RealTek ALC850), and yet the ASUS motherboard produced much better bass with the headphones, even if I used the same exact settings in the control panel for the sound.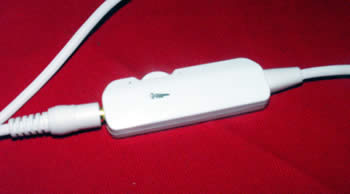 Gaming
These headphones where made for some serious gaming, that is for sure. First of all they are, and I know I am repeating myself, extremely comfortable. These babies can sit on your head for hours after hours without you feeling any ache either on the ears or the head.
To test them, I played several longer sessions of World of Warcraft as well as some Flatout (racing game), Far Cry and Act of War: Direct Action. The quality of the sound in the games is excellent. World of Warcraft actually became even better with these headphones (and that is hard since I love that game from the start). The game has tons of background ambience sound, voices and sound effects, and these headphones really heightened the experience.
To test the microphone, I hooked up with some friends in WoW and spoke to them through the use of Ventrilo, a chat server software that allows you to talk to other people that are connected to the same server.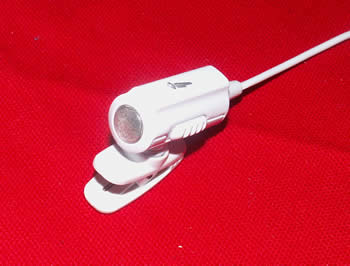 Even though the microphone isn't as close to the mouth as a boom mike, the sound is both clear and plenty loud. No-one I talked to had any issues hearing me.
Conclusion

These are really great headphones. I was a bit skeptical at first, not knowing if Icemat would be able to create as good of headphones as they have done mouse pads, but it is clear they know what gamers want. While I wouldn't want to go around on the street with these on, they now have a dedicated spot at my gaming computer.
Pros
+ Looks good
+ Excellent sound quality
+ Separate mic
+ Long headphone cable
+ Very comfortable
Cons
– Almost too long headphone cable
– You look goofy in them
– A tad more bass would have been nice
I award the Icemat Siberia a solid score of 8.5 out of 10 and a Bjorn3D Seal of Approval.