One of the coolest things you can offer customers is a warrantied overclock, and BFG continues to do just that with its "OC" line of video cards. Check out this review of BFG's 6600 GT OC; I cover the performance of the card by itself and in SLI mode. See how much of a difference the slight overclock makes when compared to a competitor's non-overclocked card.
INTRODUCTION
---
With its lifetime warranty, it's easy to recommend the BFG Tech brand of video cards to people who ask for purchasing advice. A warranty isn't enough to sell a product though. BFG also consistently offers great performance and often top performance thanks to its "OC" line of graphic cards, which offer warrantied out-of-the-box overclocked speeds.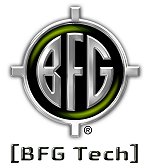 Today, I'm going to take a look at BFG's entry level SLI-capable card, the 6600 GT OC. This card comes with a 25MHz overclock on both the core and memory clock. It is also a dual DVI card with HDTV support. Read on to see how the card performs by itself and teamed up with a twin for some SLI action.
FEATURES, SPECIFICATIONS and BUNDLE
---
Features
PCI Express™
NVIDIA SLI multi-GPU ready
Superscalar GPU architecture
NVIDIA CineFX 3.0 engine
High Speed GDDR3 memory interface
Microsoft DirectX 9.0 Shader Model 3.0 support
Specifications
BFG GeForce™ 6600 GT OC
PCI Express™
Memory 128MB GDDR3
Core Clock 525MHz (vs. 500MHz standard)
Memory Clock 1050MHz (vs. 1000MHz standard)
RAMDAC Dual 400MHz
Microsoft® DirectX® 9.0 and lower, OpenGL 1.5 and lower for Microsoft® Windows®
Connectors Dual DVI-I, HDTV
S-Video Out
393 million vertices/sec setup
16.8GB/second memory bandwidth
Bundle
BFG GeForce™ 6600 GT OC graphics card
Quick install manual
DVI-I to VGA dongle x 2
HDTV / Video-Out Cable
Driver CD, which includes:

NVIDIA® ForceWare™ unified graphics drivers
NVIDIA® demos
Full installation manual .pdf
NVIDIA® NVDVD™ 2.0 multimedia software
Windowblinds™ BFG/NVIDIA® skins
The most exciting thing about the BFG 6600 GT OC is that you get a fully warrantied overclock out of the box, which means you know that you get better performance than any of the competition's stock 6600 GT's. The bundle, though, is not very exciting, but BFG manages to throw in NVDVD 2.0 and some Windowblinds BFG/NVIDIA skins. Many of us would like to see a good game or two in a bundle, but BFG typically does not follow that path. Rather, the company's focus is performance, hence the entire "OC" line of cards.
CLOSER LOOK
---
The BFG 6600 GT OC is noticeably heavier than the Leadtek WinFast PX6600 GT that I just reviewed due to all the copper used for the cooler. Copper weighs more than aluminum, and the Leadtek 6600 GT's cooler is all aluminum. I think the copper actually looks a bit more distinctive, especially on BFG's typical blue PCB. As you can see below, copper covers every chip on the board. Additionally, the cooler moves air with a nice-looking clear fan.
Since it is the PCI Express version, this BFG 6600 GT OC is SLI multi-GPU ready. It also features 128MB of GDDR3 and support for Shader Model 3.0. BFG opted to go with the dual DVI layout instead of the more common VGA + DVI configuration. That's a good choice considering the continual increase in LCD monitor popularity. Never fear though if you have no use for DVI connections; BFG includes two DVI-to-VGA adapters in the box.
In addition to the blue PCB and copper cooler to provide good looks, the BFG 6600 GT OC also features a blue LED to light up your case. You can check out the pictures below to get an idea of how bright the LED is. In the pictures, you can see what the SLI setup looks like.
TEST SYSTEM, OVERCLOCKING and BENCHMARKS
---
Test System
My test system features the DFI LANPARTY NF4 SLI-DR, which I recently reviewed, and an Athlon 64 3200+. I've also included a gig of RAM and used Windows XP SP2.
The result charts on the following pages will show you how the BFG 6600 GT OC performs in single and dual-GPU mode compared to the following video card configurations: single Leadtek 6600 GT, dual Leadtek 6600 GT's in SLI, and a single reference NVIDIA GeForce 6800 GT. I have also included the percentage difference between a single 6600 GT OC's performance and the 6600 GT OC SLI's performance on the charts. Here are the components that make up my test system.
AMD Athlon 64 3200+
DFI LANPARTY NF4 SLI-DR (review)
Vid Card 1: NVIDIA Reference PCI-Express GeForce 6800 GT
Vid Card 2: Leadtek GeForce 6600 GT (single and SLI) (review)
Vid Card 3: BFG Tech GeForce 6600 GT OC (single and SLI)
Maxtor 120GB Serial ATA 7200RPM Hard Drive w/ 8MB Buffer
Windows XP with Service Pack 2
DirectX 9.0c
ForceWare 66.93
Overclocking
When you buy an "OC" card from BFG, you get overclocking right out of the box. In the case of the 6600 GT OC, you get an additional 25MHz over stock on both the core and memory clock. Rather than the reference clocks of 500MHz and 500MHz (1.0GHz DDR3), the 6600 GT OC runs at 525MHz for the core and 525MHz (1.05GHz DDR3) for the memory. BFG's overclock is typically on the conservative side, so I figured I could get some more out of this card. I was able to overclock the 6600 GT OC to 580MHz core (16% higher than 500MHz) and 560MHz/1120MHz memory (12% higher than 500MHz). The performance increase that resulted from this overclock was between 4% and 11%.
Benchmarks
3DMark03 v3.6.0 – default settings
3DMark05 v1.2.0 – default settings
AquaMark3 – NoAA / NoAF and 4xAA / 8xAF, both with drivers set to application controlled
Counter-Strike: Source – Video Stress Test – NoAA / 2xAF and 4xAA / 8xAF, both with highest details set in game with drivers set to application controlled
Doom 3 1.1 (demo1) – NoAA / High Quality and 4xAA / High Quality, both with highest details set in game with drivers set to application controlled
Far Cry 1.3 – NoAA / 1xAF and 4xAA / 4xAF, both with highest details set in game with drivers set to application controlled
Note about customer support:
I was having issues when running the test system with two 6600 GT OC's in SLI mode. During benchmarks, the NVIDIA Sentinel warning system kicked in and indicated that not enough power was being fed to the cards. I checked the cards to make sure they were inserted fully, and I did some other minor trial and error troubleshooting. Nothing I did seemed to fix the problem, and I wasn't worried about the power supply since this system has a 680W unit in it. I decided to just go ahead and call tech support at about 6:30pm to see if they had any reports of issues with the cards or maybe even the PSU or motherboard I was using. After a very short wait on hold, I talked to a very nice support person who suggested that I use Driver Cleaner and reinstall the drivers (he suggested the 71.90 drivers from guru3d.com). I tried the suggested steps but went with the 66.93 drivers instead since I needed to use those for the comparison to previous benchmarks. The Sentinel system hasn't popped up again since then. It's really great to have such quick and easy-to-use 24×7 tech support available after purchasing a product.
PERFORMANCE – 3DMARK
---
There is no need for introduction to Futuremark's 3DMark benchmarking applications. Although many people question their benchmarking relevance, their popularity and ease of use is undeniable. As long as people seem to love comparing their 3DMark results, I'll probably include them in my reviews since they provide a good reference point.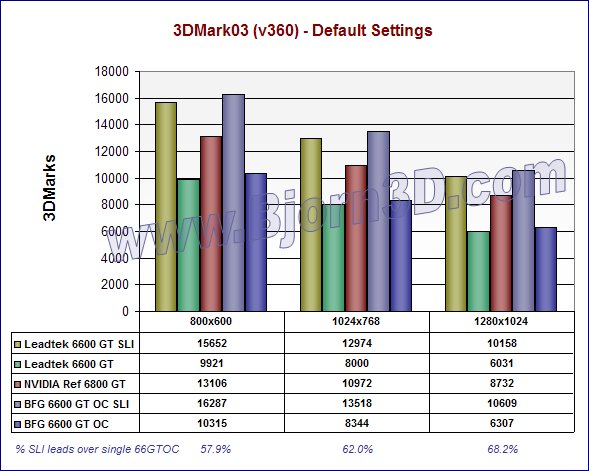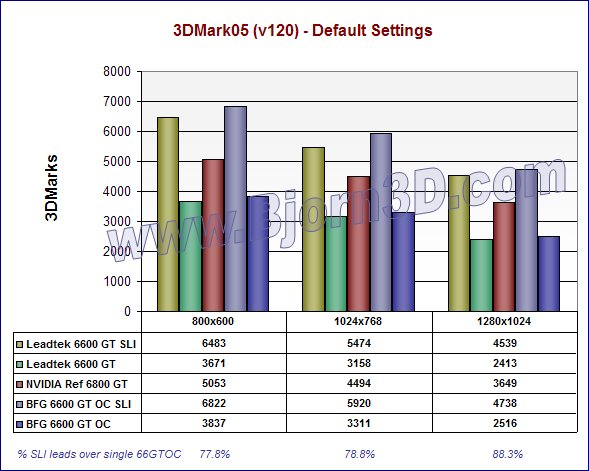 Synthetic benchmarks paint SLI in a very good light, but we have to take these results with a grain of salt since they don't directly indicate how the cards would perform in any certain games or game engine. You can get a good feel for how much of an edge the BFG 6600 GT OC has over the stock clocked Leadtek card though.
PERFORMANCE – AQUAMARK3
---
The AquaMark3 benchmark is based on an actual game engine, and it can really stress even the most modern cards. I ran the benchmark with AA and AF disabled and also with 4xAA and 8xAF in the application and "Application Preference" set in the driver control panel.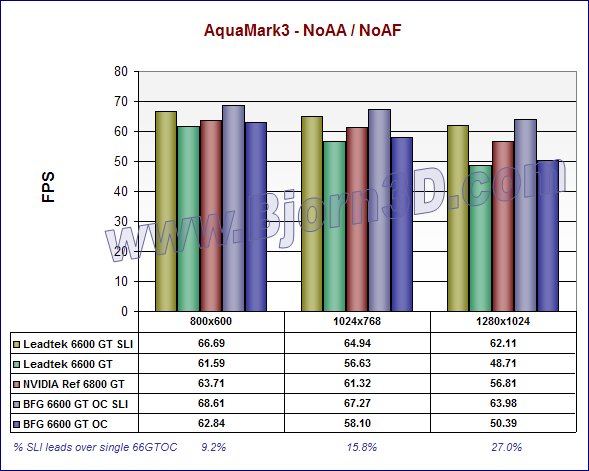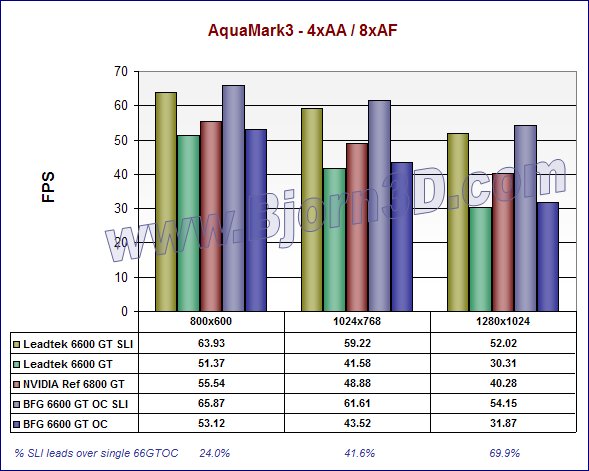 Once again, the BFG card shows us what a little overclocking can do by outperforming the Leadtek card by around two frames per second across the board.
PERFORMANCE – SOURCE STRESS TEST
---
The Source Video Stress Test can be accessed within the Counter-Strike: Source game menu. The benchmark is rather short but involves rendering some very complex imagery. The final result is shown in frames per second (FPS). I ran the test with two different AA / AF settings in the game's options — NoAA / 2xAF and 4xAA / 8xAF. Also, I selected high details for all quality options.
Not much is surprising here. The BFG SLI pair is the top performer overall with NoAA / 2xAF, and it competes closely with the 6800 GT when 4xAA / 8xAF is set.
PERFORMANCE – DOOM 3
---
While it can play fairly well on low-end systems at lower resolutions, Doom 3 can really punish a system if you crank up the details and resolution. I ran the included demo1 timedemo with quality set to high and AA turned off and also with quality set to high and AA set to 4x in the game.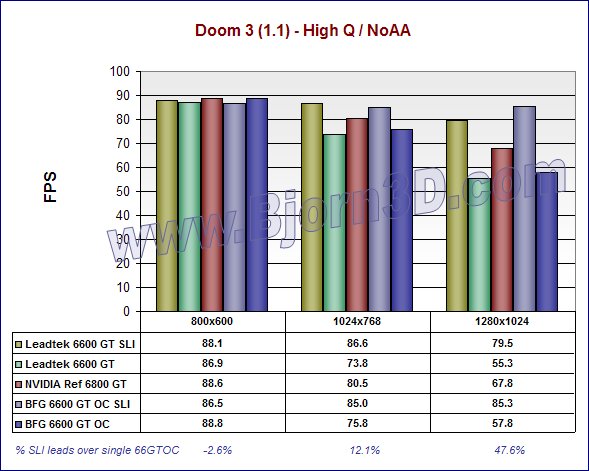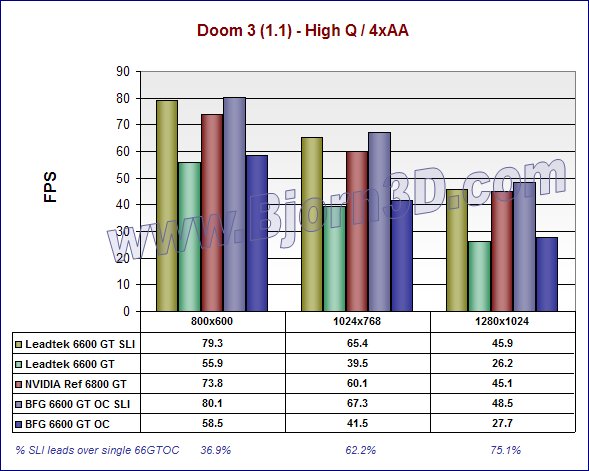 Doom 3 is a game that definitely benefits from SLI, especially at higher resolutions and with AA and AF enabled. The BFG cards offer a slight advantage over the Leadtek 6600 GT, and the BFG SLI configuration overcomes the 6800 GT by an impressive amount.
PERFORMANCE – FAR CRY
---
Far Cry is currently one of the most pipeline-punishing PC games available. Playing at the highest resolution with eye candy maxed out and still getting playable frame rates is not really possible for even the most powerful systems and graphics cards. The demo I have chosen to use with Far Cry is the PCGH_VGA Timedemo from 3dcenter.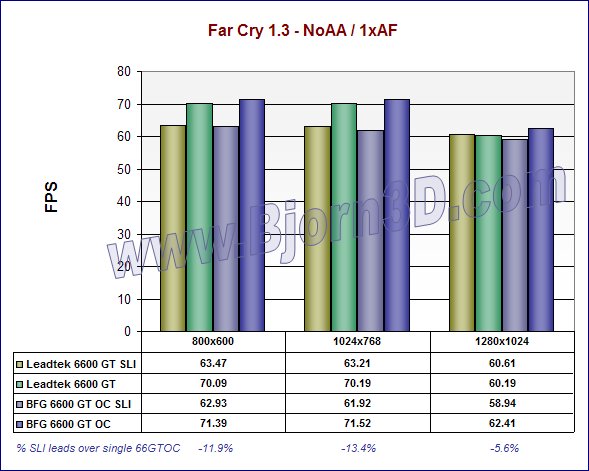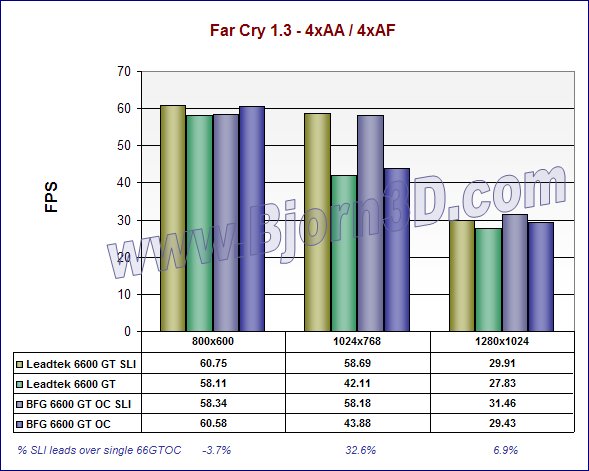 SLI seems to act kind of weird here for some reason. I'm not sure if it's a Far Cry thing or if it's just this test situation or a test system limitation. By itself though, the BFG 6600 GT OC offers a nice extra bit of performance over the Leadtek 6600 GT.
CONCLUSION
---
For the out-of-the-box warrantied overclock, you will have to pay a slight price premium over stock speed 6600 GT's, but if you want one of the highest performing 6600 GT's available, then BFG has you covered with its 6600 GT OC. It's a great card with cool looks and a mediocre bundle. As always, though, I have to emphasize BFG's lifetime warranty and 24×7 tech support. Those two things are very big selling points to me and offer a lot of comfort you just can't get from many other companies.
Obviously since the 6600 GT OC offers great performance by itself, it will also provide some of the best performance numbers (if not the best) in SLI mode when you set up a pair of them on your SLI motherboard. If performance and support are your top concerns, then look no further than BFG. The "OC" line continues to offer top performance.
My main concern about the BFG 6600 GT OC was how hot it seems to run. Every time I checked the temperature in the NVIDIA driver control panel, the GPU was indicating a temperature between 60C and 75C (higher if I had just exited a game or benchmark). This is actually hotter than the Leadtek 6600 GT's that I've referred to several times in this article. The all-copper solution is also quite a bit heavier than aluminum solutions.
Pros:
+ Lifetime warranty
+ 24×7 tech support
+ Top 6600 GT performance
+ No power connection required
+ SLI capable
+ Already overclocked
Cons:
– Copper cooler makes it relatively heavy for a small card
– Runs a little hot (although still in acceptable ranges)
Final Score: 9 out of 10 and the Bjorn3D Seal of Approval