Pull yourself away from that TV and get to work on that paper! Wait, why don't you do both with the Leadtek WinFast TV USB II hooked to your PC. Watch TV right on your desktop, record your favorite show, or listen to the radio! Homework just got better.
Introduction
---
I can't seem to get away from the vast expanse of multi-media madness that has enveloped the lives of so many of my fellow geeks. Not only do I have 5.1 surround sound, a 20.1″ LCD monitor, and a bunch of games to boot, now I have my TV in front of me at the same time. Leadtek brings to the table the WinFast TV USB II Deluxe external solution that will give you the joys of cable TV, VCR, and an FM radio right on your desktop. How do you fit so much into just a tiny little USB 2.0 box? Turn off that TV and pay attention; we are just about to find out.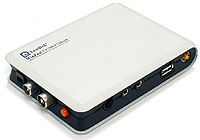 Specs
---
Here's a general run-down of the specs for the WinFast TV USB II Deluxe that come straight from Leadtek's website.
Hardware Interface
USB 2.0 port, Plug-n-Play compliant
NTSC, PAL or SECAM TV Tuner
NTSC, PAL I/DK, PAL BG/DK, PAL M/N, SECAM LL, SECAM, BG SECAM DK for respective model
Full 181 channels
Support Stereo FM
Connectors
1 F /IEC connector for RF TV source reception
1 F /IEC connector for RF FM source reception
1 Mini USB Connector
3-port USB Hub
1 Mini Din 4 pin connector for S-Video input
1 RCA for Composite Video input
1 phone Jack for audio input
1 phone Jack for audio output
1 DC Adaptor connector
Package Contents
WinFast TV USB II Deluxe unit
1 FM antenna cable
1 Mini USB cable
1 audio cable
1 DC Power Adaptor
1 TV USB II Deluxe carry case
1 Slim Remote control with battery
WinFast PVR User's Manual
WinFast TV USB II Series Quick Installation Guide
WinFastPVR Multimedia Software Pack DC
Ulead Video-Editing Software Pack CD
Minimum System Requirements
USB 2.0 compliant port
Pentium III 550MHz or higher
128MB of system memory
Microsoft Windows XP with SP1/ 2000 with SP4 OS
1 sound card line-in or speakers
For many, this may be the first time you have seen a completely external solution for TV on your PC. I have had a TV tuner PCI card in my machine for several years now and have gotten used to channel surfing on my desktop. This is the first opportunity to see an external solution myself so hopefully I can give you a good idea of a "first-time" view of the Leadtek box.
The WinFast TV box is about the size of a hard drive, is made mostly of a strong plastic, and is pretty darn light. Although the primary material is plastic, the unit feels strong and durable.
The box has connections for the USB cable connected to your PC, coax connection for TV and for an included FM antenna, the audio in and out miniplug jacks, S-Video, a composite RCA jack, and three additional USB ports for you to use as you wish. I think I'm up to ten or so available USB ports on my PC now!
Installation
---
Installation didn't go as smoothly as I had hoped. I plugged the mini-USB cable into the TV tuner box, gave it power, plugged in my coax cable, attached the FM antenna, ran the mini-plug from the audio out to my line-in jack on my soundcard, and finally plugged in the USB cable to the back of my PC. Immediately the Windows XP install wizard came to life and I placed the included CD in my DVD drive to install the drivers. The drivers for the video aspect of the tuner went very smoothly. Then came the audio drivers. It was a pretty seamless process that seemed easy enough. I installed the WinFast PVR software and got ready to enjoy some TV goodness. Then came my problems. 🙁
I started up the PVR software and the entire system went numb. I checked the task manager and noticed that the "system" process was taking up 98% of my processing power. That's not good and I knew it. I thought maybe a simple re-install may fix it up so I uninstalled and re-installed the hardware in the same order….same problem. I could randomly get the TV going if I started the software before I powered up the TV tuner box. It just wasn't right.
I immediately went back to the drivers. I wondered if installing the drivers manually would be more effective than the Windows XP wizard. In the device manager the tuner would appear when it was powered on along with a USB audio device. In a very long drawn out process due to the fact that 98% of the processor was being used when it was on, I reinstalled the TV tuner drivers and low and behold, it didn't go away. I then moved to the audio drivers and suddenly found my problem. When I installed the audio drivers directly off of the CD by manually choosing the location the name changed from "USB Audio Device" to "USB EMP Audio Device". I was just happy that I got a different result. It is usually a good sign that you at least made a change. Well, what do you know, works like a charm now. It seemed as though the automatic installation of the audio drivers put the wrong version on my machine leaving me dead in the water right off the bat.
The bad thing about all of this was the strain to get the drivers installed again. In order to install them the tuner box had to be attached and on. When it was on, the enormous use of the processor left me moving at a snails pace no matter whether I had the PVR software running or not. I finally figured out that by starting the software before I turned it on I could actually re-install the drivers with relative ease.
So now that my installation escapade is over, I was running smoothly for the first time. Another thing came up right after that. When you install the tuner, make sure you keep it in the same exact USB port for the rest of its lifetime! If you move ports, plan on going through the same process all over again to install the tuner.
Impressions
---
So now that my installation escapade is over, I was running smoothly for the first time. Another thing came up right after that. When you install the tuner, make sure you keep it in the same exact USB port for the rest of its lifetime! If you move ports, plan on going through the same process all over again to install the tuner.

Okay, now that this thing is running why don't we take a look at the software that makes it work. Leadtek has the WinFast PVR software to bring you all your multimedia needs. It is a pretty straight-forward application that allows you to watch TV, listen to FM radio, and record your favorite TV shows right on your PC. All it takes is a simple installation and a quick double-click brings the TV to life.
The initial setup is also a breeze. I immediately went into the WinFast PVR configuration and ran a channel scan to get all my stations programmed into the software. I know with other TV tuners I have used, including my regular old living room TV the channel scan can take a while leading to boredom and an overall desire to nap. This thing is quick, very quick. It scanned through everything in no time.
There is a simple channel menu in the configuration that you can use to edit channel names and add or delete them from your stored channels. There are color controls to adjust saturation, contrast, etc. to get your picture looking as good as it can.
The config also gets your PVR (Personal Video Recorder) up and ready. You can choose what format you want to save your videos as, your audio source, file name, and all that good stuff to make saving that TV show that much easier. You can choose every format from MPEG-1 and 2 in Normal, Good, and Optimal qualities to VCD, SVCD, DVD, Windows Media, Uncompressed AVI, and three options to directly burn a VCD, SVCD, and DVD on the fly.
I tried out the PVR functions in several different formats to see how well I was going to be able to use this thing as my own little digital VCR. Recording with the included software is very simple. All you need to do is configure your format, find your channel, and hit the record button. The video never really skips a beat and the quality of the recorded channel comes out exactly as how it appeared on the screen. The major drawback of course is the size of the file you end up with. Yup, we are talking gigs upon gigs of data when recording a full length movie or your favorite team's game. When you start to think about the size of hard drives you can buy up for relatively cheap, the storage situation doesn't look as bad as it could be. I have two 80GB drives in RAID 0 and I am starting to think that I don't really have enough. I could definitely use a couple of 200GB+ drives to have a little bit of extra real estate to keep all my recorded programs. Don't be afraid to be away from the PC when your favorite show is on either. You can schedule recording sessions for when you are away. Eat your heart out all you other TV set digital video recorders.
Impressions cont.
---
Overall the picture quality is pretty much dependant on your cable service and your display. I haven't experienced anything but great picture quality while using the WinFast TV USB II.
Another issue that I have noticed in the past with TV tuners is their ability to consume way too much processor power. I have worked with several that have used up 20-25% of my processors power at any given time. No need to worry about the Leadtek WinFast USB TV II Deluxe because it hung around the realm of 3-7% while simply watching TV.
One thing I don't like about the software is the border that it places around the television screen when you have it in windowed mode. There is a blue border that in my opinion is too much and could be reduced or eliminated completely to make the TV window less bulky. There are even sets of "lights" that scroll up and down on both sides of the screen that basically drive me nuts! Of course there is no border when you have the TV at full screen, but I usually watch TV while I am working on other things leaving the TV in a windowed mode.
The FM radio works great. The included external extendable antenna picks up just about every station around. The sound quality is great and the software is easy to use and setup. It's a great little add-on to the TV tuner that increases its overall value a lot. Did I mention that all sound on the WinFast TV USB is full stereo? That's always good to hear (no pun intended).

Speaking of included extras I forgot to mention the slick little remote control for the unit. Its about the size of a credit card and maybe 1/4″ thick at the most. It's a great little remote but the buttons are "underneath" a plastic overlay. Sometimes when you press them they don't respond and it takes a little more effort to get a channel changed or the volume to move up and down. It also has a little more sensitive sweet spot than I had hoped. I have the box sitting on my tower underneath my desk and I have to literally hold the remote under my desk and point it directly at the unit. I was hoping it would be strong and broad enough to let me point it at my monitor and get the same effect. I guess you win some and you lose some.
Final Thoughts
---
So there you have it. The Leadtek WinFast TV USB II Deluxe is loaded to the hilt with features and performance. It is definitely one of those add-ons that I can't live without. Having that TV window right in front of me whether it's to watch the news or the big game is a must. Yes, I do enjoy overloading my brain 24 hours a day, but most PC enthusiasts do the same…..right?? 🙂
You can find the Leadtek WinFast TV USB II Deluxe for right around $120 at your favorite e-tailer. That puts it right on par with other premium TV solutions across the board. The great bundle and FM radio keep the plus signs coming and really add to the overall quality and performance of the product.
PROS:
+ TV on your desktop!
+ Low processor use
+ Great software bundle
CONS:
– Painful installation problems
– Since it's external, just another thing to find a place for
Overall the Leadtek is a great product. I had my fair share of problems, but they were fixable and were fortunately short term issues. I'm a big fan of TV on your desktop and if you haven't had the opportunity or desire to check it out….do so, it is definitely worth it. I definitely recommend the Leadtek WinFast TV USB II Deluxe and give it an 8.5 out of 10 and the Bjorn3D Seal of Approval.