If you are interested in one of the most powerful GPUs available, take a look at this review of Leadtek's flagship video card, the WinFast A400 Ultra TDH (GeForce 6800 Ultra). As is typical with Leadtek's card, the A400 Ultra features a custom cooler, and since it's a 6800U, it offers awesome performance.
Introduction
---
If you want the fastest graphics engine for gaming on the planet, you basically have two choices: ATi's Radeon X800 XT or NVIDIA's GeForce 6800 Ultra. Each one has its strengths and weaknesses, and each one can dominate the other depending on the game or benchmark being run at the time. Until now, we had only reviewed one of each of these graphics powerhouses in retail form. Bjorn took a look at the HIS Excalibur X800 XT IceQ II VIVO LIMITED EDITION last month, and Scott reviewed the BFG Tech GeForce 6800 Ultra OC in July.

This month, I'm fortunate enough to add to that list with the Leadtek WinFast A400 Ultra TDH, which is based on the GeForce 6800 Ultra GPU.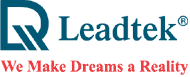 It seems quite rare that Leadtek releases an NVIDIA card that is just a reference design in a fancy box. The company almost always produces a quieter, more effective and custom cooling solution for each of its graphics cards. Personally, I appreciate that, as I enjoy seeing companies improve upon the reference designs and deliver something more appealing to their customers.

If you've followed Leadtek's previous GeForce generations, you know the company delivers unique and innovative designs that can definitely spark interest and discussion. The WinFast A400 Ultra is no exception, so please read on if you want to take a closer look at this high-powered card.
Features and Specifications
---
Features
3 Air-Surround Cooling System
256MB DDR3
Built-in Dual DVI port
TV-out Support
Full-version Game Bundle (Prince of Persia & Splinter Cell)
Video-editing software bundle (DVD Player, WinFox II, Cult 3D)
Full Accessories pack

For a better overview of the features offered by this card, go here.

Specifications
Graphics Engine
NVIDIA GeForce 6800 Ultra
Memory
DDR3/256MB
Memory Bus
256-bit
Core Clock
400 MHz
Memory Clock
550 MHz
Form Factor
2-slot
Bus Interface
AGP 8X
Pixel Pipelines
16
Memory Bandwidth
35.2 GB/sec
Fill Rate
6.4 billion texels/sec.
Vertices per Second
600 Million
Memory Data Rate
1100 MHz
Pixels per Clock (peak)
16
Textures per Pixel
16 (max. in single pass)
400MHz RAMDACs
0.13 Micron Process Technology
CineFX 3.0 Engine
Unified Driver Architecture (UDA)
Intellisample 3.0 Technology HCT
High-Precision Graphics
nView Multi-display Technology
Digital Vibrance Control (DVC) 3.0
Architected for Cg
Microsoft® DirectX®9.0c Optimizations and Support
OpenGL®1.5 Optimizations and Support
On-board DVI support up to 1600×1200 resolution
Vivid NTSC/PAL TV-out support with flicker filter
The Card and Bundle
---
As is typical with Leadtek cards, the WinFast A400 Ultra features a custom cooling solution. In the case of this 6800 Ultra, it happens to be quite heavy. In the past, we've seen Leadtek try many interesting custom designs, like dual fans with big slabs of metal and encasing an entire card in aluminum. This time the design is rather simple — a big fan and a lot of copper with an interestingly shaped plastic cover. The copper is found on both sides, completely covering the memory chips and GPU.
Attack of the Duals: Dual-Slot, Dual-DVI and Dual-Power
Like other 6800 Ultras, the WinFast A400 Ultra is a dual-slot solution, which you'll have to decide for yourself if that's an issue or not. To me, it just makes the installation a bit more of a hassle, but that's about it. I consider leaving the first PCI slot open a necessity and not an option. I actually try to leave the first two below the AGP slot open to give the video card plenty of breathing room.
While the dual-slot thing might disappoint some, the dual-DVI connectors should not bother anyone. Although I don't have any monitors with DVI connections, I think this is a great step towards the future. LCDs are becoming increasingly popular, and they will take over for most CRTs in the coming years. Additionally, DVI provides a better overall picture than VGA. Don't worry though; Leadtek kindly includes two DVI-to-VGA adapters.
The final "dual" worth noting is the dual power connectors. You've probably all heard it by now, but the 6800 Ultra has two 4-pin power connectors. For optimal connection, plug two separate 4-pin connectors from two separate lines directly from your power supply into the card. If you don't have two unused lines, then make sure that at least the primary power connector has a dedicated line and then plug another connector into the secondary power plug. You will want a very solid power supply in your system if you use a 6800 Ultra, probably at least 400-450W.
The Bundle
Leadtek consistently tries to pack good stuff in its bundles, and the WinFast A400 Ultra bundle shows that. In addition to DVD player software, the custom WinFox II software and some interesting utilities, Leadtek opted to throw in two excellent games: Prince of Persia: The Sands of Time and Splinter Cell: Pandora Tomorrow. Additionally, two mediocre games, GunMetal and Big Mutha Truckers, are included in the retail box. As with all good retail packages, you get more than just software; you also get cables and adapters. Leadtek was thoughtful enough to include two DVI-to-VGA adapters and two Y-power-split cables. Here is a full list of what is included in the WinFast A400 Ultra retail box.
WinFast A400 Ultra (GeForce 6800 Ultra) Video Card
2 x Y-Power-Split Cable
2 x DVI-to-VGA Adapter
AV Cable
S-video Cable
S-video-AV Cable
Quick Installation Guide
WinFast Series General Guide
Software CD:

ForceWare Drivers
DVD Player
WinFox II
Cult 3D
Coloreal Embedded
Coloreal Visual
Coloreal Bright

Games Bundle

Prince of Persia: The Sands of Time
Splinter Cell: Pandora Tomorrow
GunMetal
Big Mutha Truckers
Benchmarks – Test Setup and 3DMark03
---
I will be comparing the WinFast A400 Ultra to the Sapphire X800 Pro and BFG GeForce 6800 GT OC. Therefore, I'm going to use the same benchmarks and games I used for those reviews in this review. I'll also throw in some Doom 3 scores for the 6800 Ultra since it seems to be the card to have for Doom 3. The other benchmarks include AquaMark3, X2: The Threat Rolling Demo, Unreal Tournament 2004 and Far Cry. I'm also throwing in 3DMark03 since so many people are familiar with it, but I'll only be comparing the two NVIDIA-based cards.
Test System:
All benchmarks except 3DMark03 will have AA (anti-aliasing) and AF (anisotropic filtering) enabled. If you are paying over $400 for a video card, I doubt you are going to live without the eye candy. That's what you're paying the extra money for, so that's what I'm focusing on with these tests. Keep in mind that the BFG GeForce 6800 GT OC is overclocked by default to 370MHz on the core, but the memory is the 6800 GT stock speed of 1,000MHz.
3DMark03 – Build 340
When running 3DMark03, I just used the default settings for image quality and set AA and AF to "Application Preference" in the driver control panel.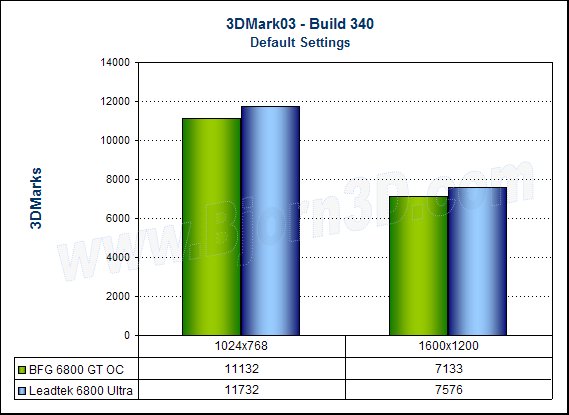 As expected, the Leadtek 6800 Ultra edges out the BFG 6800 GT OC because of the difference in clock speeds. For the 6800 Ultra, the core and memory speeds are 400MHz and 1,100MHz, respectively, while the 6800 GT OC runs at 370MHz and 1,000MHz.
Benchmarks – AquaMark3 and X2: The Threat
---
AquaMark3
The AquaMark3 benchmark is based on an actual game engine, and it can really stress even the most modern cards. I ran all tests with 4xAA and 8xAF in the application and "Application Preference" set in the driver control panel.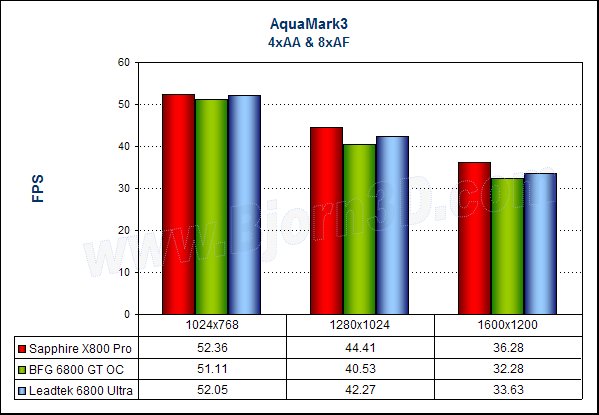 Neither NVIDIA GPU can quite keep up with the X800 Pro in AquaMark3, but the 6800 Ultra does close in a bit more than the 6800 GT OC.
X2: The Threat – Rolling Demo
This demo is also based on a game, and that is X2: The Threat of course. The Rolling Demo renders a bunch of different game scenes and reports scores for each scene and an average score in frames per second (FPS). The chart below just shows the average. This benchmark was run with bumpmaps, shadows and anti-aliasing set to "On" in the application and with 4xAA and 8xAF set in the driver control panel.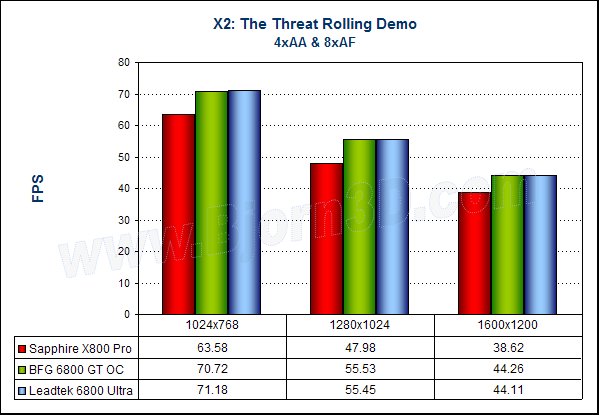 The system seems to be reaching its limits in this benchmark, as you can see by the fact that the 6800 Ultra doesn't perform better than the 6800 GT OC. A faster CPU would probably be able to show the 6800 Ultra come out ahead of the 6800 GT OC by at least a small margin.
Benchmarks – Unreal Tournament 2004 and Far Cry
---
Unreal Tournament 2004
In order to benchmark UT2004, I used the flyby demo from 3dcenter.de. This flyby demo simply tests how well a card handles an outdoor environment in UT2004. The bot match timedemo I had previously included was definitely CPU limited, so I've decided to exclude it in this review. Here are the results from the flyby test.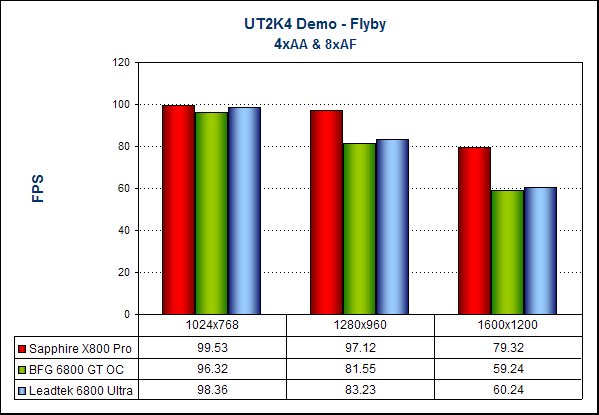 Once again, both NVIDIA-based cards get outclassed, but this time it's by a bigger margin. Furthermore, the 6800 Ultra only bests the 6800 GT OC by a slight margin.
Far Cry (ver. 1.1)
Far Cry is currently one of the most pipeline-punishing PC games available. Playing at the highest resolution with eye candy maxed out and still getting playable frame rates is not really possible for even the most powerful systems and graphics cards. The benchmark we have chosen to use with Far Cry for now is the PCGH_VGA Timedemo from 3dcenter.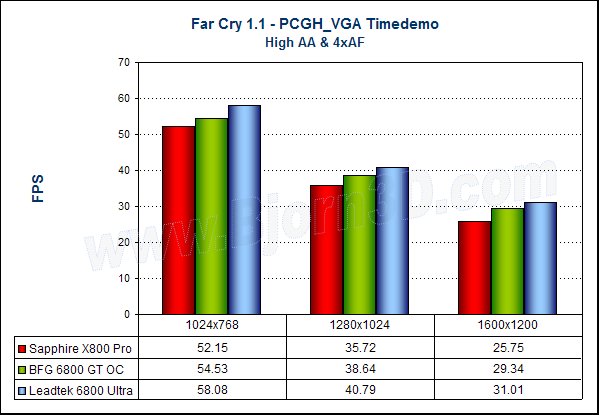 The tables turn for the two 6800s here. They both outperform the X800 Pro by at least a couple FPS with the 6800 Ultra easily leading the way.
Benchmarks – Doom 3 and Overclocking
---
Doom 3 offers graphics like we have never seen them before from the game giant id. Shortly after Doom 3 hit stores, the GeForce 6800 cards were declared the cards to get for maximum performance, and for the highest Doom 3 framerates, that obviously leads to the 6800 Ultra.
I benchmarked the retail version of the game and used the built-in timedemo demo1. I was extremely impressed by the results that the WinFast A400 Ultra produced. No video card review is quite complete without some overclocking information, though, so I decided to see just how much more performance I could squeeze out of the A400 Ultra and Doom 3.
I installed the Coolbits registry hack and let it auto-detect overclock values. It stopped at 448MHz for the core and 1,160MHz for memory. Rather than stick with these odd values, I upped the clocks a bit to 450MHz/1,200MHz. Going any higher led to a decrease in stability. This overclock resulted in a gain of about 4 FPS at each resolution.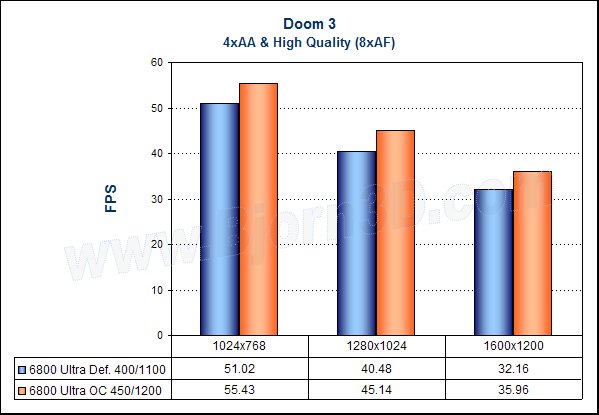 Conclusion
---
With the WinFast A400 Ultra TDH, Leadtek offers an awesome video card, a great bundle and a topnotch, custom cooler. To get the highest performance possible though, you have to pay the price. That price is the hardest thing to swallow about this and any other 6800 Ultra. In the case of the A400 Ultra, Newegg had a list price of $600.
If you can get past that sticker shock, then you should definitely consider Leadtek's offering. Then, if you want to risk it, you could even overclock this beast to squeeze even more juice out of it. As always, your mileage will vary with overclocking, but I was pleased with the performance gain I saw from my slight overclock. I'm really looking forward to playing Doom 3 with those high framerates!
Pros:
+ Awesome performance
+ Great bundle
+ Nice, custom cooler
Cons:
– Price ($600 at Newegg)
– Large and heavy
Final Score: 9 out of 10 and the Bjorn3D Golden Bear Award!