If you're looking for a good PCI Express video card that doesn't cost too much but offers a bit more than the reference design, the Albatron PCX5750 is definitely worth your consideration. Based on the NVIDIA GeForce PCX5750 chip, it is a great overclocker and is priced well under $150.
Introduction
---
PCI Express is a versatile I/O interconnect technology that will eventually completely replace existing PCI technology as well as the current video card interconnect – AGP. The key difference between PCI and PCI Express is that "classic" PCI is a parallel bus architecture; whereas, PCI Express is a point-to-point serial I/O technology. It only takes a few numbers to see the advantage. The older PCI technology's bandwidth was limited to about 132 megabytes per second (MB/s), which is shared by all PCI slots and anything else that uses the PCI bus. Each data lane (a set of pins in the slot) in a PCI Express link can provide 200 MB/s (I've also seen this number many places as 250 MB/s, but Intel's documents say 200) of bandwidth, and this is not shared! Each PCI Express slot has its own data lane(s). PCI Express was designed with scalability in mind, with the number of data lanes being scalable based on foreseen demand. For instance, on most mainstream consumer motherboards introduced any time soon, we can probably expect to see a few single-lane (x1) links (slots on the motherboard), possibly one or two two-lane (x2) slots, and one sixteen-lane (x16) link. Basically, PCI Express is the future because it offers more bandwidth, and the point-to-point design eliminates potential resource contention issues to which the shared PCI bus was susceptible.
Recently, I took a look at a motherboard from Albatron Technology featuring PCI Express expansion slots. Not surprisingly, Albatron is also offering some PCI Express video cards that can be paired with this mainboard (or any motherboard with a PCI Express x16 slot). Today, we are going to look at the PCX5750 from Albatron. As the name suggests, this board is based on NVIDIA's GeForce PCX 5750 graphics chip. Some people may not be too excited about this product since it is a mainstream PCI Express board, but their opinions would probably change if they knew how much I was able to overclock it using only stock cooling. Read on to find out about the incredible overclocking potential of the Albatron PCX5750.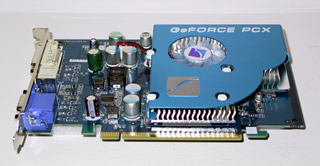 Specifications & Features
---
Specifications:
Graphics Engine
GeForce PCX 5750
Memory
128 MB DDR
Memory Bus
128 bit
Core Clock
425 MHz
Memory Clock
500 MHz
Maximum Resolution
2048 x 1536 @ 85 Hz
Bus Interface
PCI Express
Output Options
VGA
DVI
TV-Out
Features:
Here are some of the features, as described on Albatron's website:
PCI Express
PCI Express is a new Intel bus architecture that doubles the bandwidth of the AGP 8X bus, delivering over 4 GB per second in both upstream and downstream data transfers.
CineFX Engine
(1)Pixel Shader 2.0+ for long programs up to 1024 instructions (2)Vertex Shader 2.0+ for long programs with up to 65,536 instructions Enables stunning, cinematic-quality special effects, assures game compatibility because it is the most complete implementation of DX9, and it makes shading programs run faster (3)Delivers film-quality effects and studio-quality color for every application.
Architected for Cg
Ensures that the newest, cutting-edge special effects in applications will run flawlessly. It also can speeds up content creation so game developers can get their new games out to PC users faster than ever before.
NVIDIA nView multi-display technology
Connect and control multiple displays for the ultimate in viewing flexibility
For even more details, you may want to check out nvidia.com.
Package Contents:
PCX5750 Video Card
GeForce 6800/PCX Series User's Manual
Driver installation disc
Duke Nukem: Manhattan Project
Albatron's Game Pack:

Max Payne Demo
RallyTrophy Demo
Beam Breakers Demo
Age of Wonders II Demo
ZAX Demo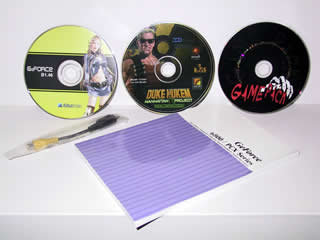 Performance
---
Before the Albatron PCX5750 fell into my hands, the buzz on the Internet was that it was a great overclocker. Excited by this prospect, I immediately installed the Coolbits registry tweak that allows you to change memory and core clocks right inside NVIDIA's Forceware drivers, and I tested out this PCX5750's overclockability to see if the hype was justified. The Coolbits tweak adds a button that you can click to allow the driver to attempt to find the optimum frequencies for you, and from past experience, it usually doesn't add much to either clock frequency. However, past experience certainly is not a reliable predictor of future performance (don't worry I'm not trying to sell you some mutual fund). The tool selected 505 MHz for the core and 667 MHz for the memory! Even though I was very pleased with this, I decided to press my luck and push the clocks to 515 and 682 MHz, and that is where I kept them for the benchmarks below, where I compare the performance of stock clock speeds (425/500 – core/memory) to that of these overclocked speeds. By the way, these are amazing 21 percent and 36 percent increases in core and memory clock frequencies, respectively.
Test System Configuration
Intel Pentium 4 550 (provided by Monarch Computer Systems)
Albatron PX915P Pro (review)
OCZ EB DDR PC3200 1 GB kit – 2 x 512MB (review)
Albatron PCX5750 – DirectX 9.0c, ForceWare 61.77
Hitachi Deskstar 7K250 160GB Serial ATA 7200RPM Hard Drive w/8MB Buffer
Microsoft Windows XP with Service Pack 1
Hyperthreading – enabled
AquaMark3
The AquaMark3 benchmark utilizes a real 3D game engine (called krassTM) with DirectX 9.0 features, such as Pixel Shaders 2.0, to render a beautiful underwater world. This engine is used in AquaNox 2: Revelation and the RTS game Spellforce. I ran the default benchmark (1024×768, No AA, 4x AF, maximum details) that can be run in an unlicensed version of AquaMark3 and one benchmark with custom settings (same as default but with 2x AA enabled). This will show how much of a performance hit enabling anti-aliasing will cause.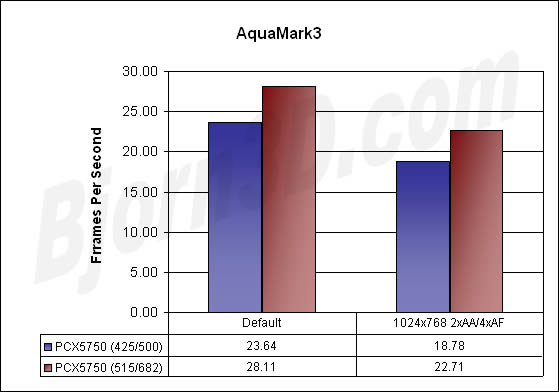 I don't think this is anything to be surprised about. The performance boost provided by the overclocking scales very closely to the increase in core clock speed. Enabling anti-aliasing dings the performance significantly, regardless of the clock speeds.
Doom 3
Doom 3 has a reputation for being a power hungry PC game. Since its advanced graphics features include bump mapping, specular and diffuse lighting, shadows, and volumetric fog, Doom 3 is the kind of game that can make a lot of people upgrade some hardware just so they can play it at a decent resolution. One important thing to keep in mind is that 8x anisotropic filtering is enabled automatically (and can only be turned off via the console) when the "High Quality" setting is selected.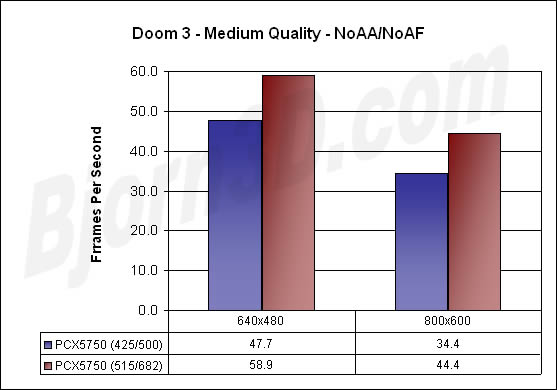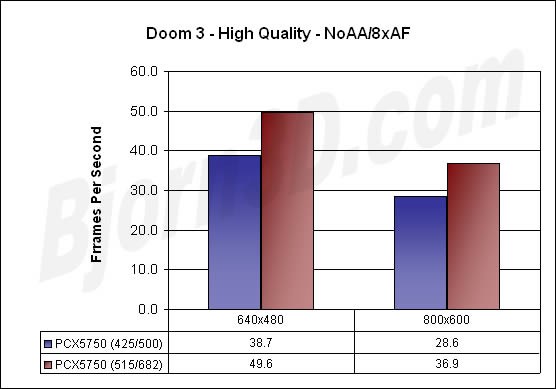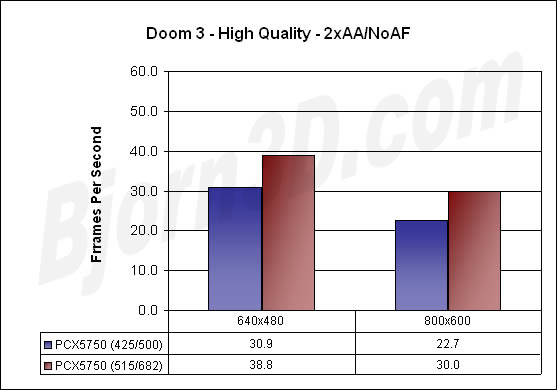 Obviously, playing Doom 3 with a mid-range video card like this requires sticking with a very low resolution and the "Medium Quality" setting or going for the "High Quality" setting at the lowest resolution. However, the latter really only seems playable if you get a good overclock on the PCX5750. Keep in mind that there are other tweaks you can make to the game to make it perform better while sacrificing some of the nice visual effects. As I watched the timedemo run, it looked very good at any of these settings.
X2: The Threat Rolling Demo
X2: The Threat is another game that does not hold back on the eye candy. It is a bit older, though, so most of the stunning visuals are courtesy of DirectX 8-level features, such as DOT3 bumpmapping. The "rolling demo" basically runs through a series of short scenes that you would most likely see while playing the game.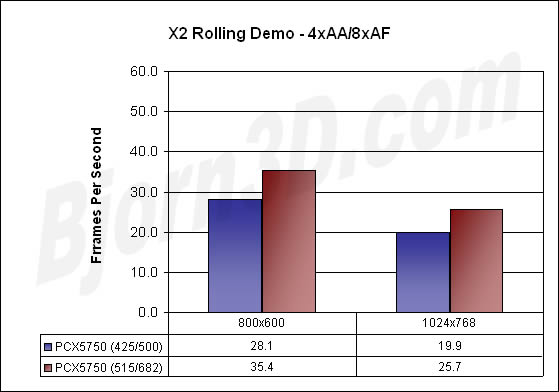 Unless you can tolerate a lot of framerate jitter, enabling anti-aliasing or anisotropic filtering does not seem like a good idea with this board and X2.
Far Cry
Far Cry is a very popular game from Crytek. Its developers were not shy about using PS 2.0 to make this game look fantastic, and they did quite a fine job. Although it does not appear to be quite as demanding as Doom 3, Far Cry can test the might of nearly any system. To run the time demo feature of Far Cry, I have used the PCGH_VGA Timedemo from 3dcenter. In the advanced graphics settings area of the game configuration screen, the lowest that anisotropic filtering can go is 1x, which means that at least 1xAF is enabled at all times.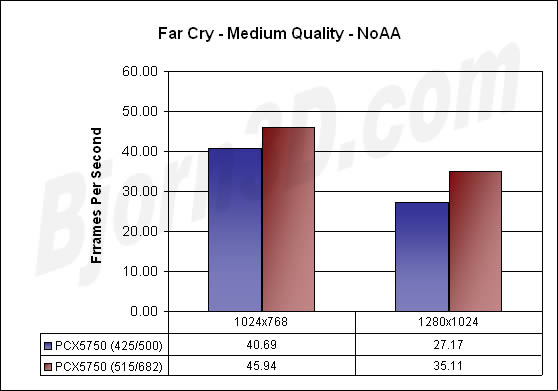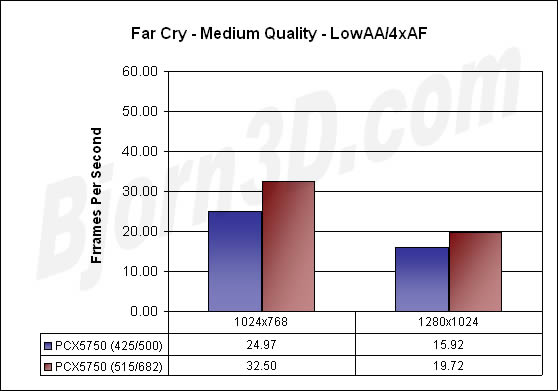 Again, your graphics settings options are fairly limited with this board, assuming you want to obtain a decent framerate in the game. However, as usual, the overclocking does a lot to make each setting a bit more playable.
Unreal Tournament 2003 Demo
Unreal Tournament 2003 certainly needs no introduction. It's a first-person shooter that's been around a while, and it's been benchmarked countless times. I used the UT2K3Bench utility from benscustomcases.com to run these benchmarks on the Antalus and Asbestos maps. I ran the default 'flyby' and 'botmatch' benchmarks that are included with the game and demo. To prevent myself from inundating you with UT2K3 charts, I only included the results from the Antalus runs. The framerates for Asbestos were usually at least 50 percent higher in each situation.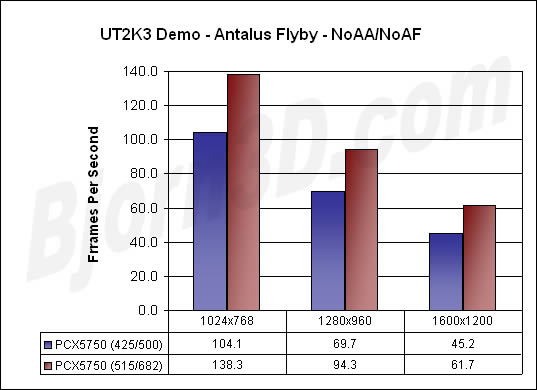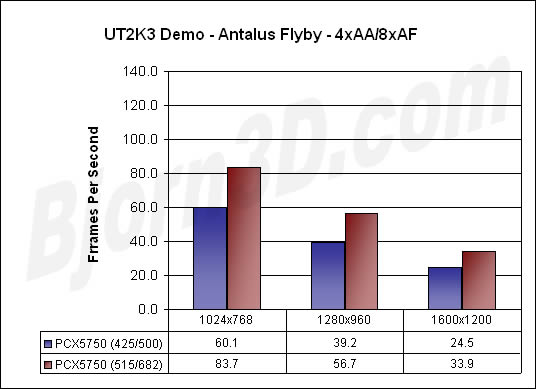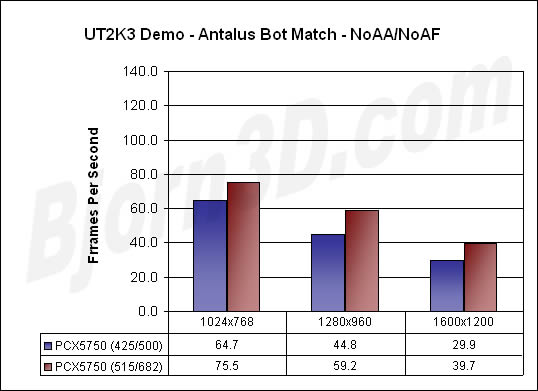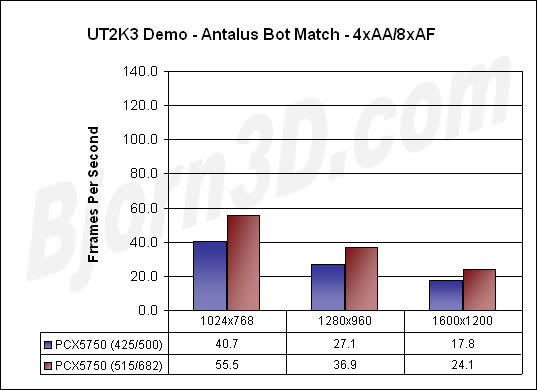 People who like to turn on AA and AF should keep the resolution at a maximum of 1024×768 with the PCX5750. Even then, the framerate may not be acceptable for some.
Conclusion
---
Although overclocking results can never be guaranteed, I have seen a lot of positive feedback about the Albatron PCX5750's ability to rise above its specs. And now I have experienced it first hand. I was thoroughly impressed by this board. This amount of overclocking can make a not-so-playable setting on a game suddenly become playable without a worry of jitters.
Other than its overclocking prowess, the PCX5750 from Albatron does not offer a lot of bells or whistles, which is what we should probably expect from a mid-range video card. Duke Nukem and a disc full of demos does not offer too much of a compelling reason to buy this board instead of a competitor's. However, the cooler that covers the core and the memory chips on the front of the board seems to be offered by only a couple different vendors, so that is definitely a feature that helps differentiate this board. Unfortunately, the memory chips on the back do not have heatsinks on them. Nonetheless, I would certainly recommend this board to someone who is looking at getting in on the PCI Express game without throwing down more than $130.
Pros:
+ Overclocks like a champ
+ The cooler seems much better than the reference cooler
+ Decent price
Cons:
– Mediocre bundle