With the 925X chipset under the hood, the AA8 DuraMAX from ABIT sports some great features and specs. Plus, as usual with ABIT's enthusiast-oriented products, you can tweak to your heart's content with this board. Check out the review for more info.
Introduction
---
ABIT is probably not a name that many of you are unfamiliar with. Always innovating and striving for top performance, ABIT has been an industry leader for over 15 years. When you think about the top enthusiast-oriented motherboard and video card manufacturers, ABIT will definitely make the list. The company produces many of the best performing products on the market.

With all that said, I have very high expectations for ABIT products, especially for the products that are aimed at performance and overclocking enthusiasts. ABIT loves to include a lot of tweaking options and to innovate in ways that really help to separate its products from the competition. No exception was made when creating the AA8 DuraMAX, which features ABIT's µGuru technology.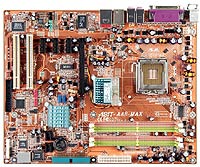 The AA8 DuraMAX is based on the newest flagship desktop chipset from Intel, the 925X Express Chipset, and therefore includes the latest motherboard technologies, such as PCI-Express graphics and DDR2. Awesome features, such as Intel's High Definition Audio and SATA Matrix RAID, are also present on this mainboard. Since the AA8 DuraMAX features one of Intel's latest chipsets, it features the new LGA 775 socket, which is also called Socket T. With this socket, the pins are found in the motherboard's socket and not on the processor.

If you read my recent Pentium 4 560 article, you already got a glimpse of the performance offered by the AA8 DuraMAX. Now, it's time to take a closer look at the board and figure out if it's worth planting a shiny, new P4 into.
Features and Specifications
---
Features
µGuru
µGuru is a new microprocessor designed by the ABIT engineers for use only on ABIT motherboards. µGuru combines the ABIT engineered features ABIT EQ, ABIT FanEQ, ABIT OC Guru, ABIT FlashMenu, ABIT AudioEQ and ABIT BlackBox into a user-friendly interface providing users the perfect environment with which to maximize performance and stability.
µDual DDRII 400
Supports up to 4GB of Single/Dual channel DIMM modules, delivering bandwidth of 8.5GB/sec.
µSerial ATA 150 RAID
Serial ATA is an evolutionary replacement for the Parallel ATA storage interface. This new high-speed interface boosts data transfer rates to up to 150 MB/sec. More flexible power tolerances allow for smaller and more efficient cables.
µIEEE 1394
Supports 400/200/100 Mb/s data transfer rate, let you easily connect to most kinds of Digital Video and Digital Camera.
S/PDIF In/Out
Lets you enjoy 7.1 channels audio without having to buy advanced sound cards.
µGigabit LAN
Lets you easily connect to the world wide web at high speeds without having to buy a separate 10/100/1000 Ethernet card.
Specifications
LGA775 CPU Socket
* Designed for Intel® 90nm Prescott LGA775 processors with 800MHz FSB
* Supports Intel Hyper-Threading Technology

Express Chipset
* Intel 925X / Intel ICH6R Express Chipset
* Supports Hi-Speed Universal Serial Bus (USB 2.0)

Flexible Memory
* Four 240-pin DIMM sockets (Un-buffered Non-ECC DIMM)
* Supports Dual channel DDR2-533/400 (Max. 4GB), Up to 8.5GB/s bandwidth

PCI Express x16 graphics
* PCI Express x16 graphics delivers up to 8GB/s per direction for 3.5 times more bandwidth than AGP8X at 2.1GB/s

PCI Express x1 I/O
* PCI Express x1 I/O offers 500MB/s concurrently, over 3.5 times more bandwidth than PCI at 133MB/s

SATA Matrix RAID
* Four ports SATA 150 RAID 0/1, deliver higher performance and data protection
* Supports SATA AHCI, providing native command queuing and native hot plug

High Definition Audio
* On board Theater-class 7.1 Channels Intel® High Definition Audio
* Professional digital audio interface supports auto jack sensing and optical S/PDIF In/Out

IEEE 1394
* Supports 3 Ports IEEE 1394 at 100/200/400 Mb/s transfer rate

Gigabit LAN
* On board GbE Gigabit LAN controller supports 10/100/1000 BASE-T Ethernet

Internal I/O Connectors
– 1 x PCI Express x16 slot
– 3 x PCI Express x1 slots
– 2 x PCI slots
– 1 x Floppy Port supports up to 2.88MB
– 4 x SATA 150 Connectors
– 1 x Ultra ATA 100/66/33 Connector
– 2 x USB 2.0 headers
– 2 x IEEE 1394 headers
– 1 x FP-Audio header
– 1 x CD-IN

Back Panel I/O
– 1 x PS/2 Keyboard, 1 x PS/2 Mouse
– 1 x Serial Port connector, 1 x Parallel Port connector
– 1 x S/PDIF IN/OUT
– 1 x Audio connector (Center/Subwoofer, Rear Surround, Surround Speaker)
– 1 x Audio connector (Line Out, Line-in, MIC-in)
– 2 x USB Connectors, 1 x IEEE1394 Connector
– 2 x USB Connectors, 1 x RJ-45 GbE LAN Connector

Miscellaneous
ATX form factor (305 x 245 mm)
For more AA8 DuraMAX specifications, go here.
Package Contents
---
While the AA8 DuraMAX boasts some great features, the package remains quite utilitarian and doesn't stand out much. That should at least help keep the cost down compared to other packages that offer extra software and such. When you see all the functions offered with µGuru, though, it's easy to forget the boring bundle. ABIT apparently chose to spend time and resources on making the board first class rather than making the bundle extra special, which seems like a wise choice to me. I was happy to find four SATA cables included rather than the two that seems to be common even with motherboards that have four SATA ports.
Here's a list of the package contents:
AA8 DuraMAX Motherboard
Motherboard User's Manual
µGuru User's Manual
Quick Installation Guide
SATA Driver Disk
Driver / Utility Disk
Jumper Settings Diagram / Sticker
4 x SATA Cable
1 x PATA IDE Cable
1 x Floppy Cable
USB / FireWire PCI Bracket
Rear I/O Shield
Installation / Board Layout
---
I was a little concerned before installing the hardware that I'd have problems with installing the AA8 DuraMAX, but my worries were related to the case I used and not the board. I used the Lian Li V1000 for my test system, and in this case, the motherboard mounts on the left side panel instead of the right panel as is typical with ATX cases. The hard drives and PSU are mounted below the motherboard, so I was worried that the cables might not reach where they needed to connect on the board (click here to see). Fortunately, I had no major problems when installing. I was pleasantly surprised to find that the included SATA cables were long enough to reach my SATA hard drives.
I found the board layout to be quite good. Kudos to ABIT for including cooling on this board for both the northbridge and the southbridge. This should help keep a couple of the board's hottest spots a little cooler and help with stability. The northbridge features a unique fan/heatsink combo while the southbridge is covered by a simple heatsink. Both are a cool blue color and add to the board's good looks. ABIT boards always appeal to me because of the orange PCB (printed circuit board).
ABIT allows plenty of clearance around the CPU socket for large coolers. The retail Intel HSF fits easily. The board features a PCI-Express x16 slot for graphics (the long black slot) and three PCI-Express x1 slots for add-in cards (the short black slots). Additionally, two regular PCI slots are included on the AA8 DuraMAX. My only suggestion in this area would be for ABIT to use a different style of locking mechanism for the PCI-Express x16 slot. The style of the locking lever on this board is definitely the most common for AGP slots, but I hope it won't be the most common for PCI-Express, as they can be a real pain to push down when your video card has a large heatsink that gets in the way.
The AA8 DuraMAX includes four DDR2 DIMM slots, which are color-coded for each channel. One channel is orange, and the other is green. I installed my Corsair DDR2 modules in DIMM1 and DIMM3 to take advantage of the dual-channel memory feature and to obtain optimal performance. The board also features four SATA connectors, which are all located right by each other, and one 90-degree Ultra ATA 100/66/33 connector. If you look at the pictures, you should also be able to see the 2-digit POST code display on one corner of the board, near the SATA connectors. This is a nice feature that would help with troubleshooting if the need arises.
The red headers are for two additional (for a total of three) IEEE1394 (FireWire) ports, and the blue headers are for a total of four additional USB 2.0 ports. Such a high number FireWire and USB 2.0 ports is a big plus and adds to the appeal of this motherboard, which also features five fan headers. I've never understood why some companies would only include two or three fan headers on their boards, but ABIT definitely hooks you up with the AA8 DuraMAX. The connectors included one 4-pin CPU fan connector, one northbridge fan connector, one system fan connector and two auxiliary fan connectors.
In addition to the hardware installation being trouble free, the software and driver installation was as uneventful as it should be. Like most other companies, ABIT has a custom install menu that gives you one-click access to driver installation.
After installing Windows XP, I installed the Intel chipset software, Application Accelerator RAID utility, audio driver, LAN driver and µGuru utility in the order instructed in the manual.
BIOS / µGuru
---
BIOS
The AA8 DuraMAX is powered by a very tweaker-friendly Phoenix AwardBIOS. Before getting too far into testing, I decided I should check out ABIT's interesting FlashMenu utility that installed with the µGuru suite. This utility is like a WinFlash application on a lot of steroids. ABIT designed a cool looking interface that allows the user to quickly and easily update the BIOS. You can choose from a one-click LiveUpdate, a step-by-step LiveUpdate or a manual update. You can also save your current BIOS as a backup. I chose the "LiveUpdate Step By Step" option and followed the prompts. As you might have guessed, FlashMenu connects to the Internet if you choose a LiveUpdate option. So, after pressing the button, I was asked to choose from the three latest BIOS versions. I chose the latest (version 1.5, date 8/20/2004). Then, I was given two choices of where to download it from. I chose ABIT's FTP site. After downloading the BIOS, I was asked if I wanted to save a backup of my current BIOS, and I did. About a minute later, it was all done, and I was told to restart my PC. The BIOS update worked. Pretty slick, ABIT!
I must note that I had to download and install the latest version of FlashMenu to get this to work with the AA8 DuraMAX. Otherwise, it kept telling me that I didn't have a new enough version to do the LiveUpdate on my board.
As you might expect from a performance ABIT product, the AA8 DuraMAX offers plenty of tweaking options in the BIOS. All of the good stuff is under the "µGuru Utility" option. In addition to tweaking clock speeds and voltages (under the OC Guru menu), you can also monitor voltages, temperatures and fan speeds (under the ABIT EQ menu).
If you look closely at the first BIOS screen above (the main menu), you can see that ABIT has also included an option to save and load BIOS profiles, much like DFI's CMOS Reloaded.
µGuru
ABIT's innovative µGuru technology is best described on the following web page: www.abit-usa.com/technology/uguru.php. ABIT brings these features to some of its motherboards via a hardware microchip that resides on the board. You can see the AA8 DuraMAX's µGuru chip in the picture below (it's the one with the holographic sticker on top, above the 2-digit POST code display).
After trying out some of the utilities included in the µGuru suite, I have mixed feelings about it. While I think what ABIT is trying is great, I'm not sure about the execution of it. For instance, when I used the OC Guru application and clicked the "Turbo" option, the utility indicated that the CPU clock was changed to 220MHz and the resulting CPU frequency 3.96GHz. Strangely though, running benchmarks after clicking this option resulted in lower scores than the default configuration (200MHz, 3.60GHz).
On the other hand, the ABIT EQ hardware monitoring utility is a great little application that lets you see your PC's vitals (i.e. temperatures and voltages) all in one place. Additionally, the BlackBOX utility is an excellent idea. This is a tech support application that allows you to send your PC info and problem description directly to ABIT, where ABIT's Tech Support team has a targetted response time of 24 hours. This is definitely a positive step in the right direction for tech support.
Test System and Overclocking
---
After running all the benchmarks for the AA8 DuraMAX, I discovered that the default clock is slightly overclocked! It is set at 204MHz instead of the expected 200MHz. Since the default setting for the CPU:memory ratio is 3:4, this also meant the memory was running at about 542MHz instead of the expected 533MHz. All this unfortunately adds up to me redoing a bunch of benchmarks at 200/533. If you want to see how this motherboard performs at 204/542 compared to an Athlon 64 3400+ system, please check out Intel P4 560 article. From that article, you can see that the AA8 DuraMAX is a good performer at its default settings.
Rather than just regurgitate those benchmark charts since you can just check out that article if you are interested, I'm going to present to you the performance of the AA8 DuraMAX at its default settings, which as previously mentioned, include a default CPU clock of 204MHz with a 3:4 CPU to memory ratio and memory timings of 4-4-4-12, compared to the system set at 200/533 and the system set at the highest FSB (front-side bus) overclock that I could achieve with the 3:4 ratio. Let's take a look at my test setup, and then I'll quickly discuss my overclocking experience and present the benchmark results.
Test System Configuration
Intel Pentium 4 560 (3.6GHz)
ABIT AA8 DuraMax
Corsair Twin2X1024-5400 PRO DDR2
NVIDIA Reference PCI-Express GeForce 6800 GT – DirectX 9.0b, ForceWare 61.77
Maxtor 2 x 120GB Serial ATA 7200RPM Hard Drive w/ 8MB Buffer in RAID0
Logitech Z680 5.1 Speakers
Windows XP with Service Pack 2
Hyperthreading – enabled
ABIT really caters to overclockers, and you can tell when you look at a board like the AA8 DuraMAX. Check out this mothterboard's press release to see what I mean. The board includes "Overclocking Strips," 4-phase power, hiqh quality capacitors and OTES AeroFlow northbridge cooling.
To check the FSB overclocking capabilities of the board, I set the processor's multiplier to 14 (default is 18) and began slowly raising the FSB from 200 in increments of 10 until the system would no longer POST. Keep in mind that I'm doing this with the retail HSF included with the 560 processor, so my cooling is far from optimal for overclocking. As always, every board's overclocking mileage will vary. When overclocking 915/925 boards, the northbridge voltage is a key factor. I've also been told that PATA drives will enable you to get somewhat higher than systems running the O/S on SATA drive(s), at least with this motherboard and the RAM I'm using (I haven't verified that though).
I had no problem with POST until I reached 250MHz. The PC wouldn't even think about POSTing with the clock set at 250, even after a slight CPU and DDR2 voltage bump. I wasn't going to call it quits yet, though. I finally did get 250 to POST after raising the CPU Core Voltage to 1.4125V, the DDR2 SDRAM Voltage to 1.9V and the NB Voltage to 1.9V. I was optimistic after this glimpse of success, but I couldn't get any higher. My PC wouldn't even start booting. So, I reached an effective FSB of 1GHz (250 x 4 — quad-pumped), which is not bad at all. Leaving the ratio at 3:4, that gives us a DDR2 speed of 668MHz. Recall that the multiplier is only at 14 now and not 18, so the CPU frequency is a little lower — 3.5GHz rather than 3.6. This is the third setting used in the comparison to demonstrate how a high FSB can affect performance.
Now, let's take a look at some performance comparisons of the default, 200/533 and 250/668 configurations. Once again, for comparison to an Athlon 64 system, please check the benchmarks in my Intel P4 560 article.
Performance – Benchmarks
---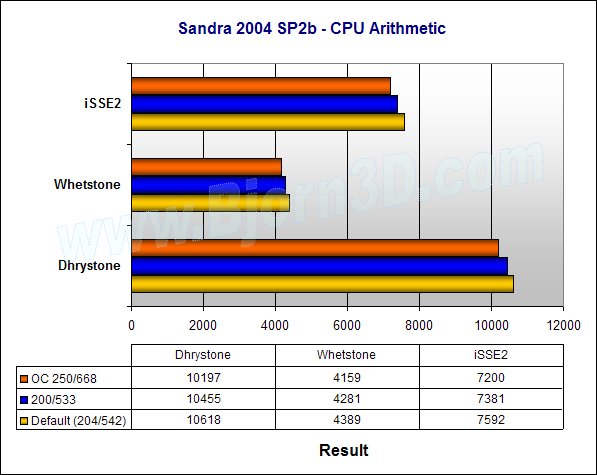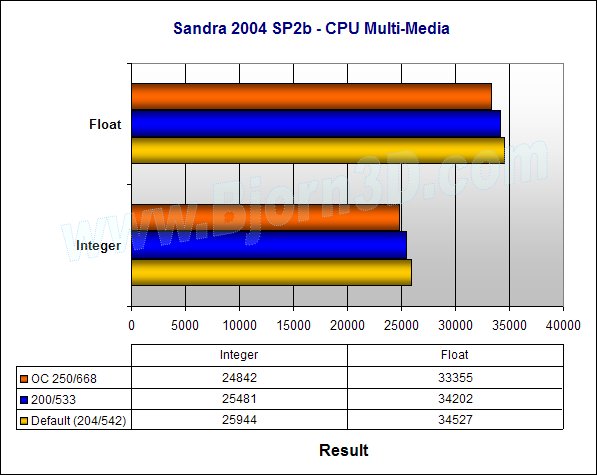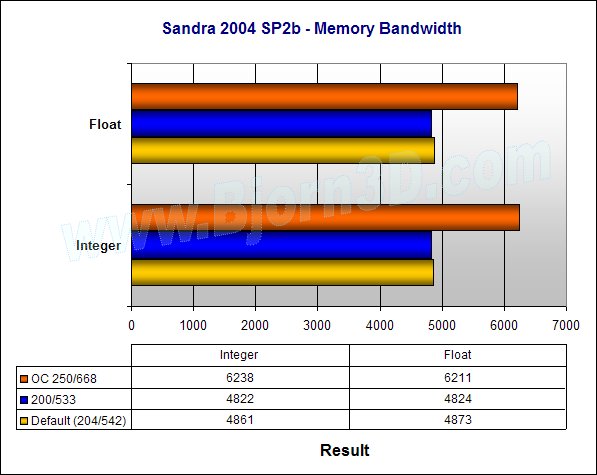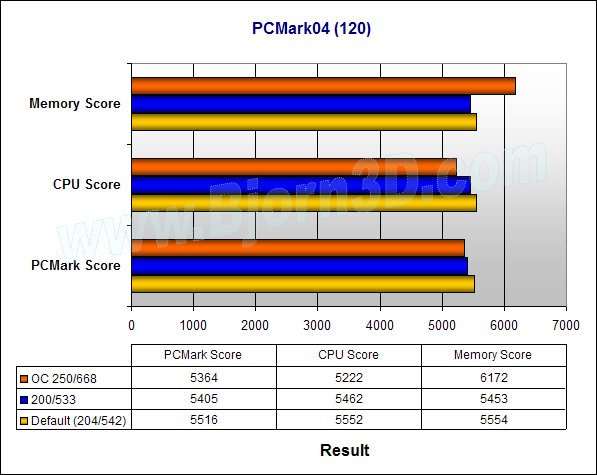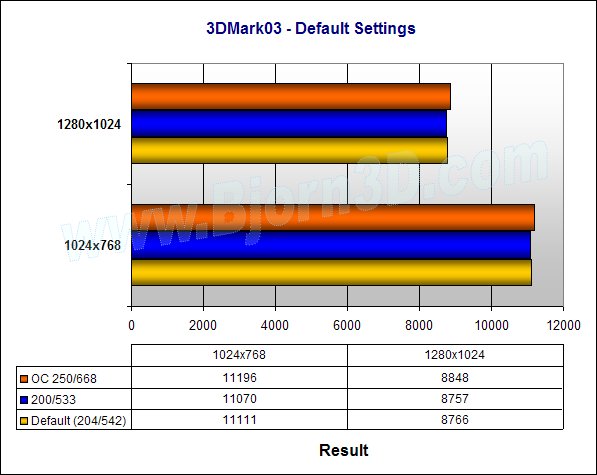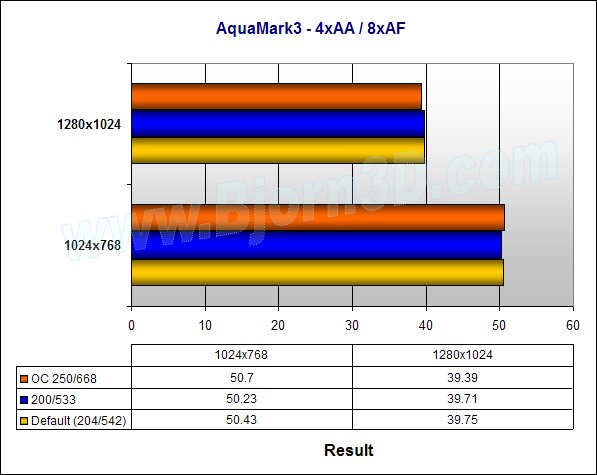 After taking a quick glance at these graphs, you could probably notice a couple things. First, the 4MHz 'overclock' that ABIT sets as the board's default offers a slight boost in performance over 200MHz (and actually a bigger boost than I expected). Second, the FSB overclock to 250MHz hurt the performance of the system more than helped it, due to the decreased CPU frequency. The numbers were significantly higher for memory scores because of the increased bus speed, but the other numbers are either lower or about the same as the other two configurations.
Performance – Disk and Audio
---
Since I set up two 120GB SATA drives in a RAID 0 array with a stripe size of 64KB, I expected pretty good performance on hard drive benchmarks, and that's exactly what I saw. In the Sandra File System benchmark, the AA8 DuraMAX put up a score of 94MB/s, which met my expectations. The other benchmarks I ran showed performance very similar to and slightly better than what I have seen with these drives in RAID 0 on the previous Intel flagship chipset.
I didn't do any benchmarks on the audio, but I was very pleased with the Intel High Definition Audio brought to us via the Realtek A880 chip. The audio configuration is done through a user-friendly interface. After getting the audio configured properly for my Logitech Z680 5.1 speaker system connected via digital optical cable, I played Far Cry for several hours to experience what I hoped would be awesome THX sound.
Overall, I was quite pleased with what I heard. The game was more enjoyable than ever. After playing Far Cry, I played some MP3s and CDs in Windows Media Player. These also sounded excellent.
I didn't know what to expect from Intel's HDA onboard sound, but I was excited to finally check it out. In the end, I can honestly say I am quite pleasantly surprised by it.
Conclusion
---
Upgrading to a new 925X-based board is quite an expensive endeavor when you consider the fact that on top of a new processor, you'll need to buy a PCI-Express video card and DDR2 memory. If you're planning this expensive upgrade path though, the AA8 DuraMAX should go on your short list of considerations. On top of its nice feature set and flexibility, it has proven to be a very solid board as far as stability and performance are concerned.
While ABIT doesn't throw in an extensive bundle, you do get unique and innovative features like µGuru, which includes cool utilities like FlashMenu, BlackBOX and ABIT EQ. So, if great features, stability, good performance and a practical bundle are your thing, then the AA8 DuraMAX would suit you just fine. As with any of ABIT's enthusiast-oriented boards, you also get plenty of tweaking options and settings that should keep you busy experimenting and optimizing for hours if you so choose.
Many 925X boards are quite expensive, with several being $200+, but the AA8 DuraMAX comes in at around $160, which to me seems like a fair price compared to other offerings.
Pros:
+ Great features
+ Good performance
+ Good overclocker
+ Great onboard sound (Intel HDA)
+ Nice board layout and cooling design
Cons:
– OC Guru is quirky
– Expensive to upgrade to 925 board
Final Score: 9 out of 10 and the Bjorn3D Seal of Approval