Plextor releases hit the market several months ago with one of the first SATA drives in the form of the PX-712SA DVD±RW Writer. As we've come to expect from Plextor, it's a high quality and excellent performing drive that offers great features that set it apart from the competition.
Introduction
---
As serial ATA (SATA) hard drives grew in popularity over the past year or so, many users who fancy SATA's small cable and simple interface (no jumper) started wondering when SATA optical drives would hit the market. It makes sense, right? You get so happy that you can toss those large ribbon or round IDE cables in place of your new SATA cable for that new SATA hard drive, but then your joy is quickly diminished as you realize you still have to live with your optical drive's big, fat cable.
Fortunately, several companies have answered the calling for SATA optical drives, and Plextor happens to be one of them. It won't be long before we see most computers filled with nothing but SATA drives. For now though, the selection is rather thin. MSI and Plextor are the only two companies that I can think of off the top of my head that offer SATA optical drives. Plextor's offering is the PX-712SA, and it's actually exactly the same as the PX-712A that Chad reviewed here at Bjorn3D last month, except for the interface of course.

The PX-712SA actually uses a SATA interface, but it is not a 'pure' SATA drive. Instead, it uses an internal converter to change from SATA to PATA. We all know that currently SATA doesn't offer much of a speed advantage over ATA/100, so we can't fairly expect the PX-712SA to perform better than the PX-712A just because it's SATA. Continue reading to find out just how well it performs and to get the details on this excellent optical drive.
Specifications and Features
---
Specifications:
Interface
SATA
DVD+R Write Speeds
12X, 8X – PCAV
6X, 4X, 2X – CLV
DVD+RW Write Speeds
4X, 2.4X – CLV
DVD-R Write Speeds
8X – PCAV
6X, 4X, 2X – CLV
DVD-RW Write Speeds
4X, 2X, 1X – CLV
DVD Read Speeds
Up to 16X
CD-R Write Speeds
48X, 32X – PCAV
8X, 4X – CLV
CD-RW Write Speeds
24X – PCAV
10X, 4X – CLV
CD Read Speeds
Up to 48X
Data Buffer
8 MB
Access Times
DVD: 150 ms
CD: 100 ms
Here's what Nero InfoTool tells us about this drive: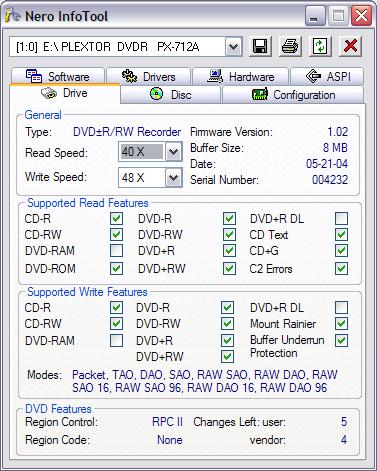 Features:
Plextor packs in their usual brand of unique and innovative features. Here's a run down of those features, as listed in the Installation and User's Manual:
High speed transfers: "Supports Ultra DMA33, DMA Mode 2, and PIO Mode 4."
PoweRec: "Plextor Optimized Writing Error Reduction Control adjusts laser power and writing speed so they're at the optimum settings for that particular disc. You can enable and disable PoweRec."
VariRec: "Lets you change the write strategy to record at highest quality on different types of discs. Also provides user adjustment of the recording power above or below a default level. This adjustment lets you customize the optimum laser power to your own needs."
Silent Mode: "Unique technology that sets the drive for super-silent operation. By controlling access speed, read/write speed, and tray opening and closing speed, you reduce drive noise to a whisper."
Black tray: "Reduces the effect of optical distortion by absorbing reflection from the laser beam, enhancing read quality."
Self-test diagnostics: "The PX-712SA has a self-test diagnostic function for easy troubleshooting."
Lossless Linking for DVD+R/RW: "Allows DVD+RW discs to be edited and still play on DVD-ROM players."
Zero Link for DVD-R/RW: "Has 0 byte gap between sessions so the discs are compatible with all players. This allows DVD-RW discs to be edited and still play on DVD-ROM players."
Buffer Underrun Proof Technology: "Eliminates buffer underrun errors, so you can safely use your computer for other tasks while you're writing to a CD-R or CD-RW disc."
GigaRec: "Variable capacity recording that lets you change CD-R disc capacity over a range from 60 to 130 percent of the rated value. You can get much more data onto a CD. Or decrease the disc capacity while gaining improved audio quality."
SecuRec: "Security protection that lets you make your CDs readable only by persons with the correct password."
Overburn: "Another way of burning more information onto a CD – audio up to 99 minutes 59 seconds in length, or a data disc up to 875 megabytes in capacity."
Package Contents:
Although I didn't receive the colorful, retail box, I did receive all the goodies that are included in the retail box. You can see those listed below.
SATA cable
4-pin to SATA power adapter
One piece of approved DVD+R media
4 mounting screws
Extra jumper (although it's not needed)
Emergency eject tool
Plextor software installation disc:

PlexTools Professional
Roxio Easy CD and DVD Creator 6 Basic DVD Edition
Roxio DVD Max
PhotoSuite 5 SE
Dantz Retrospect 6.5 (30-day trial)

PX-712 Installation and Users Manual
Plextor has done a surprisingly excellent job with the PlexTools software. It includes a plethora of utilities and functions that help you customize and fully utilize your burner without needing much (or any) other software. I'll cover PlexTools a little more on the following page.
Installation and Software
---
Installation
The most important thing to remember regarding the PX-712SA is that it won't work in almost every computer like its PATA IDE brother will. Plextor lists the 712SA's minimum requirement for the oparating system as Windows 2000 or XP. Moreover, your motherboard must have some type of SATA controller, either onboard or in the form of a PCI card. If your system meets these two requirements, then installation should be relatively painless.
I installed the PX-712SA in my Intel test system, which utilizes the DFI LANParty Pro875B motherboard. It took me a little bit of trial and error, but I eventually got the BIOS set up properly, and the drive was detected correctly by the BIOS and usable in Windows XP.
Plugging in the drive is as simple as it gets thanks to the SATA interface. All you have is the SATA connector and the SATA power connector. No worrying about jumper settings or fumbling with an IDE ribbon cable. Don't you just have to love SATA?
Software installation is just as simple as the hardware setup. After popping in the included software disc, you simply choose what programs you want to install from the list.
Software – PlexTools Pro
The software I want to quickly cover is the included PlexTools Professional, which happens to be a very powerful yet easy-to-use application. It provides a simple interface for doing almost anything you'd want to do with the PX-712SA, such as drive identification and control, the display of Compact Disc and DVD information, Digital Audio Extraction (DAE), CD and DVD copying and more. It is nice to see software of this quality being included in Plextor's retail packages. A new version of PlexTools was recently released, so if you already have a Plextor drive, you might want to check that out at Plextor.com.
In case you forget what your 712 drive is capable of, you can just check in PlexTools. One of the PlexTools screens lists compatible formats for reading and writing. Additionally, you can find out what firmware you are using and other useful information you might want to know. PlexTools is also where you turn on VariRec and enable Silent Mode, both of which were explained on the previous page.
In addition to drive information and configuration, PlexTools allows you to create CDs and DVDs and even has a DAE function. This is the first time I've used PlexTools, and I'm very impressed with all the power Plextor packed into this software.
Performance – Write Tests
---
As I already mentioned, we can only expect the PX-712SA to perform exactly like the PX-712A and not any better. The PX-712A is a great drive according to our review and others on the Internet, so I was looking forward to seeing the same great results with the 712SA. As with our other DVD writer reviews, I completed a variety of read and write tests with various media. I used Nero's CD-DVD Speed 3.10 for the read and write speed tests. I used the following media for the read and write tests.
Plextor (Taiyo Yuden) 8x DVD+R (recommended by Plextor and recognized by the drive to write at 12X)
Memorex 8x DVD-R
Memorex 4x DVD+RW
Imation Napster 48x CD-R
Imation 12x CD-RW
Test System Configuration:
Intel 2.4GHz 'C' Processor
DFI LANParty Pro875B (review)
Corsair TWINX1024-4000PRO (review)
VisionTek Radeon 9800 XT (review)
Maxtor DiamondMax Plus9 80GB 7200RPM 8MB Buffer HDD
Windows XP SP1
Write Tests
12x DVD+R
You can see above that the drive was smokin' (not literally of course) in this test, burning 4.38GB of data in 6 minutes 17 seconds. I remember a couple months ago thinking how cool it was that you could burn 4GB of data in 15 minutes. I love how fast these drives are getting! You might have a little trouble finding 12x DVD+R media, but with a little research, you can probably find some.
8x DVD-R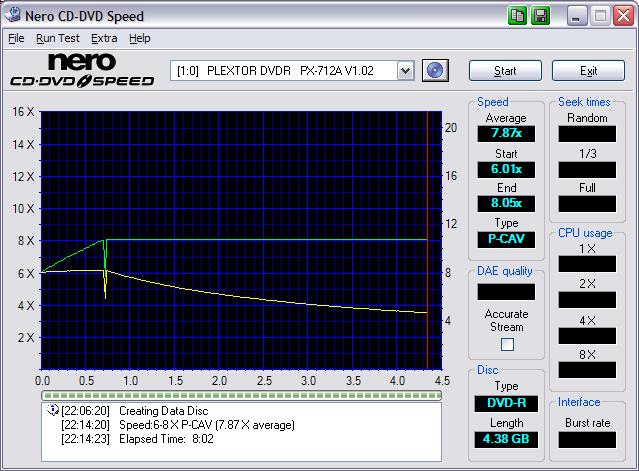 Once again, the drive performs as advertised. It's nice to see that it even averages 7.87x during the 8 minute process. Both the DVD+R and DVD-R test started at 6x and proceeded using P-CAV.
4x DVD+RW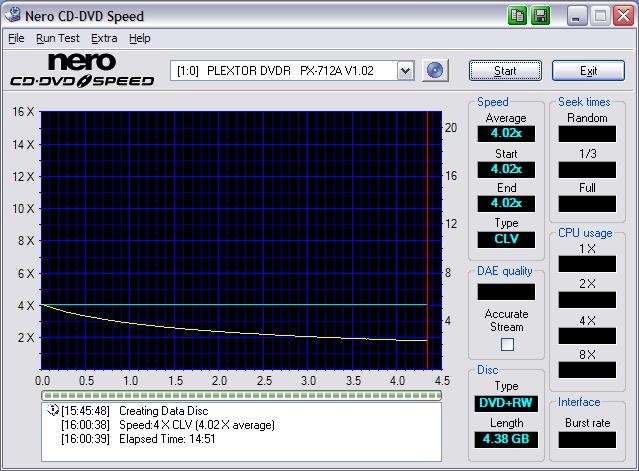 The PX-712SA starts at, averages and ends at just over 4x speed.
48x CD-R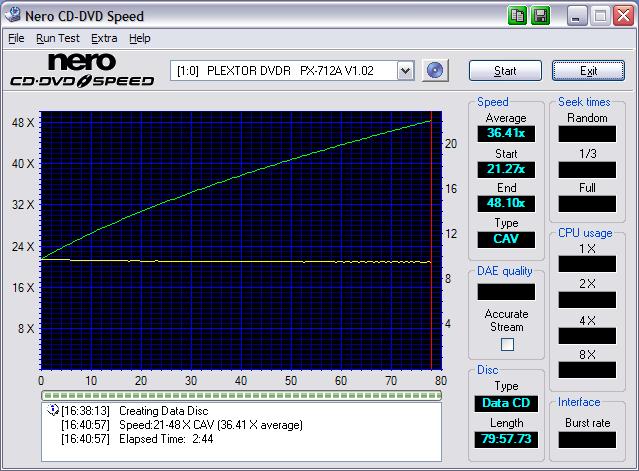 During the CD creation test, the drive averages a respectable 36x and ends at a speed just over 48x. With this speed, you can expect to create data and music CDs in less than 3 minutes.
24x CD-RW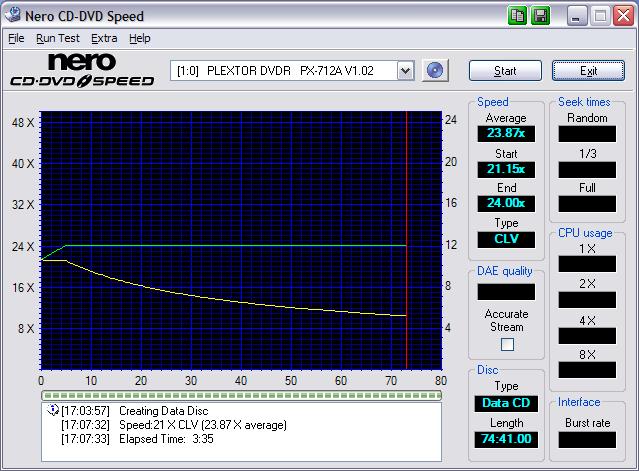 Performance – Read Tests
---
DVD+R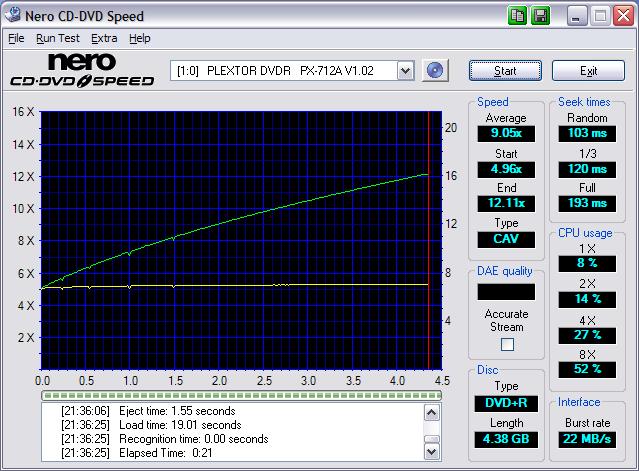 DVD-R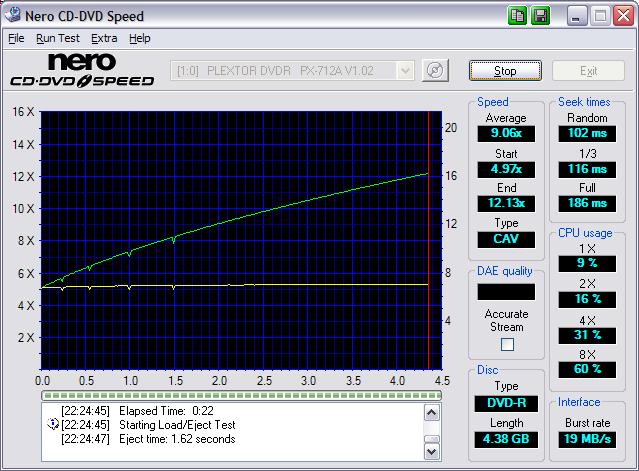 DVD+RW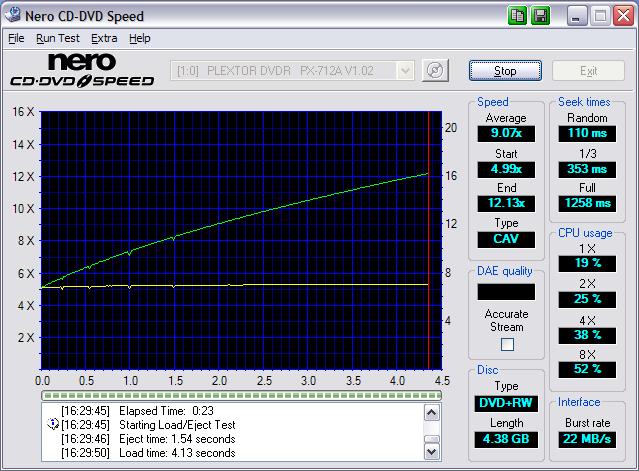 After several tests, it was clear to see that the PX-712SA reads at consistent speeds. CPU usage does get pretty high at 4x and 8x. During the testing I did with writable DVD media and stamped DVD movies, the drive never hit the 16x speed that Plextor claims it can reach, but I don't think that's a big deal. In order to read DVD-video media faster than 2x (which is plenty fast by the way and helps keep noise down), you have to enable the SpeedRead DVD function in PlexTools.
CD
While the drive is supposedly able to read CDs at up to 48x, it manages to only reach 43x in this test.
Conclusion
---
Just like its PATA IDE brother, the PX-712SA is a great DVD and CD writer. Plextor is known for high quality and high performance, and I have yet to come across a Plextor drive that doesn't offer just that. Over the last four years or so, I've used at least five Plextor drives regularly and have yet to have a problem with one of them.
While you can get less expensive drives than what Plextor offers, you will be hard-pressed to find a competing drive that offers equivalent features, quality and performance. I think that almost every user would be happy with at least a couple of those extra features once they understood and started to use them. If you are looking for a new DVD burner, I highly recommend carefully taking a look at the PX-712A or PX-712SA and all the features they offer.
Pros:
+ Great performance
+ SATA interface on an optical drive is great!
+ Solid bundle, especially PlexTools
+ Great features
Cons:
– No DL support
– Not the cheapest drive around
Final Score: 9 out of 10 and the Golden Bear Award