Thermaltake never stops innovating and designing cool cases. One of its latest lines is comprised of the Tsunami Dream cases. They are unique-looking aluminum cases with some very nice features. Check out this review to learn more.
Introduction
---
The Thermaltake Tsunami… what can I say? When I saw it on Thermaltake's site, I instantly knew I wanted one. It's a very nicely designed case and well thought out, with a totally different front that makes it stand out from all other Thermaltake (Tt from here on out) cases. I've been using probably one of the most popular "clone designs" for the past year or more in the form of PCToys' CaseMax 610 (also seen from Chieftec/Chenming/etc…the list just goes on and on). The Tt Tsunami design is a nice departure from this overly common design.
I was pleasantly surprised by the UPS guy this morning, and he had a Tt package for me! I signed for it and quickly took it into the apartment for some quick pre-install pics and a close inspection. I wasn't disappointed by the interior layout of this case. The change by some manufacturers from using 80mm fans to 120mm fans for intake and exhaust is something I have definitely come to look for in case design, and this case has it. Tt gives you two 120mm fans — one crystal clear blue LED and the well known orange and black one. There's also a 92mm fan in the side panel just in-line with the memory and CPU, so there's good, fresh, cool air being fed right at them.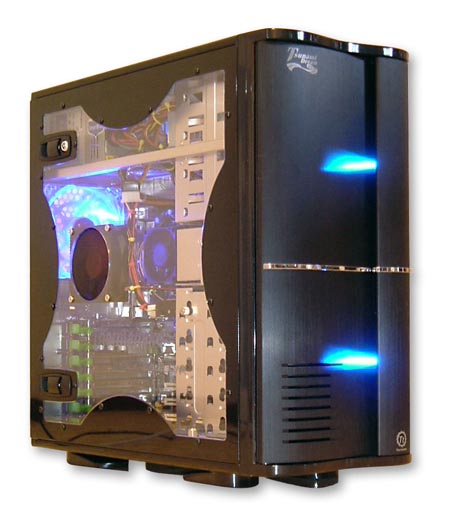 The box arrived safe and sound with no serious damage that I could see (strange considering some of the UPS stories I've read), but even if they had been a little careless with it, I don't think that the actual product would have been damaged as the box is made from some very thick corrugated cardboard. The box itself contains images of the case on the front and images of the open chassis and the different features you will find throughout the case on the rear of the box.
I'd read a couple reviews and checked the Tt web site, and they all indicated a "mirror" finish, and they were right. The case does indeed have a very nice, high gloss finish to it. Being made of aluminium, it's also a pretty lightweight case, so that's a plus for sure. 
The case was in a fine, thin cloth-type bag to help protect the beautiful paint finish. The side window had a protective plastic cover adhered to it to prevent any scratches.
Package Contents, Features and Specs
---
Features
High Efficient ventilation: Dual 12cm silent fan in front & rear, 9cm fan on side panel

Mirror coating

Transparent X type side panel window

Dual USB 2.0, IEEE 1394 Firewire, Audio & Speaker ports

Ultra light: 6.0 kg (13.2 lbs)

Lockable safety side-panel

Retractable foot stands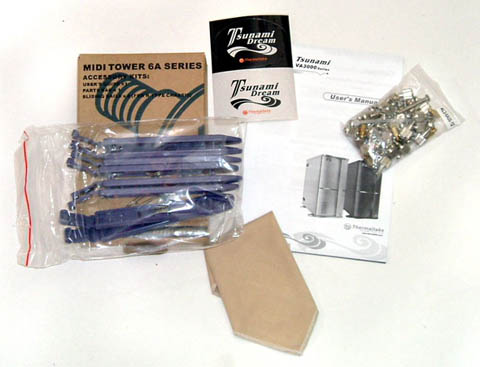 Package Contents
Case – with two 120mm fans

Thumbscrews for Hard drives

General screws & MB standoffs

Special Cloth to wipe case

Double set of keys for front and side locks

Instruction manual

Two Tsunami stickers

Rails for 5.25″ drives
Construction / Design
---
From the photographs below, you can clearly see all the great features of this case. The chassis itself is made out of 0.90 aluminium, which makes it very light indeed. There are a few small design/material issues that I will point out along the way.
Unfortunately, Tt has stuck with their long time design practice and included a front door of solid cast aluminium (about 1/8″ thick) that adds weight that need not be there. The cast aluminium door makes for a solid piece (that's for sure) and looks really good, but I find that there is no need for this overly heavy chunk of metal.
Here you can see the 120mm front fan and filtering system
Above, you can see the nice big 120mm fan that has been included to help cool the system and more importantly the HDD rack. It has a filter included in the front bezel to help reduce the amount of dust that gets in the case — props to Tt on this feature. Also, the holes for the fan are very large to not restrict air coming in past the filter.
| | |
| --- | --- |
| Case interior | HDD rack and floppy rack removed |
| | |
| --- | --- |
| Hard drive rack. | Floppy drive rack. |
Although I might have a few things in the construction of this case that I don't like, overall I find it a nice-looking case that is well designed and laid out. I really like the removable hard drive and floppy racks.
From the above photo, you can see that the 120mm fan is placed directly in front of the hard drive rack. Being a 120mm fan, its size positions it to blow over all the PCI/AGP slots. A nice feature Tt has included in the front is an array of screwed in bay covers; no more having to twist and wiggle the pieces out and not be able to reinstall them when you decide to change the drive setup! You can see that the punch-out for the rear 120mm fan uses a slightly smaller hole pattern than the front, which does not seriously restrict airflow out of the case.
Construction / Design (cont'd)
---
| | |
| --- | --- |
| Rubber grippers on feet to stop slipping | Mirror finish visible on base |
Another feature worth mentioning is the four very large feet on the case. They are very big, but they also have four non-skid pads on each foot for extra support. In the shots above, you can also see the lovely paint job on the case (yes, that's my flowered bed sheet you can clearly see in the reflection).
| | |
| --- | --- |
| 92mm fan in side window | Dual Locking mechanism for front door |
| Locking mechanism for side panel | Side panel lock from inside |
Above, you can see included in the side panel window a 92mm fan set as an intake fan. You can also see the locking mechanisms for the front door and side panel.
| | |
| --- | --- |
| Bracket to help support power supply. | Oversized thumbscrews. |
Something else I'm not to fond of is the plastic front panel/bezel behind the aluminium front door (which covers the drive bays). Everything else is made of nice aluminium and then they add this quite flimsy plastic front bezel which totally detracts from the case's beauty (it is painted with the same mirror finish, but the feel just isn't there). What I think would have been a better design idea would have been to make the front door of a thinner (maybe casted 1/16″) aluminium and then make the rest of the case and the front bezel out of say 1.25mm aluminium, thereby making an overall stronger case but maintaining roughly the same total weight and amount of aluminium used.
Installation
---
I had no problems installing my hardware into this case. The case is well designed and includes a removable hard drive rack that is capable of holding five drives.  The case comes with two 120mm fans. One is a clear blue LED, and the other is in Tt's common orange blade/black shroud color scheme. I think the change to using 120mm fans for front intake and rear exhaust is a great decision; they move a lot of air at less RPM's and hence with less noise.
| | |
| --- | --- |
| Installing a MB into the case is so easy | MB tray pop-on stand off |
| PCI/AGP retention system | Vid card installed using retention system |
I must say I really do like the retention mechanism they have employed for the PCI/AGP slots; it's such a simple but very effective and easy to use design. Definite props for this design choice. If you are like me and are constantly swapping out cards and hardware, it will make life a lot easier.
Having a removable hard drive rack and floppy rack makes installing these drives as easy as it gets, especially when Tt is kind enough to include special thumbscrews to fill the rack with drives. Placing the HDD rack in front of the 120mm intake fan makes sure that the drives will get ample cooling.
| | |
| --- | --- |
| Hard drive installed in rack | 120mm fan blows right over drives |

Everything installed; it all fits in easily
Conclusion
---
I was quite impressed by this case. The layout and design are for the most part excellent. I was, however, disappointed that Thermaltake used its usual heavy cast aluminium front panel door. I was also disappointed with the plastic front bezel, which I felt gave the case a cheaper "feel." To increase structural integrity, Thermaltake could have further improved the case by constructing the frame with a heavier gauge of aluminium.
Unfortunately, I don't have my full range of cases up in Canada with me, but I do have another case (an Antec LANboy), and the Tsunami did manage to lower internal and CPU temps by about 1-2 degrees Celsius. Even though the Tsunami is a bigger case than the LANboy, it doesn't change the cooling facts. Even though the gauge aluminium used could (to me) be a bit thicker, this may contribute to the cooling properties of this case and consider looking at a case if you plan on packing it with hardware.
Even though I was disappointed with those few small things, I must reiterate that the actual design, layout, and paint job of this case left me quite pleased. If you are looking for a (what I call full tower) case with some good features and design, this could be the one for you. If you are looking for a LAN box, however, this could be just a bit too big and heavy. Checking a couple common e-tailers, NewEgg and Zipzoomfly, reveals a price of around $129 US. This makes it a little on the more expensive side, especially without an included PSU.
Pros:
+ Very nice external design
+ Very well designed internals
+ Removable hard drive and floppy racks with thumbscrews
+ Excellent PCI/AGP retention mechanism
+ 120mm intake and exhaust fans
+ Slick, impressive paint job
Cons:
– Cast aluminium front door (very heavy)
– Plastic front bezel (detracts from overall classiness of the case)
– Aluminium a bit thin for general case construction in my humble opinion
– Expensive
Final Score: 8.5 out of 10 and the Bjorn3D Seal of Approval