Crucial ups the speed of its Gizmo USB Drives with the move to USB 2.0. I will take a look and see how the new drive compares to the older Gizmo USB 1.1 Drive.
Introduction
---
Last November, Crucial asked Bjorn3D if we wanted to look at their new Gizmo 256 MB USB drive. In looking at it, we only found two things that bothered us — physical size of the drive and the fact that it only supported USB 1.1. Today, I am looking at the new USB drive, the Crucial Gizmo USB 2.0.  Did Crucial learn their lesson with the new drive?
Features & Specifications
---
The new Crucial Gizmo! Hi-Speed version is faster than ever and can move data at speeds up to 480 megabits per second. All that power in a sleek device that you can handily attach to your key ring!
The Crucial Gizmo! Hi-Speed USB Flash Drive
Transfers data at speeds up to 480 megabits per second
Small form factor (66.5 mm by 16.5 mm) so multiple drives fit into neighboring USB ports
LED indicates when data is transferring
Secure-D software included for data encryption and password protection
Plug and Play™
Available in 64MB, 128MB, 256MB, 512MB and 1GB
System requirements
Win ME/2000/XP
Mac OS 8.6 and above
Available USB 1.1 or 2.0 port
For Hi-Speed performance
Win ME/2000/XP
Mac OS 9.1 and above
Available USB 2.0 port
Each Gizmo! comes with
Lanyard
Key ring
Multilingual user guide
Backed by Crucial's limited lifetime warranty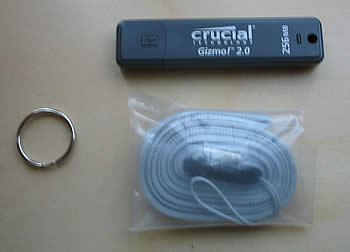 This is what you get with the Crucial Gizmo 2.0
Performance
---
The first test I did was copy a music CD and put it on my Maxtor 7200 RPM drive.  This gave me a folder 56.7MB in size with 15 Media Player WMV files in it.  I then copied the folder to both the Crucial Gizmo 1.1 drive and the new Crucial Gizmo 2.0 drive.  Below are the results.
| | |
| --- | --- |
|  Crucial File Copy 1.1 Drive: |   110 seconds |
|  Crucial File Copy 2.0 Drive: |   19 seconds |
As you can see, the Crucial Gizmo 2.0 drive clearly showed the benefit of USB 2.0 over the USB 1.1 drive.
For further testing, I did a run of HDTach 3.0 Benchmark on both drives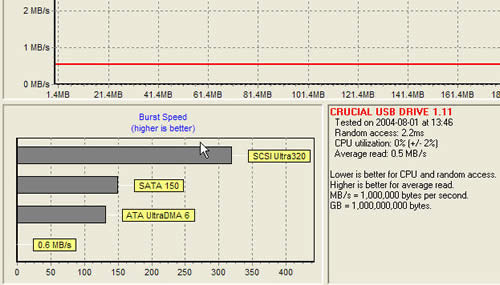 Scores from the old Gizmo USB Drive (USB 1.1)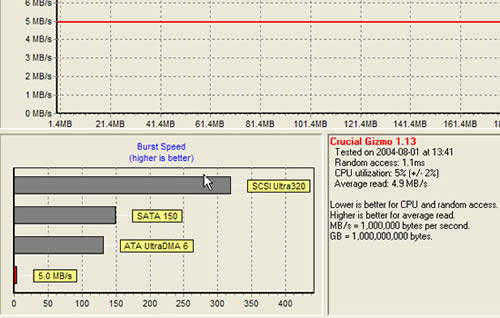 And the scores from the new Crucial Gizmo 2.0
As you can see, once again the 2.0 version of the Gizmo showed the power of USB 2.0, scoring almost 10 times better than the old Gizmo USB 1.1 drive.
Security
---
The USB 1.1 drive came with software called Secure D for making part of the drive private.  Never fear, the 2.0 version also ships with security software called Gizmo V26.  This software works just like the Secure D does but with a different interface.  The big thing to remember is once you have turned on security, you have to chose which section of the drive to see.  You cannot have both private and non-private sections viewable at the same time.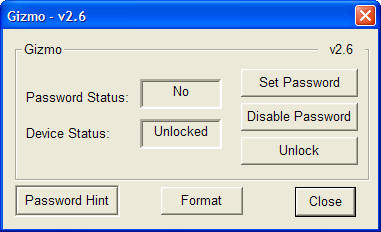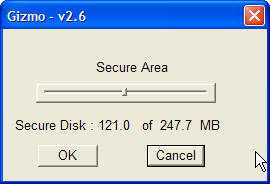 The interface is simple to use
Conclusion
---
Once again, Crucial has given us a quality product.  As these drives continue to get bigger and less expensive, we will find more and more uses for them.  We use them now for music, data, and small videos.  At some point, I can see maybe even software distributed on them and bio-technology being used for security and copy protection.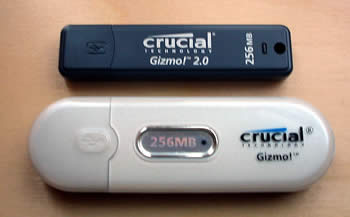 The Gizmo 2.0 is much smaller than the old Gizmo.
PROS:
+ Very Thin and Small Size, does not need a cable to connect to USB Port
+ USB 2.0 gives it great performance
+ Lifetime Warranty
+ Activity LED
+ Price $54.99 from Crucial
Cons:
NONE
I award the Crucial Gizmo 2.0 a score of 9 and the Bjorn3D Golden Bear Award.