The HIS Excalibur AIW9600 should be the dream of any HTPC builder. With a fanless design that still is packed with features it should be a perfect companion to any silent multimedia PC. Björn decided to take the card for a spin in his ShuttleX HTPC to see if it can live up to the expecations.
INTRODUCTION
A couple of weeks ago I reviewed the HIS Excalibur AIW 9600XT TURBO, a All In Wonder card based on the Radeon 9600XT with both FM and TV and good performance. But what if you don't need the speed and want an AIW-card that not only is cheaper but also quieter and which would fit perfectly into a SFF system? HIS has the answer for you with their HIS Excalibur AIW 9600, the card I am reviewing today.
SPECIFICATIONS AND FEATURES
Let us take a look at the specifications of this card:
Graphics Processor
Powered by ATI RADEON™ 9600  – 325MHz
Memory Configuration
128MB DDR memory – 400MHz
RAMDAC
Dual integrated 10-bit per channel palette DACs operating at up to 400MHz
TV Video and Audio Processor
Powered by ATI THEATER™ 200
Bus Interface
AGP 8X / 4X
Connectors
Dual VGA connector
Audio and video input and output through adapter and cables
TV turner requires TV signal of Amplified antenna or cable
Drivers Included
Windows® XP
Windows® 2000
Windows® ME
System Requirement
Intel® Pentium® 4/III/II, Celeron™, AMD® Athlon
One available AGP 8X / 4X slot
128MB of system memory
Installation software requires CD-ROM drive
DVD playback requires DVD drive
500MHz minimum processor speed for MPEG-2 video capture
Other
Now includes the REMOTE WONDER.
The biggest difference between this card and the AIW 9600XT is that this uses the slower Radeon 9600 chip at a speed of 325 MHz and with 128 MB memory clocked at only 400 MHz. The AIW9600XT runs at 525 MHz (Core)/650 Mhz (memory). The card also is lacking the FM-support. Other than that the card is comparable to the 'big brother', the HIS Excalibur 9600XT Turbo (LINK).
Let us look at some of the features of the card:
ATI's MULTIMEDIA CENTER offers a full range of multimedia functions including:
Enhanced TV-ON-DEMAND™ PVR for instant replays, pausing live TV or recording live broadcasts for later viewing  
mulTView™ – Enables dual TV tuner capabilities such as Picture-in-Picture when combined with ATI TV WONDER™ or TV WONDER™ VE (not included)
THRUVIEW™ – Allows for translucent viewing of TV, DVD (digital versatile disk) and video file playback
VIDEOSOAP™ – Delivers advanced filtering to reduce noise, improve sharpness and soften focus as desired to provide the highest quality video compression for PVR and personal video editing functions
FULLSTREAM™ – Uses pixel shaders, based on innovative technology in RADEON™ 9600, to remove blocky artifacts from streaming video and provides sharper image quality and greater
scalability
EAZYLOOK™ – Allows the user to entertain without ever leaving the couch by offering TV and DVD support at a distance and seamless integration with the REMOTE WONDER™.
ATI's THEATER™ 200 – Provides exceptional video and stereo audio quality viewing during live TV and video input and capture
RADEON™ 9600 (video processor unit) and 128MB (megabyte) DDR memory – Designed for exciting 3D graphics and gaming
VIDEOSHADERS™ – Uses programmable pixel shader technology to accelerate video processing and provide better-looking visuals
REMOTE WONDER™ – Offers remote control via RF (radio frequency) for instant easy access to all the multimedia features (TV, video, DVD – and more) – it's the 30-foot User Interface in the palm of your hand
Security/monitoring camera functionality (signal from separate video camera)
Stereo TV-tuner with 125 channels
FM-tuner
Analog video capture and editing in MPEG-2 format at up to 720x576x25 fps PAL
Support for DirectX® 9.0pixel shaders and OpenGL®
Dual VGA support
We will go through some of the features later in the review but as you can see the card is packed with features.
THE BUNDLE
When you open the box, you will find these items:
The card
The card is quite a bit shorter and lighter than the AIW 9600XT.  Since it uses the Radeon 9600 it doesn't need a fan and is completely fanless.The TV and Radio is handled by a Philips tuner module. On the card you also find ATI's Theater 200 chip.
ATI Input adapter
This breakout-box allows you to import video through either S-VIDEO or Composite.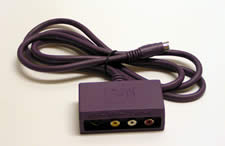 Break-Out box with SVIDEO IN/Composite In
Special display-adapter
With all the stuff that this card supports there just isn't any room for it on the back of the card. Instead of having a VGA-connector on the card you instead have a special connector where you put this cable. On this cable you then have 2 VGA-adapters, 1 S-VIDEO out cable, 1 composite-out cable, 1 audio out cable and 1 S/PDIF out cable. It should be noted that the card does NOT have a DVI-connector.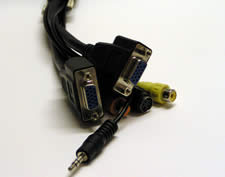 Remote Wonder
On the HIS website they say that this card does not come with the Remote Wonder but the box I got has a sticker on it saying "Now Including Remote Wonder" so I guess they haven't updated their website yet.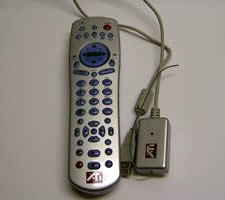 Driver CD
The driver CD includes the drivers and ATI's Multimedia Center.
Applications
On the application side we got Ulead VideoStudio 7 SE (I wonder how many CD's I got with that program now …). It's a pretty good Video Editing program. You also an application called 3D Album which lets you do animated albums with your images.
Gaming
As with the HIS Excalibur AIW 9600XT you both get game demos and a full game. The game demos are the same as with the AIW 9600XT; Vietcong, Railroad Pioneer, Neighbors From Hell, Tropico 2: Pirate Cove and Aquanox2. Nothing especially exciting although it will let you relax a few hours.
The full game though is a completely different beast. At first I couldn't understand where they dug up the game. It is called Zanzarah and I never had heard about it. While installing it I decided to click on the button "Visit website" and promptly ended up on one of those generic link pages that tries to change your start page when you close it. Not a good sign. I did however find a review of it over at GameSpot  which actually was pretty positive (score: 7.6).  Since it was an old game I didn't expect much from it but after playing it for about 2 hours I must admit that the game is dam fun. As the GameSpot review says it is a bit like Pokemon, although I think it is much more fun (you steer your fairy in battle against other fairies using a first-person view).  Good job HIS to find this game.
The bundle isn't much different that the bundle for the AIW 9600XT but the fact that the game was much more fun made me like this bundle more.
The only manual that was supplied was a small leaflet explaining how to install the card and what each connector did. If you want to learn about how to use the Multimedia Center then you will need to open the supplied manual on the CD.
PERFORMANCE
---
I don't think this card is made for gaming but I guess it would be interesting to see what it can do in some of yesterdays and todays games.
The computer used for the test:
AMD Athlon 64 3000+
1024 PC3200 DDR
120 GB Maxtor SATA, 80 GB Maxtor IDE, 60 GB Hitachi IDE
AOpen AK86-L Via K8T800 Motherboard
Creative Audigy 2 ZS
Catalyst 4.6
All benchmarks were run through the use of the utility Benchemall. Unless stated otherwise, the highest settings were used in each game/benchmark.
Far Cry
Far Cry is one of the more graphic-intensive games available today. To benchmark the game I used the PCGH_VGA demo from www.3dcenter.de. The demo was run 3 times, and the average score was then recorded.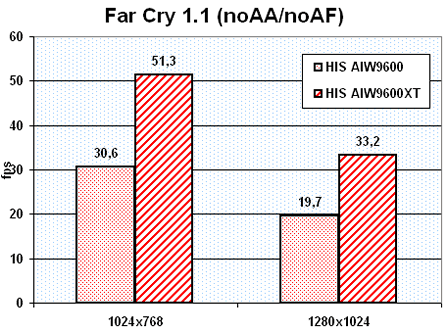 Conclusion: The AIW9600 is far behind its big brother, the AIW9600XT. To play Far Cry you need to turn down the detail levels quite a bit to reach playable framerates.
Call of Duty v1.4
The only OpenGL benchmark I used. I recorded a multiplayer game on the map Brecourt and used it to benchmark the cards.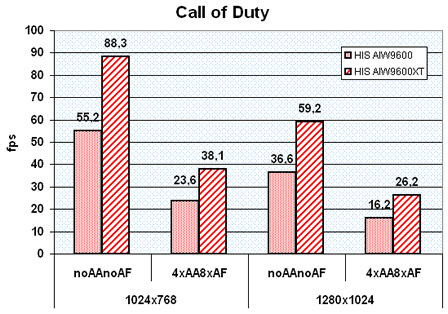 Conclusion: The AIW9600 at least manages to produce playable framerates with no AA/AF turned on. The difference to the AIW9600XT is big though 
UT2004 Demo
To benchmark this game, we use the UT2004 FlyBy demo from from www.3dcenter.de.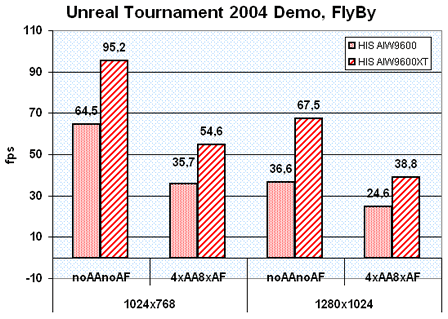 Conclusion: Not much to say here. The AIW9600 still trails the AIW9600XT by quite a big margin. You however still can play UT2k4 at 1024×768 with no AA/AF and get pretty good framerates.
THE AIW FEATURES
With the performance of the card out of the way, it is time to look at the stuff that really should interest anyone buying the card.
With the card, you get ATI's Multi Media Center. This launchpad includes all the different applications that you need for changing your PC into a multimedia PC.
TV
Setting up the TV is pretty simple. I had no problems finding all the channels that I have, and the search didn't take many seconds to complete.

Scanning for TV Channels is really quick
While I will speak about the PVR features further down, there are some cool features that the TV player has. Not only can you of course watch TV in a window, but you can also make the whole desktop of the computer the TV screen while you keep working on it or make the desktop the screen as well as make all windows semi-transparent so you can keep watching the program even though you are working on other stuff.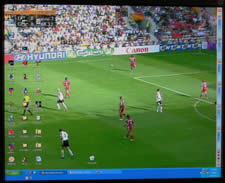 TV on the desktop

Not as useful but still cool. Transparent windows.
In addition to TV  you also get a teletext application in Europe. This allows you to quickly access any teletext pages you need.
The image quality is excellent, and when I compare the image to my TV, which is standing just right beside the computer, I see no difference at all.
PVR-features
Let's quickly move to the PVR (Personal Video Recording) features.
Timeshifting (TV-On-Demand)
You can pause any live TV-feed anytime you want and then move back and forward in the program as you want. This is nice if you need to go to the toilet, answer the phone or just simply pause for any reason in a live TV program. It works well, although I did miss the cool feature that the PixelView [email protected] had where you could move forward/backward just by using the scroll wheel on the mouse.
Recording
Of course you can record any TV program  that you want either by recording it on the fly or by scheduling a recording. You can choose from a variety of formats including ATI's own VCR format as well as MPEG1, MPEG2, MPEG4 and AVI. A number of presets are included, and if you are not happy with one of the presets, you can easily set up your own.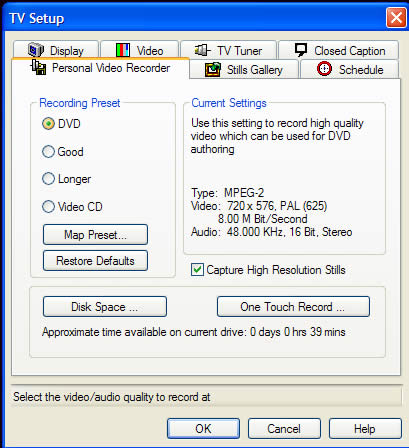 These are just a few of the formats you can record in.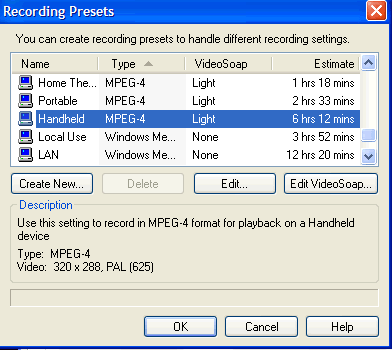 There are a lot of different presets available, but if none of
these suit you, you can create your own.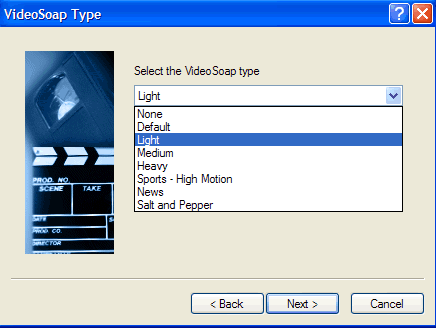 VideoSoap can clear up your recording. There are several different types available.
There are other features that I never really managed to try out like transcript of closed caption (probably doesn't work with Swedish) as well as TV Listings (works with tvtv which does not have a listing for Sweden).
EazyShare
Now this is a cool feature that probably will be overlooked by many users. If you happen to have two or more computers in your home all networked together and ATI cards in them, then you can let the computer with the AIW card act as a server and stream out the TV image to the other computers. Each of the other computers can ask for control and take over the control of the server so they can switch channel, etc.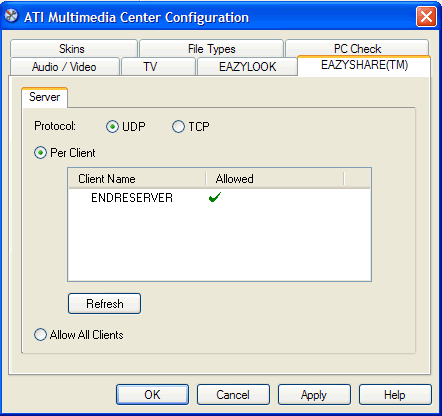 There really isn't much to set up. Install server/client and off you go.
I tried it over my internal network, and it worked great. You do get a 10 second delay before the image is started to show on the client (due to buffering) and each time you switch channel, it takes about 10 seconds before it happens on the client, but if you can live with that, it works extremely well.

The only negative thing I can say about EazyShare is that it only seems to work with TV. I personally think it would be cool to be able to stream radio, music as well as video.
Remote Wonder
The Remote Wonder is a RF-based remote that connects to the computer through the USB port. The remote is pretty big and a bit plastic. It allows you not only to start up the different applications with the touch of one button, but it also allows you to move the cursor with the large thumb pad.  I found the remote to work really well.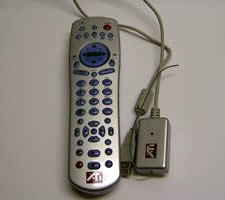 The Rest
The Multimedia Center also includes a DVD player, a generic Video player, a VCD player, a CD player as well as a media library. All the different programs use a common interface.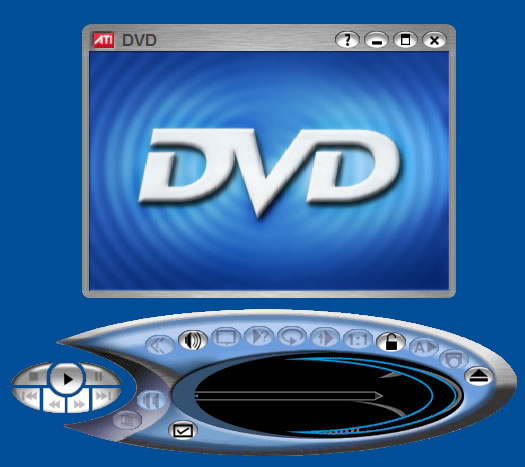 The media library lets you scan the whole computer for all your media files. Unfortunately, it has a tendency to pick up everything, including even the smallest sound file from a game. Warning! There is a feature in the library, which is called "Recommended content deletion." Here you can filter out media by type, size, etc. and then delete it. I, however, thought it merely deleted it from the library, but it does instead also delete the physical file so beware when you use it.


The launchpad for Multimedia Center
 
CONCLUSION
The HIS Excalibur AIW 9600 is an pretty good card when placed in a normal desktop. It is however a very good card when placed in a multimedia machine, preferably a SFF/HTPC. The fanless design will make any SFF-user happy and during all the weeks it has been sitting in my ShuttleX I've never had any heat-issues.
Performance isn't exactly good but it's enough if you just play the occasional game. Where this card excells is of course the All-In-Wonder multimedia features. Whether it is recording a movie from TV or streaming the TV-image over to another computer the card will dissapoint no-one. I've said it before and I'll say it again – ATI's All-In-Wonder card simply are the best solution if you want to build a multimedia system.
Just as with the HIS Excalibur 9600XT the biggest complaint I have is the fact that the card seems to be hard to find. Once again I had to search hard to find it and eventually found it on a Swedish online retailer. I've yet to find it on a US online retailer. The price here in Sweden was similar to the price of other Radeon 9600 Pro boards which should give you an idea in which price range the card will be found. As with the 'big brother' I think the AIW features on this card more than makes up for the slightly higher price compared to a normal Radeon 9600 board.  
Pros
+ Excellent multimedia features
+ Excellent recording quality
+ EazyShare
+ Fun game in the bundle
+ Remote Wonder now included
+ Quiet fanless design, perfect for small SFF systems 
Cons
– Overall slightly boring bundle
– Pretty bad performance
– No FM-support
I award a score of 7 out of 10 for the HIS Excalibur AIW 9600.