The LVW-5005 packs in nice features and universal compatibility to the most common media types all at an affordable price. Read the review to see how this DVD recorder performs.
Introduction
---
DVD recorders continue to gain popularity but not just for computers. DVD recorders are becoming major components in consumers' home theater setups. It's no surprise that many of the big names in consumer electronics, like Panasonic, Pioneer and Toshiba, have released DVD recorders, but some of you might be surprised to see Lite-On enter this fray for your hard-earned cash. Lite-On is a name most of you probably know from inexpensive yet good-performing optical drives, such as CD-RW and DVD-ROM drives.
While researching Lite-On's newest PC DVD+/-RW drives, I stumbled across the LVW-5005 DVD recorder. I just couldn't resist. I had to have one and see what it's like to have a DVD recorder hooked up in place of my VCR for recording TV shows. Plus, I knew many of you would be interested in the LVW-5005 because it's an affordable entry-level component that would fit in great with many of your home theater systems. So, let's dig in and check out what Lite-On has to offer in the LVW-5005.

Features and Specifications
---
The LVW-5005 has some nice features and specifications for a unit in its class, especially when compared to some more expensive competitors. "One Touch Recording" is exactly what it sounds like; with recordable media in the player, you simply press record and can start recording whatever you're watching. The "Easy Track Navigator" is a great feature that helps you recognize the programs you've recorded. The Navigator is a directory of thumbnail images that represent tracks on the DVD, just like chapters on a movie DVD.
Those of you with digital video cameras will appreciate the front DV Link (IEEE 1394) input connection. You can transfer video and audio from your camcorder to media in the LVW-5005 quickly and easily. As you'd expect from any decent DVD player / recorder on the market, this unit supports component video and progressive scan (480P) output.
One of the biggest features being pushed with the LVW-5005 is its "All Write" technology. This means that you can use DVD-/+R, DVD+/-RW and CD-R/RW media to record to, which is definitely a big plus for those just wanting to buy whatever they find at their local brick and mortar store without having to worry about standards.
Features
| | | |
| --- | --- | --- |
| Feature | Advantages | Benefits |
| One Touch Recording | The touch of a single push button makes it easy to Record favorite programs or capture video. | The "RECORD" push button is as easy to use as a toaster. Users of all ages and technical skill levels can enjoy the ease of use Lite-On DVD Recorders. |
| Easy Track Navigator | A directory of thumbnail images makes it easy to locate tracks on DVD. | Unique thumbnails represent tracks that can be played back or edited. |
| DV Link (IEEE 1394) Input Connection | Transfer digital camcorders or PC video and audio in original digital quality. | DV Link (IEEE 1394) Preserves the content in its original digital quality Vibrant video colors and pulsating audio sounds are carried through the DV Link connection. |
| Component Video Output | Color signals and Brightness signal are seperated offering the highest picture quality. | Viewing DVDs provides better details, a cleaner picture, and move accurate and richer colors. |
| Progressive Scan (480P) Output | Progressive Scan offers fewer jagged dimentional lines and movement in fine detail for optimum picture quality. | View pictures that possess higher picture resolution and sharper image quality. |
| "All Write" Technology | This new technology allows users to record to DVD -/+R, DVD +/-RW and CD-R/RW. | There is no longer confusion to what type of media your recorder can write to. Now all formats work. |
The LVW-5005 also features a MCTF video noise reduction circuit to improve recording quality. It's nice to see Lite-On add little extras to try to improve recording and the overall experience when using the LVW-5005.
Specifications
To get the entire list of specifications for the LVW-5005, please visit this page at Lite-On's web site. It should tell you about everything you want to know. I'm going to go over some of the info listed on that page.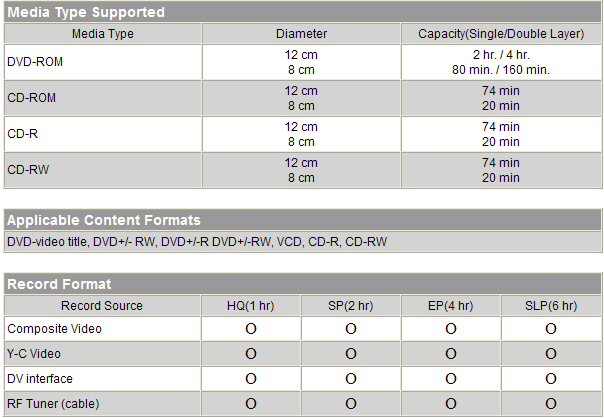 These tables, especially the last one, should appeal to everyone interested in this unit. You can see the supported media types in the first table and the applicable content formats in the second one. The last table is the one I was most interested in though as I was setting everything up. I kept wondering just how much I could record on the included DVD+RW. Well, you can quickly see that the recording time varies with the recording quality level, just like you are probably used to with your VCR. The higher time limit means more compression and therefore lower quality. It's nice to see that you can get 6 hours of recording out of a blank recordable DVD. Don't expect the picture quality to be that great at this setting (SLP) though. I'll get more into that a little later.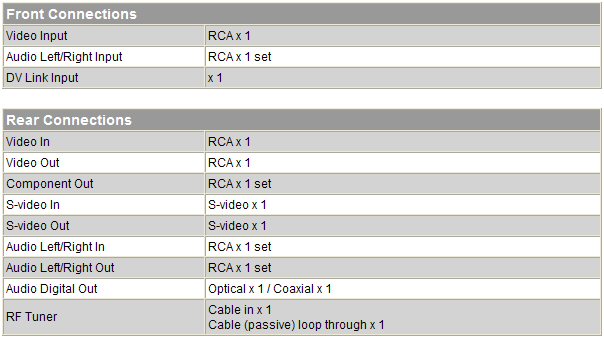 These tables are also very important as you plan out how you want to connect the LVW-5005 to your current home theater setup. I think most people will be happy with the types of connectors available on the LVW-5005. They definitely suit my basic home entertainment needs.
Closer Look at the LVW-5005
---
Packaging and Package Contents
Lite-On packages the LVW-5005 just like most other A/V equipment gets packaged. It comes in a nice, colorful cardboard box with descriptions all over it and is protected on the inside with some Styrofoam. Included in the box are the following items:
LVW-5005
Remote control
2 AAA batteries for the remote
Composite A/V cable
Coaxial cable
Power cord
1 DVD+RW
Quick installation guide
User manual
Warranty card

I would have liked to see an S-video cable included, but I was happy to see a blank DVD+RW in the box. That's a very good idea and means you can start recording right out of the box without having to go buy media. I was also quite relieved to find a coaxial cable for hooking up to the RF tuner on the LVW-5005. I didn't have a short, spare coax cable laying around, so I thought I was going to have to waste money on one.

LVW-5005 – Front to Back

The LVW-5005 sports some pretty decent looks. The unit is mostly silver and features a shiny, mirror-like strip across the front and small blue buttons. As mentioned previously, the front also features composite audio and video jacks and a DV Link (IEEE 1394) behind a flip-down door. You can see in the pics below that the front buttons will let you perform all the basic functions, including record.
LVW-5005 – Front to Back (continued)
The back of the unit is where you will of course find the majority of the connection options, like the component video and digital audio. You also have to come around to the back for S-video and to hook up the RF tuner.
Remote Control
No modern piece of A/V equipment is complete without a remote control. Afterall, what would we do without our precious 'motes and clickers!? Lite-On delivers a solid remote for the LVW-5005. It's light but doesn't feel flimsy or cheap. The button layout works well. After a couple weeks of use, I was getting pretty used to where the buttons are located.
You can see that the top part of the remote features controls for the TV tuner, menu navigation and other functions. Lite-On could probably afford to make that Enter button slightly larger, just so that it stands out a little more since it's a frequently used button.
The bottom of the remote focuses more on DVD playback and recording controls. It was definitely a good idea to make the record button red. That little difference makes it much easier to find when you are in a hurry to press record and catch something on the TV.
The two main gripes I have about the remote are the lack of illumination (or back-lit buttons for use in the dark) and the slow response. The response isn't agonizingly slow by any means, but it isn't instantaneous either.
Setting Up / Using the LVW-5005
---
Before getting into my discussion of testing out and using the LVW-5005, it's necessary to give you some kind of idea of what my home entertainment setup is like (in other words, my 'test setup'). I have a 27″ Toshiba flat screen TV and a basic receiver. I hooked the LVW-5005 to the TV via an S-video cable. For audio, the LVW-5005 is hooked up via RCA audio cables to the receiver, which of course is hooked up to speakers (only two right now unfortunately). The final connections I made were to the LVW-5005's RF tuner. I took the coax cable from the wall outlet to the LVW-5005 RF tuner input. Then, I used the included coax cable to hook the RF tuner output to the TV. Note that the video signal for DVD playback is not passed through the RF tuner out; that is why I have the S-video cable running from the LVW-5005 to the TV. You could also of course use component cables or the included composite cables.
Hooking everything up as described above was quite simple, but I did have a slight hiccup. After I had everything hooked up and powered up the LVW-5005, I was getting no video signal to the TV (I hate that boring black screen when I'm trying to check out a new component). I checked all the connections, and everything was correctly connected. I started to worry that I had a bum unit, but I wasn't giving up yet. I decided I'd unhook the S-video cable and plug in the included composite cable to the front of my TV. Thankfully, this was the problem. I could now see the video output on the screen and entered the setup and changed the signal to S-video. Then, I changed the cables back to S-video, and all was well.
Hit the setup button on the remote, and you enter the setup menu, which has a wide variety of settings you can change. The setup menus are laid out logically and are easy to understand and use. The method for changing settings is consistent and somewhat intuitive. I think Lite-On did a good job catering the on-screen menus to the average user. The manual of course also helps you if you get confused.
In the second pic below, you can see the record menu and settings. Here is where you set the instant record quality and the chapter mark time. The chapter mark is just what it sounds like if you are familiar with DVD movies and how they are organized into chapters. I set mine to 15 minutes, which means that every 15 minutes, the LVW-5005 is automatically creating a new chapter. As a result, the recording is broken up into 15 minute chapters that you can skip back and forth between.
The TV tuner was surprisingly cool to set up. I really like how you can see the channel you are wanting to add to your channel list and even fine tune it if necessary. The easiest thing to do is an auto-scan, though, which is what I did. The tuner picked up all my channels successfully. Then, if you want, you can just drop channels that you don't watch or that aren't coming in clearly.
Once I had everything set up the way I wanted it, I had no problems using the LVW-5005. The TV tuner passed through to my TV with no noticeable signal degradation. One thing I noticed and appreciate about the LVW-5005 is that it has a clock. My old DVD player (a Panasonic) didn't have a clock.
Testing / Recording
---
Finally, we get to the best part. I was very excited to finally try out the LVW-5005 and use it like my old VCR. My anxiousness was compounded by the fact that my fiancee's 19″ TV/VCR just started eating tapes the week before I received the LVW-5005. That is the only VCR we have, so we needed a new way to record TV shows. Overall, the LVW-5005 has taken over that role quite nicely.
Since I was really looking forward to seeing this work, I popped in the included DVD+RW right after getting the unit all hooked up. After inserting the disc, I noticed that the LVW-5005 prepared the disc and actually got a little noisey at this point, but it didn't last long. Next, I set the quality setting on SLP (6 hours), found something interesting to record (which happened to be a tennis match) and hit record. This was my first test, as I was wondering just how good the lowest quality (highest compression) setting would look.
Well, it didn't look that great. It definitely looks a little 'off' compared to the original TV broadcast. I asked my fiancee, and she could notice the difference in quality — she said it looked like a cheap film. So, you will notice a drop in quality when playing back an SLP recording, but in my opinion, it's still watchable if you don't mind the quality loss. I just had to see what EP (4 hours) quality was like after that, and I was hoping it was noticeably better. Thankfully, it was. It's much closer to being unnoticeable by the average person. The EP recording passed the fiancee test. 🙂 The other two settings are even better of course but at the sacrifice of recording time.
After playing with the instant recording feature, it was time to try out the timer function. Most of you have probably set a VCR timer, and this is very similar.
First you choose if you want to set the recording for once, daily or weekly. Then, you set the date and start and end times. Next, you choose the source you want to be recorded, which can be any input source but will usually be TV and a channel for most people. Once again, I have to mention that I appreciate the fact that you can essentially preview the channel as you pick it on-screen. Finally, you choose the recording quality. I've been taping The 4400 and American Chopper for the past two weeks, and it's worked flawlessly so far. The EP quality has looked okay with both of those shows as well.
After recording a program, a thumbnail list of recorded programs is available for you to choose from. The 'thumbnail' of course serves as a preview to what has been recorded. Hopefully, it will be a useful image and not just a commercial or something equally worthless when trying to remember what you have recorded. It all depends on the timing of your timer settings though. At the end of the list, you can see an 'EMPTY' title that shows how much time is left on the disc at the given quality setting.
You can also edit the titles of recorded programs and chapters. Lite-On has done a good job of making this simple as well. Check out the pics below to see what the Title Edit screens look like.
The Easy Guider menu (accessed by pressing the Guider button on the remote) includes four of the most important tasks you will perform with the LVW-5005. Those tasks are playback, record, erase, and finalize. The first two are pretty obvious I think, but you might not have thought about the last two. Erase is a function you can use with rewritable media in order to re-record on the same disc. So, for instance, after I filled the DVD+RW up with four hours of EP quality programming, I went to the Easy Guider menu and selected erase. It's similar to rewinding a tape all the way, except there's one big difference — you are actually erasing content off the DVD and not just going back to the beginning of the media to start recording again. It's a slightly different way to think when you're so used to VCRs and tapes, but it doesn't take long to get accustomed to it. Erasing takes place fairly quickly too, which is nice. The finalize function 'closes' the recordable media so that nothing else can be recorded on the disc and also making the disc playable on other DVD players (don't think that all DVD players will be compatible with all media though, because that's just not the case).
Before wrapping up the testing, I decided to watch some DVD movies to make sure the DVD playback with the LVW-5005 is at least as good as my Panasonic player it is replacing. Keep in mind that I'm only using an S-video connection and don't have a high definition big screen hooked up to the unit. To me, the picture and sound was just as good as it was with the Panasonic player. I have read though that the LVW-5005 doesn't include 2:3 pulldown detection for you progressive-scan users, so keep that in mind.
Conclusion
---
I've been using the LVW-5005 over the last couple weeks and have been very pleased with its performance and ease of use. Getting into this newer technology can be very intimidating to many people, but I think most of those people would be comfortable using the LVW-5005. The menus and submenus make navigation quite simple and easy to understand for the most part. All this leads to less frustration for the consumer, which is a big plus. No one likes to have to read manuals for a couple hours before understanding how to use their cool new toys.
Although I don't have a digital video camera, I can't imagine an easier way than using the LVW-5005 to get your home movies onto DVD. Forget going from your camera to your PC and then to a DVD. Just plug that camera into the front of the unit and start recording. I imagine you'd save a lot of time this way.
The slow response time of the remote and the lower recording quality at SLP are the two main things that stick out as negatives to me. Many (or most) recorders will not have great quality at their lowest quality setting though, so that's not something necessarily specific to the LVW-5005. Because of this drop in quality though, really picky users will only get 2-4 hours of recording time from a blank DVD since they probably won't want to use SLP very often. The lazy bones in me would also like to see a function like VCR Plus+, but the included timer feature works great and is more than adequate for recording TV shows.
Pros:
+ Overall great performer
+ 'All Write' technology – can record to DVD+/-RW and CD-R/RW
+ Easy to use
+ Affordable ($250-275 at many stores)
+ Firmware upgradeable (link)
+ Front DV Link for easy plug-and-record from video cameras
Cons:
– Remote slow to respond
– No digital audio input (would be nice for recording audio – such as to a CD)
– No VCR Plus+
Good bye VCR, hello DVDR or DVR or … well, you can name it what you want if you get one. If you're out shopping for an affordable DVD recorder that offers some great features, like front FireWire port, user-friendly navigation, DVD+/-RW and CD recording, then Lite-On's LVW-5005 is a good choice to fit that bill. It is an excellent 'universal' DVD recorder, especially considering that you can purchase it for $250-275 at many popular online shops. I'm awarding it a 9 out of 10 and the Bjorn3D Seal of Approval.