HIS is once again back with a ATI video card for the hardcore gamer. Cooled by the excellent IceQ II cooling solution, the card not only is cool and quiet but also extremely fast.
Introduction
---
I always admire companies that try to do something special with their products. HIS is one of those companies. With their IceQ line of ATI cards, they have gained a very good reputation. Today, I am looking at the king of their cards, the HIS Excalibur X800 XT IceQ II VIVO LIMITED EDITION. Yes, a long and complicated name, but somehow it does fit with this card since it is anything but simple.
So what is special with this card? As the image shows, this isn't a common reference ATI card.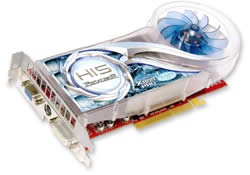 The first thing that is apparent is that this card uses a really cool (pun intended) cooler. It is called the Arctic ATI Silencer 4. The IceQ II cooling system draws cool air from inside the case and exhausts warm air outwards. This prevents the fan from recycling warm air to cool the VPU, which increases cooling performance and lowers the air temperature inside the case significantly. HIS claims that the cooler not only lowers the temperature around 11 degrees compared to the stock cooler but also is much more silent. The downside of course is that this card is a 2-slot solution compared to the reference X800 XT that is a 1-slot solution.
Specifications and Features
---
The X800 chips use the R420 core. While not revolutionary compared to the R320 and RV360 cores, it still has enough improvements to make it more than a minor update. Just as the RV360 core that we found in the Radeon 9600 XT, the R420 is based on a 0.13 micron low-k process. It has approximately double the transistor count compared to the Radeon 9800 XT but actually still draws a bit less power.
Specifications
| | | | |
| --- | --- | --- | --- |
| | Radeon 9800XT | Radeon X800 Pro | Radeon X800 XT |
| Process | | 130nm low-k | 130nm low-k |
| Core Speed (MHz) | 412 | 475 | 520 |
| Memory Speed (MHz) | 365 DDR | 450 GDDR3 | 560 GDDR3 |
| Memory Interface | 256 bit | 256 bit | 256 bit |
| Rendering Pipelines | 8 | 12 | 16 |
| Peak Memory Bandwidth (GB/s) | 23.4 | 28.8 | 35.8 |
| Texel&Pixel Fillrate (GPixels/s) | 3.3 | 5.7 | 8.3 |
Features
RADEON X800 Technology Specifications

160 million transistors on 0.13 micron low-k fabrication process
Up to sixteen extreme parallel pixel pipelines
Six programmable vertex shader pipelines
256-bit quad-channel GDDR3 memory interface
AGP 8X support or PCI Express ™ support
Support for Microsoft® DirectX® 9.0 programmable vertex and pixel shaders in hardware
DirectX® 9.0 Vertex Shaders

Vertex programs up to 65,280 instructions with flow control
Single cycle trigonometric operations (SIN & COS)

DirectX® 9.0 Extended Pixel Shaders

Up to 1,536 instructions and 16textures per rendering pass
2nd generation F-buffer technology accelerates multi-pass pixel shader programs with unlimited instructions
32 temporary and constant registers
Facing register for two-sided lighting
128-bit, 64-bit & 32-bit per pixel floating point color formats
Multiple Render Target (MRT) support

Complete feature set also supported in OpenGL® via extensions
2x/4x/6x Anti-Aliasing modes

Sparse multi-sample algorithm with gamma correction, programmable sample patterns, and centroid sampling
Lossless Color Compression (up to6:1)at all resolutions, including widescreen HDTV resolutions
Temporal Anti-Aliasing

2x/4x/8x/16x Anisotropic Filtering modes

Up to 128-tap texture filtering
Adaptive algorithm with bilinear (performance) and trilinear (quality) options
High quality 4:1 Normal Map Compression
Works with any two-channel data format
3-level Hierarchical Z-Buffer with Early Z Test
Lossless Z-Buffer Compression (up to 48:1)
Fast Z-Buffer Clear
Z Cache optimized for real-time shadow rendering
Optimized for performance at high display resolutions, including widescreen HDTV resolutions
Seamless integration of pixel shaders with video in real time
FULLSTREAM™ video de-blocking technology for Real, DivX, and WMV9 formats
VIDEOSOAP™ noise removal filtering for captured video
All-format DTV/HDTV decoding
Adaptive Per-Pixel De-Interlacing and Frame Rate Conversion (temporal filtering)
DISPLAY FEATURES

Dual integrated display controllers
Dual integrated 10 bit per channel 400 MHz DACs
Integrated 165 MHz TMDS transmitter (DVI 1.0 / HDMI compliant and HDCP ready)
Integrated TV Output support up to 1024×768 resolution
YPrPb component output for direct drive of HDTV displays†
Single and dual link external TMDS transmitter support for high resolution and/or multi-monitor DVI configurations
Compatible with ATI's THEATER™ video decode and capture devices for VIVO (Video Input / Video Output) configurations on certain X800 graphic cards
ADDITIONAL FEATURES

Windows® Logo Program compliant
CATALYST™ Software Suite
2D DISPLAY MODES
Resolutions, colors and maximum refresh rates (Hz) in 256, 65K or 16.7M colors
The Bundle
---
The card comes in an attractive box. On the backside of the box, a plastic window shows off the cool-looking cooler.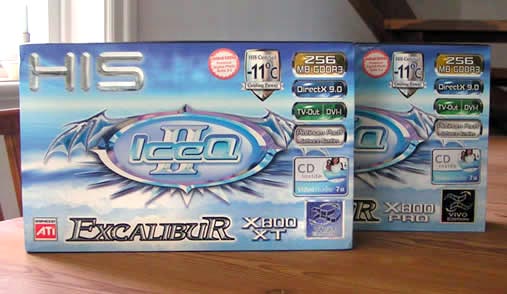 When you open the box, you will see that HIS has included a pretty good bundle.
Hardware
The card
VGA-to-DVI adapter
Video In/Out cable
Component video out cable (YPbPr)
Powercable-splitter
Backplate (for the fan)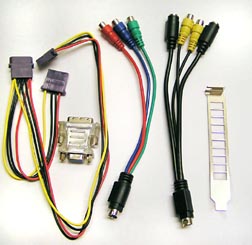 Basically, everything you need for a VIVO-card is in the box, including the component-out cable that probably is useful for any HDTV users out there but completely useless for me (yeah, I'm depressed that HDTV hasn't started to catch on here in Sweden yet).  
Software
Driver CD (Cat 4.6)
VideoStudio 7 SE
PowerDVD 5
Counter-Strike: Condition Zero
Arx Fatalis
Game demo CD (Vietcong, Railroad Pioneer, Neighbors From Hell, Tropico 2, Aquanox2)
This is a good bundle that should have something for everyone. HIS wanted us to specially mention the PictureEZ Premium Digital Photo Suite. This program usually retails for around $40, and the full version is included in this limited edition.  I've played around a bit with it, and I think it's decent. You can organize photos, create 3D albums, and a lot of other stuff.
On the gaming side, we have both full versions of Arx Fatalis and Counter-Strike: Condition Zero. These are not triple-A titles but should help you throw away a few hours of your time. Neither, however, shows off the true potential of the card.
Last but not least, you get a small but good manual in several languages. Oh, and no Half-Life 2 coupon this time.
Installation
---
Looking at the actual card, the HIS X800 XT IceQ II VIVO Edition is actually just slightly longer than the Radeon 9800 XT. The cooler, however, adds several centimeters to the length of the card, and as I said before, the cooler makes the card a 2-slot solution.
Installing the HIS X800 XT IceQ II VIVO Edition is pretty easy, although you need to make sure there is room in your box. The IceQ II Cooler is sticking out several centimeters behind the card, which means you might get into trouble with connectors. I have a smaller Antec Sonata case and an AOpen AK86-L motherboard, and the HIS X800 XT IceQ II VIVO Edition squashes one of the IDE connectors. I still can fit a cable in there, but I need to remove the video card if I want to do anything.
I was pleasantly surprised that HIS included such an updated driver on the CD. I still suggest you download the latest Catalyst drivers (Cat 4.7 at the time of the writing) and use that though.
IceQ II
Some of you might actually recognize the cooling system on the card. It comes from the company Arctic Cooling and they have had a similar product out for the Radeon 9×00, products that you also can buy yourself. The cooler on this card is called Arctic ATI Silencer 4 and will later be available to buy separately.
The cooler is a mix of aluminum and copper. A copper plate sits on top of the VPU and the memory chips. On top of the copper plate sits a bunch of aluminum fins. Everything is encapsulated in a plastic casing, and the fan takes the warm air and blows it out of the back of the card/case. On the back of the card is another aluminum plate that not only holds everything together but also helps cool the four memory chips on the back.
Benchmarks
---
Usually benchmarking a video card is a tedious and boring process. The HIS X800 XT IceQ II VIVO Edition, however, was a joy to benchmark. The performance increase over the previous generation is quite stunning.
My test system:
AMD 64 3000+
Aopen AN86-L motherboard
1024 MB PC3200 TwinMos RAM
Creative Audigy 2 ZS
3 – 7200 RPM ATA133 IDE-drives and 1 – 120GB Maxtor SATA drive
HIS X800 XT IceQ II VIVO, HIS X800 Pro IceQ II VIVO, Radeon 9800 XT
Sony 19″ TFT monitor with max res of 1280×1024
WinXP + SP1a and all patches
DirectX 9.0b
Catalyst 4.7
Powerstrip and ATI Tool
To benchmark the cards, I used the tools BenchemAll and the HardwareOC Far Cry benchmark. These utilities do a great job automating an otherwise time-consuming task.
The games/programs used in this review are:
3Dmark03 (only compare between ATI cards), Dx9
Far Cry, DX9
AquaMark3, DX8/9
Call of Duty, OpenGL
Unreal Tournament 2004 Demo, DX8  
Unfortunately, Doom3 had still not been released when this review was being done, but as soon as it is released, we will update the review with scores.
Benchmarks – Far Cry v1.1
---
Far Cry is currently one of the most pipeline-punishing PC games available. Playing at the highest resolution with eye candy maxed out and still getting playable frame rates is not really possible for even the most powerful systems and graphics cards. The benchmark we have chosen to use with Far Cry for now is the HardwareOC -Steam demo that is included with the Far Cry benchmark utility from HardOC. Everything is set to "Very High" and AA and AF is set in the driver control panel.  Each run is performed three times and the average score is recorded.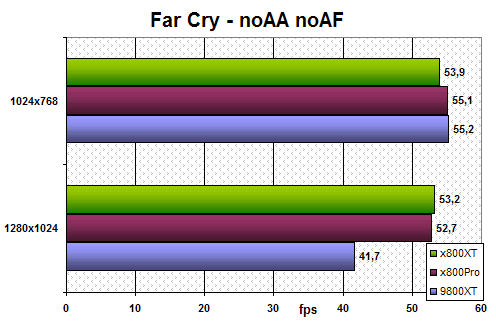 At 1024×768, we are clearly CPU-bound. Even my relatively fast Athlon 64 3000+ system doesn't push more than 53 FPS. At 1280×1024, both X800 cards still are CPU-bound while the Radeon 9800 XT already is trailing off.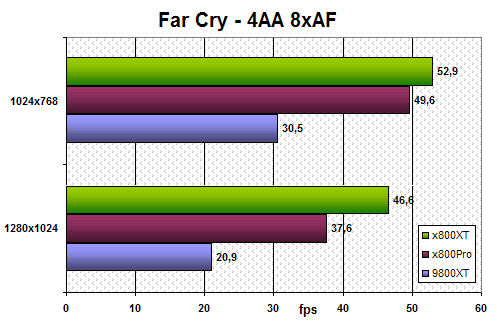 Turning on anisotropic filtering (AF) and antialiasing (AA) changes the picture as expected. The Radeon 9800 XT simply doesn't have the pixel-pumping power to keep up with the X800 cards. We see that the X800 Pro scores 80%/63% (1024/1280) higher than the 9800 XT, and the X800 XT scores 123%/74% higher. If we look at the theory, the X800 Pro has 23% more memory bandwidth and 73% higher pixel fillrate than the 9800 XT while the X800 XT has 53% more memory bandwidth and 150% more pixel fillrate. The scores do accurately reflect this. As great as the Radeon 9800 XT is, the new generation of cards simply blows it out of the water.
With the new 1.2 patch that is supposed to enable PS2.0b together with a new driver from ATI, we might see even higer scores soon.
Benchmarks – UT2K4 Demo
---
In order to benchmark Unreal Tournament 2004 (UT2K4), I used the flyby timedemo from 3dcenter.de. We used to use the botmatch demo, but I found that it was simply CPU-bound at all resolutions and AA/AF levels.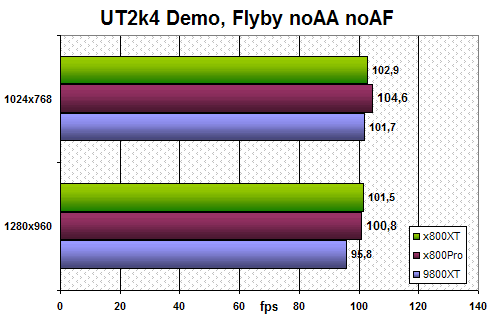 Even the Fly-by is CPU-limited to some extent. The Radeon 9800 XT does start to drop a few FPS at 1280×1024, but it's not much to talk about.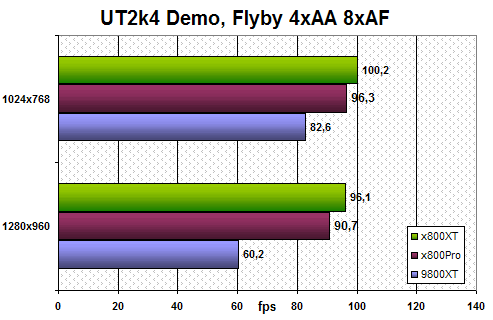 Turning on 4xAA/8xAF doesn't affect the performance of the X800 XT more than a few FPS.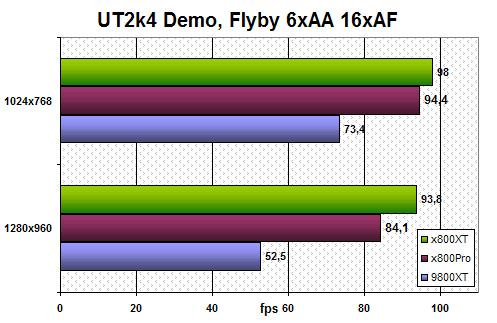 Even moving up to 6xAA/16xAF doesn't affect the X800 XT much. Once again it drops just a few FPS. If you like playing Unreal Tournament 2004, the HIS X800 XT IceQ II VIVO Edition is an excellent choice. 
Benchmarks – AquaMark 3
---
The AquaMark3 benchmark is based on an actual game engine, and it can really stress even the most modern cards. Antialiasing and anisotropic filtering was set in the benchmark.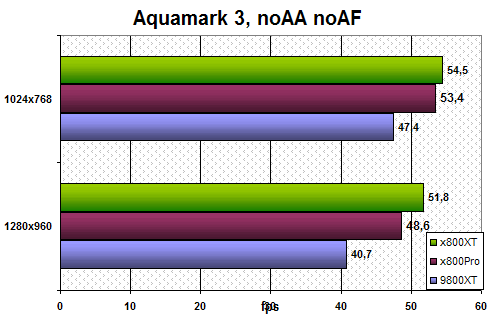 With no AA and no AF stressing the cards, the X800 XT is almost CPU-limited.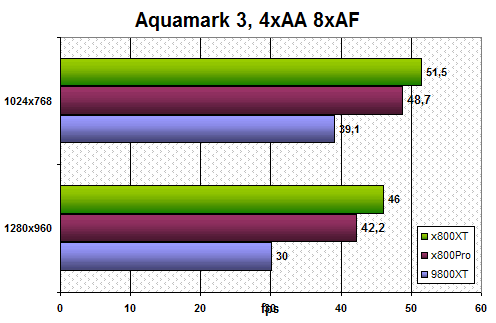 With 4xAA/8xAF, the cards are stressed more, but the X800 XT still dominates and loses just a few FPS.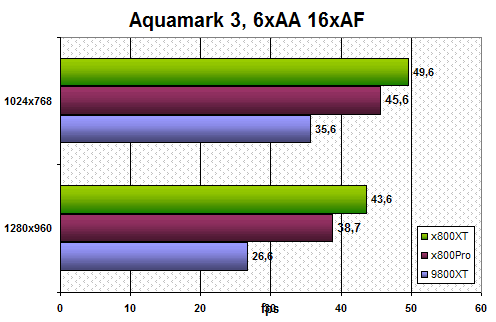 As expected, the Radeon 9800 XT is left far behind while the X800 XT manages to produce slightly better scores than the X800 Pro.
Benchmarks – Call of Duty
---
Until Doom 3 comes out, the Q3A engine based game Call of Duty is our OpenGL benchmarking choice. We've recorded our own multiplayer demo on the map Breucort and use BenchemAll to benchmark it on each card.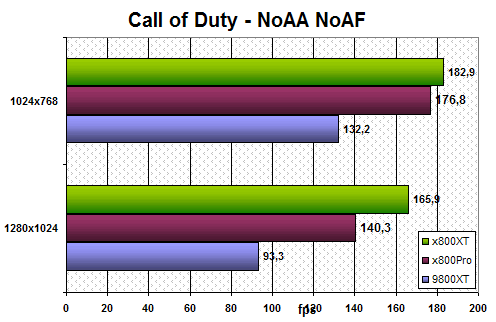 Quite clearly no CPU limiting going on here. All cards drop in performance as we increase the resolution. The X800 XT drops 10%, the X800 Pro drops 20%, and the Radeon 9800 XT drops 30%. The X800 XT puts out insane framerates.
Not much to say here. All cards lose more FPS as we turn on 4xAA and 8xAF, but as expected, the X800 cards still pump out great framerates.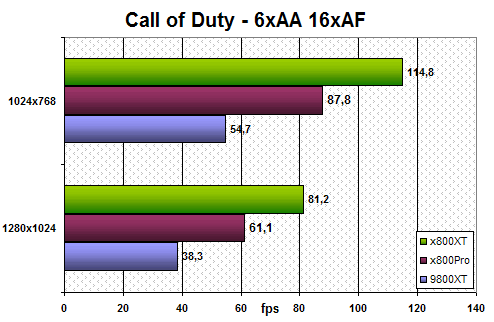 When we max out the settings with 6xAA and 16xAF, the X800 XT still breeezes through at 115 fps (1024) and 81 fps (1280).
Benchmarks – 3DMark03
---
We've been a bit hesitant in the past to include scores from 3DMark03 due to all discussions regarding 'optimizations' and cheating. However, since we are comparing only ATI cards with the same drivers we thought the comparison would be valid.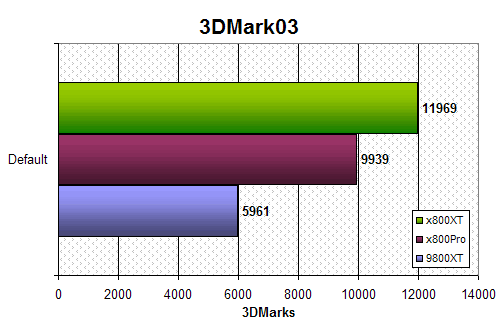 You are basically doubling your performance by buying a X800 XT over a Radeon 9800 XT.
Screenshots
---
What is the use with a expensive and fast video card if you do not play games with it? I went out and both bought some new games as well as downloaded a bunch of demos just to give you a chance to see the image quality of this card.
Lock On
If you are into flight simulators, this is probably one you have already tried. It is damn hard but looks gorgeous. I downloaded the demo and played a bit to get some nice screenshots. The images you see below are all taken seconds before I crashed into the ground. I just couldn't get the hang of it. At 1024×768 with 6xAA/16xAF, my framerate hovered around 25-30 FPS.
Codename: Panzers
There are a lot of WWII-RTS games coming out this year. This is the second demo for the game Codename: Panzers. I played it at 1280×1024 with 6xAA/16xAF, and it looked stunning as expected.
Soldiers: Heroes of World War II
I liked the demo so much for this game that I went out and bought it. Much more than a simple RTS, Soldiers: HoWWII allows you not only to play the game as a normal RTS but also allows you to take direct control over units as well as introduce some RPG features. It's very hard, but so far I love it.
Temperatures and Noise
---
Compared to my old ATI Radeon 9800 XT, the HIS X800 XT IceQ II VIVO is a really cool card. While my Radeon 9800 XT runs at around 70C and higher according to both the Overdrive tab in the Catalyst drivers and the ATI Tool utility, the HIS X800 XT IceQ II VIVO runs at 44C in idle state and around 55-60C after some heavy gaming in Far Cry. In fact, the only time I could get the card up to around 65C was using ATI Tool to search for the highest overclock. In true gaming, the temperature never seemed to get higher than 60C.
The HIS X800 XT IceQ II VIVO features iTURBO, HIS's intelligent cooling technology. This automatically adjusts the IceQ II fan speed based on the X800's load and temperature to achieve best performance. This could of course mean more noise, but even in my quiet case (Antec Sonata Piano, http://www.antec.com/ec/pro_details_enclosure.php?ProdID=08138), I never noticed any increase in sound level from the card. In fact, I can't honestly say I could even hear the card at all.
Overclocking
---
To test the overclocking potential of the card, I overclocked it with Powerstrip and then submitted it to a loop of Far Cry benchmarks. If the card managed to run it three times without hanging, I set it up to run through all the various benchmarks several times. Any image issues or hanging meant I turned the core or memory clock down a notch and tried again.
With the advanced cooling system, I actually expected the card to overclock well. Unfortunately, that wasn't the case. In fact, while I did manage to overclock it 10-15 MHz, both in the core and in the memory, the performance gain in Far Cry or any other games were tiny, which as far as I see, it just didn't make it worth it. I also ran into stability problems that manifested themselves with crashes after a few hours.
VIVO features
---
It is easy to forget that the HIS X800 XT IceQ II VIVO can do more than just play games. It has the Rage Theater chip onboard for high quality TV-Out as well as high quality Video In.
The quality of the TV-Out is really good, and I had no problems watching DVD's at high quality on the TV while working on the computer. I also tried the Video-In by importing a few clips from my mother's old Video8 camcorder as well as my Xbox, and it worked perfectly right away.  Below are a few clips from the Xbox. I captured them with VideoStudio 7 SE and put the movies together with Microsoft Movie Maker 2. The movies were scaled down to 320×240 to to get the filesize down.
| | | |
| --- | --- | --- |
| | | |
|  10.4 MB WMV |  8.2 MB WMV |  9.0 MB WMV |
Conclusion
---
There are not enough superlatives to use for this card. Even if it just had been a simple reference X800 XT board, it would have been awesome. The speed you get over the previous generation is absolutely stunning. If there is something negative about the chip, it is the lack of new features. The lack of support for PixelShader 3.0 could hurt the card in the future, but a lot of PS3.0 effects can be done pretty efficiently in PS2.0b, so that is nothing I really worry about right now. 
The IceQ II cooler helps set this card apart from generic reference designs. The extra cooling it provides as well as the low noise level is well worth the extra cash it costs. The few negative points are a slightly plastic look of the cooler as well as a good but not outstanding bundle that would benefit from some newer and more graphic intense games.
As with other HIS cards, they are much easier to find here in Europe than in the US. HIS is slowly increasing their presence in North America though. According to HIS these 2 online retailers will stocks the card: http://superpcmart.com/ and http://www.daiwa.net. The price for the card is $550.
Pros
+ Fast, very fast
+ Good cooling system
+ Quiet
+ Good bundle
Cons
– 2-slot solution
– Doesn't overclock well
– Bundled games not showing off the potential of the card
– Cooling system looks a bit 'plastic'
The HIS X800 XT IceQ II VIVO gets a 9 out of 10 and the Bjorn3D Golden Bear award.