WOW, what an event. I had the luck to attend this fantastic four day LAN Party in Edmonton and had a blast. How can you not when you've got 800+ people all hooked up on a LAN, gaming to their hearts' content and some official tournies and sweet prizes.
Introduction
---
Well, Fragapalooza is over, and I've finally managed to recover after catching an average of 3 hours sleep a night for the 4 nights. I'm going to just give a little overview of what it is and what it's all about with a few photos to help illustrate.
I registered for Fragapalooza about a month before the event. It was icing on my cake as I had already booked my vacation and just happened to find out that while I was in Edmonton I'd have the opportunity to attend Canada's largest LAN gaming event.  I figured that I'd present some coverage of the event to keep our members up to speed and also let them know it exists and rocks. 

Fragapalooza is now in its 7th year and has grown by leaps and bounds. It was originally started in 1997 by Gil "StraT" Amores and held in an old hangar building with no AC or luxuries to speak of and hosting around 100 people. Actually, Fraga was founded by Gil and five other guys who pulled out after the 2nd year, realizing how much work it was. Gil then recruited the current Fraga staff consisting of Tys von "Gaza", Geoff "CodeRed" Grimble and Kenny "Enek" Dickie. It has expanded to also include Mike Smith, Andrew "Commodore" Weidlich, Scott "Blaze" Brooks, Peter "Overlord" Schnick, Rob "Slick" Desmarais, Michael "Nexus" Meyer and Stephen E "Hazim!".  
Fragapalooza is now Canada's premier computer gaming event and has major sponsorship from Intel, nVidia and Corsair (providing tournament systems, prizes and other support); CompuSmart (providing an on site store, with games, hardware etc for sale and prizes for the event) UbiSoft and BioWare (providing tournament games and prizes); D-Link and 3Com (providing the network solutions), Custom Personal Computers, GamerzStuff, Crosshairs. It is held in the Mayfield Convention Center on the west side of the city of Edmonton.
There is a dedicated staff who help set up and run the event, but there are also a number of volunteers who also help set up and run the event. I decided I'd give volunteering a try, as I organize my own LANs and wanted to see exactly how much work was involved in setting up an event as large as this. I didn't figure I'd be able to handle staring at my comp for the entire 4 day event, so why not take a break and help out at the same time. It's been very worth it and very enlightening.
The tournaments are all finished and champions have been crowned. They were very exciting to watch, participate in and help with. I made it through the opening qualifier for UT2K4 (they chose the top 64 players with the highest frag count, out of about 150 entrants), but unfortunately I got a bad draw in  the form of a very good player and was severely owned in my 1st round match against him and was eliminated. (He made it as far as the quarter finals but was then knocked out.)
There were some presentations and giveaways scheduled to happen throughout the event from nVidia, Intel and other sponsors. I'll have more on these later in my coverage.
Setup
---
Setting up this year was a two day event, giving the staff and volunteers a bit more of a breather instead of the past one day setup time. The biggest thing to organize was the laying, testing and configuration of the network and its roughly 750 connection points. I was totally amazed at the enormity of this job and the amount of cable. Luckily, they only lost about 10% of the cable from the previous year, which reduced setup time and having to make a ton of new cable.
 Cable laid out, being tested and secured to the floor.
Tuesday a few volunteers came and helped the staff start on the laying and testing of the network cables and the setting up of the tournament systems. A volunteer meeting was scheduled for 7pm to give the volunteers some info on the event and what they would be expected to do. We also started putting up some of the bigger banners from sponsors and installing the games on the tournament machines.
 Setup of the Tournament area went smoothly and definitely was well setup, with sweet machines.
Wednesday was when all volunteers came in and everything was finalized. The tournament machines were finished installing and the tables for them were skirted and covered. All cables were neatened up and hidden. Network cables were secured to all the tables and taped down along the floor and the network was started up and testing began. Work began on setting up the official game servers and other coding for the Intranet went on all day, as well as throughout the event when the need arose. Also, on Wednesday was the training of the voluteers who would greet and register the 700+ pre-registered players and the possible 100+ walk-in players.
 Coding for the Intranet and game servers was worked on all throughout the event, as needs arose.
I had to leave around 6pm to give myself time to go home and pack up my stuff, as well as get to the store to get supplies to last the event, but the rest of the staff and some volunteers stayed there all night finishing up everything.
On to registration and opening day…
Registration
---
On Thursday, July 15th, 2004, Fragapalooza launches with registration starting at 9am. Things progress smoothly and there's a steady stream of players getting registered and setup. Security as always is a key issue. It was well taken care of. Security measures included matching security stickers for monitors and systems/towers matched back to players ID, on-site security 24/7 and the Edmonton Police making rounds throughout the day, plus volunteers always "keeping an eye out." 
The first day was pretty busy. It was a week day, and quite a few attendees had to work. Fraga was only at about 500 capacity with registrations expected to go on throughout Friday and parts of Saturday. Registration desks were set up for the entire duration of the event to accommodate any late-comers.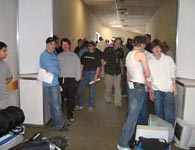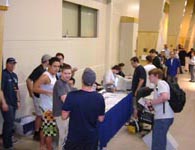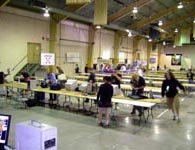 Registering and setup. In the 1st pic, you can see nVidia's Phil Scholz was there nice and early to get things rolling.
As could be expected, there were a few "glitches" with the network on the first day, which was definitely not helped by the folks who brought SASA infected machines into the event. They infected and bogged down the network. I would personally like to ask participants to next time be more considerate of their fellow participants and do a complete virus scan before hooking up/bringing their machines to the event, as it slowed the whole network down and really gave the network staff some serious headaches, not to mention the effect it had on getting some serious gaming going.
By Friday night, things were really rolling. The qualifiers for the UT2K4 1v1 tourney had been run and announced and the actual 1v1 first round matches had started and finished. The War Craft3-FT 2v2 tourney was also well underway and things were being setup for the CS team tourney. There were pick up games of almost every game going on. I personally enjoyed playing some UT2K4 Onslaught and CTF Instagib, along with a little vanilla Q3A (couldn't locate the guys who said they played CPMA).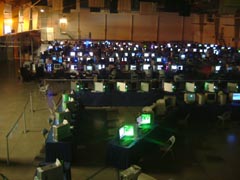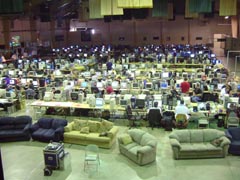 Here's the view of both sides of the convention centre taken from the above concession area.
This is what 800+ computers setup looks like – pretty sweet if you ask me 😉
Above, you can really see just how packed the event was — 800 people sure fill a convention center pretty easily. You might be amazed that there was still room for about 200-300 more people. If the capacity reaches the 1,000 mark, they should still be good.
Presentations
---
There were three major presentations during Fraga — one from Intel and two from nVidia. nVidia gave two tech presentations — one on Friday night going over the nForce technology, etc and one on Saturday night covering the new SLI technology. Intel covered their new 915 and 925 chipsets and the benefits from family to serious gamer. There was also a short presentation by Thomas Lee of Gigabyte, who went over some features on their soon to be released PCIe GPU's and motherboards.
Thomas Lee from Gigabyte during the presentation with the nVidia "Vulcan" demo running behind. The Dual slot PCIe/AGP Intel 925 based motherboard and the PCIe FX5900 based GPU. Please click for bigger images.
First up on Friday night was Thomas Lee from Gigabyte Techonologies. Thomas was there to let us know about all the new PCIe products about to hit shelves, from their PCIe and AGP capable Intel 925 chipset based motherboard to the latest and greatest nVidia based 6800 Ultra. Gigabyte has a full range of nVidia based PCIe graphics solutions on the table, ranging from the low end PCX-4300 to the high end PCX-5950. It was definitely an interesting presentation, and afterwards there were a few questions on the presentation and what was talked about with the participants with the correct answers walking away with really nice Gigabyte products.
Phil Scholz hypes up the crowd with a couple of give-aways before the presentation.


Micah Stroud 

"the nForce Guy" is introduced by Phil Scholz.
Following Gigabyte's presentation was the first of nVidia's two presentations. This one covered the nForce side of things. This was very interesting, as Micah Stroud went over some of the new technologies we would be seeing in the near future, including some very nice in-Windows tweaking tools for the nForce platform. One thing that was pointed out, and that I found very interesting is that all nForce chipsets — nForce1, 2 and 3 — support the locking of the PCI/AGP bus. It's the manufacturers who choose not to include this feature in their products. At the end of the presentation, there were once again some quizzes with the participants getting it right walking away with anything from an nVidia custom fan grill to an FX 5900XT. 
| | |
| --- | --- |
| | |
There was also a short question and answer session afterwards, in which I brought up the lack of "SoundStorm" on the nForce3 chipsets, to which nVidia reps replied, "It wasn't seen as something people wanted, (according to the Big Cheeses) the chipset is targeted to people would use better PCI based sound solutions such as SoundBlaster 2." I quickly took an informal poll of those still around of who was looking for the "SoundStorm" solution in the nForce3 solutions and had been disappointed it has not been included. I was greeted with a resounding 100% "YES" we want SoundStorm vote.
So to all of you people out there that were considering buying an nForce3 solution and may have opted to go another route because of the lack of SoundStorm or just simply have an nForce3 based motherboard but would like to see SS included and were expecting it in the nForce3-250 revision, let your MB makers know you want it. Start some polls and get them to different manufacturers, and let's get nVidia back on the right track. This was the suggestion given by the nVidia reps themselves as the "Big Cheeses" didn't think people wanted it and needed convincing.
Saturday afternoon was Intel's turn to present, and they were pumped up about their new 915 & 925 chipsets. Not a technical presentation, it was nonetheless quite informative with info on all the new features of the latest chipsets, Intel's 915 & 925. One major fact presented was that finally Intel would have an on-board graphics solution that was seriously capable and able to compete with the likes of nVidia and ATI's on-board solutions. At the end, there was a three question competition with the prize being one of the new Intel MB's and 3.2EE CPU's. Two of the questions were in the presentation, the other required you be a long time computer nerd or computer engineer or some such. The question was "Where did the name Intel come from?"
It's a packed crowd on Saturday night @ nVidia's SLI Presentation as everyone wants to hear what has to be said about this amazing new technology that nVidia is soon to be offering to the public. With expected performance increases of around 1.8X over a one GPU setup, it's definitely something to look forward to.
Everyone's paying close attention, even Phil Scholz of nVidia and Gil Amores (founder of Fragapalooza).
We released a small article with a video from the NVIDIA SLI-presentation a week ago.
Fun Competitons
---
The "Garbage Architect" competition I thought was the most fun, crazy competition that was held during Fraga and deserved it's good share of coverage. This was a pretty good way to help keep everyone awake at about 1am in the morning, because  the prizes for it were provided by MutantModz and were pretty awesome.
Rulez: Teams only, consisting of 3 members collect all the BAWLS bottles, pop-cans and pizza boxes you could in 30 minutes. Then you have an hour to make something creative out of the garbage you've collected.
At about 2:30am following the "Garbage Architect" competition was the "Build and Fly your airplane" competition. It involved all who wanted to participate (and who were still awake) getting one single sheet of paper, making a paper airplane and then joining the line to take their turn throwing it across the width of the convention center. The winner was the one whose plane flew the straightest and furthest across the room, with a prize of (you guessed it) an Intel P4 3.2Ghz EE CPU and MB. Sorry no pics of the event as I actually participated in it and forgot all about grabbing my camera once my plane made a right turn and went the wrong way. 🙁
After the "Build and Fly your airplane" competition, they surprised us with a folder on the intranet containing the original Quake and then proceeded to have a "Quake Marathon." The winner managed to stay up playing for 11 hours. I enjoyed playing it as I had never seen the original Quake. It was fast as hell and very fun, even with the very "dated" graphics. I will be working on a config for Quake, and when I go back, I will for sure be trying to win any "marathon" or other Quake competitions they hold.
Another competition they had was the "See who could hang from the wall the longest." It consisted of all who wanted to enter jumping up and grabbing on a long wall running along the north side of the convention center and just hanging on for your life to see if you ended up the last person holding on and proud winner of the prize of some sweet computer hardware.
There was a Scavenger Hunt which was held throughout Saturday, with some pretty hard to find stuff on the list. Nevertheless, quite a few teams managed to find those "hard to find" objects, with one team finding every thing on the list and walking away with first prize of some sweet computer hardware.
On Friday night after nVidia's presentation, they treated everyone to free pizza and Bawls, which I thought was really cool of them as did everyone else in attendance.
I'm sorry if I didn't cover all the fun competitions or things that went on, but it's kind of hard when it's your first time to an event of this magnitude, and you decide to volunteer. Keep on reading to find out how my volunteering went and more of what I thought of the event.
A Volunteer's Perspective
---
This was my first time at Fragapalooza and my first time at a LAN part of this magnitude. I host my own LANs back in Barbados, but the most we might get is 40 gamers on a good day. On the Fragapalooza site, there was a section on volunteers and volunteering. I decided that it would be cool to volunteer and get a first-hand look at how an event of this size is set up. Also, it would provide something for me to do since I knew I wouldn't want to be gaming 24/7 (actually I knew I couldn't game 24/7; I don't have that "stay up for 3 or 4 days in a row" stamina that I had in college).
When all was said and done and Fraga was over, I wasn't disappointed for having voluteered at all, even though I probably only gamed for about 8 hours over the 4 days (not the norm for voluteers by the way; they were asked to work 9 hours over the 4 days. I just happened to do that in my first day :D). I just got caught up in the tournies and everything else, and I became more staff than player. I really had seen how much work and effort goes into putting together an event of this size and had learned quite a bit and enjoyed assisting with the tournies and running of it.
I was very amazed at the sponsorship provided by Intel and nVidia and the prizes that were given out over the 4 day event. By my count, a total of 14 Intel 3.2GHz EE CPU's and motherboards were given out as both tourney prizes and for various other fun competitions. Plus, another 14 Intel 3.2GHz (normal) CPU's and motherboards were also given out. Also, there were about 14 nVidia FX 5900XT's given out along with the very first 6800 GT in Canada. There were also a lot of games and other computer related goodies given out throughout the event during presentations, fun events, etc.
There was really quite a bit of room left around the place, enough to provide sleeping "accommodations" for quite a lot of the participants (myself included). The couches were available if you were lucky (it was first come, first serve for them), or you could use a sleeping bag, air mattress, etc. in any of the open spaces at the ends of the convention center or along the walls. Unfortunately, I had planned on taking some photos to illustrate but never did. Take my word as a first time Fraga attendee, it was quite comfy on the couches, and if you brought an air-mattress or nice thick sleeping bag, you would have been just fine.
I know some of you might be wondering about security while taking your beauty rest, but let me assure you there were no problems. As was suggested by the staff, "get to know your neighbors" and when one of you are away the other can "keep an eye on everything." I did just this and kept an eye on the guys' stuff sitting next to me if they left, and they kept an eye on my stuff if I left. When I left my system though, I did take up my keyboard, mouse and headset and packed them in my bag which was close to me.
If you're living in Canada or even in the States or like me happen to be visiting Canada for a holiday when Fragapalooza is being held next year, I would recommend that if you're seriously into gaming, you check it out. You won't be disappointed! I'm kind of torn right now since I normally like to visit in the winter so I can enjoy the cold weather, outdoor rinks and activities along with some good ol' ice hockey, but I enjoyed Fraga so much for a first time I really want to go again. Maybe they'll hold it some time in the spring or winter, and I'll have my cake and eat it too. 😀
I hope you enjoyed my article about Fragapaloza. If you need more info on it, check out their web site www.fragapalooza.com for more info and updates. I hope I covered this fantastic event at least half decent enough as I was so totally awestruck, I forgot to do a lot of things, like take notes, take more pics, etc. Anyway, I think you got the gist of it from what I did remember to take pics and notes for and hope to see you next year. Keep going to check out the official tourney page with results and demos.
Official Tournies
---
There were several official tournaments held during Fragapalooza. There was UT2K4 (Unreal Tournament 2004) 1v1 and also a team 4v4, WC3-FT (War Craft3-Frozen Throne) 2v2 tourney and a CS (Counter Strike) 5v5 Team tournament.
UT2K4 Tournies
---
1v1 Tourney
1st – EndofTime
2nd – Hyp~
3rd – 
 
4v4 Team Tourney
1st – Bone 
2nd – Defiance
3rd – DAM
WC3-FT 2v2 Team Tourney
---
 1st – LagLovah and Deathdealer 
 2nd –

OrcOnDope- and VandV

 3rd –

L_Clan_Chris And IAmJames
CS 5 v5 Team tourney
---
1st – Cyrex
2nd – Randome
3rd – Digital Headbutt  
If I get the pics and demos in the near future (from the finals), I will update this article to include them, but as for right now, I haven't gotten anything from those I've asked, so it's time to publish this.