With CRT's quickly being replaced by LCD's, gamers are having a hard time finding a good quality CRT for their love of playing games. Don't fear, today we are going to look at a big CRT, the Mitsubishi Diamond PRO 2070SB.
Introduction
---
With CRT's quickly being replaced by LCD's, gamers are having a hard time finding a good quality CRT for their love of playing games.  Don't fear, today we are going to look at a big CRT, the Mitsubishi Diamond PRO 2070SB.
The monitor is big. It is a 22" (20" viewable) CRT.  Using the SuperBright Diamondtron aperture grille tube, you see the two horizontal wires on a white background that holds the screen in alignment as well as the one vertical wire that does the same. 
Specifications and Features
---
Let us look at the specifications for this monitor:
Active Display Area:
Full Scan
Horizontal: 16.0 in. / 406.1 mm
Vertical: 12.0 in. / 304.6 mm

Factory Setting
Horizontal: 15.6 in. / 396 mm
Vertical: 11.7 in. / 297 mm

(Dependent upon signal timing used) 
Current Rating:
1.5A @ 100-120V
0.7A @ 220-240V
Dimensions:
 Net:
19.5 in. (W) x 19.1 in. (H) x 18.5 in. (D)
495 mm (W) x 484.5 mm (H) x 471 mm (D)

Shipping:
24.2 in. (W) x 24.5 in. (H) x 23.4 in. (D)
615 mm (W) x 623 mm (H) x 595 mm (D) 
Display Colors:
Analog Input: Unlimited Colors, (Dependent upon display card used) 
Input Video Signal:
ANALOG 0.7 Vp-p / 75 Ohms Positive 
Input:
2 inputs (D-Sub)
Limited Warranty:
3 Years CRT, Parts and Labor 
Operating Altitude:
to 10,000 Feet 
Operating Humidity Range:
10% to 90% 
Operating Temperature:
5° C to 35° C / 41° F to 90° F 
Picture Tube/Display:
22″ (20.0″ viewable image size), 90° deflection,0.24mm aperture grille pitch, medium short persistence phosphor, sRGB, SuperBright DiamondtronTotally-Flat Aperture Grille CRT, multi-layered, anti-static screen coating, dark-tint screen and OptiClear® screen surface. 
Power Management:
on, off mode (<3W)
Recommended Resolution:
1600 x 1200 @ 85 Hz
Regulatory Approvals:
UL/C-UL or CSA; TUV/GS; Energy Star; CE; FCC CLASSB/CANADIAN DOC; MPRII; TCO'95; ISO9241-3, ISO9241-7; ISO9241-8
Resolutions Supported:
640 x 480 @ 50 to 160 Hz 800 x 600 @ 50 to 160 Hz 1024 x 768 @ 50 to 160 Hz 1280 x 1024 @ 50 to 127 Hz 1600 x 1200 @ 50 to 109 Hz 1800 x 1350 @ 50 to 98 Hz 1800 x 1440 @ 50 to 92 Hz 1856 x 1392 @ 50 to 95 Hz 1920 x 1440 @ 50 to 92 Hz 2048 x 1536 @ 50 to 86 NOTE: Some systems may not supportall modes listed. 
Storage Altitude:
to 50,000 Feet 
Storage Humidity Range:
10% to 90% 
Storage Temperature:
-20° C to +60° C / -4° F to 140° F 
Sync:
Separate sync: TTL Level, Positive/Negative
Composite sync: TTL Level, Negative
Sync on Green
Synchronization Range (Automatic):
Horizontal: 30 kHz to 140 kHz
Vertical: 50 Hz to 160 Hz 
Weight:
Net: 65.7 lbs. / 29.8 kg
Shipping: 77.2 lbs. / 35 kg
The monitor comes with a self-powered USB hub with 1 downstream and 4 upstream ports. Unfortunately, these are only USB 1.1 ports and not USB2 ports.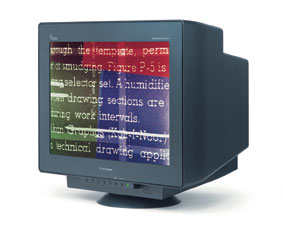 The 2070SB also incorporates the company's Superbright feature. This feature enhances brightness in two levels: one for static images and the second for moving images. To decrease 'blooming' and defocusing of the image, the Diamond Pro 2070SB uses the U-NX electron gun, which uses a second electromagnetic lens to concentrate and steer the electron beams more precisely.
Testing
---
Test system specifications:
Asus SK8N (nForce3 150PRO)
AMD Athlon 64 FX-51
2 x 1GB Legacy DDR 3200 ECC
2 x 36GB WD Raptors RAID 0. 2 x 200GB Maxtors RAID 1
DirectX 9.0b,  ForceWare 61.34
Windows XP SP1a
Antec True Power 550Watt
SB Audigy 2 ZS
As you can see by the specifications of the monitor and the BFG 6800U OC, I was ready to test the monitor to high resolutions in text, video playback and gaming.
Monitorsdirect.com Utility
I went to http://www.monitorsdirect.com/pro/pro_tools/pro_tools.shtml and used their tools to test the monitor. These were run at 1280×1024 and 1600×1200.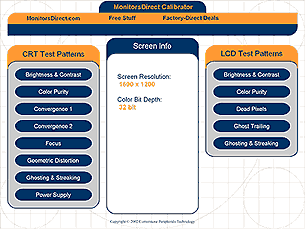 Brightness and Contrast:
The 2070SB looked very good in the test. The black on the gray scale was among one of the best I have seen.
Color Purity:
During this test, the screen is filled with color, and you look to see if the colors are even across the screen. I saw even color patterns on Blue and Green.  The Red and the White had a very slight darker vertical tint on the left hand side of the screen.
Convergence 1:
During this test a series of colored lines run vertical and horizontal on 2 different screens.  The lines should not be off in either direction more than one line. Vertical had slight offsets but within the acceptable range.  Horizontal lines looked perfect.  This could be due to two horizontal wires that lay out the screen matrix versus only on down the center for vertical.
Convergence 2:
In this test, the screen is filled with white horizontal and vertical lines.  This test passed with no noticed issues.
Focus:
This test puts up a pattern that looks like the Convergence 2 screen, and we are looking for soft image lines versus sharp lines. Once again the 2070SB passed this test.
Geometric Distortion:
This test once again puts up a pattern like the Convergence 2 screen but also puts one large circle in the middle of the screen and 4 circles on the screen with one in each corner. The circles should appear round, and they did in this test.
Ghosting and Streaking:
Here the test puts up white bars in a black area of the screen and black bars in the white area of the screen.  We are looking for shadows and/or bleeding of the white to black causing a gray area.  This test passed fine also.
Power Supply:
In this test, you have the screen black with a white line border.  Then the screen turns on and off with white centered in the middle of the screen.  If you have a power supply problem, the border will jump in and out when the white pattern comes on.  Once again no issue was found.
Having run all the tests and having the same findings at both 1280×1024 and 1600×1200 shows the monitor is keeping a good uniform pattern.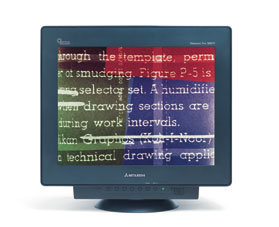 Gaming
For game testing, I played IL-2 Forgotten Battles, Unreal Tournament 2004 Demo and Soldiers (Heroes of World War II). Since I now have a 6800U to test with, I played the games at both 1280×1024 and 1600×1200 with 4xAA and 8xAF.  LCD's have gotten a lot better, but I have not seen any monitor yet look as good as the 2070SB in this testing.  I actually like the size of this monitor over 19" CRT's since I can read the in game text easily at 1600×1200.  No gamer should be unhappy using the monitor for gaming.
DVD and Video Viewing:
Since we are looking at a CRT, we had no issues with ghosting in any of the DVD's and videos we watched.  I watched the last four shows of the West Wing on the monitor, and it displayed it much brighter than LCD's and my Samsung 19" CRT while still having the blacks be black.  This is probably due to the SuperBright feature.
Everyday Use:
I did find the 2070SB to be a good monitor, but I could not use it everyday at the 1600×1200 that they recommend.  I switched to 1280×1024 and used the monitor just fine. The NEC 2080UX+ LCD was much easier and had crisper text at the 1600×1200.  But of course, the 2080UX+ is only 600.00 more dollars than this monitor.
Conclusion
---
With new TFT monitors coming out every day and dropping in price, it is easy to think that CRT monitors are a dying breed. The fact is however that for hardcore gamers and people working with graphics, CRT's still are the best choice. The price of the Mitsubishi Diamond PRO 2070SB has dropped considerly since it was released a few years ago. At around $600, it still isn't cheap, and you can pick up cheaper 22″ monitors from other brands, but the quality of the monitor when playing games, watching videos and using it in everyday use is so good that I have no problems recommending it to anyone who needs a top notch monitor.
Pros:
+ CRT is best still for gaming.
+ 3 year warranty
+ USB 4 Port Hub
+ Price $609.00 
Cons:
– BIG
– USB Hub is not 2.0
I enjoyed using the monitor for the 3 weeks I tested it.  Good monitor for the price and very nice gaming at 1600×1200.
The monitor gets the rating of 8 (Very Good) out of 10 and our Seal of Approval.