If you thought that 2-2-2-5 memory modules were gone for good, you better think again. Corsair worked with Samsung to bring them back, and they are coming back strong. Check out this look at Corsair's new low latency XL modules.
Introduction
---
By now, you probably have heard about Corsair bringing back 2-2-2 to the world of memory. Well, now it's Bjorn3D's turn to play with some of these new modules from Corsair. For those who haven't heard, these modules are from Corsair's new XL memory line.
So, what's the story behind the XL line? Well, as faster and faster memory modules have been developed and the supply of top-notch memory chips has dwindled, latency timings have gotten more and more relaxed. The high-end PC4000 and higher modules really only appeal to a limited number of users, but low latency PC3200 parts appeal to a much broader audience, so Corsair secretly worked with Samsung to acquire a steady supply of new, special revision chips for its XL line. The 3200XL line will gradually replace the 3200LL line, but the XL line should be a higher performing part at about the same price point. (Source: LegitReview's Interview with Corsair's Joe James)
Well, I'm not one to drag things out, so let's just jump into my review of Corsair's TWINX1024-3200XLPRO kit. These modules not only feature the new and exciting 4ns Samsung IC's but also feature activity LEDs, as is common with all of Corsair's PRO Series modules.

Features and Specifications
---
The TWINX1024-3200XLPRO kit features a matched pair of CMX512-3200XLPRO memory modules. They are of course rated for 400MHz DDR, but the Samsung chips are actually spec'd to run at 500MHz with relaxed CAS 3 timing. These modules also feature the bigger ProSeries heat spreaders and 18 activity LEDs. The modules were tested and packaged as a pair. The tests took place on multiple chipsets and motherboards at 2-2-2-5 and 2.75V.
What Corsair has to say about this kit:
"The TWINX1024-3200XLPRO is a 1 GByte matched memory pair specifically designed for motherboards using chipsets with dual memory channels. This memory kit consists of two CMX512-3200XLPRO memory modules that have been tested together with multiple dual channel PC3200 DDR motherboards at DDR400. The XL memory products provide the X-treme Low latencies of 2-2-2-5. TwinX memory kits are designed to provide the ultimate in performance and stability in dual channel boards. As part of Corsair's XMS ProSeries, each module includes the high-efficiency aluminum XMS heatsink, and 18 activity LED's that show the level of memory activity on each bank."
TWINX1024-3200XLPRO 1GB Kit Specifications:
Part Number: TWINX1024-3200XLPRO (also available with regular black or platinum heat spreaders)
Speed: XMS3200 / PC3200 / DDR400
Size: 1024MB (2 matched CMX512-3200XLPRO 512MB modules)
Package: 2 x 184 DIMM
Latency: 2-2-2-5
32M x 8 DDR SDRAMs
Test Voltage: 2.75V
TWINX1024-3200XLPRO 1GB Kit Features:
High-efficiency aluminum XMS heatsink

95% greater surface area than standard memory heatspreaders
Thermally bonded to the module

18 activity LED's show level of memory activity
Benchmarked over multiple PC3200 based chip sets, processors, and motherboards
Approximately 1.75″ tall x 5.41″ long x 0.30″ wide; 2.9 oz
Tested as a matched pair in multiple Intel and AMD PC3200 based test setups

Packaged together immediately following system test

Tested at DDR400

Tested at X-treme Low latency settings (2-2-2-5)
Test voltage: 2.75V

Plug-n-FragTM Auto-Configuration

Boots automatically using the X-treme Low latency values of 2-2-2-5

Legendary Corsair reliability and service
Lifetime warranty
Before moving on to the performance benchmarks, I want to comment on Corsair's "Plug-n'Frag" auto-configuration feature. Basically, this is designed to set your BIOS up at the rated 2-2-2-5 rated timings automatically. For some reason though, the SPD timings on my DFI LANParty Pro875B ended up being 2.5-2-2-5. This doesn't seem to be common though as every other experience I've read about mentions the BIOS correctly being set to 2-2-2-5, but it's worth noting nonetheless. I think you should always check your BIOS settings anyway to make sure they are what you want them to be.
Finally, here's a movie of the LEDs in action if you are interested in how cool they look.

Performance
---
Since my DFI LANParty Pro875B Pentium 4 setup is the best overclocking system I have, I used it for testing out the 3200XLPRO kit. I did, however, make sure the modules booted at 2-2-2-5 in an Athlon 64 and nForce2 system. There were no stability problems on any platform I set at 2-2-2-5 timings.
For testing, I ran SiSoftware Sandra 2004 SP1, PCMark04 and 3DMark2001SE, and I'm comparing this kit to the recently reviewed Corsair TWINX1024-4400 kit.
Test System:
To start things off, I ran the classic Sandra memory bandwidth test. To see just what lower latencies offer performance-wise, I also lowered the 3200XLPRO modules to 2-3-3-6 for comparison to 2-2-2-5.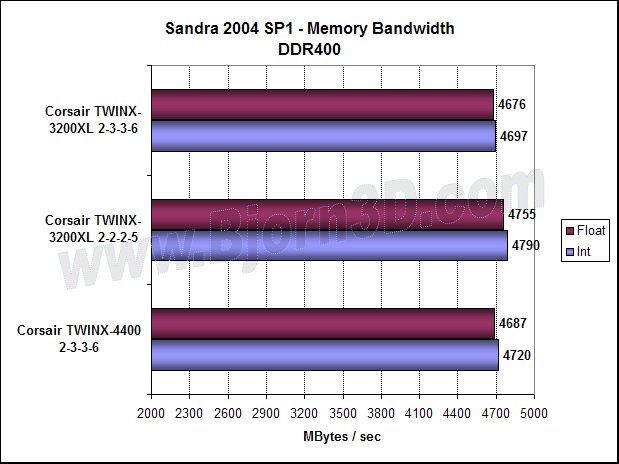 As you can see, the lower latency settings allow the 3200XLPRO to squeeze out a bit more bandwidth (around 80-90MB/s). It's not a remarkable difference, but in the game of performance, higher is always better.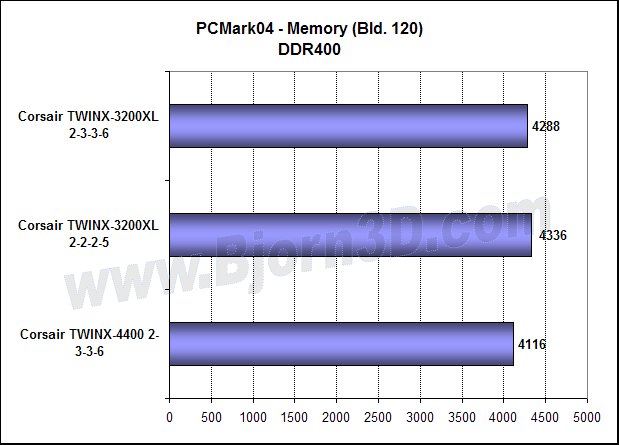 The PCMark04 memory test showed a similar result, except this time the 3200XLPRO modules at 2-3-3-6 score over 150 more points than the XMS4400 modules at 2-3-3-6.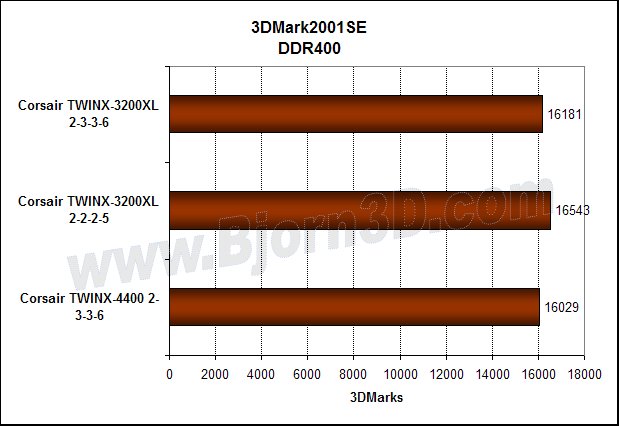 I was glad to see the boost in performance offered in a gaming benchmark for the 3200XLPRO kit at 2-2-2-5. Overall, the 3200XLPRO modules put up some great scores at DDR400.
Overclocking
For overclocking testing, I did a couple things. First, I tried to get the memory as high as possible at 2-2-2-5 and remain stable, which happened to be DDR430. That's pretty impressive, and if you check other reviews of the XL memory, you'll see some reviewers have gotten even higher. Then, I decided to go for a maximum stable overclock with CAS 2.5. Although I have seen other reviewers hit DDR500 and higher, I was only able to get to DDR480 at 2.5-4-4-7. Relaxing the timings even more and giving it more voltage still did not allow me to hit DDR500 like I hoped to. Still, DDR480 from DDR400 RAM is nothing to sneeze at. Great timings with good overclocks… Corsair never stops impressing.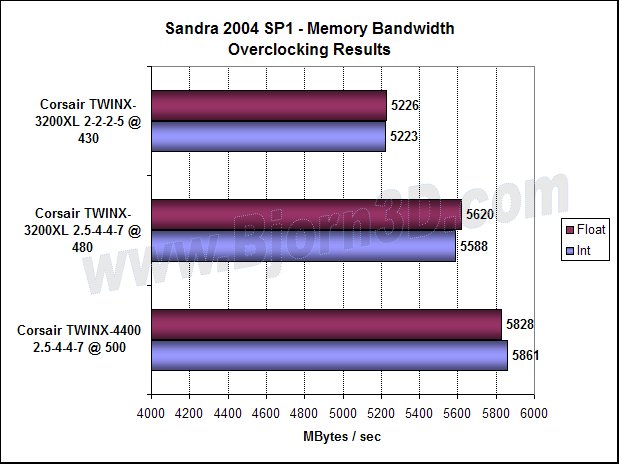 Conclusion
---
Corsair has once again shown why it is a leader in the enthusiast memory industry. When most other companies had completely given up on 2-2-2 modules, Corsair was searching for a way to bring them back. By working closely with Samsung, Corsair has done just that. The new XL line marks the return of 2-2-2, and it's not a temporary return. I can't wait to see what else Corsair does with these and other new memory chips in the near future.
You can see from the testing that the lower latencies lead to increased performance. For enthusiasts and overclocking fiends, performance is king, but stability can't be sacrificed for its sake. Whether you just want tight timings or just a good overclock or maybe even both, the 3200XL modules should be on your short shopping list. Additionally, the PRO modules really add interest inside of windowed cases with their activity LEDs.
Pros:
+ 2-2-2-5 is back!
+ Great performance
+ Cool activity LEDs
+ Big heat spreaders
+ Lifetime warranty and great support
Cons:
– Not the cheapest RAM around (~ $350, non-PRO modules are $20-30 less though)
Rating:









 (9.0/10)