AOpen's XCCube EZ18 is without a doubt one of the most stylish SFF systems to hit the market. Plus, since it's an nForce2-based system, it offers great integrated features.
Introduction
---
Small form factor (SFF) systems have made a major impact on the computing scene in the last couple years. Many companies are now carrying their own SFF line, and most try to differentiate their SFF offerings from the competition. Power, style, features and size are just some of the factors that these companies choose to set their SFF systems apart from others.
When it comes to AOpen's XCCube EZ18, style is the first thing that strikes me as making it unique from the countless SFF choices available today. With its white exterior and silver accents, it has a very stylish and sleek look that makes a fashion statement (and it better considering that AOpen's marketing concept with it is "Living Art"). Keep reading to find out if the "compact, cute, cozy" EZ18 has the features and performance to match its great looks.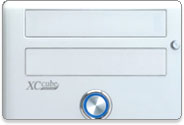 Features and Specifications
---
Here are the usual lists of features and specs taken from AOpen's web site. As usual, AOpen packs in many interesting and innovative features. The AOpen design teams really seem to consider the entire user experience, which is definitely appreciated by this end-user.
Features
Unique design that reflects your style and taste!
SilentTek – helps keep PC quiet
EzColor – color-coded motherboard to ease installation
EzRestore – system restore utility
Dual channel DDR
Jukebox – operate your CD player without loading Windows
Vivid BIOS – a more colorful, skinnable POST screen
EzWinFlash – BIOS Upgrade under Windows environment
Dual VGA ports
For other info relating to the XCCube experience, click here
Specifications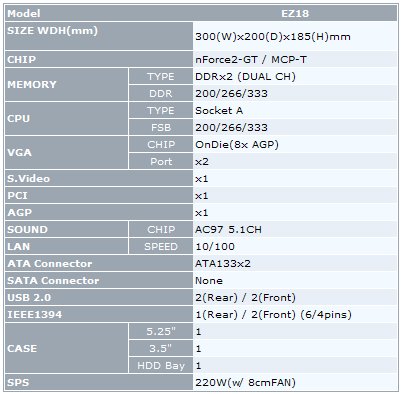 You probably noticed by now that this is based on one of the older nForce2 chipsets, so its maximum front side bus (FSB) is 333MHz. That's a bummer for sure, but keep in mind that it is an older model, so it's not surprising. The EZ18 also features the number of expansion slots for a SFF system – 1 AGP and 1 PCI. Unlike many other SFF systems with onboard video though, it includes dual VGA ports, which is a really nice touch.
Packaging and Bundle
---
AOpen presents the XCCube in a very nice package that tries to match the style found on the inside. It includes a carrying handle for easy transporting and handling. On the inside, two boxes and the EZ18 can be found. The XCCube is protected by styrofoam inserts, so your package should arrive safe and sound.
Inside the two small white boxes, AOpen packages all the accessories you need to get set up and running.
Package Contents
XCCube EZ18 SFF System
User's manual in three languages
Screws
2 IDE cables, 1 floppy cable
1 SATA cable and Molex-to-SATA power cable (although no SATA connector is available on the EZ18's motherboard)
Quick Installation Guide
Soft cloth for cleaning the exterior of the XCCube
Driver / Utility CD

Installation and Setup
---
For the most part, installation was not much different from the other SFF systems I've installed. The removable drive rack is very similar to the one found in the Biostar iDEQ 200T I reviewed a while back. Other layout details are slightly different, such as the positioning of the power supply. Overall, the XCCube EZ18 was just as cramped yet easy to work in as the iDEQ. AOpen does a nice job of tucking some cables away for you to help with installation and organization.
One thing that might ease installation is to use as short of a CD/DVD-ROM drive as possible. I removed the drive rack and installed a Maxtor hard drive and an older Lite-On DVD drive. That part was easy, but trying to place it back into position afterwards was a slight pain, mostly due to the length of the DVD drive. With a little wiggling and force, I got it to slide in though. Plugging in the IDE cable for the DVD drive was a little tough too because of how close it ended up being to the power supply. Once again, I managed, but it was more work than I had expected.
When it came time to install the CPU, I was pleasantly surprised how easy the cooler was to remove. A socket-A cooler that is this easy to remove is rare indeed! Unfortunately, all my pleasure was ruined once I tried to get it back on. I had a heck of a time trying to work around the power supply, so I considered removing it, but that didn't seem very easy either due to some the cable management in place. I didn't want to undo what was already nicely done, so I struggled with the cooler without removing the PSU. Eventually I got it, but I think orienting the socket differently would have been a good idea.
Another nice touch in the EZ18 is the AGP slot, although the location of the slot is another story. I like the locking mechanism that AOpen uses and prefer it over the typical push-down lock on most boards. Strangely though, AOpen opted to make the AGP slot the slot that is closest to the side panel, which is opposite of many SFF systems available today and which limits the user's selection of cards that will fit in the EZ18. Cards with big coolers need not apply…
While I do have my gripes about the inside of the EZ18, the outside more than makes up for it in cool features and style. The two external bays are hidden by doors. The one over the CD-ROM drive opens automatically when you hit the silver eject button while the one covering the floppy bay has to be manually opened and closed. The front I/O ports are also hidden by the same type of door that the floppy bay is hidden by — it clicks open and closed. All this adds up to a very sophisticated and clean look that should fit into any room you install the EZ18 in.
After getting everything inside the EZ18, it was time to start the software installation. I installed Windows XP Pro, nForce drivers and display drivers without a problem. The system boots quickly and has been rock solid in the stability department all during testing.

BIOS / Overclocking
---
When I first jumped into the BIOS to check it out, I was quite surprised how many tweaking options are available (using the default, older BIOS that came installed), especially since this is a SFF system. Many SFF systems offer very few tweaking options. AOpen, on the other hand, has included the following tweakable settings and ranges.
CPU Bus Frequency: 100 – 255 MHz (1 MHz increments)
CPU Multiplier: 5.00 – 12.50 MHz (0.5 increments)
AGP Bus Frequency: 66.67 – 100 MHz
DRAM Frequency: Auto or multiplier of CPU Bus Frequency from 1 – 4 in various increments
CPU Voltage: 1.100 – 1.850 V (0.025 V increments)
AGP Voltage: 1.50, 1.53, 1.56, 1.60 V
DDR Voltage: Auto or 2.50 – 2.70 V (0.05 increments)
VGA Core Frequency: 199 – 250 MHz (1 MHz increments)
I installed an AthlonXP 1700+, which happens to have unlocked multipliers and can overclock to at least 2.2GHz, in the EZ18. It is an older chip admittedly, but its overclocking prowess makes it a competitor with newer processors. At first I ran it at its stock settings, which are 133MHz FSB and 11.0 multiplier, and I set the DDR frequency to be twice the CPU bus frequency since nForce2 systems perform optimally in synchronous mode. Everything was stable at this point of course, but I don't like the lowly 1.46GHz that much. I was going to up the FSB right away to 200MHz, but onboard VGA is disabled with DDR400. The manual clearly states, "When enabling VGA onboard, memory can run max. up to 333MHz." So, I decided just to go up to 166MHz/333MHz, which puts the 1700+ at 1.83GHz for an almost 400MHz overclock. Everything was rock solid at this point too, and idle temps were around 46C for CPU and 43C for system.
Next up was trying to get to 400MHz with a video card installed (a 9800 Pro). Unfortunately, my fun stopped here because I didn't have any luck. I tried a couple things but couldn't get the EZ18 to boot at 200MHz/400MHz. Then, I tried 166MHz/333MHz again with a 12.5 multiplier, but that still didn't work. At that point, I gave up and concluded that although 166/333 isn't really an overclock for this board or memory that I was using, I was happy with the stability with the overclocked processor. If I get better results with a newer BIOS, I will update this article. As always, your overclocking mileage will vary.
Performance
---
Rather than go into lengthy detail on performance and show you benchmarks scores that are not surprising, I'm just going to discuss my experience with the EZ18 in terms of performance. I did run some benchmarks, and there was nothing surprising about them to me. The onboard video performs very similarly to other nForce2 integrated graphics motherboards that I've used and reviewed before. As expected, the performance is good enough to play games but at lower resolutions and without a lot of eye candy. Switching to an AGP card, like a Radeon 9800 XT for instance, of course produces much better results and would be the preferred route to take for anyone even remotely serious about gaming. If you are a very casual gamer and want to keep the system as simple and quite as possible, then you should be happy with the integrated graphics solution.
Memory and overall system performance was also on par with other nForce2 systems I've used, both at default clock speeds and overclocked speeds. It performs quite similarly to the AOpen AK79G Max, which means it is not the highest performing nForce2 system around, but it puts down average performance numbers.
If you are seeking the ultimate in performance, then you probably shouldn't be looking at the EZ18 or any other SFF system probably. Otherwise, if you just want good, solid nForce2 performance, then you would be more than happy with the EZ18.
You might also be wondering about the noise level of the EZ18. Well, I'd say it's average for a SFF system. I used it mostly without a video card installed, so that helped keep the noise down. If you set the system to use the auto-adjusting fan speeds, then the noise level will also change with the fan speeds. When the system is first turned on, it revs up pretty loudly, but then it quickly calms down to a light hum. I didn't mind the noise level at all, but I'm not as much of a stickler for noise as others.
Conclusion
---
AOpen did an excellent job when they designed the EZ18. While its specs might not be quite up to snuff with newer SFF systems, its looks are matched by very few SFF systems available today. AOpen probably isn't one of the first companies you think of when you hear the phrase 'small form factor system,' but I think it should be from now on. I'm looking forward to seeing new SFF systems from AOpen and hope we get a chance to take a look at them here at Bjorn3D. If you want a sleek and sexy nForce2 SFF system that offers at least average performance, then I definitely recommend the EZ18 to you. I reserve the word 'sexy' for female homo sapiens almost exclusively, but I made an exception with the EZ18. It really just has an edge in looks over many other systems. It looks like it was designed by an interior designer or artist rather than some engineering geek.
For Intel fans, AOpen offers a Springdale version of this XCCube. It is the EZ65 and happens to feature two SATA connectors.
Pros:
+ Great and unique looks!
+ Good performance
+ Dual VGA ports!
+ CPU cooler is easy to take off
+ Good routing of some cables
+ Good variety of front ports
+ Decent manual and quick install guide
Cons:
– No SATA connections
– Doesn't use the latest nForce2 chipset
– Can get noisy if temps get high
– Cooler was a pain to get back on
– Feel cramped working in it like other SFF systems
Rating:








 (8/10)