With its thin black frame, sharp image, 25 ms response time and 3 video inputs the NEC 1980SX is the perfect monitor for both the business user and the normal home user.
INTRODUCTION
TFT monitors, once expensive and useless for anything but office work, have the last few years become not only affordable but also good enough for anyone but hardcore gamers.
Today, we have reviewed NEC's 1980SX, a 19″ TFT monitor that mainly is aimed at office use but still should manage to allow you to play a few games when the boss isn't looking.
SPECIFICATIONS AND FEATURES
Let us look at the specifications:
Screen/Viewable Size: 19"/19"
Native Resolution: 1280 x 1024
Brightness (typical): 250 cd/m2
Contrast Ratio (typical): 600:1
Total Response Time: 25 ms
Weight (with stand): 20.5 lbs
The features of the monitor:
Ultra-thin-frame design
NaViSet™ interactive display settings control 
CableComp™ ensures sharp image reproduction 
Ambix+ ™ technology provides three video inputs 
See more with XtraView® wide-angle viewing 
Black level adjustment controls grayscale images 
AutoBright™ provides optimal brightness level
Detailed specifications and features can be found over at NEC.

The monitor has a very thin frame.
It can also be bought in beige color.
The first thing I noticed, which is like most 19" LCD's on the market, is the max and native resolution of 1280×1024.  There is nothing wrong with this, but I do not know why they cannot make a 19" display do the 1600×1200 that the 20" NEC 2080UX+ can do.  Also we have a 25ms screen time versus the 16ms of the 2080UX+.  Since the monitor is not being pushed to gamers this should not be a problem, but that doesn't mean I won't test playing games on it later in this review.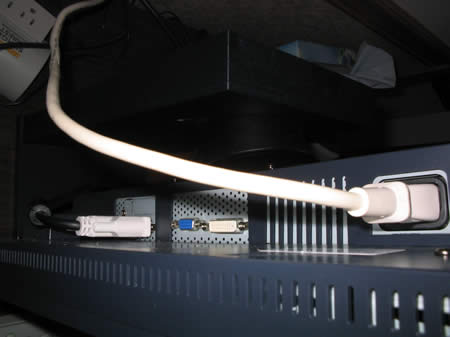 Even though the monitor has 3 video inputs, you can only use 2 of them at the same time.
Testing the monitor
The Test Bed:
nForce2 Ultra 400GB Reference Board
AMD Barton Athlon XP 2500+
1 GB 2x512MB Corsair 3200 XMS
Leadtek 5900 Ultra 256MB
2x Hitachi 80GB Deskstar SATA in RAID 0
Lite-On DVD
Windows XP Professional SP1
Monitorsdirect.com Utility
I went to http://www.monitorsdirect.com/ and used their tools to test the monitor, and all tests were run at the native resolution of 1280×1024.
Brightness and Contrast:
The 1980SX looked very good in the test. The black on the gray scale was good, but I was a little disappointed that it was not as good as the 2080UX+.
Color Purity:
During this test, the screen is filled with color, and you look to see if the colors are even across the screen. I saw even color patterns on Blue, Green and White. Unlike the 2080UX+, I did not notice any darkening of the colors in the corners. This was a pleasant surprise.
Dead Pixels:
I am happy to report that no dead pixels where found on the monitor.
Ghost Trailing:
In this test, a four-box pattern moves around the screen, and we look for ghost images of the box following the pattern. I did observe slight ghosting, and I can say it was not any worse than what I have seen on other 25ms displays.
Ghosting & Streaking:
In this test, white and black rectangles are placed against each other to see if there is any bleed through at the edges of the rectangles. A very slight ghosting was observed; again, nothing major, but it is there.
NEC Naviset utility
NEC also has a nice utility that I used for testing. It is called Naviset and should come with the monitor. If it is not included, it can be downloaded from NEC's website. During all my testing, this tool confirmed all my thoughts with the MonitorsDirect.com tools. Here are some screen images from the PC and MAC versions.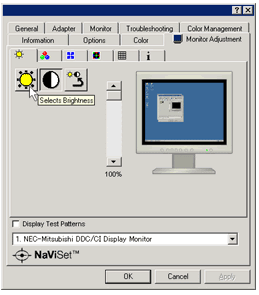 Naviset for PC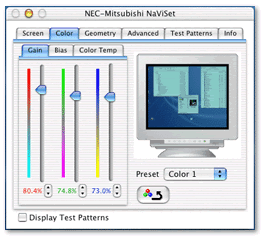 Naviset for Mac
Gaming
For game testing, I played IL-2 Forgotten Battles, Unreal Tournament 2004 Demo and Knights of the Old Republic.
Since I am playing at 1280×1024 with 4xAA and 8xAF, the 5900U did not have a problem keeping the game play going smoothly.  The monitor did exhibit some slight ghosting but nothing that would not be expected with a 25ms monitor. 
DVD Playback
In the past, I have always used the depth charge attack in the beginning of U-571 for testing fast motion and testing the grey periscope cables against the background for ghosting. Here I did see some ghosting and the cables against the background did not look as good as with other monitors I have tested.
I also spent a morning watching the Eagles Till Hell Freezes Over DVD. The sharpness of the monitor was great. Since we did not have any huge fast motion action here, I did not see any ghosting.
Day In and Day Out Use
The 1980SX worked flawlessly in all text-based applications. The monitor does suffer from slight ghosting. I think I was spoiled by the 2080UX+, but since the 2080UX+ is aimed for a more demanding group of people and the $600 more that it costs over the 1980SX can easily explain the differences.
Conclusion
This is a very nice looking monitor with a thin, black bezel (also can be purchased in a metallic white). Being able to use VGA and DVI lets you actually hook two computers to the monitor at the same time and switch between them. I have seen this feature in some of the Samsung models we have tested. The rotation feature is nice, and I used NVIDIA's driver tool to use the monitor that way for a day. You would have to be a desktop publisher or filling out long forms all day to continually use the monitor like that though.
Pros:
• Thin Bezel
• No Power Brick (integrated power supply)
• Very Crisp Text
• Good Blacks and Greys
Cons:
• Ghosting is my only real complaint
Considering the monitor is not designed for gaming, I am going to give it an 8 out of 10 and the Bjorn3D Seal of Approval for what it is designed for.