BFG comes out ready to earn your video card upgrade dollars by offering pre-overclocked GeForce 6 series cards. This review covers the 6800 GT OC, a card that is sure to be an entusiast favorite.
Introduction
---
Even when I had just heard the name BFG Tech for the first time, I knew that the company planned on doing something different, being a different kind of hardware company. I mean, it sure as hell better be with a name that uses those three letters in its name, right?
Well, BFG really is a different kind of company, at least it seems to be from my perspective (from the outside trying to look in). The company is made up of gamers, so they really do care about releasing top-quality products. Quality isn't their only concern though. Performance is right up at the top as well, as is evidenced by their newest line of "OC" (or overclocked) GeForce 6800 cards. All of BFG's current 6 series cards come only in the "OC" flavors currently. That's right; there's a 6800 OC, 6800 GT OC and a 6800 Ultra OC. All of these cards are of course overclocked right out of the box (when compared to other 6800s clocked at default reference clock speeds).

That means if you decide to purchase a BFG GeForce 6 series card, the overclocking is already done for you, and you get extra performance for your buck. It's a great idea for end-users who aren't comfortable with overclocking their expensive new cards manually. Today, I'll be taking a look the BFG GeForce 6800 GT OC and comparing it to the Sapphire X800 Pro that I recently reviewed. The 6800 GT OC's core is clocked 20MHz higher than stock (so it's at 370 instead of 350MHz), but the memory clock is unchanged. Read on to see just how well this baby pushes pixels through its 16 rendering pipelines.
Features and Specs
---
Features at a Glance
Superscalar GPU architecture
NVIDIA® CineFX(TM) 3.0 engine
On-chip video processor
High-speed GDDR3 memory interface
NVIDIA® UltraShadow(TM) II technology
64-bit texture filtering and blending
NVIDIA® Intellisample(TM) 3.0 technology
NVIDIA® ForceWare(TM) Unified Driver Architecture (UDA)
NVIDIA® nView(TM) multi-display technology
NVIDIA® Digital Vibrance Control(TM) 3.0
AGP 8X
Microsoft® DirectX® 9.0 Shader Model 3.0 support
Tech support available 24 hours, 7 days a week
Lifetime warranty
Specifications
GPU NVIDIA® GeForce 6800 GT
Bus Type AGP
Memory 256MB GDDR3
Core Clock 370MHz (vs. 350MHZ standard)
Memory Clock 1000MHz (effective)
RAMDAC Dual 400MHz
API Support Microsoft® DirectX® 9.0, OpenGL for Microsoft® Windows®
Connectors VGA, DVI, S-Video-Out
555 million vertices/sec setup
32.0GB/second memory bandwidth
Minimum 300W PSU
The Card, Package Contents and Installation
---
While I did receive a retail card and package, I didn't receive retail box. Rather than show you the plain white box I received, I'll just show you what the retail box is going to look like.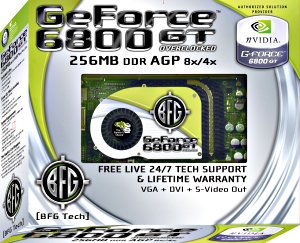 The card itself features VGA, DVI and S-video output. There is a nice little fan and slab of metal on top of the GPU and memory chips to keep everything as cool as possible. You do have to plug it into your power supply, but only one power connector is necessary. The card is pretty long, especially when compared to the X800 Pro, so small form factor (SFF) and other small system users might have some problems with that. If you've used other long GeForce cards in your system though, this one will fit just fine.
As is typical with BFG packages, there isn't really a whole lot of 'extra' stuff, but that's okay because some people like and actually prefer it that way. The basics, like manual, DVI-to-VGA adapter, "Y" power cable and driver CD, are included, along with NVIDIA NVDVD 2.0 and a CD with game demos on it.
Package Contents
BFG GeForce 6800 GT OC graphics card
Quick install manual
DVI-I to VGA connector
"Y" power cable
NVIDIA® Unified Drivers
Full installation manual .pdf
NVIDIA® NVDVD 2.0 multimedia software
Windowblinds BFG / NVIDIA® skins
Game Demos – Painkiller, Silent Storm and Splinter Cell: Pandora Tomorrow

Installation

Installation was as easy and trouble-free as any good video card install should be these days. Once you install the card, boot up your PC and pop in the included driver CD, all you have to do is click "Install Drivers" and away you go. The drivers included on the CD happened to be ForceWare 61.21, so I went ahead and installed them.
Performance / Benchmarks
---
To test out the BFG 6800 GT OC, I'm going to use the same benchmarks and games I used when testing the Sapphire X800 Pro, which includes AquaMark3, X2: The Threat Rolling Demo, Unreal Tournament 2004 and Far Cry. I'm just adding the 6800 GT OC's results to those tables, so you'll actually see a comparison to both the X800 Pro and VisionTek 9800 XT.
Test system:
All benchmarks were run with AA (anti-aliasing) and AF (anisotropic filtering) enabled. If you are paying around $400 for a video card, I doubt you are going to live without the eye candy. That's what you're paying the extra money for, so that's what I'm focusing on with these tests. Additionally, I set image quality to "High Quality" and disable trilinear optimizations in the ForceWare driver control panel.
AquaMark3
The AquaMark3 benchmark is based on an actual game engine, and it can really stress even the most modern cards. I ran all tests with 4xAA and 8xAF in the application and "Application Preference" set in the driver control panel.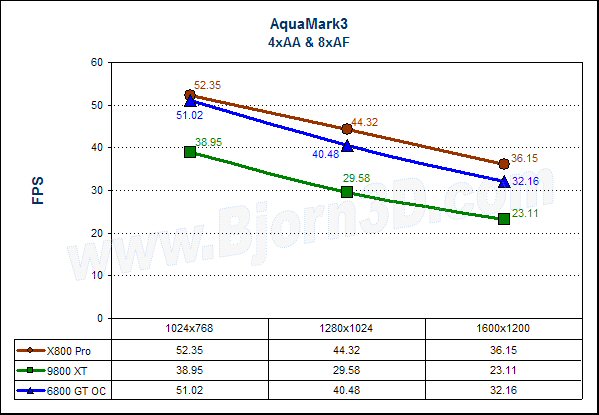 The 6800 GT OC performs quite well, but it can't quite keep up with the X800 Pro in AquaMark3.
X2: The Thread – Rolling Demo
This demo is also based on a game, and that is X2: The Threat of course. The Rolling Demo renders a bunch of different game scenes and reports scores for each scene and an average score in frames per second (FPS). The chart below just shows the average. This benchmark was run with bumpmaps, shadows and anti-aliasing set to "On" in the application and with 4xAA and 8xAF set in the driver control panel.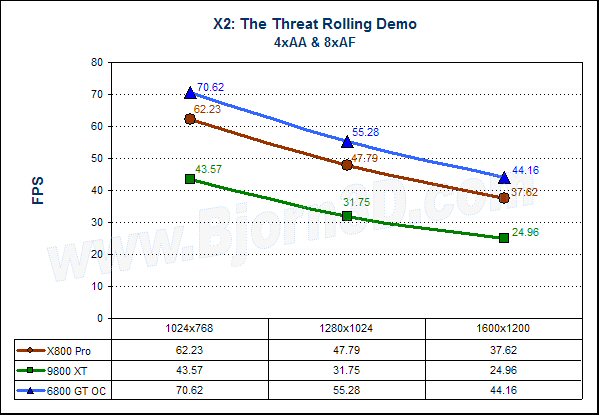 The tables are turned here, as the 6800 GT OC outperforms the X800 Pro by a considerable margin at each resolution. Over 44 FPS at 1600×1200 with 4xAA and 8xAF is rather impressive.
Unreal Tournament 2004
In order to benchmark UT2K4, I used the botmatch and flyby timedemos from 3dcenter.de. The botmatch demo is a multiplayer game with 16 bots in Assault-Mode on the map AS-Convoy while the flyby demo simply tests how well a card handles an outdoor environment in UT2K4.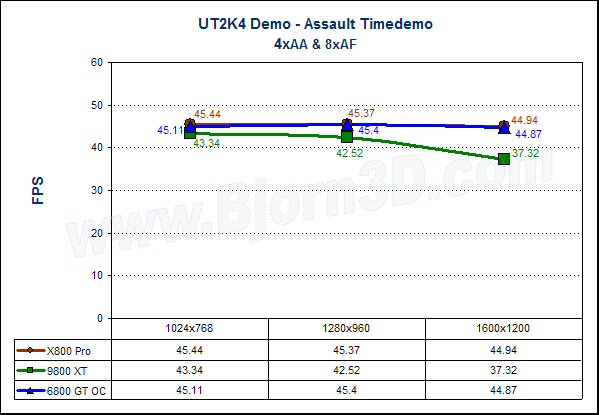 Unfortunately, I think my system is limiting the usefulness of this benchmark just like in my X800 Pro review. A more powerful processor would help us determine just which card performs better on this map with this scenario. Let's take a look at the flyby benchmark.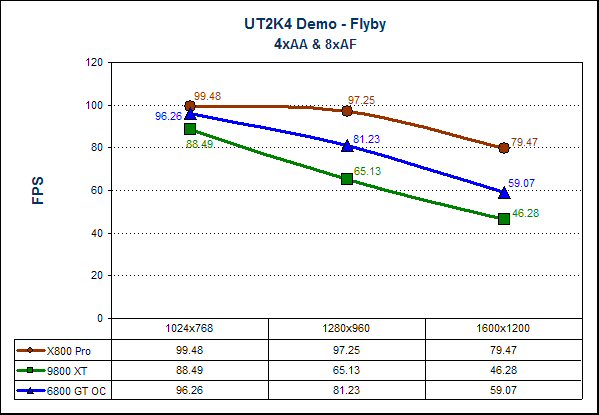 The flyby benchmark scales a little better, but that's bad news for the 6800 GT OC as it gets whooped up on by the X800 Pro at 1280×960 and 1600×1200.
Far Cry
Far Cry is currently one of the most pipeline-punishing PC games available. Playing at the highest resolution with eye candy maxed out and still getting playable frame rates is not really possible for even the most powerful systems and graphics cards. The benchmark we have chosen to use with Far Cry for now is the PCGH_VGA Timedemo from 3dcenter.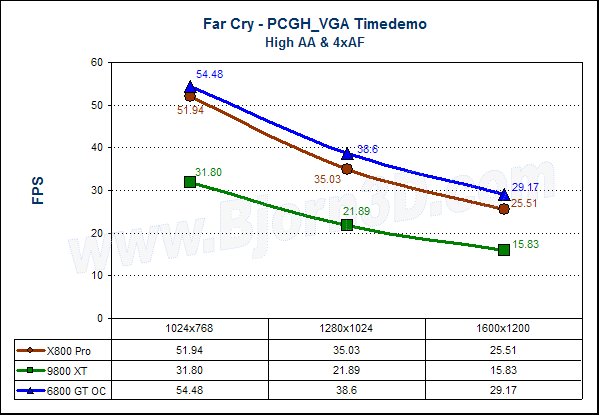 Well, taking turns winning seems to be the theme so far, and it continues here. The 6800 GT OC just edges out the X800 Pro at all resolutions.
A Note About Temps
Some of you are probably wondering how hot the 6800 GT OC runs. Well, when my system was idle and doing no 3D rendering, the GPU core maintained a temperature of about 56C while the ambient temperature was 38C. Load temperatures are of course a bit higher. Immediately after running 3DMark03, the core was reading over 73C, and ambient reached 52C. Therefore, you can figure load temps for the core to be mid to upper 70s Celsius and even lower 80s perhaps. That's one hot tamale!
Overclocking
---
Although the 6800 GT OC is already overclocked, I couldn't resist (and I know you guys and gals want to know) seeing just how high I could get it to overclock. Afterall, it isn't that far from 6800 Ultra speeds, and it has 16 pipes like the Ultra, so things could get interesting.
My overclocking experience was a positive one indeed (much more exciting tham my Sapphire X800 Pro overclocking fortunately). I used the automatic clock detection option, and the end result was just 418MHz for the core and 1090MHz for the memory, so I bumped those up to 420MHz and 1.1GHz, respectively. All was still stable at this point, and I was eager to put it to the test. Here are the overclocking benchmark results.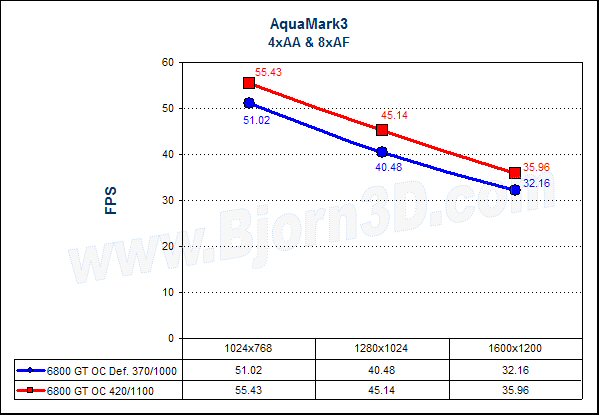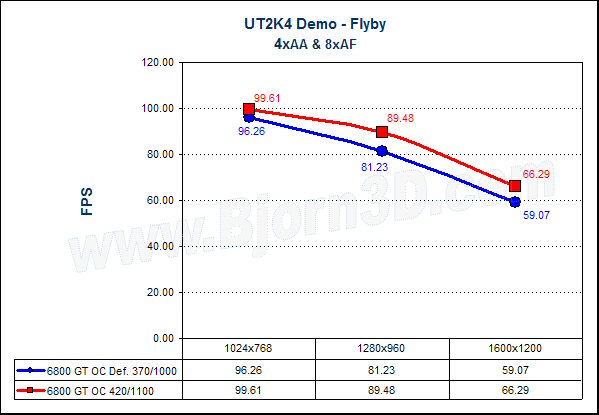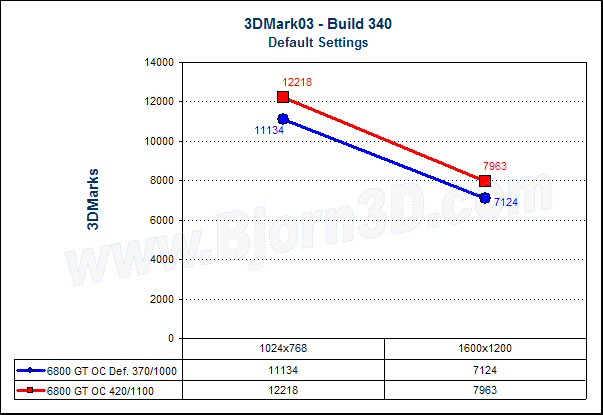 I was unable to push the clock speeds any higher, but I am still pleased with the results and potential of the 6800 GT OC.
Screenshots
---
Before I wrap this review up, let's take a look at a few in-game screenshots of two currently popular games with both the 6800 GT OC and the X800 Pro. All screenshots were taken with 4xAA and 8xAF and maximum quality settings in the game at 1280×1024.
Conclusion
---
I think it's really great that BFG decided to offer its entire 6800 line as OC cards. A lot of buyers who don't feel like messing with overclocking or don't understand it will really be happy that this overclocked-out-of-the-box option is available to them. While other companies will probably offer already overclocked cards, BFG really does a great job of marketing and pushing its OC line, and I think this round of cards will gather more attention than ever to BFG, and deservingly so.
The BFG 6800 GT OC is a great card. Yes, it is expensive at $400+, but you get what you pay for. The performance is great, and you can more than likely count on it overclocking even more than its preset overclock values. It will of course run even hotter then, but as long as you keep your case cool, which you should try to do anyway, then I don't see it as a problem. Most users would be more than happy though just keeping it at its default overclocked speeds, and then you get the awesome lifetime warranty to fall back on. Oh, and don't forget 24/7 tech support. These are great extras that make up for the weak bundle.
If you can't quite afford to spend $500+ for the very highest of the high-end cards, then you should definitely put the BFG 6800 GT OC at the top of your consideration list. It's an awesome card with plenty of power.
Pros:
+ Excellent performance
+ Already overclocked
+ Good overclocker on top of preset overclock
+ Lifetime warranty and 24/7 tech support
+ Not too noisy
+ Reasonable power requirements
Cons:
– Expensive
– Relatively large card (length-wise)
– Runs pretty hot
– Weak bundle
Final Score: 9 out of 10 and the Bjorn3D Golden Bear Award