Samsung has once again managed to impress us here at Bjorn3d with their stunning SyncMaster 172x 17 inch LCD. We take it through the paces and have a few thoughts to spill, so read on to discover if this is the perfect LCD for you!
Introduction
---
Ten years ago, purchasing a flat panel display for use with a PC could be considered crazy or ludicrous. Incredibly high prices for panels that performed poorly made them a novelty for the rich only and a candidate only for laptops. Fast forward to 2004: flat panel sales are accelerating and have surpassed that of their bulky CRT counterparts. Prices have plummeted to that of CRTs years ago. Performance, while not quite approaching that of CRTs, has become much less of an issue because they now can keep up (and often exceed) that of human eyes. Samsung, a forerunner in the LCD field, has taken the initiative and sent us one of their premier displays: the SyncMaster 172x.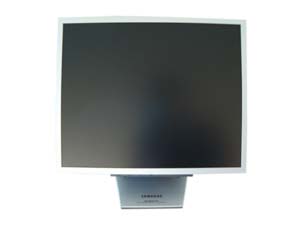 Samsung's Narrow & Slim entry…and it doesn't skimp on performance!
Specifications
---
Although this display is being pushed by Samsung for its "Narrow & Slim", attractive styling, Samsung is quick to point out that this display delivers top-notch performance and quality as well. For a more detailed list of specifications, go to SyncMaster 172x's specification sheet at Samsung.
Samsung SyncMaster 172x*
Viewable area
17 in.
Pixel Pitch
0.294mm
Constrast Ratio
500:1
Viewing Angle (H/V)
160/140 deg.
Response Time
12ms
Interface
Analog/Digital
Horiz. Freq.
30~80 kHz
Vert. Freq.
56~75 Hz
Maximum Resolution
1280 x 1024 pixels
Colors Supported
16.2M
Power (On)
40 Watts (Max)
Power (DPMS)
<2.0 Watts (Analog)
*Product specifications taken from manufacturer web site.
First Impressions and Quality
---
When the eagerly awaited package arrived at the door, so did my first impression. The box was just so small! I've had laptops come in boxes bigger than this one. Upon opening the package, I almost wasn't sure if it was a 17 inch model like it was supposed to be; Lining it up next to my own monitor (Dell M782) proved it to be truely of the 17 inch variety.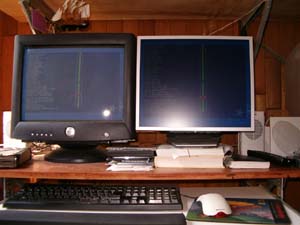 The test environment.  Gotta love dual monitors!
How does it look? Well, to sum things up and tie the ends neatly, it would only be fair to call this display gorgeous. While not as gloriously huge as the Samsung SyncMaster 213T 21.3 inch display, this one still manages to be quite satisfying in comparison with any 17 inch CRT tube. CRT Tubes are not measured by viewable area, my M782 manages a viewable area of around 15.9 inches. A 17 LCD is exactly what it sounds like…a true 17 inch display. Sitting next to my CRT, the SyncMaster 172x makes it look both big…and small…at the same time.
| | |
| --- | --- |
| Folded over, the display can fit almost anywhere. | Everything is thin, including the base. |
The styling Samsung deems to use is both sleek and elegant. Although this display only comes in one color, silver, it looks great! The trimming is very minimal and plain, but that is a good thing in this case. The base of the display also follows the same color scheme, with a combination of silver and dark grey that looks very slim and sexy. People are sure to oogle at more than just the "LCD Factor", they will also drink in the complimenting styling.
| | |
| --- | --- |
| Looks great!  Very nice and slick. | The "double-jointed" system is well constructed and sturdy. |
Finally, not only is the display gorgeous, but you can rest assured that it should hold together for a long period of time. Although there are seams around the display and it seems to be glued together for the most part, you can tell that Samsung did this both as a structural and styling concern. It certainly doesn't seem to compromise quality, as the display is held together very securely. The slimline stand also manages to radiate quality. Even though it is height adjustable through what seems like friction-based joints, it stood up proudly for the entire 2 weeks I had the display without giving so much as a millimeter. I have a concern over the stand's joints becoming "weaker" if the monitor is being continually adjusted and moved, however. Samsung has clearly put much time and effort into the design of this unit.
Installation and Setup
---
One of the greatest things about a flat panel display is its portability and small desk footprint.  Because of this, it is not at all hard to find a suitable spot.  The SyncMaster 172x, with its 17 inch display, does not differ in this case.  In fact, because of its slim design it may actually be easier to place than other models.  The depth of both the display and the stand is downright microscopic when compared to a CRT, and is well designed to fit in small places (including wall hanging).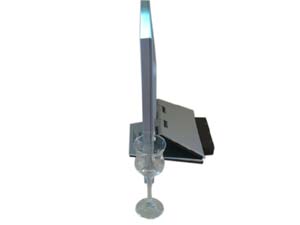 Very small footprint.  That's a small glass!
As with any display, you would expect an easy, simple installation.  Samsung has this easily covered and further enhances versatility by including dual inputs to allow both DVI (Digital Visual Interface) and standard VGA connections to graphics cards.  While other LCDs may only include one or the other and require the use of a converter, this is not so with the SyncMaster 172x.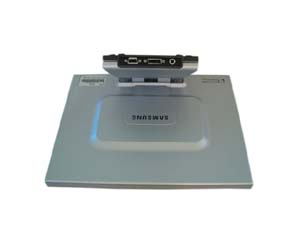 You can see the VGA, DVI, and power adapter slot here…and in that order from left to right.  Click for a closer look!
Most modern graphics cards also come with dual outputs, which allow for dual display functionality.  For testing purposes, such a dual monitor configuration was used to allow easy and practical comparisons in quality between CRTs and LCDs during everyday use.  Both Linux and Windows operating systems were used to great satisfaction.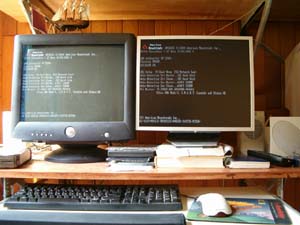 All I had to do was plug it in, and it was detected on the first boot-up.
Usability
---
There are many differences between CRT displays and LCDs beyond simple dimensions and sizes.  Perhaps the "healthiest" reason why an LCD is preferred is its likeness to a sheet of paper.  A CRT display is very hard for an eye to focus on.  The eye will continually be adjusting, because the CRT picture is a projection of an image.  An LCD, on the other hand, consists of entirely real constructs; there is no mere projection involved.  This results in an image that is startlingly clear, more akin to an actual piece of paper than the bouncing light rays present in a CRT.  Even after staring at the 172x for hours on end it resulted in nothing more than dryness that could be solved with a few instinctual blinks.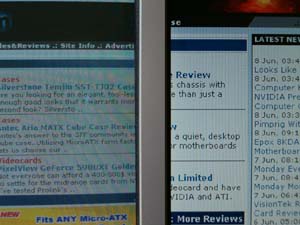 Very crisp and clear in comparison with a CRT.  Keep in mind that the LCD is just in front of the CRT (they are overlapping) which causes a slight blurriness in the CRT due to camera focus.
Below is a novel attempt to capture the difference in clarity presented by an LCD display to a CRT.  The SyncMaster 172x totally blows away its pathetic competition.  It even shatters previous experiences with other LCDs.
| | |
| --- | --- |
| A detailed closeup of the pixels in a CRT.  Make sure to click! | Unequaled clarity. |
There is far more to this display than just perfect pixels!  Samsung squeezed in a bunch of onscreen tools as well, to tweak and modify the look and colors present on the SyncMaster 172x.  Besides the usual image contrast/brightness adjustments and other miscellanious "sharpness" adjustments, Samsung also includes its quick and easy "MagicBright" settings.  With a simple push of a button, you can switch between user (custom) adjustments and Samsung's preconfigured "Text", "Internet", and "Entertainment" brightness settings.  Although I'll admit I was partial to the basic "Text" setting, during certain games and other activities I found that the other presets satisfied quite well.
The control buttons on the bottom of the display are logically located, and the menus are easily navigated.  The labels could be a tad bigger, but unfortunately if they were any bigger they would probably interfere with 172x's carefully maintained clean and minimalistic look.
| | |
| --- | --- |
| The little buttons can be annoying, but they are logically placed. | The LCD is great in glare! |
Testing
---
A good, controllable way to test the drawing performance of a display is with a good 'ol fashioned first-person style shooter.  Although not necessarily a "snap-action" shooter, a quick run through with the Far Cry demo gave an excellent impression.  Samsung's touted 12 millisecond response time definetly seems to be more than just hot air, as I couldn't find anything but the very slightest ghosting artifacts.  Most of the time I could not see anything out of the ordinary at all unless I looked closely.
This behavior continued in Unreal Tournament 2004 demo, Quake 3, and Rainbow Six III: Raven Shield.  The 172x handled any game I threw at it with nearly the speedy perfection of a CRT.  This panel definetly knows games!
Although not the biggest movie watcher, I still happen to have a stash of Monty Python's Flying Circus and The Simpsons episodes handy for viewing pleasure.  A few runs here gave a very good impression for use as a movie/TV display.  Unfortunately, the cable TV line usually running to the test computer's TV tuner was disconnected for use with a different TV, or it would have been tested as well.
This is Bjorn3d's standard display test suite.  Available free from MonitorsDirect.com, it serves well with a complete array of tests that can be use for both optimization and quality comparisons.  Don't hestitate to give it a shot as you may be surprised what you can do to tweak your display for a better picture!
All tests were run in DVI mode, with the display set to its native 1280×1024 resolution and 32 bit color.
Brightness and Contrast:
Each shade of grey looked well reproduced and distinct; no tweaking of brightness or contrast was needed to obtain optimal results.  The 172x seems to faithfully display both very dark and very light shades;  this is good because sometimes blacks may be hard to produce on an LCD.
Color Purity:
This test checks for color consistency by showing a full screen of red, blue, green and then white.  A runover of the display exhibited no blotches of miscolored pixels or variances in shades.
Dead Pixels:
Carefully inspecting the screen has me very happily saying that there were NO dead pixels.  That's right!  All 1,310,720 pixels accounted for and in operation!
Ghost Trailing:
In this test, a four-box pattern moves around the screen, and the user is supposed look for ghost images of the box following the pattern.  At first glance, I saw nothing…a much closer look revealed a very slight ghost trail.  This follows the previous games and movies results, where only very minor issues were discovered.  12ms definetly makes a difference!
Ghosting and Streaking:
Another test that attempts to bring out the LCD's deficiencies, I was hard pressed to find any problems.  None were readily apparant.
Finally, every single bit of typing and the occasional gameplay were only made more pleasurable and enjoyable with the easy and crisp viewing of the SyncMaster 172x.  The typing of both part of this review and that of another was a much better experience, as the long hours required involved no eyestrain that usually results from such extended work.  The occasional email check or instant message was easier to see and read.  Unfortunately, there was one huge problem that resulted from using this display:  the withdrawal that resulted from having to return it!
Conclusion
---
Definetly a step forward from most comparable LCD displays and certainly a giant step from a tired old CRT monitor, Samsung's SyncMaster 172x offers a large value that truly makes CRT replacement feasible.  With virtually no ghosting or streaking issues due to the extremely fast 12ms response time, there really is no excuse for anyone to be keeping a clunky old CRT on their desk, except for maybe the most hardened graphics professionals who require a very accurate colors (and even this could be disputed).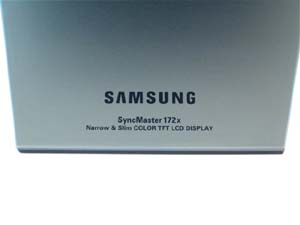 The base of the LCD.  Samsung has definetly made a top-notch product with their SyncMaster 172x!
With LCD display prices so low and still falling, the SyncMaster 172x's nearly $600 average price tag may seem a tad steep for most pockets.  However, if you consider that a comparable 17-19 inch CRT was this price a few years ago it becomes clear that flat panel displays are definetly here to stay, and that CRTs are being ever more quickly pushed to the back of the shelf.  This display performs excellently, allowing for a truly seamless transition from CRT to LCD for those who have been waiting for such a product.  You simply can't go wrong with this display; it truly merits a 9 out of 10 and a Bjorn3d Seal of Approval!
Street Price: $549 at Newegg.com
Warranty: 3 Year Parts/Labor
Pros:
Slim design looks great
Display is well assembled
Impeccable picture quality
Preconfigured brightness settings
Switchable dual inputs
Adjustable height and angles
Includes wall bracket
Downright sexy!
3 Year Warranty
Cons:
~$600 price is a tad expensive
*VERY* slight ghosting
Slight blurriness in resolutions other than 1280×1024
Tiny buttons for on-screen controls
Rating:









 (9/10)