The Leadtek TV2000 XP Expert Edition offers a lot of bang for the buck. With great features like PIP, Timeshifting , EPG and DirectBurn DVD, it's definitely worth taking a look at.
Introduction
---
I bought my first TV tuner five or so years ago in order to watch TV on my computer in my bedroom. I didn't have room for a separate TV and bought a 19″ CRT monitor for gaming, movie and TV watching, so it was all part of my grand plan for an entertainment PC. I still have that old Hauppauge, but it's been gathering dust for awhile.
My interest for TV tuners was sparked again when I started getting extra hard drive space and started hearing more and more about PVRs and DVRs. So, when Scott asked me if I wanted to review the Leadtek TV2000 XP Tuner – Expert Edition, I was looking forward to it.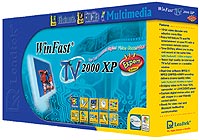 If you are in the market for a good TV tuner that offers a lot of value, I suggest you continue reading this review to get a better idea about the nice features and highlights of the TV2000 XP – Expert Edition.
Features and Specifications
---
Features
10 bit video decoder with adaptive comb filter, give you high quality video output
Watch high-quality TV with stereo in full screen or a scalable window
Support Stereo audio, enjoy your high quality Entertainment
New Full function Remote control. Easier, friendly fancy user interface.
PIP (picture in picture): One for live and the other for captured program. And master video can be alternative. The slave video can be displayed with any size and anywhere.
Time-Shifting: you can pause, rewind live television and instant replays. Take your breaks during a TV show or movie and never have to miss a scene again.
De-interlace: Make the best quality for fast-motion video. No noise and flicker on the edge of motion objects.
Capture format profile: Support friendly setting for MPEG-1/MPEG-2/MPEG-4/WMV/VCD/DVD video and MP3/WMA audio encoding format.
Support Video Streaming(WMV/WMA format) for Web Broadcasting and Network Video/Audio sharing.
Provide full version of Ulead Video Studio 6.0 and Cool 3D 3.0 for Video Editing and VCD/DVD/SVCD Authoring.
Support NetMeeting for video conference, you can share TV programs with your long distance friend.
All-in-one control panel: Friendly graphics user interface, not only support TV and FM programs online, also TV captured and FM recorded files playback in playlist.
Support playlist for video/audio playback, several files can be played seamlessly as one file.It can play with a CoolCommand remote control and hot-key with keyboard.
Supports MPEG-1/MPEG-2/WMV video codec and MP3/WMA audio codec configuration to get the smaller file size for capturing
Supports De-interlacing function to get high quality of motion video
Make pre-scheduled recordings of TV and FM broadcasting programs, to achieve the features of Video & Audio On Demand
Preset TV and FM channels with preferred name
Bridging video to PC from VCR, camcorder, LD/VCD/DVD player
Direct-Burn DVD: Resources-saving feature that records your video directly into your system's DVD or VCD
Support video mail communication
Optional on-board FM receiver, MTS features
A couple features that really caught my attention are the PIP, time-shifting and DirectBurn DVD. What seemed nice to me about the PIP function is that you can move and resize the second video however you want. Time-shifting allows you to pause live TV and then watch, rewind and fast forward through the recorded program. Feel free to take a restroom or snack break any time you want with this feature. The DirectBurn DVD features is actually what it sounds like. With the TV2000XP – Expert Edition you can record video directly to a DVD or VCD if you have the appropriate optical drive and media.
Hardware Interface
32-bit PCI 2.2 bus mastering Compatibility
Graphics drivers must include DirectX 8.1 software Video Standards
NTSC, PAL or SECAM TV Tune
NTSC, PAL I/DK, PAL BG/DK, PAL M/N, SECAM LL, SECAM BG for respective model
Full 181 channels supported FM Tuner
Stereo FM 76Mhz ~ 108Mhz (worldwide except Japan)
88Mhz ~ 108Mhz(for Japan only)
Video Display
True color overlay in scaleable video-in-a-window
Video Format
RGB32/RGB24/RGB15/YUY2
Drivers
WDM drivers for Windows 98SE/ME/2000/XP
Connectors
1 for RFTV source reception
1 for RFFM source reception (FM version only)
1 MiniDIN9-pin connector for video and audio input
1 phone jack for audio output
1 phone jack for I/R sensor
The Tuner and The Bundle
---
The TV2000 XP – Expert Edition
The TV200 XP – Expert Edition comes packaged in a typical, nice Leadtek packaging. The card itself is pretty small and includes the minimum connectors.
Package Contents
The bundle includes everything you need and more, including all the necessary cables and software.
WinFast TV2000 XP card
WinFastPVR drivers/utilities CD-ROM
1 MiniDIN A/V cable
1 stereo audio cable
Remote control & batteries
IR sensor plug
FM antenna cable(FM version only)
WinFastPVR User's manual
Quick Installation Guide
Software:
Installation and Setup
---
Before installing the TV2000 XP, it had been quite a long time since I had installed anything in a PCI slot. As expected, installation was pretty simple in Windows XP. I popped the card in an empty PCI slot, connected the internal audio cable to my motherboard's onboard AUX-IN connector and then hooked up all the cables (one each for the radio, TV and remote's IR receiver).
After getting the hardware installed and hooked up, I turned my PC back on. Windows of course detected the new hardware, but I cancelled out of Add New Hardware Wizard. Then, I installed the drivers from the included CD, choosing "WinFast Entertainment Center" from the install screen that loaded after inserting the CD. Finally, I installed the PVR software. The Installation Guide is rather plain and includes references to other similar TV tuners offered by Leadtek, but it still does a good job of describing the necessary installation steps.
After installing the software, I started the WinFastPVR software to set up the TV. The first thing I did was scan for channels, which was quite quick and worked perfectly. In the end, I was all up and running with the TV2000 XP in less than an hour.
A nice touch in the capture configuration is the ability to set up custom capture profiles. You simply set your preferences for video and audio format, and then you can name and save the profile. It will then show up as a choice along with the default choices.
Testing / Using the TV2000
---
TV Viewing / Radio Listening
In order to view TV or listen to the radio, you simply start WinFastPVR for TV or WinFast FM for the radio. The TV2000 XP produces a good image on my 17″ LCD monitor, but it isn't a perfect image. I expected the image to be a little better than it is, but I'm mostly convinced that it's not the card's fault. I think it's either a weak signal or interference of some kind that is causing the image to not look as good as it could. Several members of the Bjorn3D staff have Leadtek TV tuners and have never had image issues. They all report good image quality. The FM radio works and sounds pretty good, but radio in my town sucks, so I won't be using that much anyway.
I wish the remote were RF instead of IR, but it still has pretty good response. Plus, the remote overall has a good layout, weight and feel to it. I like the little 'extras' that Leadtek added to it, such as the Sleep, BossKey, Recall and Fine Tune buttons. The Sleep functionality basically lets you set a timer for WinFastPVR to make your entire system go into standby. You can set it for 30, 60, 90 or 120 minutes, which is very handy for those of you watching TV in bed late at night. The BossKey is rather interesting. I'm not sure how many people can actually have a TV tuner installed in their work PCs, but the button is kind of cool regardless of the name. Pushing it results in the WinFast software muting and minimizing in a stealth way — it doesn't show up in the task bar. Not sure why you'd need this stealthy action, but I'm sure some of you can find a reason.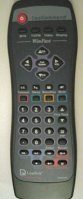 Recording / Still Capture
Recording and taking screen captures is really simple. Click a button on the PVR application or push a button on the remote, and you can start recording live TV. It's just as easy to capture a screenshot of a show. In the configuration screens, you can set up the record and capture options. There are a lot of recording options, which of course affect playback quality and file size.
One of my favorite features is the Electronic Programming Guide (EPG) that Leadtek integrated into the TV2000 XP. Clicking on the EPG button opens up TitanTV's web site in your default Internet browser. In order to use it, you have to sign up, but it was quick and simple. I signed up and entered my local cable information and was pleasantly surprised with how cool the EPG is. You can actually click on a small 'record' icon on a show on the TitanTV EPG web site, and it is automatically set up in your WinFastPVR recording schedule. It's very slick! You can also just manually add a new entry in the schedule if you so choose. It's also possible to set a time to record the input video source.
Conclusion
---
The Leadtek WinFast TV2000 XP – Expert Edition packs in a lot of bang for the buck. For less than $50, you get a good TV tuner and FM radio, good software and great features. I found the card on sale at Newegg for only $43 at the time of this writing.
Even if the TV2000 XP doesn't have everything you want or doesn't include software you like, you really can't beat the price. It's a great deal, and I recommend it for its value.
Pros:
+ Good price
+ Nice software bundle
+ Timeshifting
+ Cool and convenient EPG
+ DirectBurn DVD
+ Video input options
Cons:
– Some people might prefer other software
Final Score: 8 out of 10 and the Bjorn3D Seal of Approval.