Need a quick 4.7GB of data backed up in about 10 minutes? Either pull out your hard drive and put it in a bag or go out and get a DVD recorder such as the AOpen 8x Dual DVD drive. Hard drives….eat your heart out.
Introduction
---
As your hard drive becomes saturated with things you don't use that often but can't afford to get rid of completely, you need to look somewhere else to move all that stuff. We all know that the good ol' floppy drive is close to kicking the bucket, and the USB pen drives and standard CD-R media don't hold enough for your backup needs. Time to look to the next best thing….DVDs!
Today we are going to look at the AOpen 8x Dual DVD drive. Looking for 8x performance across the +/- formats? Look no further because this may be the drive for you.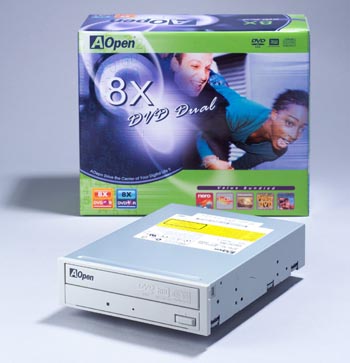 Specs
---
Let's take a look at the specs of the drive taken directly from AOpens website.
Interface
ATAPI / E-IDE
Speed
CD-ROM 40X
CD-R 32X
CD-RW 24X
DVD-ROM 12X
DVD-R 8X
DVD+R 8X
DVD-RW 4X
DVD+RW 4X
Data Transfer Rate
CD Read 40X
CD-R Write 32X-ZCLV
CD-RW Write 24X-ZCLV
DVD Read 12X
DVD-RW/-R Write 4X-CLV / 8X-ZCLV
DVD+RW/+R Write 4X-CLV / 8X-ZCLV
Average Access Time
DVD 140ms
CD 120ms
Data Buffer Memory
2MB
Supported Formats
CD-Audio
CD-DA
CD-ROM
CD-ROM XA
CD-R
CD-RW
CD-I
Photo-CD
Video CD
CD Extra
CD Text
DVD+RW/+R
DVD-R/RW
DVD-ROM
DVD-Video
DVD Writing mode
Disc at Once
DVD-Video
Incremental(DVD-R/-RW)
Multi-Border(DVD-R/-RW)
Multi-sesion(DVD+R/+RW)
Random write(DVD+R/+RW)
Restricted overwrite(DVD-RW)
Sequential write(DVD+R/+RW)
CD Writing mode
Disc at Once
Packet Writing
Sesion at Once
Track at Once
Disk Size
12mm and 8mm
MTBF
70,000 POH
Power Requirement
DC5V±5%, DC12V±5%
Mounting Orientation
Horizontal / vertical
Weight
Less than 1.02kg
Dimensions
Width 148mm
Height 46mm
Depth 190mm
Temperature
Operating 0°C ~ 45°C
Non-operating -40°C ~ 65°C
Humidity
Operating Max 70%
Non-operating 20% ~ 90% R.H.
Safety Requirement
Safety Requirement (UL,C-UL,TUV,CB,NEMKO)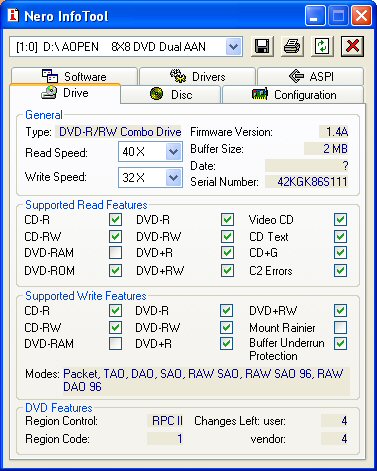 This is a quick shot from Nero's
 Info Tool that shows all the features for reading and writing to different types of media that the drive possesses.
The drive itself is fairly standard. As you can see, there is nothing really fancy about this DVD drive. It doesn't have fancy colors, lights, or other flashy ways about it. I like that AOpen has the no-frills attitude. You don't need to make an aesthetic statement when your product does its job as it says it will.
Package contents in the physical sense are scarce. In the box is the drive, some screws, an audio cable, instructions, and a DVD. What you don't see is what is on that DVD and how much those contents add to the package.
Included software on Bonus DVD:
Nero Burning ROM 5.5 OEM – This is not an uncommon application for the tech savvy in the world. Nero is right up there in the mix of best burning software on the market. Nero lets you burn CDs and DVDs in multisession formats specifically for audio, video, or just simply data. A great piece of software that is essential for a new drive like this.
Ulead Video Studio 7 SE DVD – The Ulead Studio lets you edit your videos by cropping, cutting, and manipulating like a junior director in the making. You can then burn the video to a DVD to watch on your TV. This is a great piece of sotware for those creative users looking to be the next George Lucas (just promise you won't put anything called Jar-Jar in your movie!).
PowerDVD 5 – A sweet application for watching your DVDs on your home PC. Definitely one of the best on the market today.
InCD – Drag and drop your files to instantly write them onto a CD or DVD. Not a bad little app to have for backing up files as you go.
Installation
---
As you can imagine the installation was nothing short of simple. I popped the AOpen drive into my case, plugged in the IDE cable, gave it some juice and fired up my PC. The drive was detected immediately and I proceeded directly to AOpen's site to see about any kind of firmware upgrade. There was an upgrade that was just recently released so I quickly downloaded the small executable file and flashed the firmware with relative ease.
After a quick reboot I moved onto installation of the software from the Bonus DVD. Yup, install the drive or don't install the software. The included DVD gives you the first chance to use a DVD in your new drive.
Performance
---
I wanted to try to get a sense of performance from the drive on both the DVD+R and DVD-R formats. I also included a test with a DVD+RW. Along with writing DVDs this thing is also a CD-RW so I wanted to test out speeds on it as well. Don't forget that this thing needs to read and write (like most 2nd graders do) so drive speed was also measured with Nero's CD Speed Utility.
Test System:
AMD Athlon 64 3200+
2 x Hitachi SATA 80GB HDDs in RAID 0
Now there really isn't any point at dilly-dallying around so let's just move to the 8x speed and see just how fast this thing can write. In my initial attempts to write at 8x I ran into a small problem. The Memorex media that I purchased worked great for the DVD+R, but unfortunately the fastest that Nero would allow me to burn on the DVD-R was a measly 4x speed. Not that big of a deal considering this is not one of the recommended media that AOpen has on their website. Fortunately though, the DVD+R was ready to roll at 8x and roll it did.
I created a simple data DVD containing 4.4GB of random files from MP3s to movies to simple text documents in several folders. A quick couple of clicks and away it went.
I was expecting a fairly quick write time but was very pleased when the entire process from start to eject was a measly 9:26. Wow, that is a short amount of time to be writing over 4GB of data on a piece of plastic. The process went very smoothly and all of the data was intact after the completed burn.
I then decided to test how fast the drive could now read that data back from the DVD that I just created. Below you can see an image of the completed Nero CD Speed utility screen with the results.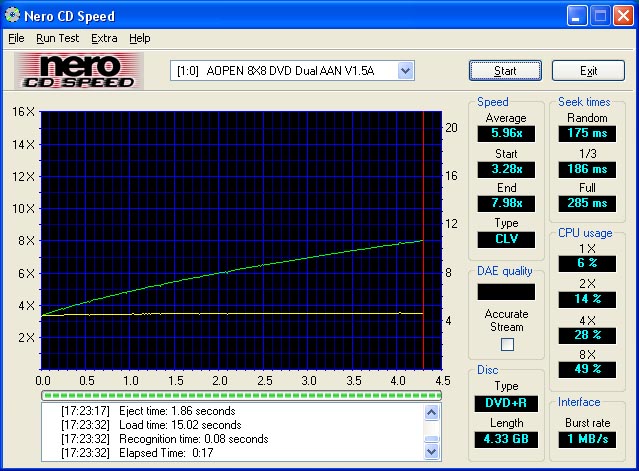 With an average speed of only 6x, barely half of the rated speed, you would think that this is running slower than molasses in winter. To tell you the truth, in real world situations you cannot tell a difference. I had no trouble accessing any of the data on the DVD and response was almost instantaneous.
I also recorded a DVD-R with the same exact data as the first at a speed of 4x. Once again everything went off without a hitch and the DVD was done in a fast, but not nearly as fast as the 8x, 14:19. That's still a respectable time for the amount of info you are throwing onto this disc.
As with the DVD+R I wanted to check the speed of the DVD-R as well to see if for some reason there may be any kind of discrepancy.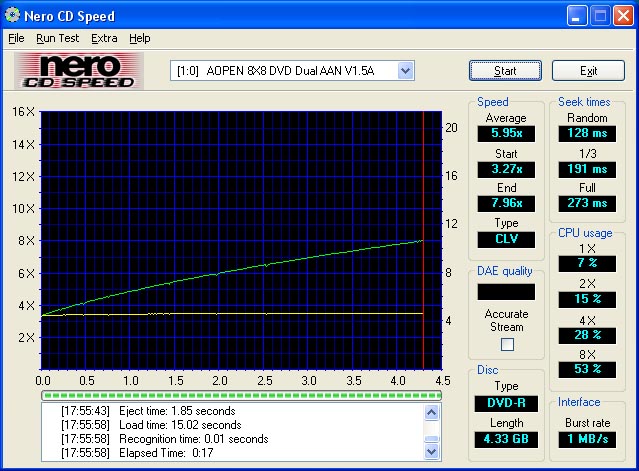 The main difference between the two media seems to be the seek times with the DVD-R performing a little better than the DVD+R. Overall between the two the speeds and CPU usage were the same. It is interesting to see how much your processor is taking a beating when you reach the 8x realm of speeds. Lots of data equals lots of work. Makes sense doesn't it? 🙂
DVD+RW tests are up next. I burned the same stack of files that I have been using on the tests at the 4x speed using media from FujiFilm. It was almost dead even with the DVD-R speed with a time of 14:21. I went ahead and ran the same speed tests with the newly recorded DVD+RW and came up with the following results.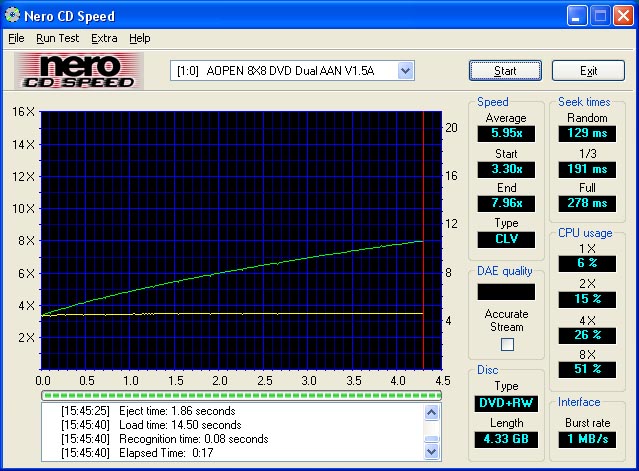 With an average speed of around 6x the drive doesn't perform extremely fast, but as I stated earlier the speed is basically instantaneous when running the files, copying, or any other operations.
With a standard CD-R I was able to burn 680MB of data at 32x in around 3:00. You can't really expect much more than that. It is right on par with just about any other burner on the market.
Data CD speeds were right on par with what the drive is rated at. An average speed around 31x and a top speed of 41x has it right on the money with its stated specifications. In normal use I did not notice any slowdowns or other hiccups at all with this drive.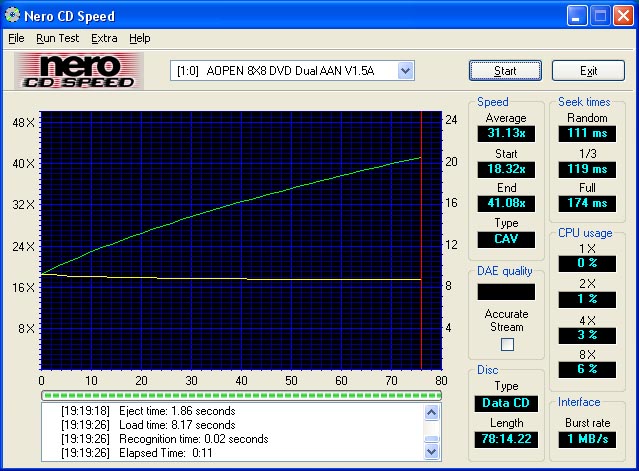 Final Thoughts
---
AOpen has done a great job with this drive. It's fast, quiet, and reliable. As is the case with many drives, this drive would not run at 8x DVD-R with the Memorex media that I was using. Drives can be very particular about what you put in them, and the AOpen is not one to break from the norm.
The AOpen drive is fairly inexpensive also. I found the OEM version for just around $82.00 over at Newegg.com.
There you have it folks. This is a top-notch drive with very little in the way of flaws. I didn't like the fact that it wasn't running up to its advertised speeds at certain points, but it can be easily overlooked because I noticed nothing in the way of delays while working with the drive. I have thrown just about everything I can at this drive and it hasn't failed me yet.
For its overall excellent performance, with a few dents and dings in between, I give the AOpen 8x Dual DVD burner a sweet 9.0 out of 10 and the Bjorn3D Seal of Approval.