As overclockers continue to reach new performance heights, memory manufacturers are right behind them with higher performing RAM. Corsair and Kingston are two of the most popular enthusiast DDR providers. Check out this combo review of the Corsair TWINX1024-4400 and Kingston HyperX PC4300 dual channel DDR kits.
Introduction
---
As PC performance enthusiasts hit new overclocking heights, enthusiast memory companies, like Corsair and Kingston, respond by releasing even faster memory to feed the hunger of the hardcore overclockers. For quite some time, DDR550 or PC4400 was the fastest RAM available. Faster RAM is available now but only from a couple companies. Very few motherboards can handle these extreme overclocks though, so as everything gets faster, the selection of usable components gets smaller.
In this review, I'll compare Corsair's fastest XMS TWINX kit (TWINX1024-4400) to Kingston's fastest HyperX matched pair (KHX4300K2/1G). The XMS4400 modules run at DDR550, and the HyperX 4300 modules are a little slower at DDR533. It might not seem like a fair comparison at first, but don't worry, I'll compare them fairly, and you'll see that both can push my Intel P4 system to its limits.
It doesn't take a rocket scientist to realize that both of these dual channel memory kits are aimed at the hardest of hardcore overclockers. I'm not sure exactly how big the market is for RAM this fast, but I doubt it's very large. Only a handful of motherboards can even run at DDR550, and of course they are mostly Intel 875P (Canterwood) based boards. Kingston decided to travel a more conservative route and not offer PC4400 like so many other companies, but its PC4300 kit can definitely compete with some PC4400 kits out there. Corsair, probably the biggest name in enthusiast RAM, on the other hand matches the PC4400 speed that many companies offer as their fastest RAM. Keep reading to see how these two kits compare at PC3200, PC4000 and PC4400 speeds.
Specifications and Features
---
Let's take a quick look at what these two kits have to offer. Notice the relaxed latency timings, which is typical of most of the highest speed RAM available today. The higher front side bus (FSB) achievable with RAM like this more than makes up for the lack of aggressive timings.
Corsair XMS TWINX1024-4400 1GB Kit
What Corsair has to say about this kit:
"The TWINX1024-4000 is a 1 GByte matched memory pair speci.cally designed for motherboards using chipsets with dual memory channels. This memory kit consists of two CMX512-4400 memory modules that have been tested together on an Asus P4C800 motherboard at DDR550 (275MHz). TwinX memory kits hare designed to provide the ultimate in performance and stability in dual channel boards.—XMS4400 memory is intended for use on ultra-overclockable motherboards based on the Intel 875P "Canterwood" chipset. Relaxed latency settings allow this module to achieve extraordinarily high clock speeds for optimum performance in extreme overclocking rigs."
TWINX1024-4400 1GB Kit Specifications:
Part Number: TWINX1024-4400 (also available with platinum heat spreaders – TWINX1024-4400PT)
Speed: XMS4400 (PC4400 or DDR550)
Size: 1024MB (2 matched CMX512-4400 512MB modules)
Package: 2 x 184 DIMM
Latency: 3-4-4-8
32M x 8 DDR SDRAMs
Test Voltage: 2.75V
TWINX1024-4400 1GB Kit Features:
Integrated aluminum heat spreader (black colored in this case) for improved thermal performance
SPD programmed at expected JEDEC values for PC3200
Benchmarked over multiple chip sets, processors and motherboards
100% tested at DDR550 (275 MHz) in high performance motherboards

Dual channel testing environment: 275MHz Canterwood based test setup
Tested and packaged in pairs: Packaged together immediately following system test

Legendary Corsair reliability and service
Lifetime warranty
Kingston HyperX KHX4300K2/1G 1GB Kit
What Kingston has to say about this kit:
"Kingston's KHX4300K2/1G is a kit of two 64M x 64-bit (512MB) DDR533 CL3 SDRAM (Synchronous DRAM) memory modules. Total kit capacity is 1GB (1024MB). The components on each module include sixteen 32M x 8-bit (8M x 8-bit x 4 Bank) DDR533 SDRAM in TSOP packages. Each 184- pin DIMM uses gold contact fingers and requires +2.7V."
HyperX KHX4300K2/1G 1GB Kit Specifications:
Part Number: HyperX KHX4300K2/1G
Speed: PC4300 (DDR533)
Size: 1024MB (2 matched KHX4300 512MB modules)
184-pin 533MHz (PC4300) Unbuffered DDR Modules
Latency: 3-4-4-8
32M x 8 DDR SDRAMs
Timing Reference: 3-4-4-8-1 at +2.7V
HyperX KHX4300K2/1G 1GB Kit Features:
Designed and built by the world's largest independent memory manufacturer
High performance heat spreader for thermal diffusion
HyperX memory modules based upon latest specifications and designs
Backed by Kingston's reputation for quality and support — toll-free tech support
Lifetime warranty
Performance
---
As I mentioned previously, only a handful of motherboards on the market today can really test DDR550 at its rated speed, and thankfully I recently reviewed one of those boards — the DFI LANParty Pro875B. At a 1:1 ratio, hitting DDR550 puts my 2.4GHz 'C' Pentium 4 processor at 3.3GHz (FSB of 275MHz). The 2.4C I used at first would not go that high though, so I took a chance and dropped $170 for another one. Fortunately, that one cooperated a little more, and I hit my mark.
I compared the performance of the two kits using standard benchmarking applications, including SiSoftware Sandra 2004 SP1, PCMark04 (build 120) and 3DMark2001SE. Before we get into the results of my testing, here are the specs of my system.
Test System:
Rather than try to explain the BIOS settings I used with each frequency change, I'm presenting a summary table with the key info in it for your reference. Also, I must note that I completed all testing with Intel's PAT (Performance Acceleration Technology) option enabled.

Now, on to the benchmark results. I included the scores for the Kingston 4300 at DDR533 since that's the speed that kit is rated at. The kit overclocked to DDR550 just fine though, so I continued the head-to-head comparison at that speed.

Kingston and Corsair swap victories in Sandra 2004. It's interesting how when one scores higher in Int Buffered, the other scores higher in Float Buffered. For the most part though, the differences are nothing worth getting excited about.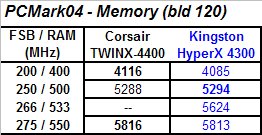 Corsair's kit fares a little better overall in PCMark04's memory benchmark, but once again, the kits perform so similarly that the differences really aren't worth noting.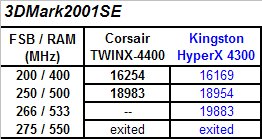 In 3DMark2001SE, the kits perform virtually the same again with Corsair having a slight advantage. Note that my test system exited out in the middle of the DDR550 tests with both kits.
Conclusion
---
Both the Corsair TWINX1024-4400 and Kingston HyperX PC4300 dual channel DDR kits perform quite well. Neither is the obvious winner over the other in my testing, although the Corsair kit seems to have the slight edge. The Corsair kit is of course rated slightly higher though at PC4400 as opposed to Kingston's PC4300 performance rating. In my testing, the Kingston PC4300 looks like the better overclocker since I got to PC4400 (DDR550) with it, but my system wasn't liking much beyond an FSB of 275MHz, so I can't say for certain. Both kits perform well at 'lower' clock speeds like PC3200 and PC4000 and with decent memory timings.
Both kits really do offer a lot (nice heat spreaders, lifetime warranty, top performance, etc), but at what price? Well, as expected, a 1GB kit isn't cheap, especially when it's some of the fastest stuff around. Corsair's kit can be found for around $430 according to our PriceGrabber search, while Kingston's is available at Newegg for $395. If you really must get beyond a FSB of 250MHz, I can easily recommend either one of these kits to suit your overclocking adventures.
Final Score – Corsair TWINX1024-4400: 9 out of 10 and the Bjorn3D Seal of Approval.

Final Score – Kingston HyperX PC4300: 9 out of 10 and the Bjorn3D Seal of Approval.