The most powerful video card available in stores today is the Radeon X800 Pro, and I had the pleasure of playing around with and testing Sapphire's offering. Check out my comparison to a 9800 XT.
Introduction
---
The most recent launches from ATI and NVIDIA have made me and many other enthusiasts more excited than we've been for a long time about new video cards. With these new and improved cards comes new and improved graphics in games. All this adds up to one fact: It's a good time to be a gamer (as one of the Bjorn3D forum members so succinctly put it).
If you want to have the best video card available on shelves right now, it's the ATI Radeon X800 Pro. When the X800 XT and NVIDIA 6800s hit the shelves though, this will change of course. But until then, the X800 Pro is king.

Up for review today is Sapphire's X800 Pro. A couple weeks ago, we saw Scott's comparison of VisionTek's XTASY X800 Pro to an NVIDIA GeForce FX 5950. This time the comparison will be to a Radeon 9800 XT, so we can show you just how much better one of ATI's new cards is compared to the flagship of the previous generation.
Features and Specifications
---
Features
256MB of 'Xtreme performance GDDR3 memory accelerates the latest cutting edge 3D applications
256-bit quad-channel GDDR3 memory interface
Twelve 'Xtreme parallel pixel pipelines
Supports the AGP 8X and AGP 4x standard, providing a high-speed link between the graphics board and the rest of the PC
Six programmable vertex shader pipelines
Full support for DirectX® 9.0 and the latest OpenGL® functionality
New SMARTSHADER HD technology allows for support for Microsoft® DirectX® 9.0 programmable vertex and pixel shaders in hardware as well as OpenGL® via extensions.
SMOOTHVISION HD technology provides enhanced image quality by removing jagged edges and bringing out fine texture detail, without compromising performance
3Dc High quality 4:1 Normal Map Compression delivers beautiful scenes without the performance hit.
Unique VIDEOSHADER HD engine uses programmable pixel shaders to accelerate video processing and provide better-looking visuals
HYPER Z HD is optimized for performance at high display resolutions, including widescreen HDTV resolutions.
Specifications
This table shows the spec comparison between the 9800 XT, X800 Pro and X800 XT. Take special note of the number of transistors, pixel pipelines and VPU and memory speed.
Radeon 9800 XT

Radeon X800 Pro

Radeon X800 XT
Platinum Edition

Manufacturing:

0.15-micron

0.13-micron low-k

0.13-micron low-k

No. of transistors:

~115 mil.

~160 mil.

~160 mil.

VPU speed:

412 MHz

475 MHz

525 MHz

Pixel Pipelines / Pixel Fillrate:

8 / 3300 MP/s

12 / 5700 MP/s

16 / 8400 MP/s

TMU's / Texel Fillrate:

1 / 3300 MT/s

1 / 5700 MT/s

1 / 8400 MT/s

Memory speed:

730 MHz

900 MHz

1150 MHz

Memory / Bandwidth:

256-bit DDR1 / 23.4 GB/s

256-bit GDDR3 / 28,8 GB/s

256-bit GDDR3 / 36,8 GB/s

Pixel Shader:

2.0

2.0b

2.0b

Vertex Shader:

2.0

2.0

2.0

FSAA:

6x RGMS + Gammacorrect.

6x RGMS + Gammacorrect. + Temporal AA

6x RGMS + Gammacorrect. + Temporal AA

Anisotropic Filtering:

16x

16x

16x

Connections:

1x VGA, 1x DVI and 1x "S-Video" (HDTV)

1x VGA, 1x DVI and 1x "S-Video" (HDTV)

1x VGA, 1x DVI and 1x "S-Video" (HDTV)

Recommended PSU:

300w

300w

300w

Other:

1 slot

1 slot

1 slot
The Card and The Bundle
---
The Sapphire X800 Pro is based on the ATI reference design. The only apparent differences are the graphic design on the heatsink, the color of the power connector (purple) and the lack of an internal VIVO connector. Sapphire of course incorporated its signature alien character on the heatsink.
The X800 Pro is big on power but small in physical size, which is definitely a positive for any user but especially those with small form factor systems. The card features a copper heatsink and a big fan for cooling the VPU and memory chips. As you probably already guessed, it is pretty much the same size as the 9800 XT and considerably smaller than NVIDIA's GeForce FX 5950 Ultra.
The package I was sent is the full retail box, which includes a decent bundle. Apparently though, the bundle is changing slightly and for the better. Instead of Tomb Raider: Angel of Darkness, the most recently packaged Sapphire X800 Pro cards will include Prince of Persia: Sands of Time and Splinter Cell: Pandora Tomorrow. Good decision, Sapphire! The rest of the bundle includes some other nice software, such as PowerDVD 5 and Sapphire's Redline Tweaking Utility, and you also get the expected cables and adapters. Here's the list of what's included in the box in addition to the games.
The Bundle
Sapphire X800 Pro Video Card
Installation/Getting Started Guide
CyberLink PowerDVD 5
Redline Tweak Utility
Installation Driver CD
DVI-to-VGA Adapter
Power Supply Cable/Splitter
S-video Cable
Composite Video Cable
S-video to Composite Adapter
Component Video Connector
Sapphire Sticker

Benchmarks
---
To test out the Sapphire X800 Pro, I'm going to use the same benchmarks and games Scott used when testing the VisionTek X800 Pro, which includes AquaMark3, X2: The Threat Rolling Demo, Unreal Tournament 2004 and Far Cry. I'm also throwing in 3DMark03 since so many people are familiar with it.
Test system:
2 x 256MB Corsair XMS3500
VisionTek Xtasy 9800 XT or Sapphire X800 Pro
Maxtor 200GB DM9+
DirectX 9.0b, Catalyst 4.5
All benchmarks except 3DMark03 will have AA (anti-aliasing) and AF (anisotropic filtering) enabled. If you are paying around $400 for a video card, I doubt you are going to live without the eye candy. That's what you're paying the extra money for, so that's what I'm focusing on with these tests.
3DMark03 – Build 340
When running 3DMark03, I just used the default settings for image quality and set AA and AF to "Application Preference" in the Catalyst control panel.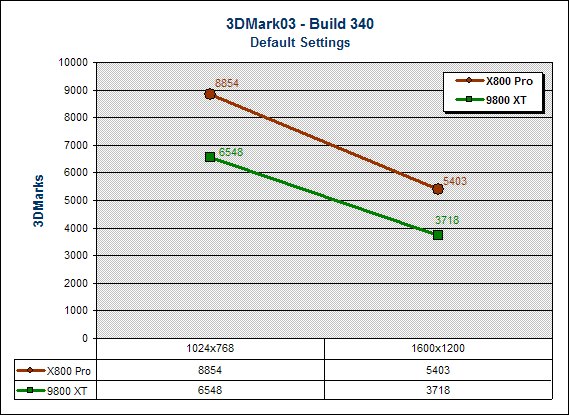 Thanks to the four additional pipes and boosted clock speeds, the X800 Pro smokes the 9800 XT in this test. A quick calculation shows that the X800 Pro performed 35-45% better than the 9800 XT. A score of over 5000 3DMarks at 1600×1200 is rather impressive.
AquaMark3
The AquaMark3 benchmark is based on an actual game engine, and it can really stress even the most modern cards. I ran all tests with 4xAA and 8xAF in the application and "Application Preference" set in the driver control panel.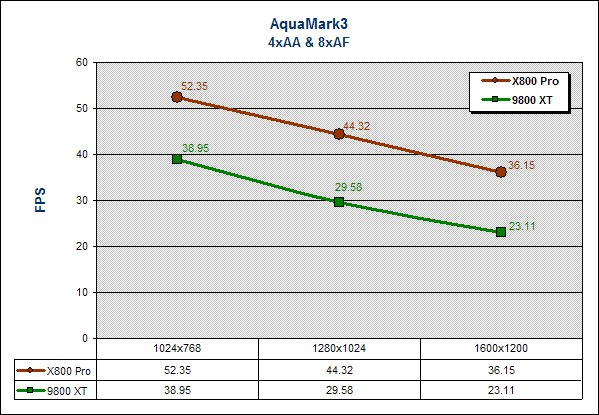 This time the X800 Pro puts up scores that are about 35-55% better than the 9800 XT's scores. As the rendering gets more intense at higher resolutions, the X800 Pro pulls farther and farther away from the 9800 XT, which is just what we'd expect from the newer card.
Benchmarks – Cont'd
---
X2: The Threat – Rolling Demo
This demo is also based on a game, and that is X2: The Threat of course. The Rolling Demo renders a bunch of different game scenes and reports scores for each scene and an average score in frames per second (FPS). The chart below just shows the average. This benchmark was run with bumpmaps, shadows and anti-aliasing set to "On" in the application and with 4xAA and 8xAF set in the driver control panel.
(You can check out a review of this game by Bjorn3D's StarFury right here.)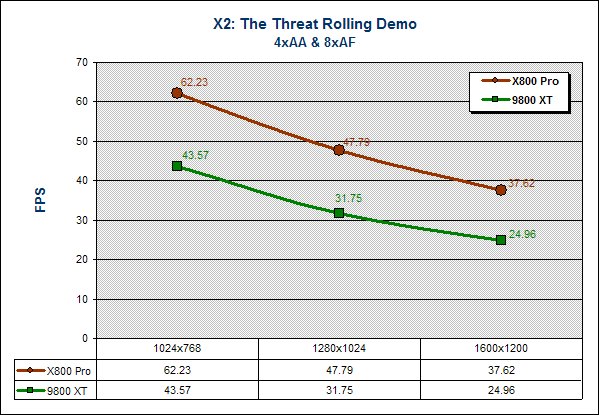 Obviously, the trend continues, with the X800 Pro showing up the 9800 XT by 42-53%. Not surprisingly, the Sapphire X800 Pro is really turning out to be an impressive card.
Unreal Tournament 2004
In order to benchmark UT2K4, I used the botmatch and flyby timedemos from 3dcenter.de. The botmatch demo is a multiplayer game with 16 bots in Assault-Mode on the map AS-Convoy while the flyby demo simply tests how well a card handles an outdoor environment in UT2K4.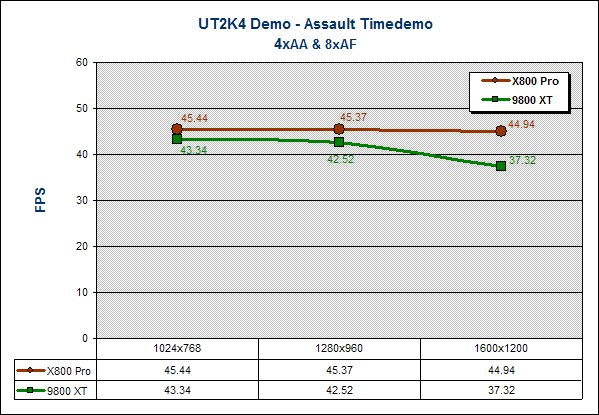 Unfortunately, I think my system is limiting the usefulness of this benchmark.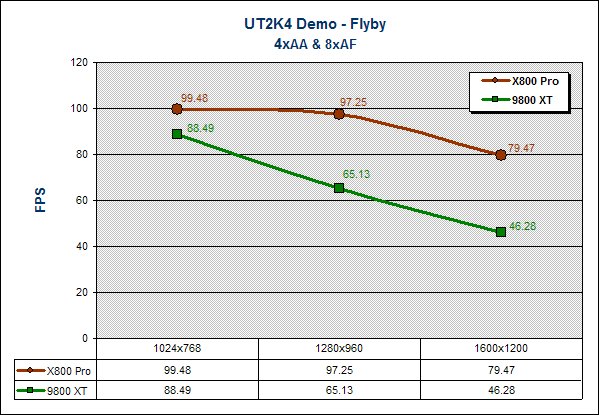 The flyby benchmark scales a little better, especially for the 9800 XT. As expected though, the X800 Pro outperforms the 9800 XT by a considerable margin (by 50% at 1280×960 and almost 72% at 1600×1200).
Far Cry
Far Cry is currently one of the most pipeline-punishing PC games available. Playing at the highest resolution with eye candy maxed out and still getting playable frame rates is not really possible for even the most powerful systems and graphics cards. The benchmark we have chosen to use with Far Cry for now is the PCGH_VGA Timedemo from 3dcenter.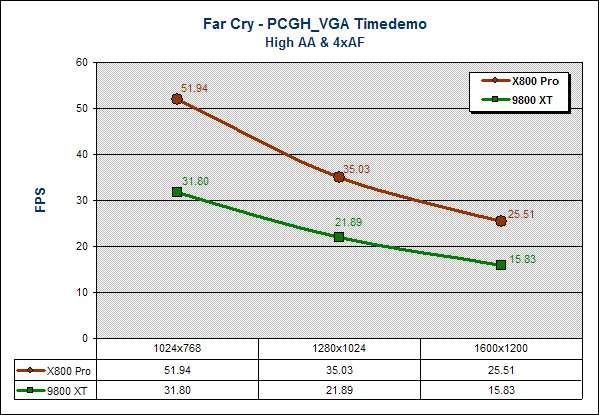 This time the X800 Pro smokes the 9800 XT by more than 60% at all resolutions. This is the kind of performance gain that makes upgrading worth it!
Overclocking
---
Although the X800 Pro offers plenty of unbridled power at its default clock speeds, I still was hoping I could get as good of an overclock as Scott got with the VisionTek X800 Pro, especially since both cards are simply based on the reference ATI design. I didn't have the luck he did though, but I did get a decent overclock and resulting performance gain.
After a couple hours of tinkering, I settled with an overclock of 520MHz for the core and 530MHz/1060MHz for the memory. The card was perfectly stable at these speeds, and no graphical anomalies were visible during the benchmarks.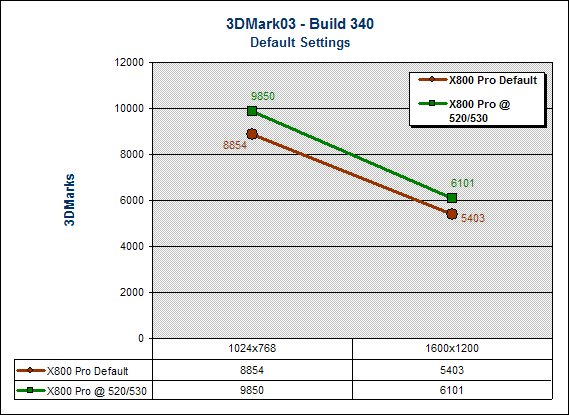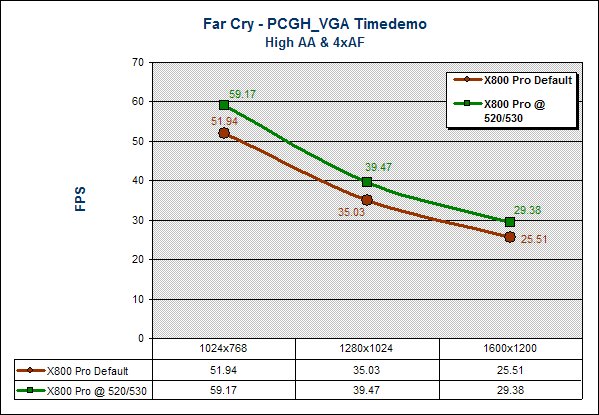 Conclusion
---
After taking a quick look at Newegg's price for Sapphire's 9800 XT and seeing it still listed at $400+, I can't imagine why anyone would get that instead of the X800 Pro, which should only cost a bit more. ATI's X800 Pro has been spotted for about $400, so I'm guessing Sapphire's will be a little more since it has a better bundle. Even if the X800 Pro costs closer to $500, it's probably a smarter buy for the future.
If you absolutely must have the best performing card available on the market today (although not widely available yet), then you must get an X800 Pro. Sapphire's offering will probably be one of the strongest offerings when the overall package is considered. The X800 Pro won't be the king of the hill for very long though, as its big brother the X800 XT and the NVIDIA GeForce 6 Series will start to hit the shelves in the coming months.
Pros:
+ Awesome performance
+ Good bundle
+ Decent overclocker
+ Small size – one slot, not very long
+ Pretty quiet cooler
Cons:
– Expensive
– Lack of availability
Final Score: 9 out of 10 and the Bjorn3D Golden Bear Award