AOpen's A600 aluminum case is sure to please anyone from the budding PC enthusiast to the hardcore case modder. Take a step inside to see what the A600 has to offer.
Introduction

---
Seduction by aluminum is the only way I know how to describe the AOpen A600 aluminum case. Lightweight and packed with some great features, the A600 could be well on its way to seducing many PC enthusiasts to take it home to meet the parents. From its numerous tool-less drivebays to its flashy lights and window, this case is sure to fit right into any buyer's description of an ideal case.
Features and Specs
---
Housing Material :
Aluminum
Main Board Size:
FlexATX/MicroATX/ATX/Full AT,
12″(305mm) x 9.6″(224mm)/ATX M.B.
Disk Drive Bays :
3.5″ *2/6(external/internal),
5.25″ *4/0(external/internal)
Power Supply :
350W ATX 12V high efficiency, UL,CSA level 3, TUV, NEMKO, CB, CE certified
Dimensions :
Width 7.87″(200mm),
Height 18.6″(476mm),
Depth 19.4″(495mm)
Front USB &Audio:
2*USB / Head phone / Mic. In / 1394 (Optional)
Ventilation :
120mm LED 2nd fan x 1(installed), 80mm 2nd fan x 1(option)
Volume:
2.86 Cu. ft.
Standard See-Through Side Panel  
Package contents:
Case
Various Screws
Power Supply Cord
AOpen labeled cleaning towel
Instruction Manual
First Look
---
External:
At first glance, the A600 does not seem to be a "stand out from the crowd" type of case.  There is no crazy pre-painted design, no elaborately cut window, but this is exactly what I liked about the case.  So many cases today are too "XTREME!!!" for me.  The smooth brushed aluminum, the glossy paint job on the front bezel, the nicely designed and placed window are all things that make this case unique in its own way.  As noted, the A600 has a nice brushed aluminum build that is simply flawless.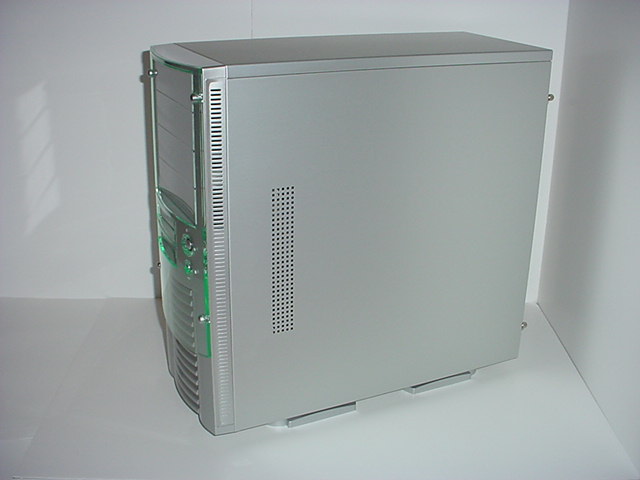 On both side panels of the case there are vent holes to allow for some ventilation.  The left panel also has a nice rectangular window that only shows the motherboard.  This is an awesome idea in my opinion, because too many cases with windows seem to belong to owners that know nothing about cable management.  But that's another story for another day.  The window is rear mounted with a thin, but strong double sided tape, as to not disrupt the smooth plane of the side panel.  The rear panel of the case is also aluminum, but not of the brushed type.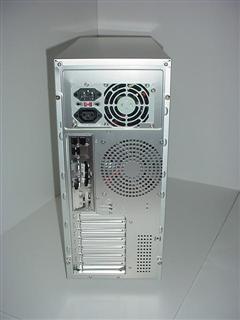 The front panel sports a nice and glossy silver finish with the top 80% covered in a plastic facade similar to that of other cases.  Behind this plastic covering there are hidden intake slots for the optional 80mm or 92mm front fan.  Also found on the front bezel is a nice flip up door for access to front-mount USB and Firewire ports, as well as microphone and headphone jacks.  This door folds up and stays up very easily and is only noticeable when closed because of its "OPEN" sign that is painted on it.  This may be a common feature on many cases today, but this is one of the better examples that I have seen.  The front panel also houses the power and reset buttons.  Not the most ground breaking news I know, but the LED behind the power button pulses through a whole seven colors.  A nice touch on AOpen's part.  Another nice thing about the front bezel is that it comes with "no strings attached," meaning that you can remove it and set it aside without having to unplug any LEDs or power buttons.  This is a nice touch that aides in getting the case setup for the first time.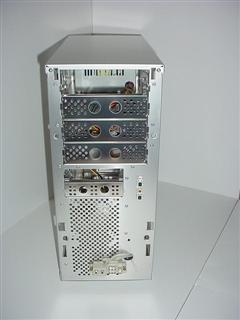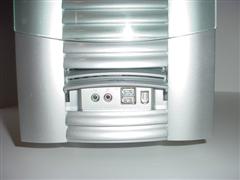 One thing that has amazed me, as well as other reviewers of this case, is the size of the feet on the base of the case.  These feet can be left under the case or turned out to provide more stability.  When turned out, they easily stick out a good 2-3 inches.  These feet are great for a LAN party where you may encounter a table being bumped hard or when it must be placed on the floor.  For at home, the case is plenty stable with the feet tucked under.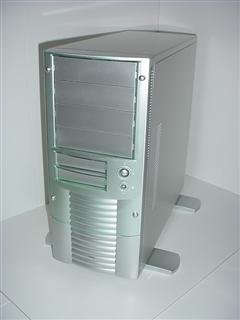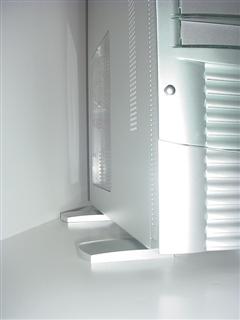 Access:
Getting into the A600 is a walk in the park.  There are two thumb screws on each side panel that allow for tool-less removal of the panels.  After the screws are removed the panels simply slide back and pull off.  Easy enough.  One thing to note about brushed aluminum is how easy it is to become scratched and dented.  When removing the panels, treat them with a little extra care so that they keep looking great for a long time to come.
Internal:
Once opened up, the A600 is a dream.  The A600 sports four 5.25″ drive bays as well as two external and six internal 3.5″ bays.  The tool-less drive bays are an awesome feature for those of you who have not yet experienced this.  The bays are all aluminum to keep weight reduced and have nicely rounded edges to keep your hands safe from cuts.  The hard drive bays are off centered in the case, which allows you to keep your extra power supply wires or excess IDE cabling hidden from the window.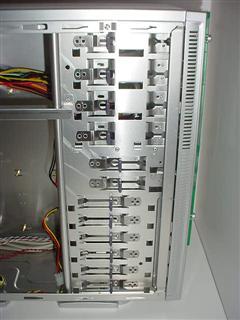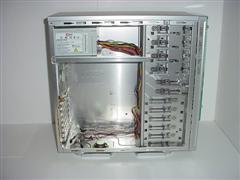 Any PCI components you may have and the AGP card are all secured with nice aluminum thumb-screws.  There are also many motherboard mount holes to support many form-factors.  At the rear of the case is a nice tri-color LED 120mm fan that is used to pull the hot air from the case.  This fan is controlled by the rheostat that is located just below it.  The rheostat is also able to control another 3-pin case fan at the front of the case.  The speed controls for these fans are located on the back of the case right under the 120mm fan grill.  There are three speed settings that you can choose from to suit your cooling and noise needs.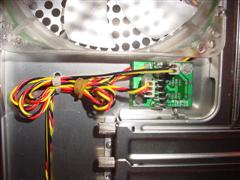 The A600 also includes a 350 watt AOpen power supply.  One thing I found disappointing about the power supply is that it does not have any venting on the bottom of it to help pull hot air away from the CPU.  The only venting on the PSU is on the top of the innermost panel.  The fan on the PSU is also on the wimpy side, but that helps to keep the noise level of the A600 way down.  Serious PC enthusiasts may want to look into replacing this PSU with one that better suits their needs.  Using Winbond's Hardware Doctor to monitor voltage from the PSU indicated that it was doing a fine job in keeping voltages within acceptable ranges.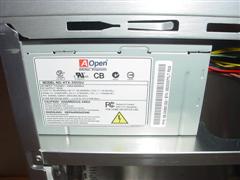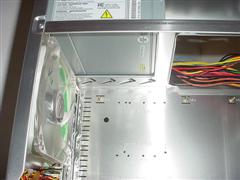 Installation
---
Test System:
Biostar K8VHA Pro
AMD Athlon64 3200+ (2.2 GHz 512k version)
Swiftech MCX6400-V
Corsair 512MB XMS PC3200 (2×256)
Maxtor 120GB 7200rpm 8MB cache
Lite-On 4xDVD+-RW
BFG Tech GeForce FX 5950U 56.72 drivers
Hercules GameSurround MUSE Pocket
Windows XP SP1
Installing new components in the A600 could not have been easier.  The DVD drive and hard drive snapped right into place in their cages and felt very secure in them.  The motherboard was next to be installed and went in without a hitch.  Attaching the front mounted USB and Firewire connections was as easy as finding the right spot on the motherboard and plugging them in.  These leads are already keyed for you, so there is no way for you to put them on backwards.  The USB line also includes the front mounted headphone and microphone jacks, which seemed odd to me because this does not give you much room to plug the audio headers in.  If you are not using the front mounted audio jacks, this is of course not a big issue.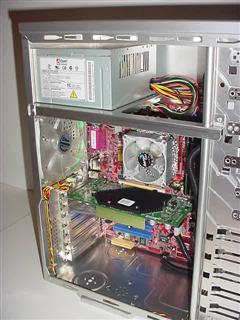 Testing

---
Once a fresh install of Windows XP was on the hard drive and everything was set up to my liking, it was time to test out the features of this case.  The front mounted USB ports are a dream, as I seem to use my USB drive more and more every day.  The Firewire up front is great for when I need to transfer something really quickly from the digital video camera to the PC.  Since I am using the Hercules GameSurround MUSE Pocket on this machine, I am not utilizing the front audio ports, but these would be great for gamers who use a headphone and microphone combination for online play.
At night, the case almost puts on a light show in my computer room.  The color-changing power LED and the tri-color 120mm fan in the rear really light up the room.  I had also placed an 80mm Aerocool blue LED fan upfront to help with case air flow and this adds a nice glow to the front of the case.  The window lets you peek into the case and not have to squint to see what is in there, thanks to the nice inner case glow.
Bringing the A600 to a local LAN party was so different from my old case because it was so lightweight.  I kept thinking that I was missing something inside the case because of the weight difference.  The case got plenty of looks that night, and I was complimented on it quite often.
Conclusion

---
The AOpen A600 aluminum case is by far one of the best case designs that I have witnessed.  From the beautiful brushed aluminum to the extra features that don't cost you extra, this case is definitely ranked up there with the high-end cases.  The front-mounted ports aid in quick use of USB and Firewire devices and also provide a nice place to plug in your headphones and microphone.
With six 3.5″ drive bays total and four 5.25″ external bays, the A600 is more than capable of holding plenty of storage.  Add to that the tool-less bays, and it makes this case even better.
The only downside to this case is the power supply.  Although it puts out 350 watts, it almost seems to hinder case cooling in that it has no bottom ventilation.  And when PSU's get, hot they tend to put out less power and stray from their strict voltage limitations.
Pros:
Great looks
Light-weight
Quality construction
Tool-less design
Nice front panel ports
Color-shifting LED and 120mm LED fan
Built-in 2-fan rheostat
Cons:
Questionable power supply cooling
After a thorough review of the AOpen A600 aluminum case, I can proudly award it a 9 out of 10 and the Bjorn3D Golden Bear Award.