For a long time laser printers were out of the reach of normal users. The prices have however come down a lot. We have taken a look at Samsung's cheap ML-1740 Laser Printer.
INTRODUCTION
Laser printers have traditionally been very expensive and something you only saw at work. The prices have dropped significantly over the past few years, and it is now viable for a normal user to buy one to complement a color ink-jet printer.
We have reviewed a lot of different items at Bjorn3D the last eight years, but somehow we never actually reviewed a printer. Well, there is a first for everything, and today we are reviewing the Samsung ML-1740 Laser Printer. This is a very affordable laser printer that doesn't cost more than a good ink-jet printer.
SPECIFICATIONS
Let's take a look at the specifications for the ML-1740:
Model

ML-1740

GENERAL

 

Technology

Laser

Speed

Up to 17ppm

Processor

66 Mhz

Duty Cycle (pgs/mo.)

Up to 15,000

Memory

8MB (Standard), 8MB (Max)

Print Language

GDI (Standard)

RESOLUTION

 

Print Resolution

Up to 600x600dpi

CONNECTIVITY

 

Connectivity

USB, Parallel

PAPER HANDLING

 

Input

250 sheets paper cassette (Tray), 1 (Bypass)

Output

50 sheets (Face-Down), 1 sheet (Face-Up)

SUPPORTED OS

 

Microsoft Windows

Windows 95, 98, Me, NT 4.0, 2000, XP

Linux

Redhat 6.2/7.0/7.1 and above, Linux Mandrake 7.1/8.0 and above, SuSE 6.4/7.0/7.1 and above, Debian 2.2 and above, Caldera OpenLinux 2.3/2.4 and above, Turbo Linux 6.0 and above, Slackware 7.0/7.1 and above.

MISCELLANEOUS

 

First Page Out Time

Approx 12 seconds

Standard Font

Windows Fonts

Acoustics

50 dB (Printing), 35 dB (Standby)

Power Consumption

250W (Printing), 10W (Power Save)

Weight

15.4 lbs

CONSUMABLES

 

Toner Cartridge

3,000 pages (Standard), 1,000 pages (Starter Toner Included)

Toner Part Number

ML-1750D3/XAA
 Any Linux fans should be pleased to see the wide support for the printer in various Linux distributions.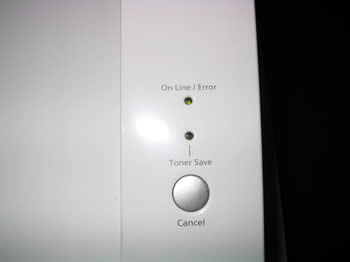 The printer only has 1 button and 2 lamps.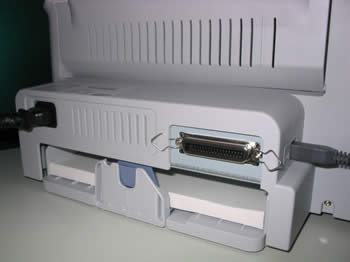 There's room for more paper in the back as
well as both a parallell and a USB connector.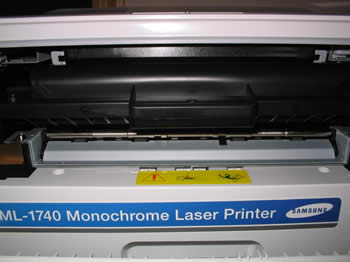 The toner that is supplied with the printer will only last for 1000 pages.
TESTING THE PRINTER
Since this is the first time we actually are reviewing a printer at Bjorn3D, we do not have anything to compare it with. That doesn't stop us of course, and the aim with our testing is to …
Specifications for the computer this printer was hooked up to:
· Asus A7N8X Deluxe (nForce2 Ultra 400)
· AMD Athlon XP 3000+
· 2x 512MB Corsair PC 3200 XMS
· BFG 5900U
· 2x 80GB IBM 7200RPM Drives in RAID 0
· Windows XP Pro SP1a
Text Quality
As the specifications show the printer can do 600×600 dpi. This resolution is more than enough for standard black & white printing. To test the quality of printing text, I printed text and looked at it under a magnifying glass. The characters were clear and nearly perfect to my eyes. I also printed text with a larger font, 30pt, and the curved edges were just as perfect.


Click to see the full sized image.
This is a test to try to show you the difference between my old Lexmark X6150 inkjet printer
and the Samsung laser printer. The grey 'rubbish' around the characters is from the crappy scanner I have.
Graphics Quality
To test the graphics quality, I used thumbnails from several Power Point presentations I had on hand. The images came out very clear in greyscale.
Speed of Printing
It doesn't matter how fast a printer is if it takes 5-10 minutes for it to warm up before the first page comes out. To test the time from sleep to first page output, I first let the printer go into sleep mode. I then proceeded to print a 3 page document (text) and timed the time it took to start printing with a stopwatch. To make sure I got a good average, I did this three times. 
Result: From sleep to first page print: 13.5 seconds
I asked Björn to do a similar test on a HP1300 laser printer he has a work, and the result from that printer was 11 seconds.
The specified print speed is "up to 17 ppm." This, however, usually is measured on a page with a low percentage of text. To get the more realistic printing speed, I printing out 20 pages of standard single spaced text. This was also done three times to get an average.
Result:  14.5 ppm
Not far from the quoted max print speed. Once again, I asked Björn to do the same on his HP 1300, and his result was 17 ppm.
Considering the HP 1300 costs around $300 and has a top speed of 20 ppm, the Samsung ML-1740 does indeed hold up well.
Printer Noise
The printer makes the most noise when warming up and stirring the toner on power up.  After that is done, the printer is pretty quiet and is no louder than any other laser printer I've worked with over the years.
Cost of Ownership
It is pretty amazing how cheap this printer is. You can find it at newegg.com for as little as $131 US. Usually a cheap printer means expensive toners, but even the toners are not that expensive. You can find a 3000 page replacement cartridge for around $68, which means the per page cost is around two cents.  I looked around a bit and compared it to toners for other printers, and the general price seems to land between 1-2 cents/page. 
Other
The printer also comes with a nice status box that displays the printer status.  Regardless if you are out of paper, the printer is warming up or isn't responding, you will get info about it from the status box.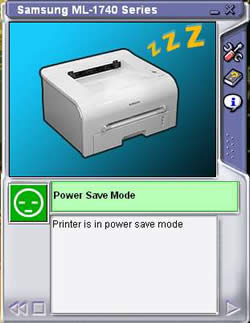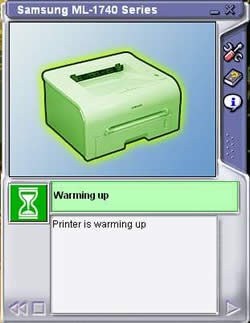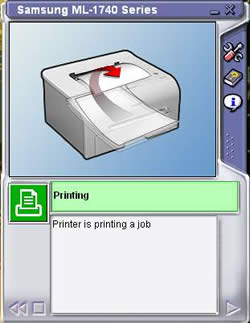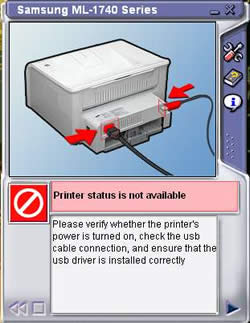 CONCLUSION
The ML-1740 is a great printer, and the price just makes it that much better!  I have used it now for over two weeks and have had no issues with it.  This is really good since on the South Jersey shore it is very humid right now, and the printer had no problems with the damp paper.
PROS:
Cost of printer
Speed
Low Noise
1 year Warranty
CONS:
No included USB Cable
Toner that comes with printer is only for 1000 pages
Because the Samsung ML-1740 offers an excellent value for the home (and small office) consumer, I am awarding it an 8 out of 10 and the Bjorn3D Seal of Approval.