Once you take a look at the performance and price of this kit, you'll wonder why you haven't been considering GeIL Ultra series RAM more often. Cool looks, awesome performance and around $100 less than the competition — what's not to love!?
Introduction
---
GeIL has really been making a name for itself over the last several years on the enthusiast and performance memory scene. Whenever I read or hear the name, I typically think of the 'Golden Dragon' modules they make, which feature really cool Asian dragon artwork and packaging. GeIL's flagship line is not the 'Golden Dragon' though; it's the 'Ultra Series.' I'm lucky enough to have the GeIL Ultra Platinum PC4400 DDR550 Dual Channel DDR Kit up for review.
I will be comparing the GeIL modules to the Corsair TWINX1024-4400 kit that I recently reviewed. Read on to see how they compare.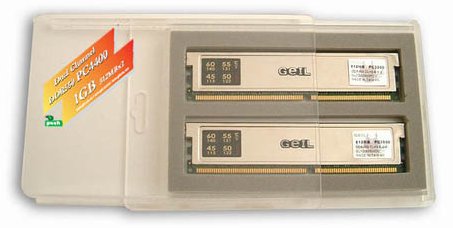 Features and Specifications
---
The features and specs of the GeIL kit are similar to those of the Corsair PC4400 it. Both kits feature 3-4-4-8 latency timings and a lifetime warranty. I was pleasantly surprised to see GeIL support their product with a solid warranty like this. Additionally, the GeIL modules feature really nice looking heat spreaders. Let's take a look at the features and specs of the Ultra Platinum PC4400 kit.
184pin, Non-ECC, Un-buffered, high performance DDR memory modules
Hand Picked GeIL 3.5ns 32×8 Density DDR Chip
6 Layers Ultra Low Noises Shielded PCB with Gold 30u" Plating
Optimized SPD for Intel 875/865 chipset Dual Channel DDR motherboards
Platinum Copper Heat Spreader
Lifetime Warranty
CAS 3 8-4-4 @ DDR550MHz PC4400
2.6V-3.1V
Retail package with clear acrylic case
Newest innovation design Temperature Thermometers allows users to monitor the temperature of their memory modules
Available only in 512MB (2X256MB) and 1GB (2X512MB) Dual Channel DDR Kits
One way that GeIL sets its Ultra Series apart from the competition is by packaging the modules in a clear acrylic case. Without a doubt, it's the nicest packaging for memory I've ever seen. GeIL also wraps each module in anti-static packaging for added protection. The packaging as a whole is probably over-the-top, but it's in a good way for sure.
The second main way that GeIL is differentiating its Ultra Series from its competitors' offerings is by including "Temperature Thermometers" — which looks like a temperature-sensitive sticker that lists four temps in Celsius and Fahrenheit (45, 50, 55 and 60C). It's a cool idea and nice to see companies other than Corsair innovating on the outside of the module (I'm referring to Corsair's Pro series modules with activity LEDs). Still, I'm not sure why you would care about the temperature of your modules or how you can even really see the thermometers once the modules are installed in your motherboard. Even if you have a windowed case, how will you easily see what the current temp is? Here's what this innovation looks like — look at the left side's colorful sticker.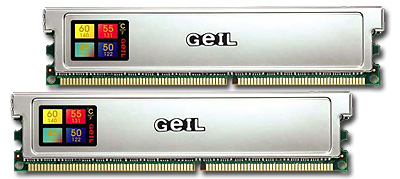 The platinum copper heat spreaders look gorgeous on these modules. They have a mirror-like quality to them and should look snazzy in a modded case with a window and lights. GeIL gets an A+ for looks and attempting to be innovative.
Performance
---
Only a handful of motherboards on the market today can really test DDR550 at its rated speed, and thankfully I recently reviewed one of those boards — the DFI LANParty Pro875B. At a 1:1 ratio, hitting DDR550 puts my 2.4GHz 'C' Pentium 4 processor at 3.3GHz (FSB of 275MHz). The 2.4C I used at first would not go that high though, so I took a chance and dropped $170 for another one. Fortunately, that one cooperated a little more, and I hit my mark.
I compared the performance of the GeIL Ultra PC4400 to the Corsair TWINX1024-4400 kit using standard benchmarking applications, including SiSoftware Sandra 2004 SP1, PCMark04 (build 120) and 3DMark2001SE. Before we get into the results of my testing, here are the specs of my system.
Test System:
It was interesting to see the SPD timings detected by the DFI motherboard to be 2.5-4-4-8. The system wouldn't boot at these timings at DDR550 though, so I had to relax it to the spec'd 3-4-4-8. When benchmarking, I used the same BIOS settings for both the Corsair kit and the GeIL modules. Additionally, PAT and Hyper-Threading were enabled for all tests.
DDR400: 2-3-3-6 (CAS – RAS to CAS – RAS Precharge – TRas)
DDR500: 2.5-4-4-7
DDR550: 3-4-4-7
Test Results: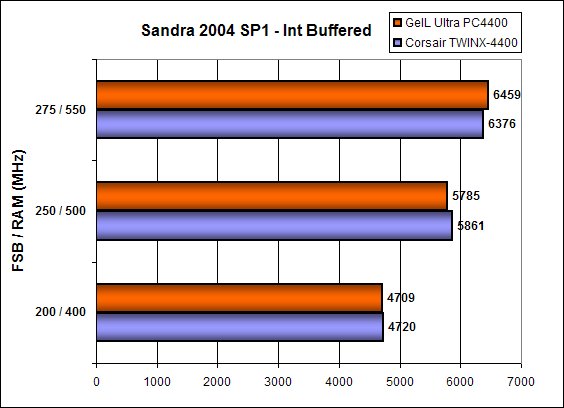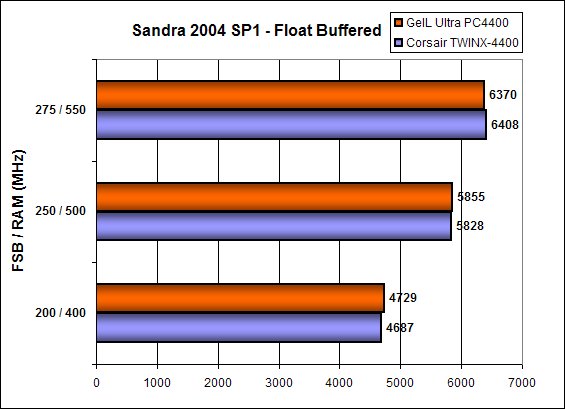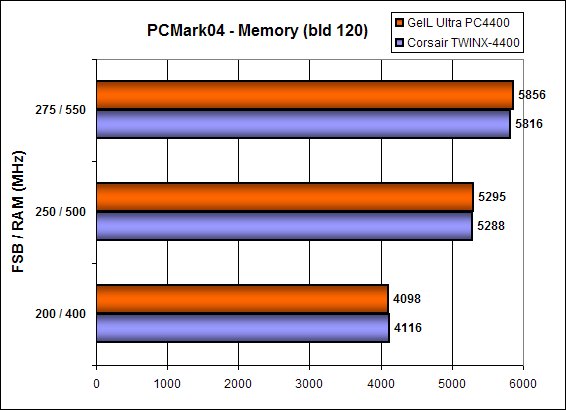 I was pleasantly surprised to see the GeIL modules perform on par with the Corsair kit. They trade victories throughout the tests, and the margins are slim almost every time. This is my first time using GeIL memory, and I'm more than impressed! I will definitely not hesitate to consider GeIL Ultra series RAM in the future, and the same goes for recommending it to others.
Conclusion
---
As you already know by now if you've gotten this far, I am thoroughly impressed by GeIL's Ultra Platinum PC4400 DDR550 Dual Channel DDR Kit. But there is something I haven't mentioned yet that makes it even more outstanding — the price. You can get the GeIL kit, which, as you saw, offers the same performance as the Corsair kit, for about $100 less than the Corsair kit! Let me reiterate, $100 less! I don't know how GeIL does it, but that has to be one of the best 'bang for your buck' deals ever. Let's break it down. The Corsair TWINX1024-4400 kit is about $410 according to our PriceGrabber search. On the other hand, the GeIL Ultra PC4400 kit can be found for $313 at Newegg.com.
Like other PC4400 memory, you only really need it if you have an Intel i865 or i875 based board that is an awesome overclocker. Even if you can't get to 275MHz FSB though, the GeIL kit is a good kit to have for that extra headroom that's nice to have. I recommend it without reservation mostly because of its price but also because of the performance you get at that price.
Pros:
+ PRICE! (compared to the competition)
+ Great looking platinum copper heat spreaders
+ Great performance at all three tested speeds
+ Lifetime warranty (and even allow 3.1V)
+ Cool packaging and even includes some GeIL CPU thermal compound
Cons:
– Temp thermometers are novel but not practical
Rating:










 (9.5/10)