Leadtek offers up a solid Athlon64 solution with the WinFast K8N Pro. Take a look at this review to see how the Athlon64 system compares to a Leadtek nForce2 system.
Introduction
---
All of the motherboards that are compatible with 32-bit AMD Athlon processors offered by Leadtek Research, Inc. feature an NVIDIA nForce or nForce2 chipsets. Not surprisingly, all of Leadtek's motherboard offerings for AMD's 64-bit CPUs feature NVIDIA's nForce3 150 chipset. Bjorn3D was fortunate enough to get its hands on the WinFast K8N Pro, which is one of Leadtek's two Socket 754 motherboards. The socket on these motherboards will fit AMD's Athlon 64 chips but not the Athlon 64 FX or Opteron CPUs.
The WinFast K8N Pro offers a plethora of features, including four SATA connectors (supporting RAID 0, 1, and 0+1), support for six USB 2.0 ports (2 from front panel header), and an onboard Realtek ALC-658 chip for 6-channel surround sound. Another feature this motherboard boasts is a data security system from eNova called X-Wall IDE. One of the three IDE connectors is coupled with eNova's X-Wall LX-64 chip, which provides encryption for the hard disk connected to that IDE connector. Data can be read from that drive only when the hardware encryption key is inserted into the appropriate port (IEEE1394 connector). This security mechanism requires no device driver, making it completely independent of and invisible to the installed operation system. Leadtek definitely wanted to separate this motherboard from all others on the market with this data security feature. It provides a quick easy way to protect an entire hard drive's data. For more information on this feature, please check out this page.
Specifications & Features
---
I've included only some of the features and specs below. For a more exhaustive look at these, please check out Leadtek's K8N Pro product page.
Specifications:
CPU: Socket 754 for AMD athlon 64 processor
Chipset: NVIDIA nForce3 150
Expansion slots: 1 x AGP 8X, 5 x PCI
Audio: ALC 658 6 channel output, S/PDIF out interface
System Bus: Scalable Hyper-Transport Bus
Form Factor: ATX form factor: 12 in x 9.6 in (30.5 cm x 24.5 cm)
BIOS: Phoenix

Features:
Supports Hardware Monitoring utility for observing system status.
BIOS and hardware offers the CPU Over Temperature Shutdown (O.T.S) function to protect the CPU from burnout
Supports CPU and Chipset Vcore, Vmem and AGP Vddq adjustments
Supports AGP 8X interface
Built-in ALC-658 6-channel surround sound via a SPDIF (coaxial) interface
Six USB 2.0 ports; four ports on the back panel, two ports for front panel pin header
Supports three Firewire IEEE1394 interface
Two Ultra ATA133 IDE dual channel interfaces
Extra IDE for DATA Security – protected via X-Wall IDE
Built-in Silicon Image SiL3114 provides four SATA connectors with RAID 0/1 and 0+1 interface
Dual LAN – one for 10/100Mbps and one for Gigabit LAN interface onboard

Package Contents:
WinFast K8N Pro ATX motherboard
WinFast software pack CD
User´s manual
Ultra ATA 100/133 IDE cable
720KB / 1.44MB / 2.88MB Floppy connecting cable
Four SATA cables
Three port IEEE1394 bracket
Back-panel I/O shield
Hard disk data security key

Plenty of SATA cables,
IDE cable, and floppy cable

Manual, CD, IEEE1394 bracket,
and X-Wall Security Key
Board Layout
---
Leadtek chose an interesting layout for this board, mainly with respect to the drive connectors. The floppy drive connector is located on the board's edge adjacent to the PCI slots. That seems quite odd to me. Also, the primary and secondary IDE connectors are separated. The two IDE connectors grouped together are the primary and the x-Wall IDE connectors. The secondary IDE connector was placed near the ATX power connector on the other side of the board. Very interesting indeed. Actually, this is probably better than all of these connectors being placed too close to each other. However, I am guessing this could be a major negative for some people.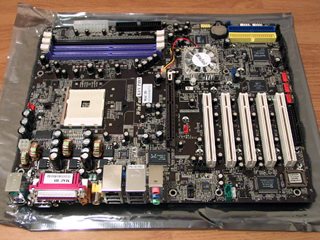 For some reason Leadtek only gives us two available fan connectors on this mainboard. That hardly seems like enough for today's cooling needs, and I am surprised they did this. I realize it is just one less fan header than most boards have, but I am sure many PC enthusiasts have wanted more fan connectors, which makes reducing the count by one seem that much more disappointing.
Leadtek also made some good choices on this mainboard's layout. The placement of the IEEE1394 connectors near the edge of the board was a good decision, since it prevents the cables from the IEEE1394 breakout module from getting in the way as much as they do when the connectors are placed elsewhere. The three DIMM slots and most everything else seem to be positioned well enough to prevent any major installation issues.
Installation
---
To test out Leadtek's WinFast K8N Pro, I decided to use the following components:
Chieftech X-Sonic Mid-Tower Case (review)
SilverStone 400W SST-ST400 PSU (review)
AMD Athlon 64 3200+
Zalman CNPS7000A-Cu HSF (review coming soon!)
Corsair TWINX1024-3200LLPRO (review coming soon!)
Reference GeForce FX 5950 Ultra
Hitachi Deskstar 7K250 80GB Serial ATA 7200RPM Hard Drive w/8MB Buffer
Pioneer DVD-ROM
Sony floppy drive
I did not experience any problems with using all these components with the K8N Pro. Potential problems of particular concern lately for me are large HSFs, which the Zalman HSF definitely is, and capacitors near the AGP slot that could cause video card installation problems. Neither of these were problems with this setup, and the motherboard certainly deserves much of the credit for that.
Once all the hardware was in place, I installed 32-bit Windows XP Pro (and Service Pack 1) without a hitch. The only potential issue some people who are doing a similar install (setting up OS on a SATA drive) may have is that it is necessary to have a floppy disk with the SATA drivers on it ready during the Windows installation. The drivers must be installed in order for the installation routine to be able to recognize the SATA drive.

Performance
---
First of all, I should note that in the week I was benchmarking and using this motherboard I experienced no stability problems whatsoever. It seems as if Leadtek has produced another solid motherboard.
I figured that a lot of people with nForce2/Athlon XP systems might be wondering if an nForce3/Athlon 64 would be a good upgrade for them, so that is what I decided to compare in this review. I tried to make the platform the only variable, and I was able to do that except for one part: the hard disk drive. I realize this might help the Athlon 64 system's results a little bit, but I think the help, except in HDD tests, shoud be negligible.
Athlon 64 Test System:
nForce2 Comparison Test System:

Leadtek nForce2 Ultra 400 Deluxe Limited (BIOS dated 8/15/2003)
AMD Athlon XP 2500+ @ 3200+ (400MHz FSB, 2.2 GHz)
Western Digital 80GB SE 8MB Buffer HDD
The following elements of the two test systems were the same:
GeForce FX 5950 Ultra
Corsair TWINX1024-3200LLPRO (2x512MB DDR-SDRAM)
Operation System: Windows XP with Service Pack 1
Chipset Driver: 3.13
Graphics Card Driver: Forceware 53.03
DirectX Version: 9.0b
To complete these benchmarks, I used FutureMark's PCMark04 (v 1.0.0) and 3DMark03 (v 3.2.0), SiSoftware's Sandra 2004 (v 2004.10.9.89), AquaMark3, Unreal Tournament 2003 Demo, and Gun Metal.
Benchmark Results
One thing to keep in mind when looking at these benchmarks is that AMD's performance rating has been adjusted such that an Athlon 64 3200+ runs at 2.0 GHz, whereas an Athlon XP 3200+ runs at 2.2 GHz. This means that the Athlon 64 should be able to perform as well as or better than XPs with the same rating. One of the main differences in the Athlon 64 architecture is the on-die memory controller, which should allow the Athlon 64 to perform markedly better in numerous tests, especially synthetic memory benchmarks.
PCMark04 (version 1.0.0)
Motherboard

Score

PCMark Score

Leadtek WinFast K8N Pro
4024
Leadtek nForce2 Ultra 400
3896

CPU Score

Leadtek WinFast K8N Pro
3773
Leadtek nForce2 Ultra 400
3671

Memory Score

Leadtek WinFast K8N Pro
3658
Leadtek nForce2 Ultra 400
2596

Graphics Score

Leadtek WinFast K8N Pro
5054
Leadtek nForce2 Ultra 400
4996

HDD Score

Leadtek WinFast K8N Pro
4947
Leadtek nForce2 Ultra 400
N/A
For some reason the HDD test would not run on the nForce2 system. I checked FutureMark's website for help on this, and apparently this is a known issue. I tried the suggested fixes and neither helped. As expected, the A64's on-die memory controller helps it score much better than the Athlon XP in the memory part of this benchmark. The other scores are quite a bit closer, but the Leadtek K8N, with its Hyper-Transport Bus and A64 running at 200 MHz less than the competition, is able to edge out the nForce2 system in all other tests.
SiSoftware Sandra (version 2004.10.9.89)
Motherboard

Score

CPU Arithmetic – Dhrystone ALU (MIPS)

Leadtek WinFast K8N Pro
8298
Leadtek nForce2 Ultra 400
8279

CPU Arithmetic – Whetstone FPU (MFLOPS)

Leadtek WinFast K8N Pro
3147
Leadtek nForce2 Ultra 400
3426

CPU Arithmetic – Whetstone iSSE2 (MFLOPS)

Leadtek WinFast K8N Pro
4111
Leadtek nForce2 Ultra 400
Unsupported
CPU Multi-media – Integer (it/s)

Leadtek WinFast K8N Pro
14886
Leadtek nForce2 Ultra 400
19942

CPU Multi-media – Float (it/s)

Leadtek WinFast K8N Pro
19628
Leadtek nForce2 Ultra 400
20454
Memory Bandwidth – Int Buffered (MB/s)

Leadtek WinFast K8N Pro
3032
Leadtek nForce2 Ultra 400
2805

Memory Bandwidth – Float Buffered (MB/s)

Leadtek WinFast K8N Pro
3035
Leadtek nForce2 Ultra 400
2635
File System (KB/s)

Leadtek WinFast K8N Pro
36405
Leadtek nForce2 Ultra 400 (*)
30170
* Please keep in mind different HDDs were used in this test.
Interestingly, the raw speed advantage that the Athlon XP has over the Athlon 64 seems to help it perform better in most of the synthetic CPU benchmarks in Sandra 2004. However, once again the A64's memory controller allows it to trump its older brother in the synthetic memory tests.
3DMark03 (version 3.2.0)
Motherboard

Score

1024×768 – NoAA/NoAF

Leadtek WinFast K8N Pro
6428
Leadtek nForce2 Ultra 400
6096

1024×768 – 4xAA/8xAF

Leadtek WinFast K8N Pro
2845
Leadtek nForce2 Ultra 400
2759
The Leadtek K8N Pro and Athlon 64 seem to provide a nice boost in 3DMark03! This is especially true in the case where anti-aliasing and anisotropic filtering are disabled.
AquaMark3
Motherboard

FPS

Default – 1024×768, noAA/4xAF, max. detail

Leadtek WinFast K8N Pro
44.34
Leadtek nForce2 Ultra 400
42.47

Custom – 1024×768, Q3AA/8xAF, max. detail

Leadtek WinFast K8N Pro
31.92
Leadtek nForce2 Ultra 400
31.38
The default benchmark in AquaMark3, which is the only one that can be run on an unlicensed version, is the only one that provides GFX and CPU scores. It is the "official" AquaMark3 benchmark. The following scores were reported for the two test systems:
Leadtek WinFast K8N Pro
Leadtek nForce2 Ultra 400
Gun Metal Benchmark 1
Motherboard

FPS

1024×768 – 2xAA

Leadtek WinFast K8N Pro
32.39
Leadtek nForce2 Ultra 400
31.83

1280×1024 – 2xAA

Leadtek WinFast K8N Pro
26.24
Leadtek nForce2 Ultra 400
26.14
Because Gun Metal relies heavily on the graphics board, there is not a big advantage for either system here.
Unreal Tournament 2003 Demo
I ran the UT2K3 benchmark with the benchmarking utility from BensCustomCases.com, and a custom script file that sets up the maps with 12 bots and maximum detail. I thought this would be a good test of the overall system.
Motherboard

FPS

1024×768 – NoAA/NoAF

Leadtek WinFast K8N Pro (Asbestos)
112.43
Leadtek nForce2 Ultra 400 (Asbestos)
88.48
Leadtek WinFast K8N Pro (Antalus)
92.04
Leadtek nForce2 Ultra 400 (Antalus)
75.74

1280×960 – NoAA/NoAF

Leadtek WinFast K8N Pro (Asbestos)
104.61
Leadtek nForce2 Ultra 400 (Asbestos)
82.48
Leadtek WinFast K8N Pro (Antalus)
90.49
Leadtek nForce2 Ultra 400 (Antalus)
75.46
1024×768 – 4xAA/8xAF

Leadtek WinFast K8N Pro (Asbestos)
108.05
Leadtek nForce2 Ultra 400 (Asbestos)
85.80
Leadtek WinFast K8N Pro (Antalus)
83.96
Leadtek nForce2 Ultra 400 (Antalus)
72.67

1280×960 – 4xAA/8xAF

Leadtek WinFast K8N Pro (Asbestos)
89.90
Leadtek nForce2 Ultra 400 (Asbestos)
78.89
Leadtek WinFast K8N Pro (Antalus)
60.98
Leadtek nForce2 Ultra 400 (Antalus)
59.82
Obviously, the combination of the Leadtek nForce3 and the A64 likes this benchmark as it dominates the Leadtek nForce2 and Athlon XP system in nearly every aspect.
Overclocking
Leadtek is definitely trying to appeal to the enthusiast crowd with the overclocking features it provides. Speed Gear II is the Windows overclocking utility Leadtek provides with its mainboards. It allows a user to adjust the memory clock and FSB in real time. It also offers hardware monitoring for fans speeds, temperatures and various voltage parameters.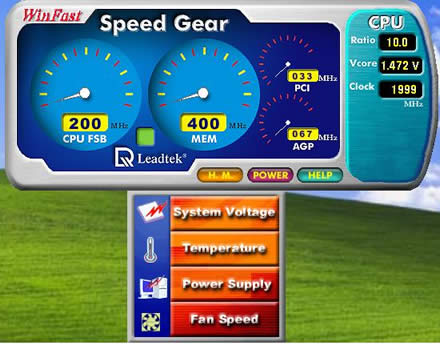 Beyond that, the X-BIOS II feature in the BIOS setup allows jumper-free voltage adjustment of memory, AGP, CPU, and chipset voltages. The BIOS also permits 1 MHz increments of the FSB frequency from 200 MHz to 300 MHz.
Conclusion
---
After doing a fairly extensive search, I was unable to find a retailer selling this mainboard. I was quite surprised by this, and I do not know what to think of this situation. I would guess that if it were available it would be in the $110-130 range, unless the data security feature adds more of a price premium than I realize. I know the board has been out for a while, so that makes this situation that much more puzzling.
Ignoring the questionable availability of this mainboard, I would say my overall impression of it has been very positive. The support for 4 SATA hard drives and up to six IDE devices, two of which could be protected hard disks via the X-Wall IDE feature that Leadtek provides, allows someone to use up to ten drives with this motherboard. This should satisfy the drive needs of just about anyone. If the data security feature appeals to you, make sure you find the Pro version of this board since that is the main (or only) difference between the non-Pro and Pro versions of the WinFast K8N.
Unfortunately, I have yet to compare this motherboard to one of its main competitors, such as a VIA K8T800 solution. I will be doing that in the near future, though, and then I will know which would be a good recommendation for someone looking to take the 64-bit plunge.
Pros:
4 SATA connectors supporting RAID levels 0, 1, and 0+1
Nice black PCB
Solid performance and stability
Good overclocking features

Cons:
Bundle was respectable but nothing more
Layout could be odd for some
Only two unused fan connectors

Since the Leadtek WinFast K8N Pro left me with an overall good impression but did not leave me spellbound, I'm giving it a very respectable 8 out of 10!