In this review, we take a look at Chaintech's ZNF3-150 Zenith nForce3 motherboard. It sports some innovative features and an extensive yet practical bundle. Read the review to see how its performance compares to a VIA K8T800 mainboard.
Introduction
---
If someone asked me for the best motherboard package available, I wouldn't hesitate to recommend two mainboard lines — DFI's LANParty line and Chaintech's Zenith line. When I first reviewed the Chaintech 7NJS Zenith (nForce2) motherboard, I was more than impressed with the huge bundle and features. It was by far the best package (albeit pricey) I had seen to date, but then months later DFI comes along and throws LANParty boards into the fray. As a big fan of big bundles, I started to wonder which one I liked more.
To be honest, I still haven't decided which I prefer, but these two motherboard lines are two of the best around as far as the bundles are concerned. Additionally, they are usually top-of-the-line performers as well! This review will focus on Chaintech's Zenith line and in particular the Athlon64 offering — the ZNF3-150 Zenith, based on the NVIDIA nForce3 150 chip. Not only does this board feature the awesome Zenith bundle, but it also features some innovative features as well, such as RadEX. Keep reading to learn more…
Specifications, Features and Bundle
---
Specifications
Form Factor
CPU

Supports the new generation of AMD Socket754 Athlon 64 CPU
Processor interface via 6.4GB/s Hyper Transport bus

Chipset
Main Memory

Three 184 pin DDR DIMMs up to 2GB
Supports DDR266/333/400 modules

Expansion Slots

One AGP slot for both 4X/8X AGP
Five 32-Bit PCI slots (v2.2 compatible)
One CMR (Chaintech Mulmedia Riser) for Chaintech Multimedia Card (CMC7.1)

Audio Subsystem

24-bit resolution audio format support
7.1 Channel speaker audio supports
Sampling rates up to 96KHz
Multi-channel AC-link supported alternatively
Support S/PDIF out

Video Subsystem
UltraDMA IDE Ports

Build-in nForce3 150 supports 3 ATA66/100/133 IDE ports

FDD

One FDD connector supports up to 2.88MB

Embedded USB Controller

Build-in nForce3 150 supports total 6 USB2.0 ports with High-Speed Device@480 Mb/s Transfer Rate

Embedded system monitoring

2 temperature sensing for CPU and system
3 Fan speed monitoring (CPU, system and Chipset)

Boot-Block Flash ROM

Award system BIOS support PnP, APM, DMI, ACPI, & Multi-device booting features

Software

Driver CD
Value Pack 2003

Other Feature

Rear panel I/O ports

One PS2 Mouse and Keyboard port
Two USB ports and one RJ45 connector
Two 9-pin D-Sub male Serial ports
One 25-pin D-Sub female Parallel port
Audio I/O jacks (Line-in, Line-out and Mic-in)

On-board Gigabit Ethernet

On-board Broadcom GbE Controller supports 10/100/1000Base-T Gigabit LAN

On-board SATA RAID Controller

On-board Sli3114 SATA RAID Controller supports 4 Serial ATA devices for the highest data transfer rates (1.5Gbps burst) with RAID 0/1/5/10 solution

On-board VIA VT6306 IEEE1394 Host Controller

On-board VIA VT6306 IEEE1394 Host Controller supports 3 IEEE1394 ports with Serial bus data rates of 100, 200 and 400Mbps.
IEEE P1394a compliant and IEEE Std. 1394-1995

On board connector for external device

Four 3×1 pin fan connectors
2×1 pin fan connector with housing for Chaintech RadEX
Two 5×2 pin USB connectors for front 2 USB ports & 6 in 1 Card Reader on CBOX3
3×1 pin wake on LAN connector with housing
3×1 pin wake on Modem connector with housing
Two 4×1 pin CD-in connectors with housing on CMC7.1
4×1 pin Aux-in connector with housing on CMC7.1
5×2 pin Segment display connector for 2-digits Debug LED on CBOX3
8×1 pin IEEE1394 connector with housing for front IEEE1394 port on CBOX3
9×2 pin front panel connector
5×2 pin front side audio connector
20 pin ATX Power connector
4 pin ATX 12V Power connector
Special Features and Bundle
The ZNF3-150 Zenith sports a very impressive list of features and the extensive bundle that Zenith fans have come to love. I was excited to open this package to see all the goodies included. Here is some additional information about some of the ZNF3-150's extras.
» RadEX — Keeping Things Cool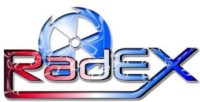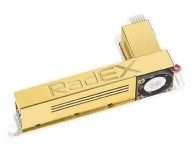 Here is a description of Chaintech's innovative RadEX technology directly from Chaintech's site:
What is RadEX ?
Based on Super Conductive Heatpipe Technology, RadEX directly takes away the heat from its origin and quickly exhausts it to the outside of the case by fan, actively reduces interior temperature. Make your PC much cooler and increase the headroom for overclocking stability!
RadEX is composed of 4 characters: Revolutionary, Active, Direct, Exhaust.
Revolutionary: CHAINTECH is the pioneer among the rest of motherboard makers to design the first onboard thermal solution – RadEX!
Active: Heat dissipation begins from the power source, RadEX actively diverts the high temperature away from the hot spots instantly!
Direct: CHAINTECH migrates Super Conductive Heatpipe Technology from space applications into motherboard cooling! It is an ideal, fast, the direct heat conducting method that guarantees you an everlasting stability!
EXhaust: RadEX draws the hot air straight out of your system and completely eliminates overheating!
The RadEX technology will probably remind you of Abit's MAX3 boards with OTES technology, which is also designed to help keep the motherboard's hot spots cooler in effort to improve overall cooling and performance. Chaintech has a different approach to it though, as you can see in the pictures below. You can read more detailed information about RadEX here.
» CBOX3 — A Practical and Flexible 5.25″ Bay Device
6-in-1 card reader enables the fastest way to access your digital records.
"DigiDoc" displays CPU temperature and 80-port codes during PORT at boot up.
Provides front access to one IEEE1394 port, two USB ports and headphone and mic connections.
Match your case color — silver, beige and black faceplates included!
I first saw the CBOX3 at Chaintech Reloaded, a Chaintech press event, last year, and I've been wanting one ever since. Everyone at the event was impressed that Chaintech decided to include three faceplates (silver, beige and black) with the new CBOX. It's a great idea that's sure to please many users since those are the three most common case colors on the market today. You won't have to break out the vinyl dye! In addition to the faceplates, Chaintech added a 6-in-1 flash card reader to the CBOX3. This required removing two of the USB ports (the CBOX2 has four), but I'd gladly give up two USB ports on my CBOX2 for the card reader. The CBOX3 is easily one of the best and most practical bundle items ever included with any motherboard. Kudos to Chaintech. I hope other manufacturers take note of what Chaintech is trying to do here.
» The Bundle
ZNF3-150 Zenith Motherboard
I/O Shield (nice and sturdy color-coded one, not the typical flimsy, cheap ones most companies include)
Round Cables — 2 x IDE and 1 x Floppy

World's first "Round Cable" bundle brought to you by CHAINTECH, an innovative streamliner ribbon cable provides better overall system stability and neatness.
Clutter-free for easy installation!
Improved air flow inside of your system chassis.
Matching color lightens up your PC.

4 x Serial ATA Cable
2 x Serial ATA Power Cable
CMC (Chaintech Multimedia Card)

Fits in Chaintech proprietary CMR (Chaintech Multimedia Riser) and integrates most multimedia functions within one card, including two IEEE1394 (FireWire) ports, three audio jacks for 7.1 channel surround and one S/PDIF port for digital audio output.

User's Guide (English & Multi-language)
EZ Manual
Driver and Utility CD
Thermal grease pack
CBOX3 Package

5.25″ CBOX3
USB 10-pin cable
Front audio 10-pin cable
80-port 10-pin cable
IEEE1394 8-pin cable
Zenith Emblem case badge
Digidoc 80-port POST error code list
Silver, black and beige faceplates

Software Value-Pack 2003

Symantec's Norton AntiVirus 2003: Norton AntiVirus is the world's most trusted antivirus solution. Now this is easy-to-use program to scan and clean instant-message attachments as well as email messages. It removes viruses automatically without interrupting your work. And automatic updates help defend your PC against new viruses.
Image It: It's an excellent system backup tool that has great features. You can install and operate it easily. As long as you need, you can create an image file of the system or data, then store it onto the local HD or record it on a CD. Whenever you meet the problems, you can use it to get back your system and data.
ProMagic 6.0: ProMagic6.0 is an instant system recovery software that not only provides convenient instant restoration but also brings your data back to the preferred state at any specific restore time point as desired. ProMagic6.0 can back up your data by simply create a restore point with a click.

Screwdriver
As you can see, the ZNF3-150 Zenith includes a lot of useful stuff. I especially appreciate the round cables and SATA cables that match the board colors. The EZ Manual is also a great quick reference tool. It's basically a big, full-color poster that includes a lot of useful information that will help you out when setting up and tweaking the board. As you already know, I am a huge fan of the CBOX3 package, which includes all the cables you need to hook it up.

Board Layout and Installation
---
Closer Look
The layout of the ZNF3-150 is quite logical and caused me no problems during installation. Considering that the nForce3 platform only includes one chip and not your typical northbridge/southbridge combination, the lack of clutter isn't too surprising. The nForce3 chip is covered by a nice-looking, custom heatsink that matches the Zenith theme of the board. It's gold colored, just like the back I/O panel. Speaking of colors, you can also see the cool black and orange theme featured on this board. The PCB (printed circuit board) is all black while the PCI slots, IDE connections and DIMM slots are orange. Orange is my favorite color, so I'm diggin' it.
If you've looked at the pictures so far, you may have noticed that Chaintech opted to use a four phase power design, which leads to more stable power supply. You can also see there is more than enough room around the CPU socket for a standard cooler. I had no problems installing my AVC HSF (heatsink/fan).
This board also features five PCI slots, which should be plenty for most users. Chaintech also includes a small brown slot that they call the CMR or Chaintech Multimedia Riser. It is designed to work with the included CMC (Chaintech Multimedia Card). Just behind the PCI slots, you can see that great looking heatsink I mentioned. This is of course placed directly on top of the nForce3 chip to help keep it cool.
The three DIMM slots allow up to 2GB of memory to be installed. The three ATA133 IDE connections should help you spread out all the IDE devices you need. Four Serial ATA ports are supported by the Silicon Image SIL3114 SATA RAID controller, which provides RAID 0, RAID 1 and RAID 1+0 functionality. Hopefully, I'll have enough SATA drives soon to actually give this RAID controller a spin. The various CBOX3 headers are also spread out on the board in various locations.
This section wouldn't be complete without a look at the back I/O panel. Like other Zenith boards, the I/O panel is gold for a slightly nicer look. Additionally, the ZNF3-150's I/O panel includes a section for the RadEX exhaust, which you can see is to the right of the PS/2 ports. Other than that, there isn't anything unusual about this board. It features the typical PS/2, printer, serial, Ethernet, USB and audio ports.

Installation and Setup
As I mentioned above, I had no problems during the actual physical installation of the ZNF3-150 Zenith and my components. The case I used was the CrazyPC Stealth Case, which is based on the Lian-Li PC61. Thanks to its removable motherboard tray and the motherboard's good layout, installation was a breeze. I installed the processor, AVC HSF, Leadtek GeForce FX 5950 Ultra, two sticks of Corsair DDR, the Chaintech CMC, all my drives and the CBOX3 without issue, just as it should be.
Booting up the system and software installation was a slightly different story, but only concerning the BIOS, which gave me a couple headaches. After installing Windows XP Pro and updating it, I decided I would flash the BIOS to the latest version at that time, dated 12/3/03. The update was successful, but the BIOS would lock up on the CAS latency screen! I had never experienced a BIOS locking up before, so I was quite frustrated. Fortunately, when I came back to tackle the problem, Chaintech had released an even newer BIOS, dated 12/19/03. There was no claim to fix the problem I was having, but it fixed the problem nonetheless.
Driver and software installation was trouble-free. I installed the Broadcom Gigabit Ethernet drivers, NVIDIA Forceware 53.03, NVIDIA nForce 3.13 drivers, Chaintech's DigiDoc utility and the VIA Envy24HT audio controller drivers and had absolutely no problems.

BIOS
---
The BIOS used for the ZNF3-150 Zenith is the Award BIOS, and I updated it to the latest BIOS available as of this writing, which was 12/19/03. I'm not going to cover the BIOS in much depth here, but here is a list of some of the key tweakable values and their ranges.
CPU Clock: 200-400 MHz (1 MHz increments)
DDR Voltage: Max 1.9V
CPU Core Voltage: Max 1.7V
AGP Voltage: Max 2.2V
Chipset Voltage: Max 1.9V
Performance / Benchmarks
---
For comparison this time, I'm not using an nForce2 system. Since this is my second Athlon64 motherboard review, I can compare two Socket 754 mainboards head-to-head, and they happen to be the two main opposing chipsets. In the red corner, we have the MSI K8T Neo-FIS2R, based on the VIA K8T800 chipset, and in the blue corner, we have the Chaintech ZNF3-150 Zenith, featuring NVIDIA's single-chip nForce3 architecture. So, it's VIA versus NVIDIA and MSI versus Chaintech, all in one battle royale. Getting too dramatic, aren't I? 😉
There is only one main difference between the two systems (besides the motherboard of course), and that is the memory timings. The MSI board had no problems with 2-2-2-5, but I couldn't get the ZNF3-150 Zenith to boot at those settings, so I went with the slightly less aggressive 2-3-3-6. Everything else was consistent.
Athlon64 Test System:
Mobo 1: Chaintech ZNF3-150 Zenith (nForce3)
Mobo 2: MSI K8T Neo-FIS2R (VIA K8T800)
AMD Athlon64 3200+
2 x 256MB XMS3500 Corsair DDR
Leadtek GeForce FX 5950 Ultra
Maxtor DiamondMax Plus 9 200GB 8MB Buffer
Windows XP Pro SP1, ForceWare 53.03, DirectX 9b
Memory Timings: 2-3-3-6 for ZNF3-150 Zenith and 2-2-2-5 for MSI K8T Neo-FIS2R
For benchmarking, I used the following benchmarks applications and games: FutureMark PCMark2002, SiSoft Sandra 2004, FutureMark 3DMark2001SE build 330 and 3DMark2003 build 330, AquaMark 3 and Unreal Tournament 2003 (with HardOCP's benchmark utility).
PCMark2002
CPU

Motherboard

Result

MSI K8T Neo-FIS2R
6526
Chaintech ZNF3-150 Zenith
6505

Memory

MSI K8T Neo-FIS2R
9037
Chaintech ZNF3-150 Zenith
8812

HDD

MSI K8T Neo-FIS2R
1264
Chaintech ZNF3-150 Zenith
1214
SiSoftware's Sandra 2004
CPU Arithmetic
Dhrystone

Motherboard

Result

MSI K8T Neo-FIS2R
8360
Chaintech ZNF3-150 Zenith
8343

Whetstone

MSI K8T Neo-FIS2R
3159
Chaintech ZNF3-150 Zenith
3152

iSSE2

MSI K8T Neo-FIS2R
4124
Chaintech ZNF3-150 Zenith
4082
CPU Multimedia
Integer

Motherboard

Result

MSI K8T Neo-FIS2R
14952
Chaintech ZNF3-150 Zenith
14922

Float

MSI K8T Neo-FIS2R
19502
Chaintech ZNF3-150 Zenith
19675
Memory Bandwidth
Integer Buffered

Motherboard

Result

MSI K8T Neo-FIS2R
3026
Chaintech ZNF3-150 Zenith
3066

Float Buffered

MSI K8T Neo-FIS2R
3025
Chaintech ZNF3-150 Zenith
3067
3DMark2001SE – Build 330
1024×768 NoAA / NoAF

Motherboard

3DMarks

MSI K8T Neo-FIS2R
19004
Chaintech ZNF3-150 Zenith
18827

1024×768 4xAA / 8xAF

MSI K8T Neo-FIS2R
13598
Chaintech ZNF3-150 Zenith
13180

1280×1024 4xAA / 8xAF

MSI K8T Neo-FIS2R
10399
Chaintech ZNF3-150 Zenith
10137
3DMark2003 – Build 330
1024×768 – NoAA / NoAF

Motherboard

3DMarks

MSI K8T Neo-FIS2R
6288
Chaintech ZNF3-150 Zenith
6286
3DMark2003 – Build 330 – CPU Tests
CPU Score – Defaults

Motherboard

Results

MSI K8T Neo-FIS2R
880
Chaintech ZNF3-150 Zenith
869

CPU Test 1 – Defaults

MSI K8T Neo-FIS2R
104.9
Chaintech ZNF3-150 Zenith
102.9

CPU Test 2 – Defaults

MSI K8T Neo-FIS2R
14.6
Chaintech ZNF3-150 Zenith
14.4
AquaMark 3
GFX – 1024×768 – Default NoAA / 4xAF

Motherboard

Result

MSI K8T Neo-FIS2R
5941
Chaintech ZNF3-150 Zenith
5854

CPU – Default NoAA / 4xAF

MSI K8T Neo-FIS2R
9329
Chaintech ZNF3-150 Zenith
9107
1280×1024 – 4xAA / 8xAF

Motherboard

FPS

MSI K8T Neo-FIS2R
23.79
Chaintech ZNF3-150 Zenith
23.55
Unreal Tournament 2003
Inferno
1024×768 – NoAA / NoAF

Motherboard

FPS (avg)

MSI K8T Neo-FIS2R
193.91
Chaintech ZNF3-150 Zenith
192.53

1280×960 – 4xAA / 8xAF

MSI K8T Neo-FIS2R
64.39
Chaintech ZNF3-150 Zenith
65.95
Antalus
1024×768 – NoAA / NoAF

Motherboard

FPS (avg)

MSI K8T Neo-FIS2R
226.81
Chaintech ZNF3-150 Zenith
221.89

1280×960 – 4xAA / 8xAF

MSI K8T Neo-FIS2R
87.89
Chaintech ZNF3-150 Zenith
83.76
Although the ZNF3-150 Zenith loses more than it wins here, the margins are very small for the most part. They are nothing that would be noticed during use. The Chaintech board does put up better scores in several tests, but what surprised me the most was the Sandra Memory scores. Despite its less aggressive memory timings, the ZNF3-150 Zenith scored higher Memory Bandwidth marks than the MSI K8T Neo-FIS2R.

Conclusion
---
Features and Bundle
With its Zenith line, Chaintech has proven repeatedly that it can provide some of the most innovative features and outstanding bundles available today. It's hard to say anything but good things about the ZNF3-150's features and bundle. Whether it's the smaller extras, such as four fan headers and good looks, or it's the bigger extras, like RadEX and CBOX3, I think everyone can appreciate something (or many things more than likely) about this Zenith package. It's just that cool.
Adding to that cool factor is the VIA Envy24PT onboard audio controller. Although few of us have 7.1 speaker setups, having the 8-channel audio option onboard is great. And with all the praise VIA's Vinyl Audio and Envy24 controllers have received, you can trust it's one of the best solutions around. Afterall, the Envy24PT supports 24-bit audio resolution, 96KHz sampling rates, and Dolby Digital EX and DTS ES. You won't need to buy an Audigy 2 to get good sound with this motherboard! Click here to read more about the VIA Envy24PT controller.
RadEX is also a great feature worth noting. With its active and heatpipe design, it promises to keep your system cooler and hopefully more stable in the process. I'm looking forward to seeing where Chaintech takes this innovative idea.
Performance and Overclocking
After getting past the minor BIOS issues I mentioned earlier, the ZNF3-150 put up a good performance overall. Although it didn't dominate the MSI board, it showed that its nForce3 platform can hang with the VIA K8T800 chipset. I was surprised that I couldn't get the memory timings to 2-2-2-5 with the ZNF3-150. Maybe I didn't try hard enough, but I honestly don't think I (or any user) should have to try very hard to get these timings with RAM that has worked at these timings countless times before. Despite this, the Chaintech board outperformed MSI's in Sandra Memory Bandwidth tests.
My brief overclocking experience with the ZNF3-150 Zenith was similar to that had with the MSI K8T Neo-FIS2R. With a locked multiplier, I was stuck adjusting the FSB (front side bus), and I could only push it to around 210 MHz. Any higher and I wasn't comfortable with the stability regardless of what I tried with voltages. As expected, the performance boost was minimal with this overclock, but it's nothing worth getting excited about in my opinion. As always, your mileage with overclocking will vary.
Price / Bang for the Buck
All the great stuff in the Zenith package doesn't come cheap. As of this writing, Newegg is selling the Chaintech ZNF3-150 Zenith package for $179.99. So, are all the extras worth the extra cash? Well, that all depends on what you think of the extras and having what is probably the best Athlon64 bundle currently available. Value is added to this package by the following bundled items: CBOX3 (keep in mind that this includes a 6-in-1 media reader), useful software and round cables. The high quality onboard sound solution is also worth noting when considering the price. If purchased separately, these items would easily cost the $50 that separates this package from many other Athlon64 solutions available. It's going to have to be up to you whether or not it's enough bang for the buck.
Pros:
Great features – RadEX, Envy24PT audio, etc
Awesome bundle – CBOX3, round cables, etc
Stable, solid performance
4 fan headers
3 IDE connections
Good looks!
Cons:
Had some BIOS issues
May be too pricey for some
If having the absolute highest performance is your absolute highest priority, the ZNF3-150 might not be the Athlon64 solution for you. On the other hand, if having the best bundle and good performance is your bag, then you should definitely consider this motherboard. I'm awarding it an 8.5 out of 10.