Zalman Tech has been pushing a quiet PC initiative for a while. One of their newest CPU coolers, the CNPS7000A-Cu, is one way you could help decrease your system's decibel level, especially if you currently have a noisy CPU cooler on your Pentium 4, Athlon, Duron, Athlong XP, or Athlon 64. That's right, the CNPS7000A-Cu is compatible with all of these CPUs. Read this review to find out more about this quiet and effective CPU cooler.
Introduction
---
Many companies providing heatsinks today, especially those marketed toward the enthusiast crowd, seem to ignore AMD's and Intel's recommended maximum weight specifications for HSF units for their respective processors. Zalman Tech Co., Ltd. is certainly no stranger to this blatant disregard of the specs laid out by the makers of the chips its products are meant to cool. Thanks to jab-tech.com, I have had the privilege of taking one of these oversized coolers for a spin. The cooler I am referring to is the CNPS7000A-Cu, and it is compatible with Intel's Pentium 4 (Socket 478) and AMD's Athlon/Duron/Athlon XP (Socket 462) and Athlon 64 (Socket 754) CPUs. Weighing in at 773 grams, this cooler weighs over twice the specified maximum weight (300 g) of a cooler for Socket 462 CPUs and nearly twice the recommended maximum weight (450 g) for Pentium 4 and Athlon 64 CPUs.
The weight alone, or that combined with the fear of possibly voiding a warranty, may scare many people away from such a beefy HSF. However, there is a very good reason this CPU cooler weighs so much – its large chunk of copper coupled with the 92 millimeter fan are meant to keep a CPU very cool with minimal noise. I hooked the CNPS7000A-Cu up on an Athlon 64 to see if its weight is justified by its performance. Read on to find out…
Specifications & Features
---
I have included most of the specs and features below; however, if you would like even more details, you can find them on either Zalman Tech's CNPS7000A-Cu web page or jab-tech.com's page for this HSF.
Specifications:
Dimensions: 109(L) x 109(W) x 62(H) mm
Base Material: Pure Copper
Weight: 773 g
Bearing Type: 2-ball
Rated Voltage: 12 V
Speed

Silent Mode: 1350 RPM +/-10%
Normal Mode: 2400 RPM +/-10%

Noise:

Silent Mode: 20 dB +/-10%
Normal Mode: 25 dB +/-10%

Fan Connector: 3-pin
Fan Speed Controller: FAN MATE 1
Features:
Does not generate noise or vibration in Silent Mode.
Pure copper base material ensures excellent heat dissipation.
Intel Pentium 4 (Socket478), AMD Athlon/Duron/Athlon XP (Socket 462), and AMD Athlon 64 (Socket754) compatible design for broad compatibility.
92mm fan inside the FHS maximizes airflow.
Adjustable fan speed controller (FAN MATE 1) enables control of noise and fan performance.
Package Contents:
Flower Heatsink (FHS) assembly with fan
Four bolts for fastening the clip
Thermal grease
Adjustable fan speed controller (FAN MATE 1)
User's Manual
Two clip supports for Socket 478
One A-Type (blue) clip support for Socket 462
One B-Type (white) clip support for Socket 462
Four bolts for the clip supports
One set of washers
One backplate
Installation
---
The installation of this HSF unit deviates a little from the new standard that AMD has tried to establish with its new processors. If you are not familiar with the typical installation for an Athlon 64, check out Shane's break down of it. This Zalman HSF does not use the retention bracket for installation, but it does still use the bottom plate as the mounting point. Although Zalman strayed from the new standard, the installation was still quite easy. It was a little awkward, though, since the heatsink is so big. Basically, once the backplate is secured, the installation is finished by simply (and carefully) screwing in two screws, one on each side of the clip. See the illustration below for reference.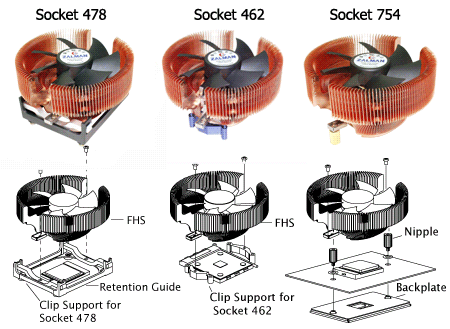 The only thing about this installation that makes me a little concerned is that the backplate included with the CNPS7000A-Cu has a slick cardboard piece on it. I thought that this would maybe peel off since all other backplates that I have seen actually do have a sticky surface to help them stay put. However, this slick surface does not peel off, causing the backplate to shift easily when installing the HSF. Once it was in place, the slight wiggle was all but gone, though. Here's a couple pics of what this cooler looks like on a mainboard and in a mid-tower case:
Performance
---
As I alluded to before, the extra size and weight of the CNPS7000A-Cu is only worth it if it performs well and does so with little added noise, since that is what this CPU cooler promises. Afterall, the packaging labels this HSF an "Ultra Quiet CPU Cooler." That is a bold claim, because if it does not live up to Zalman's billing, I will have to ridicule it accordingly. I chose to use Artic Silver 5 instead of the the thermal compound that comes with this cooler. I figured that someone buying a high-end CPU cooler like this will probably use high-end thermal compound.
Test System Specs:
Chieftech X-Sonic Mid-Tower Case (review)
Leadtek WinFast K8N Pro Motherboard (review)
SilverStone 400W SST-ST400 PSU (review)
AMD Athlon 64 3200+
Corsair TWINX1024-3200LLPRO (review coming soon!)
Reference GeForce FX 5950 Ultra
Hitachi Deskstar 7K250 80GB Serial ATA 7200RPM Hard Drive w/8MB Buffer
Pioneer DVD-ROM
Sony floppy drive
Zalman CNPS7000A-Cu Test Results
I used Folding@Home to provide the load for this round of benchmarks. It will use 100% of the CPU time if you allow it, and that is exactly what I did.
Normal Mode

Condition

Temperature (°C)

CPU idle
35
System idle
29
CPU @15 min. of Folding@Home
40
System @15 min. of Folding@Home
30

Silent Mode

CPU idle
37
System idle
29
CPU @15 min. of Folding@Home
46
System @15 min. of Folding@Home
32
The performance of this CPU cooler may seem to be just on par with many of its peers, and it may not seem like anything to get to excited about. That is, until you realize how quiet this thing is. The huge heatsink allows for a huge fan to fit inside it, which allows Zalman to move as much air as a smaller, faster spinning fan would. Usually, these smaller, faster spinning fans can and will get quite loud at their highest speeds. That is not the case with the Zalman CNPS7000A-Cu. This quiet cooler has helped this test system become the quietest system I have ever heard, or barely hear. 🙂 The CNPS7000A-Cu has lived up to its "ultra quiet" billing!
Conclusion
---
I am very pleased with this huge CPU cooler from Zalman. I thought the Thermaltake Extreme Volcano 12 was big, but now I realize it is a half-pint compared to the mammoth CNPS7000A-Cu. However, once it is tucked inside the case, the CNPS7000A-Cu does not seem to be quite so big. Of course, once you factor in the performance it delivers with minimal noise, the CNPS7000A-Cu definitely seems like a great cooling option for Socket 478, 462, and 754 CPUs.
Due to its weight and size, I would hesitate to recommend this cooler to anyone who is afraid of installing anything that is out of spec or anyone who is paranoid about voiding warranties. However, for anyone who wants great cooling without much added noise to their system, I would certainly recommend the Zalman CNPS7000A-Cu
Thanks again to jab-tech.com for providing this unit for review. You can find the Zalman CNPS7000A-Cu at jab-tech.com right now on sale for $38.95.
Pros:
All copper heatsink
Quiet!
Adjustable fan speed
Performs well

Cons:
Could be a bit too big for some systems or for some people's comfort
Fan speed adjustment is not meant for external installation
Heavy! (Doesn't even come close to the specified max weights for any CPU it is compatible with!)

For its great performance and quiet personality, I'm giving the Zalman CNPS7000A-Cu an 8.5 out of 10 and the Bjorn3D Seal of Approval.