Aerocool brings some impressive fans to the cooling table. If your pc is "sweatin' to the oldies", try these new fans to "get into the groove."
Introduction
---
Windshield wiper blades. How many of us actually replace them at their correct intervals? (6 months or 6,000 miles for those of you contemplating this) I know I sure don't, as I really could have used a better set just the other night when driving home in the snow. Case fans. No, they don't really have a correct replacement interval, but you might want to replace yours pretty soon, as I have found that new fans help out more than I would have expected.
In this review, we will look at some of the newest offerings from newcomer Aerocool, in the way of case fans. Three of the fans have an awesome aluminum housing that not only looks very nice, but provides the fan with some added strength. The other fan reviewed is an adjustable one that performs quite nicely. Enough with the baiting, lets take a look at these fans.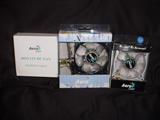 Specifications
---
Basic Case Fans…or Are They???
The first two fans we will take a look at are the 8025 12V case fans.
Specifications:
Dimensions: 80 x 80 x 25 mm
Bearing: Sleeve
Speed: 2000 RPM
Air Flow: 21.5CFM
Noise: 20.3 dBA
Voltage: 12 VDC
Housing: Aluminum AA6063
Fan Blade: UL Polyester
As I said in the intro, these fans have an awesome aluminum housing that really adds to the look of the fans and the case when they are installed. The aluminum has a nice brushed texture to it, and there are no jagged edges to rough yourself up on when installing. There are also small grooves on each side of the fan that remind me of some older car stereo amplifiers that had the heat sinks on the outside.
Installation
---
Installation of the fans was more of a project than I thought fans could be, which really surprised me. With around 11 inches of power wire, some users may find that this is not enough, as not all motherboards have their fan headers located in ideal places for these fans. A nice addition to the package would have been a 3-to-4 pin adapter, so that you can add a little length to the power connection if need be. The other down-side to these fans was the oh-so-cool aluminum housing mounting holes. The supplied screws are a little weak to be driven into the housing, as I stripped two of them trying to install one of the fans. I ended up "piloting" the holes outside of the case so that I could put more force on them to aid in the final installation.
The second fan from Aerocool comes from their Silence Solution line of fans. This fan is essentially the same fan as the 8025, but includes four bright blue LEDs mounted in the frame of the fan. It also upgrades to ball-bearings which allowed the fan blade to spin easier, and reduced fan noise a bit. I was pleased to see that this fan did come with a 3-to-4 pin adapter, which was missing from the 8025 fan packages.
After removing my old (about a year or so) Antec fans and spinning their blades and then spinning the new Aerocool blades, I could definitely tell a difference in the two. The Antec fans felt a little stiff and obviously had some dust buildup inside of them. I believe this is the cause of the few degree temperature difference between the two brands of fans. In no way is this a fault of the Antec fans, as I am now convinced that these parts of the PC just need to be replaced every now and then, just like the wiper blades on your car.
Performance
---
Spinning at 2000 RPM, these fans are very good at keeping quiet, only hitting 20.3 dBA according to Aerocool, which is something that I know many PC owners are striving for nowadays. Spinning at this low speed only allows the fans to push about 21.5 CFM, which for some people may be enough of a trade off for their volume. The fans also utilize sleeve bearings for the fan itself. The fans keep my case temperature at a nice 25C, whereas my old Antec fans were leaving me a little warmer at around 26-27C.
Pros:
Good looking, sturdy aluminum frame
LED version really adds a nice glow to your case
Quiet operation
Cons:
Moderately short power wire
No 3-to-4 pin adapter for non-LED fan (LED version does include one)
Not-so-easy installation
Conclusion
---
If you think your case is in need of some fresh fans, take a look at the 8025's or LED Silence Solution fans from Aerocool, because before you know it, you will need those new fans, just like I could have used some new wiper blades.
I'm awarding the 8025s and LED Silence Solution fans a 9 out of 10!
Introduction
---
The final fan from Aerocool hails from their new X-Series line, which claims "X for Extremity." The X-Flow (Storm Juggler) is an adjustable fan that can spin between 2000 and 3500 RPM, depending on the position of the speed dial. You can use the Juggler as either a case fan or heatsink fan. I chose to place it in the back of my case to pull air out from my case, as I don't think that 3500 RPM was going to be fast enough to keep my 2000+ cool.
Specifications
---
The Storm Juggler uses a plastic fan frame that is uncomfortably weak, which I will explain later in this review. It also features a PCI slot control knob for easy adjustment, ball bearings and rounded blades to cut down on noise. Power is obtained using a standard 3-pin motherboard plug or the supplied 3-to-4 pin adapter.
Specifications:
Dimensions: 80 x 80 x 25 mm
Bearing: Ball
Speed: 2000-3500 RPM
Air Flow: 22.9-38.3 CFM
Noise: 21.8-41.1 dBA
Voltage: 12 VDC
Housing: Plastic
Fan Blade: UL Polyester
Installation
---
Just holding the Juggler points out its obvious weakness: the frame. The black frame of the fan is made from very flexible plastic that when gently squeezed, makes contact with the fan blades. Some PC cases use snap-in fan holders, which tend to apply pressure to the frame of the fan. This pressure would definitely be enough to hinder fan performance, if not seize the blades in place. If installed using the mounting holes, this problem is alleviated, but the fan still suffers from frame flex when tightened to the case.
Performance
---
While spinning at its lowest setting, the Storm Juggler pushes approximately 22.9 CFM, but when cranked up all the way, it sounds like a jet engine pushing a nice 41.1 CFM. All this air movement does come with its drawbacks, making me debate whether to put some ear plugs in to prevent hearing loss. The speed knob is a nice feature that allows you to go from peace and quiet to hurricane season at the spin of a dial. Running at full speed, the fan helped lower my case temperature by about one to two degrees Celsius to 23-24C according to Hardware Doctor. At low to medium speeds, the case temperature was back up to its normal 25C mark.
Pros:
Easy speed and airflow adjustment
Nice looking fan
Does exactly what it's meant to do
Cons:
Flimsy frame
Noisy when at full speed
Conclusion
---
If you would like to have some control over the temperatures in your case, while at the same time having control over some of your case noise, take a look at the Aerocool X-Flow Storm Juggler. With its handy speed control knob and fairly quiet operation, it does a great job of keeping those wild temperatures in check.
I'm awarding the Storm Juggler adjustable fan an 8 out of 10!