Almost everyone got a DVD-burner these days. But what is a burner without the proper software? We've taken a looka t Intervideo's WinDVD Creator 2 Gold which promises both help you edit your video as well as convert and burn that movie you got on your harddrive to a DVD.

Introduction
---
In just a year the sales of DVD burners have sky rocketed. Today you can get a dual-format burner for just 100$ and there really is no reason to wait anymore. But what do you do when you got the burner? Sure, you can use it to burn backups but lets be honest – the main reasons people buy DVD burners is to burn movies, either their homemade movies (since DV cam prices also are coming down) or less legal ones from the net.
InterVideo's WinDVD Creator 2 is a program that not only has features that helps you create a small home video, complete with audio, transitions and other effects. The program also can help you convert those 'backup' DivX movies and burn them on a DVD. Or at least that's what it promises. I decided to see what it can do.

Specifications and testing
---
Intervideo WinDVD Creator 2 Gold has a lot of features:
Specifications
• Integrated Interface: Capture, Edit, Author and Burn, all from the same easy-to-use interface.
• Amazing Quality: cleaner, crisper, sharper video and audio for superior quality DVDs.
• Advanced Scene Editing: Record TV Show and easily cut out the commercials, or delete sections of your home movie based on the time-line.
• Photo Slideshow: Present a collection of still photos in a slideshow.
• Enhanced Menu Settings: Resize the buttons, play music in the background or have video clips running behind your DVD menu.
• Editing includes Redo and Undo features
• Direct Recording: record video directly from your camera to a disc without the wait.
• UniPass: UniPass technology combines editing and authoring into one quick step.
• Support For All Formats: record in DVD+/-R/RW, DVD+/-VR, and DVD-Video.
Intervideo also sells a Platinum version of this program that costs about 50$ more and supports On-Disc Editing with VR support.
Testing
---
To see how well this program works I put it through a few tests:
– A little piece from the raw wedding video from my sisters wedding, edited with some transitions
– A slideshow of jpg's from my own wedding compiled into a DVD.
– A DivX movie that is being converted into a DVD with menu and chapter points.
– A couple of mpg TV-episodes compiled into a DVD with a menu.
Movie Editing
Importing a piece of movies is simple since you can capture it right away in the program from a DV-cam or other video source or you can import a raw video file. Any files you import can be placed in the video library, the image library or the sound library and you will be able to drag'n'drop from these libraries into the timeline/storyboard.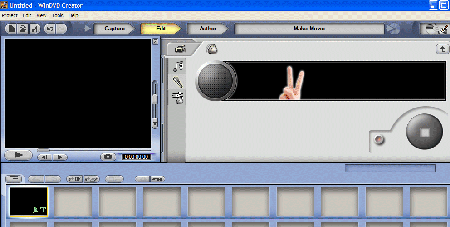 (click for a larger image)
Not only can you import music, you can record your own sound. >Before the sound starts recording you see a hand counting down from 3 to 1 so that you know when the recording starts.
Videoclips can be cut into smaller pieces and transitions can be added between those cuts. While dedicated video editing programs often allow you to have 2 video tracks WinDVD Creator 2 only gives you one track. In addition to this track you have a track for text effects, one track for background music and one track for sound effects.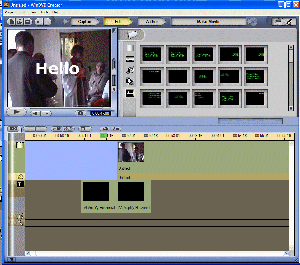 (click for a larger image)
Video editing gives you one track for video, one track for text, one track for background music and one track for sound effects.
You can preview the video but I noticed that even with my machine, an Xp2500+ with 1024 MB memory, the preview was quite choppy.
The resulting video can either be burnt to a DVD, a CD or you can output it to a file in a variety of formats. If you got DivX installed you can even create DivX files.
It is clear that WinDVD Creator 2 never was intended as a professional video editing program. It does however have basic capabilities and should be enough for making quick edits of your vacation movie.
The Slideshow
Since we took about 300 digital images at my wedding we needed a way to send them to our closest relatives. Sure, we could put the all on a CD or print them out but most of our relatives aren't so computer literate so making a DVD they can pop into the DVD player was the best alternative.
Adding images to a slideshow is easy. First you import the images into the Image Library and then just drag'n'drop them into the storyboard. A warning though – if you want transitions between the images you need to put each image into a separate frame. Putting all into one frame works but you won't be able to do any transitions between each image. It will be shown for 10 seconds and then automatically switched to the next image.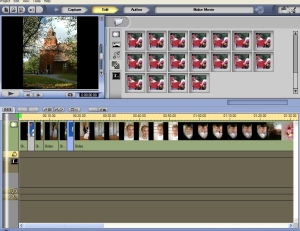 (click for a larger image)
You can either put each image into a frame or all in one frame. Transitions can only be put between frames.
Unfortunately a negative thing with putting each image into one frame is that they each will be treated as a chapter point. Since I wanted to get all 300 images into the slideshow I ended up with 50 submenus, each with 6 images on it. I could of course just ignore the menus completely and have it run automatically.
I used Nero 6 as a comparison and that program frankly has much better support for building a slideshow DVD. It let's you easy set up transitions and how long an image will be shown without having to put each image into a frame.
Converting Movies
If you happen to have a bunch of DivX movies on your harddrive I'm sure you would like to be able to watch them on your standalone DVD player. While there are a few that do indeed support DivX most don't and thus you need to convert the movies into a DVD.
While there are a few freeware programs, like Tmpenc and Virtuadub, that can help you with the conversion of the movies it often is a quite complicated process, especially for a novice. I've converted a few DivX movies and sometimes it worked and other times I got problems with out-of-sync audio.
As long as you have a DivX codec installed I found that WinDVD Creator 2 actually did a pretty good job of not only converting the movie to DVD format but making sure that the audio stayed in-sync. The process is completely automatic which means that you don't have to do anything more than importing the file, choosing a few chapter points and creating the menu.
The fact that the process is so automatic is both a positive and a negative thing. A newbie probably appreciates the help but any advanced user will find the lack of parameters to change and play with lacking. The quality of the result can also vary a bit. I burned a few movies and some turned out nice while others didn't turn out good at all. It is therefore quite important to burn a DV+/-RW first to see if the result is satisfactory before burning the final Disc.
Converting MPG files of course works the same way. If you want you can also keep them in VCD or SVCD format and burn them on a CD.
Confusing formats
Something that confused me a bit was the different DVD-qualities that you could convert to. A newbie probably would expect that a DVD is a DVD but that's not how it is in WinDVD Creator 2.
When converting a movie to a file you can choose between:
– DVD HQ (7200 Kbits/s, 720×480/576 (NTCS/PAL))
– DVD GQ (6500 Kbits/s, 720×480/576 (NTCS/PAL))
– DVD SP (3600 Kbits/s, 352×480/576 (NTCS/PAL))
– DVD LP (3000 Kbits/s, 352×480/576 (NTCS/PAL))
– DVD EP (1800 Kbits/s, 352×240/288 (NTCS/PAL))
However – when burning the movie to a DVD I instead get other options: DVD 1 hour or DVD 2 hour. There is no explanation on what quality these 2 settings represent and you cannot choose any of the other settings when outputting to the DVD.
| | |
| --- | --- |
| | |
| (Click for a larger image) | (Click for a larger image) |
| When outputting to a file this is some of the options | But when outputting to a DVD you only get these options. |
Building a menu
Since we are burning to a DVD we of course want to be able to create a professional menu. WinDVD Creator 2 has a bunch of templates ready for you but you can of course also add your own still or movie background as well as your own music. There are also a bunch of buttons included but you cannot import your own.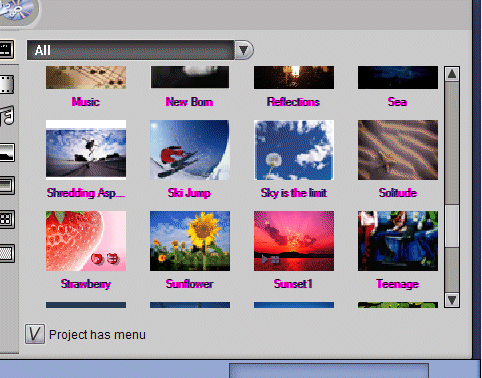 There are a lot of ready-to-use themes for your menus but you can also use your own background image and audio.
The chapter editing is a bit stupid. To get new chapters you need to cut the movie up in the timeline/storyboard. Each cut is a new chapter. It would have been a lot nicer just to be able to set chapter marks without having to cut up the movie in the storyboard. After chapters are made however it is easy to select a suitable frame/image for it.
| | |
| --- | --- |
| | |
| (Click for a larger image) | (Click for a larger image) |
| You can choose from a lot of different types of buttons. | You can arrange the buttons the way you like it by dragging them to their final place. |
Conclusion
---
The expression "Jack of all trades – master of none" fits perfect to WinDVD Creator 2. While not being the best in any category it still somehow manages to pull together in the end to create a competent program that I think most users will find useful. An advanced user that looks for the best image quality and wants full control of the conversion process should however look the other way.
Pro
– Easy to use
– Manages to convert most formats without any problems
– Quality of result can be good.
– Simple but still useful video editing
– Easy to create menus with animated video and sound.
Con
– Quality of the result can also be not so good.
– Lack of advanced settings when creating DVD's
– Pretty bad performance when previewing a video with transition effects.
– Lacking chapter management