Bjorn3d dives into the Athlon64 with its first Socket 754 motherboard review. Up at bat is the MSI K8T Neo-FIS2R, featuring Via's K8T800 chipset and a lot of promising features. Check out this brief look at its performance versus a 2500+ Barton overclocked at 3200+. Gamers will definitely want to read!
Introduction
---
Even though there are no 64-bit applications or games currently available, AMD is hoping with its recent release of Athlon64 processors that many enthusiasts are excited about the potential of 64-bit computing. I think most of us are excited for one reason or another. Maybe you hope AMD falls flat on its face, or maybe you hope this is one more dent in Intel's plan to rule the processor market. We're all anxious to see what 64-bit operating systems and 64-bit games will be like compared to their 32-bit counterparts.
Until the time comes that we actually get to see 64-bit apps, we'll just have to check out the power of the 64-bit processors and their motherboards on 32-bit systems. That's just what I plan to do in this review. MSI sent us an Athlon64 bundle that included their new K8T Neo-FIS2R motherboard, an Athlon64 3200+ processor and a copper-based AVC CPU heatsink/fan.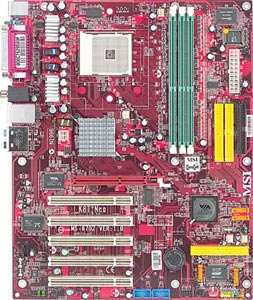 The motherboard sports the Via K8T800 chipset and plenty of special MSI features, such as CoreCell, Live Update, CoreCenter and Dynamic Overclocking. Let's get introduced to the board and then eventually look at some numbers comparing it to an nForce2 system with a 2500+ overclocked to 3200+ (2.2GHz).
Features, Specs and Package Contents
---
Special Features
VIA K8T800 + VIA VT8237
Integrated Ethernet 10/100/1000 LAN
IEEE1394 FireWire
Serial ATA RAID 0, 1 (VIA VT8237)
Serial ATA RAID 0, 1, 0+1 (Promise)
4X/8X AGP, 6 channel Audio
Live Update 3
D-bracket 2
MSI CoreCell chip, MSI CoreCenter, DOT (Dynamic Overclocking Technology)
Specifications
MSI Part No. MS-6702

CPU
* Supports 64-bit AMD® Athlon64 processor (Socket 754)

Chipset
* VIA® K8T800 Chipset
– HyperTransport connection to AMD Next Generation of CPU
– 8 or 16 bit control/ address. data transfer both directions
– 800/600/400/200MHz "Double Data Rate" operation both direction
– AGP v3.0 compliant with 8X transfer mode
* VIA® VT8237 Chipset
– Ultra DMA 66/100/133 master mode EIDE controller
– Integrated dual channel native Serial ATA/RAID controller that will supply 150MB/s and support RAID 0, RAID 1
– ACPI & PC2001 compliant enhanced power management
– Supports 8 USB2.0 ports. (Rear x4/ Front x4)

Main Memory
* Supports three 184-pin DDR SDRAMs up to 2GB memory size
* Supports DDR400*/DDR333/DDR266 DDR SDRAM (*Refer to MSI recommended modules)

SLOTS
* One AGP (Accelerated Graphics Port) 1.5V 4x/8x slot
* Five PCI 2.2 32-bit Master PCI Bus slots. (support 3.3v / 5v PCI bus interface)

BIOS
* The mainboard BIOS provides "Plug & Play" BIOS which detects the peripheral devices and expansion cards of the board automatically.
* The mainboard provides a Desktop Management Interface (DMI) function which records your mainboard specifications.

On-Board IDE
* An IDE controller on the VT8237 chipset provides IDE HDD/CD-ROM with PIO, Bus Master and Ultra DMA 66/100/133 operation modes. It can connect 4 Ultra ATA drives.
* Serial ATA/150 controller integrated in VT8237
– Up to 150MB/s transfer speed
– Can connect up to 2 Serial ATA drives
– Support RAID 0, RAID 1

Promise 20378 Onboard
* Supports ultra ATA, Serial ATA, Ultra ATA RAID 0 or 1, Serial ATA RAID 0 or 1, Ultra/ Serial ATA RAID 0+1
* Connect up to 2 Serial ATA devices and 2 Ultra ATA 133 devices

IEEE1394
* VIA VT6307 IEEE1394 controller
* Provides onboard one 6-pins port and one 4-pins port
* Transfer rate up to 400Mbps

Audio
* 6 Channel software audio codec Realtek ALC655
* Compliance with AC97′ v2.3 Spec
* Meet PC2001 audio performance requirement
* Provide onboard SPDIF out

Network
* Realtek 8110S Dual layout
* Integrated Gigabit Ethernet MAC and PHY transceiver, auto-negotiation operation
* Supports single-port 10MB/s, 100MB/s, 1000MB/s Base-T application
* Compliance with PCIv2.2 and LAN on Motherboard (LOM) standard

On-Board Peripherals
– 1 floppy port supports 2 FDDs with 360K, 720K, 1.2M, 1.44M and 2.88Mbytes
– 1 serial port COM1
– 1 parallel port supports SPP/EPP/ECP mode
– 8 USB 2.0 ports (Rear x 4 / Front x 4)
– 5 audio ports in vertical (Left, Center, Right, Line-in, MIC)
– 1 SPDIF out
– 2 IEEE 1394 connectors
– 1 RJ-45 jack
– 1 IrDA connector for SIR/ASKIR/HPSIR

Dimensions
30.5 cm(L) x 24.5 cm(W) ATX Form Factor
Package Contents
K8T Neo-FIS2R Motherboard
Quick User's Guide
SATA RAID / SATA Guid
Driver CD and Diskettes
FDD Cable
HDD Round Cable
2 x SATA Cable and Power Cable
D-Bracket 2
I/O Shield
The bundle I received also included:
AMD Athlon64 3200+ Processor
AVC HSF for CPU (copper-base)
It's no surprise to see such a nice package and bundle from MSI. I'm still scratching my head, though, wondering why they continue to only include one IDE cable. I almost always seem to need two IDE cables when setting up a system in a mid-tower or full-sized ATX case, and I'm sure most of you feel me on that one. Anyway, if you are set on finding a second red round cable, I would check SVC; last time I looked, they had really good prices on round IDE cables. Another thing I keep griping about is the cheap, flimsy I/O shield so many companies include. MSI is guilty of including a cheapy one here, and most other board makers do the same. Big thanks to those that don't. I think we all need to start demanding higher quality I/O shields! Or maybe you don't really care. That's fine too, but they can charge me one or two more dollars for a color-coded, quality shield. It really sucks to have all this high quality, good looking stuff and then be stuck with a ten-cent I/O shield.
The CPU heatsink/fan included in the bundle is from AVC. Before receiving this, I had never had the chance to use any AVC products. As you can see in the pics, it's basically a plain but decent-looking copper-based HSF unit. The base wasn't exactly pristine, but it looked good. Thermal paste is also already applied to the base.

Closer Look at Some Features
---
D-Bracket 2.0
MSI exclusive D-LED (Diagnostic LEDs), understand your system!
2 extra USB 2.0 connection (USB 2.0 chipset support is required)
The LEDs Light Up in Different Combinations to Indicate the Condition of the System
CoreCell
CoreCell is composed of 4 features: Speedster(Maximum overclocking), PowerPro (powersaving), LifePro (constant temp control, smart FAN ) and BuzzFree (noise management)
It allows user to clearly understand the system info from AP and BIOS
D.O.T. (Dynamic Overclocking Technology)
Designed to detect the load balance of CPU while running programs, and to adjust the best CPU frequency automatically
Will speed up CPU automatically when system is under heavier loads, such as video processing or 3D games, but will slow back down when under light load or inactivity
6 options available in BIOS (as level goes up, so does the percent of overclocking):

1. Disabled: disable Dynamic Overclocking.
2. Private: 1st level of overclocking.
3. Sergeant: 2nd level of overclocking.
4. Captain: 3rd level of overclocking, also the default value of "Load High Performance Defaults".
5. Colonel: 4th level of overclocking.
6. General: 5th level of overclocking.
7. Commander: 6th level of overclocking.
Live Update 3
The ultimate combo of MSI exclusive Live BIOS, Live Driver, Live VGA BIOS, Live VGA Driver, Live Utility, Live Monitor and the brand new Live Optical Storage Drive Firmware
Online update BIOS/Driver/Utility
Live Monitor auto-detects and suggests the latest BIOS/Driver/Utilities information
I used Live Update to determine that I needed to update the K8T Neo-FIS2R's BIOS. After installing Live Update, I ran the utility. The first thing it wanted to do was update the Live Update utility to version 3.53. Next, I checked for updates again, and a newer BIOS was available. So, I allowed Live Update to take care of it, and it worked flawlessly. It's definitely less of a hassle than the floppy method! I'm now using BIOS version 1.1, dated 10/30/03.
CoreCenter
It merges MSI features–FuzzyLogic and PC Alert
It provides user more advanced overclocking options by extending the Voltage selection, increasing the frequency adjustable range CPU/AGP/DDR/PCI
It monitors every temperature inside the system, control it according to system current loading and need
Board Layout and Installation
---
Board Layout
MSI usually does a good job laying out their motherboards, and the K8T Neo-FIS2R is no exception. I didn't ever feel like the board was too crowded or hard to work on. You probably noticed that there seems to be a lot more open space around the CPU socket than you're used to with AMD boards. Well this is because of the new socket design, which requires an all new cooler mounting solution. I will go more into detail on how that is installed in a little bit.
One of the nice features I noticed on this board is the inclusion of four fan headers. Most boards include only two or three. There is one for the CPU fan, one is located near the North Bridge, and the other two are right next to the third IDE connection. You can see the North Bridge has a nice heatsink on it to help keep that Via K8T800 chip cool. There are also four SATA connections, two of which are controlled by the Via VT8273 chip while the other two are controlled by the Promise 20378 chip. There are a lot of features overall, but as I said, the board remains uncrowded for the most part.
You can see the MSI CoreCell chip in the third pic above, and in the fourth, you can see color-coded case headers, which should make plugging those little connectors in slightly less of a hassle. The rest of the board (like most boards seem to be nowadays) is also color coded to help you quickly recognize the type of connector you may be looking for.
The final thing to look at is the I/O panel. In the picture below, you can see the plethora of connectors offered on the K8T Neo-FIS2R. I'm sure many users will be happy to see the inclusion of FireWire ports. The back panel provides the following connectors: mouse and keyboard PS/2, parallel port, serial port, IEEE1394 and mini IEEE1394 port, S/PDIF out (coaxial), LAN jack, 4 USB 2.0 ports, line in, line out, mic, rear speaker out, center/subwoofer speaker out and S/PDIF out (optical).

Installation
I had absolutely no problems during hardware installation of the K8T Neo-FIS2R. As I mentioned above, the layout is nice enough to not hinder installation in any way. There's plenty of space around the CPU socket to fit the AVC HSF I received. Since AMD came up with a new socket and HSF mounting design, I'll briefly cover how that installation works now. This is covered quite well by the way in the included manual. I'm going to let the pics and captions do most of the talking here.
I have to say that I definitely find this HSF installation to be less frustrating than it can sometimes be with an Athlon XP processor. No more scary screw driver moments! If this new setup procedure seems strange at first, don't worry it's as simple as it looks and doesn't take much time at all.
Since I decided to install two 256MB sticks of RAM, I checked the manual to see what it recommended about DIMM selection. This is what it says: "Plugging memories in DIMM1 and DIMM2 makes the system reach the optimum system performance." So that's what I did.
After getting all the components installed and in my case, I powered up the system and installed Windows XP. Everything installed fine, and I updated to SP1 and added necessary patches and hotfixes. Installation of the Via drivers and the Realtek LAN and audio drivers also led to no problems. After several hours of work, it was completely ready to be taken for a test drive.

BIOS
---
The BIOS used for the K8T Neo-FIS2R is AMIBIOS, and I updated it to the latest BIOS available as of this writing, which was 10/30/03. I'm not going to cover the BIOS in much depth here, but here is a list of some of the key tweakable values and their ranges.
CPU Clock: 190 – 280MHz (in 1MHz increments)
DDR Voltage: 2.6 – 2.8V
CPU Core Voltage: Up to +15%
AGP Voltage: 1.6 – 1.85V
The BIOS also features many new and unfamiliar options thanks to the new technology in the Athlon64. Surprisingly, the manual touches on a lot of the options in the BIOS to at least give you a rough idea of what they offer. More research would be required in most cases to really understand what a feature represents, but at least the manual provides an overview.
Performance / Benchmarks
---
For this first Athlon64 motherboard review, I'm just going to compare the MSI K8T Neo-FIS2R to an Athlon XP nForce2 system. We will have Athlon64 motherboard comparisons in a couple weeks, including comparison of nForce3 boards to Via K8T800 boards. So, if that's what you're more interested in, watch for those reviews soon.
Most of you are probably at least somewhat familiar with how well an nForce2 system can perform, so comparing the Athlon64 3200+ and K8T Neo-FIS2R to an nForce2 system makes sense. You can get a good idea of whether or not dropping almost $400 on the processor alone is a good idea or not for you, especially for those of you who may already be near or at the performance level of an XP 3200+.
You can see the two test systems below. My nForce2 comparison system consists of the Chaintech 7NJS Zenith with a 2500+ Barton overclocked to 3200+ (default multiplier with 400MHz FSB, which results in a processor speed of 2.2GHz). The only thing that was different in the machines was the hard drive, which is why you don't see hard drive or file system scores compared. Both systems used two 256MB sticks of Corsair XMS3500. In case you forgot or didn't know, the Athlon64 systems do not require registered DDR. However, Athlon64 FX systems currently do require registered RAM.
Athlon64 Test System:

MSI K8T Neo-FIS2R
AMD Athlon64 3200+
2 x 256MB XMS3500 Corsair DDR
Leadtek GeForce FX 5950 Ultra
Maxtor DiamondMax Plus 9 200GB 8MB Buffer
Windows XP Pro SP1, ForceWare 52.16, DirectX 9b
Memory Timings: 2-2-2-5

nForce2 Comparison Test System:

AMD Athlon XP 2500+ @ 3200+ (400MHz FSB)
2 x 256MB XMS3500 Corsair DDR
Leadtek GeForce FX 5950 Ultra
Western Digital 80GB SE 8MB Buffer HDD
Pioneer 16X Slot DVD
Windows XP Pro SP1, ForceWare 52.16, DirectX 9b
Memory Timings: 2-2-2-5
My goal of the benchmark comparisons was just to give you quick idea of what to expect from an Athlon64 system. Many of the benchmarks used are synthetic, so keep that in mind (in other words, they don't necessarily reflect real-world performance). It's probably not a good idea to base a purchasing decision on these benchmarks alone, so please do more research and read more reviews before laying down that hard-earned (or however you got it) cash.
There are a couple important differences to keep in mind about the two test systems. First, although the performance rating on both processors is 3200+, the Athlon64 3200+ is actually running at 2.0GHz while the Athlon XP at 3200+ is running at 2.2GHz. Second, the FSB of the K8T Neo-FIS2R is 800MHz while the 7NJS's is 400MHz.
For benchmarking, I used the following benchmarks applications and games: FutureMark PCMark2002, SiSoft Sandra 2004, FutureMark 3DMark2001SE build 330 and 3DMark2003 build 330, AquaMark 3 and Unreal Tournament 2003 (with HardOCP's benchmark utility).
PCMark2002
CPU

Motherboard

Result

MSI K8T Neo-FIS2R
6526
Chaintech 7NJS
6811

Memory

MSI K8T Neo-FIS2R
9037
Chaintech 7NJS
6229

HDD

MSI K8T Neo-FIS2R
1264
SiSoftware's Sandra 2004
CPU Arithmetic
Dhrystone

Motherboard

Result

MSI K8T Neo-FIS2R
8360
Chaintech 7NJS
8385

Whetstone

MSI K8T Neo-FIS2R
3159
Chaintech 7NJS
3468
CPU Multimedia
Integer

Motherboard

Result

MSI K8T Neo-FIS2R
14952
Chaintech 7NJS
20195

Float

MSI K8T Neo-FIS2R
19502
Chaintech 7NJS
20040
Memory Bandwidth
Integer Buffered

Motherboard

Result

MSI K8T Neo-FIS2R
3026
Chaintech 7NJS
3038

Float Buffered

MSI K8T Neo-FIS2R
3025
Chaintech 7NJS
2843
3DMark2001SE – Build 330
1024×768 NoAA / NoAF

Motherboard

3DMarks

MSI K8T Neo-FIS2R
19134
Chaintech 7NJS
16578

1024×768 4xAA / 8xAF

MSI K8T Neo-FIS2R
13552
Chaintech 7NJS
12174

1280×1024 4xAA / 8xAF

MSI K8T Neo-FIS2R
10363
Chaintech 7NJS
9732
3DMark2003 – Build 330
1024×768 – NoAA / NoAF

Motherboard

3DMarks

MSI K8T Neo-FIS2R
6283
Chaintech 7NJS
6062
3DMark2003 – Build 330 – CPU Tests
CPU Score – Defaults

Motherboard

Results

MSI K8T Neo-FIS2R
882
Chaintech 7NJS
721

CPU Test 1 – Defaults

MSI K8T Neo-FIS2R
104.6
Chaintech 7NJS
78.3

CPU Test 2 – Defaults

MSI K8T Neo-FIS2R
14.6
Chaintech 7NJS
13.1
AquaMark 3
GFX – 1024×768 – Default NoAA / 4xAF

Motherboard

Result

MSI K8T Neo-FIS2R
5932
Chaintech 7NJS
5986

CPU – Default NoAA / 4xAF

MSI K8T Neo-FIS2R
9323
Chaintech 7NJS
7741
1280×1024 – 4xAA / 8xAF

Motherboard

FPS

MSI K8T Neo-FIS2R
23.74
Chaintech 7NJS
23.84
Unreal Tournament 2003
Inferno
1024×768 – NoAA / NoAF

Motherboard

FPS (avg)

MSI K8T Neo-FIS2R
193.01
Chaintech 7NJS
181.68

1280×960 – 4xAA / 8xAF

MSI K8T Neo-FIS2R
64.21
Chaintech 7NJS
54.96
Antalus
1024×768 – NoAA / NoAF

Motherboard

FPS (avg)

MSI K8T Neo-FIS2R
225.81
Chaintech 7NJS
195.97

1280×960 – 4xAA / 8xAF

MSI K8T Neo-FIS2R
87.53
Chaintech 7NJS
75.51
I think the results are rather interesting. The Athlon64 is clearly a great gaming platform and dominates the nForce2 system in the gaming benchmarks, but system performance isn't as clear cut. The Barton 2500+ overclocked to 3200+ on the Chaintech 7NJS keeps up with the Athlon64 system and even beats it by a considerable margin in some tests, such as the Sandra CPU Multimedia benchmark.
Some of the performance differences are no doubt due to the actual processor speeds in each setup and to the different FSB speeds that I mentioned earlier.

Overclocking
---
Overclocking the Athlon64 3200+ is like overclocking retail Pentium 4 processors; you're stuck tweaking the front side bus (FSB) and memory speed. I didn't spend a whole lot of time with overclocking the system, but I was able to boost the FSB to 210, and the system was stable. At FSB of 210, the processor is running at 2.1GHz (a 5% overclock). The performance boost in most benchmarks was pretty small, so there's nothing really too exciting to report here. With good cooling and careful, patient tweaking, I'm sure a higher overclock and nice performance boost is possible. It's common though for people not to get over 220 though from what I've seen. It's too bad AMD locked that multiplier on us!
Conclusion
---
Even though the focus of this review is the K8T Neo-FIS2R motherboard, I think it still lends itself towards the general question, "Is an Athlon64 system right for you?" That's hard to say right now I think. If we knew the exact future of 64-bit computing, it would be much easier to answer that question. I don't think any of us are wasting $100 on a call to Psychic Friends' Network, so we all just have to make a reasonable guess for now. It seems logical that the potential is there, but if the software and driver support don't end up being around like they need to be, then the future for AMD's 64-bit desktop platform is bleak. I have a feeling that that won't be the case though since Microsoft is currently working on a 64-bit version of Windows XP and several 64-bit games are already in development.
Regardless of the overall success of the Athlon64 platform, I think it will be an enthusiast-only club for quite some time, especially if the processor prices don't drop drastically. Very few of us can really afford to pay $300-400 for a processor. Die-hard gamers who want the absolute highest performance would be more than happy to do it though. And for them, it makes more sense.
Then, the more relevant question for this review is whether or not the MSI K8T Neo-FIS2R is worth considering if are jumping into the 64-bit revolution. With 6 channel audio, Gigabit LAN, 4 SATA connectors, SATA RAID, Live Update and other great features, I think it's definitely worth your consideration if you are shopping for a Socket 754 motherboard, especially considering it only costs around $125 according to our Pricegrabber search.