The iDEQ 200T from Biostar is a great performing SFF system. It was easy to overclock my 2.4GHz C P4 to 3GHz, and it's not too loud. Add that to its stylish looks and small size, and you've quite an easy to recommend SFF system. Read the article for the details…
Introduction
---
Just because Shuttle was the first company to really make small form factor (SFF) PCs popular, that doesn't mean they make the best SFF systems available, does it? When a review of a different brand SFF system comes out, the name Shuttle invariably pops up. I guess that makes sense as Shuttle is the big name in the SFF market and "the guy to beat." But I'll be straight up and say I'm very glad the competition keeps coming for Shuttle because I've found my Shuttle SN41G2 to be somewhat disappointing, but only because of how loud it is. I read several reviews stating that it is pretty quiet. Yeah, right. I've heard quieter servers! I do admit that the SN41G2 has good looks and was pretty easy to work in, but it's my office PC, and I was hoping for less in the noise department.
So where does that take us? The competition can obviously pull the easy checkmate and take what's good about the Shuttle XPCs and then improve them by making their own SFF systems quieter, smaller, a little bigger, better, and so on. This leads us to the Biostar iDEQ 200T. Although not a direct competitor to the SN41G2 since it is an Intel 865 based system while the SN41G2 is an AMD nForce2 solution, the 200T brings me hope of a quieter, more peaceful SFF system that still offers great style and performance. Let's get to the review and see how well the 200T performs.
Features, Specifications and Package Contents
---
Just take a quick look at the features and specs, and you can see that small form factor doesn't mean less capable. The iDEQ 200T is a very capable system, ready to compete with similarly spec'd full-size competitors. Add RAM, a hard drive, a processor and an optical drive and this baby's ready to roar.
Features
Intel 865G + ICH5R chipset
800MHz Front Side Bus (FSB)
Two DDR400 memory slots with dual channel architecture
1 AGP + 1 PCI slot
Intel SATA RAID
Onboard Intel Extreme Graphics
6-channel audio
Onboard 10/100 LAN
Front inputs: 2 USB 2.0, 1 S/PDIF, 1 microphone, 1 headphone and 1 IEEE1394 (FireWire)
Drive cover for when optical drive / floppy drive aren't in use
Specifications
Package Contents
200T Small Form Factor System
Driver CD
Studio Fun CD
User's Manual
Installation Guide
Thermal Grease
Power Cord
Screws Pack
Power Cable for SATA Hard Disk Drive
SATA Cable
| | | | | |
| --- | --- | --- | --- | --- |
| Nice Orange and Silver Box with Carrying Handle | Protected Well | Still Protected Well | Out of the Box — The Entire iDEQ is in an Anti-Static Bag! | The Included Bundle |
The iDEQ package has everything you really need for a case and a motherboard. The included manuals are well written and very helpful. I'm impressed by Biostar's effort to make good manuals. StudioFun! is a great extra and allows you to easily convert the iDEQ into a media center PC or home theater PC (HTPC). Here's a brief description about StudioFun!.
"StudioFun! is a media-player based on optimized GNU/Linux distribution to bring a "Room Theater" experience into life. It plays DVD, VCD, MP3, Audio CD and other multimedia. Furthermore, users can take snapshots of video and customize the saved images as screensavers or photo slideshows. Of course, the images can be stored in USB mass storage devices like flash disks and USB floppy disks."

Closer Look at the iDEQ 200T
---
Exterior
The small size of the iDEQ 200T is obviously one of its biggest selling points. You can put this little powerhouse almost anywhere — under your desk, on your desk, incorporate it into your home theater setup, etc. If you don't have room for a SFF system, then you won't have room for much else. I wish these were around when I was living in college dorms.
In addition to the small size, the iDEQ offers an awesome brushed aluminum finish and construction (except for the front bezel, which is plastic). I am a huge fan of aluminum cases and their typical silver color, so this fits right in with my tastes. The chassis consists of two removable side panels and one removable top panel, a design I prefer over the use of one big removable cover, like Shuttle uses with its XPC line (the SN41G2 for example). The one thing I didn't like about the iDEQ's panels though was how hard they were to remove. I expected them to just slide off almost effortlessly like most ATX cases, but it took considerably more effort than that. I like to try to minimize how much I paw aluminum panels, but it really couldn't be helped as I got frustrated trying to remove the panels. Maybe it will get easier over time.
| | | | |
| --- | --- | --- | --- |
| Now Showing: The iDEQ 200T | The Aluminum Looks Great | I Dig the Style | Check the Gills; They're for Breathing 🙂 |
| Those Indentions Are Strategically Placed to Act as Heatsinks for Cooling | Peeling Off the Protective Plastic, and Yes, That Cover Slides Up/Down | Front View: More Nice Styling | Front Access Ports |
| Back of the 200T | Check the PSU and Thumbscrews | Closer Look at the Back Connections | Side Panel Removal |
There is really only one thing that I don't like about the iDEQ's exterior styling, and that is the all plastic front bezel. At times, it feels kind of cheap to me, and I worry that it might crack or break in a way that's not easy to ignore. You probably shouldn't or wouldn't be uncareful enough with your nice new SFF system though to break it, right? A nicer, aluminum bezel would obviously make the iDEQ cost more though, so I think I can just get over the plastic bezel issue.
Although the plastic doesn't impress me, I'm happy to see Biostar include a sliding cover to allow you to hide your drives if they don't match the silver color of the 200T. You can always paint your drive bezels of course, but if you aren't into that, then just slide the cover up and you have a stylish and refined looking SFF PC. You actually have to slide the cover to the up position to push the power button, so leaving it down all the time isn't even an option (unless you plan to power the iDEQ on some other way).
I've said it before, and I'll say it again. No case should be without front ports, so I'm definitely happy to see all the front ports on the iDEQ. They actually happen to be the same as the ports on the front of the Shuttle XPC SN41G2 and other XPCs. A headphone jack, mic in, S/PDIF, two USB ports and one FireWire port are conveniently located on the front of the 200T for easy access.
Interior
One of the nicest aspects of the interior that will make almost every user want to hug someone at Biostar for is the pre-routed and logically organized cables, such as the power and IDE cables. When I first opened the smaller white box containing all the goodies included with the iDEQ, I was wondering where the custom IDE and floppy cables were. Much to my surprise, I found them already installed when I first opened the iDEQ up for inspection. That put a big smile of my face… one pain in the butt out of the way. Thanks and kudos, Biostar! Yeah, yeah, installing the cables yourself isn't that hard, but I'm short on time usually, so it's quite a relief!
| | | | |
| --- | --- | --- | --- |
| Take Off the Panels | Crowded But Neat | There is Just Enough Room | You Can See the Drive Rack |
| Just Another View from Above | The Inside from the Other Side | Interesting Heatsink | Nice, Pre-Routed Cabling Job |
| More of the Nice, Pre-Routed Cabling Job | More of the Nice, Pre-Routed Cabling Job | AGP (Yellow) and PCI (Blue) Slots | Two DIMM Slots |
| Two SATA Connections in Between Capacitors and IDE Connection | CPU Socket and Back Fan | Removed Drive Rack | 200T's Power Supply |
As you can see from the pics, Biostar includes a simple heatsink on the northbridge to help keep it cool. The PCI and AGP slot arrangment allows for two-slot video cards since the AGP slot is on the 'inside' and the PCI slot is closer to the side panel. By the way, the AGP lock is the coolest one I've ever used. Notice the white part 'around' the yellow AGP slot? That actually slides back and forward to lock your AGP card into place. Others I've used are a pain to unlock because of the big heatsinks that are typical of high-end NVIDIA-based cards (such as MSI's 5900 and 5900 Ultra). The sliding lock works well and is very easy to use.
CPU Heatsink and Fan – Cooling the iDEQ
So far, I have been pleasantly surprised by the cooling solution in the iDEQ. There is a lot more going on than meets the eye, and this page explains it in Biostar's words. Here's just a snip from that page:
"The centerpiece of the technology is the processor heatsink and fan. The heatsink-and-fan unit is installed horizontally atop the processor. The variable speed fan blows across the heatsink to move the hot air to the rear of the system, where it is immediately sucked out of the chassis by a case fan. The variable speed fan adjusts its RPM automatically in response to the CPU temperature level. Users can override the setting to suit their needs by using a Windows-based fan control utility. The heatsink block is constructed with aluminum and copper (200N has mostly aluminum, 200T has mostly copper) with fins.
To further enhance the efficiency of the heatsink-and-fan unit, copper heat pipes are embedded within the heatsink. These U-shaped heat pipes quickly move heat away from the base to the rest of the heatsink."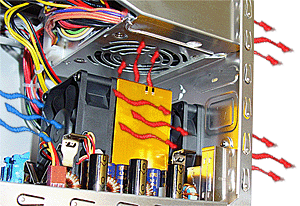 Although the finish on the heatsink was far from perfect (see images below), the heatpipe setup performs impressively, even after overclocking the processor from 2.4GHz to 3.0GHz. When I first turned the 200T on, it was extremely quiet. None of the fans actually turned on since I immediately went into the BIOS. Once I got into Windows and things got hotter inside the 200T, the fans turned on and were no longer silent. They weren't too loud thankfully. I was hoping the 200T would be quieter than the Shuttle SN41G2 that I'm used to, but I'm not sure that it is. When the processor is running at its default 2.4GHz, it does seem quieter than the SN41G2 to me, but I have no way to measure the noise. So that's just based on my subjective ear test. Even if they are equally loud, I am more tolerant of the 200T's sound. It's sounds more like a small system than a server, which is what the SN41G2 reminds me of.

Installation and Setup
---
I had no problems during the hardware or software installation of the iDEQ 200T. The small interior was as cramped as you'd logically expect it to be, but it was not hard to work in. I used the included thermal grease to install the processor, and overall the heatsink and fan were simple to install. The video card was the hardest thing for me to install, but with good planning, things can be as simple as you want to make them. As I mentioned already, the nicely organized pre-routed cables make hardware installation much easier and quicker. I think the iDEQ 200T has to be one of the simplest SFF installations you can have.
Software and driver installation was also problem-free. I installed the Intel chipset drivers, Intel Extreme Graphics 2 VGA drivers, Realtek LAN drivers and C-Media audio drivers, and everything worked just fine. I then continued with the installation of the utilities, including the System Control Utility (monitoring software), BIOS WinFlash and WarpSpeeder (overclocking utility).
| | |
| --- | --- |
| Main Install Menu | Driver Install Menu |
| | | |
| --- | --- | --- |
| System Control Utility | WarpSpeeder Recovery Options | WarpSpeeder OC Utility |
The System Control Utility lets you control how you want the system cooling to perform. There are three options: Normal, Quiet and Fuzzy. Normal is the default, Quiet is obviously to maintain a quieter system (at the risk of more heat) and Fuzzy is an automatic setting that will adjust as needed. WarpSpeeder is an interesting overclocking utility designed after what looks like cracked dinosaur eggs. I honestly prefer BIOS overclocking, but this utility is a nice addition that many users will probably find to be cool and useful.
BIOS
---
The iDEQ 200T BIOS is the Phoenix AwardBIOS, and I updated the one used in this review to the latest one available, dated 9/26/03. Unlike many other Springdale boards, the 200T's P4TBA motherboard does not have any sneaky way to enable PAT (Intel's Performance Acceleration Technology intended only for Canterwood i875 boards). Here's a list of some of the tweakable settings in the BIOS and their ranges.
CPU Clock :

200 – 255 Mhz (1 MHz increments)

CPU Voltage:

Default, +2.5%, +5.5%, +8.1%

DIMM Voltage:

2.5 – 2.8V (0.1V increments)

On-Chip Frame Buffer Size:

4, 8, 16MB
| | |
| --- | --- |
| BIOS: Advanced Chipset Features | BIOS: PC Health Status |
| | | |
| --- | --- | --- |
| BIOS: CPU Voltage | BIOS: DIMM Voltage | BIOS: CPU Clock |
I was pleasantly surprised by the amount of tweaking available in the BIOS. The CPU voltage choices (+2.5%, +5.5% and +8.1%) are atypical though. I'd rather see actual values, but I'm sure Biostar had a reason for setting it up this way.

Performance and Overclocking
---
Rather than separate the performance and overclocking sections, I will just include the overclocking performance in the same graphs. The graphs compare the 200T with onboard Intel graphics, the 200T with Ti4800SE and 800MHz FSB (2.4GHz) and the 200T with Ti4800SE and overclocked to 1GHz FSB (3.0GHz). The 200T performs on par with the other Springdale solutions I've reviewed (you can check out their performance here in my DFI 865PE Infinity review), so I'm not cluttering up the graphs with their scores. Unlike the MSI 865PE Neo2-FIS2R, the DFI 865PE Infinity and other i865 boards, the 200T's motherboard does not allow for enabling PAT, which is too bad, but I'm sure Intel is happy about that. Biostar could probably change that with a BIOS revision though if they wanted to. Stressing components too much in this little package is not a good idea though, so it might be better left out as it is now.
Overclocking was a breeze with the 200T and my 2.4GHz 'C' Pentium 4 processor. The only disappointing factor is that the max FSB allowed by the latest BIOS is 255. I took it to 250MHz (1GHz FSB) right off the bat, and I experienced absolutely no problems. The 200T is stable as a rock and performs superbly at this speed. I can't wait for a newer BIOS to allow higher FSB (assuming one is planned, but it may not be). I'm sure this little system could take my 2.4C even higher, especially considering that I have yet to see the CPU temp get any hotter than when it's in a full sized system. I find the 200T's performance and overclocking ability to be quite impressive!
Test System:
| | |
| --- | --- |
| Processor: | Intel Pentium 4 2.4GHz "C" 800MHz FSB (provided by EnvisionCS.net) |
| Memory: | Corsair TWINX1024-4000 (2x512MB 500MHz DDR) |
| Hard Drive: | Maxtor 80GB DiamondMax Plus9 Ultra w/ 8MB Buffer |
| Optical Drive: | Plextor PlexWriter 12/10/32A |
| Video Card: | Gainward GeForce4 Ti4800SE |
| NVIDIA Drivers: | Detonator 45.23 |
| DirectX Version: | 9.0b |
| BIOS Date: | 9/26/03 |
| Memory Timings: | 3-4-4-7 |
| Hyper Threading: | Enabled |
For the tests using the onboard graphics, the frame buffer was maxed out to 16MB in the BIOS. The first two rows of each set of test results show the 200T running at defaults — 200MHz CPU clock (800MHz FSB), 400MHz memory clock, 2.4GHz and 3-4-4-7 memory timings (as set by SPD) — with the only difference being onboard graphics versus using a Ti4800SE. This will allow you to see the benefits gained by using a real graphics solution. The onboard Intel solution will work fine for web surfing and typing up some Word documents, but if you want to really game or do anything complex involving video, you'll want more power. The third row in each set of results is the overclocked numbers. As I indicated above, I overclocked to 250MHz CPU clock (1000MHz FSB) and 500MHz memory. The processor was running of course at 3.0GHz with this configuration, and I kept the Ti4800SE installed and didn't run overclocking tests with the onboard graphics. All testing was completed with Hyper-Threading enabled.
SiSoftware's Sandra 2003
CPU Arithmetic
Dhrystone ALU (MIPS)

Setup

Result

200T w/ Onboard Graphics
7108
200T w/ Ti4800SE
7390
200T w/ Ti4800SE @ 3.0GHz
9374

Whetstone FPU (MFLOPS)

200T w/ Onboard Graphics
2087
200T w/ Ti4800SE
2084
200T w/ Ti4800SE @ 3.0GHz
2482

iSSE2

200T w/ Onboard Graphics
4627
200T w/ Ti4800SE
4620
200T w/ Ti4800SE @ 3.0GHz
5713
Memory Bandwidth
Integer Buffered (MB/s)

Setup

Result

200T w/ Onboard Graphics
3983
200T w/ Ti4800SE
4425
200T w/ Ti4800SE @ 3.0GHz
5538

Float Buffered (MB/s)

200T w/ Onboard Graphics
3984
200T w/ Ti4800SE
4428
200T w/ Ti4800SE @ 3.0GHz
5534
File System
Drive Index (KB/s)

Setup

Result

200T w/ Onboard Graphics
27173
200T w/ Ti4800SE
27301
200T w/ Ti4800SE @ 3.0GHz
34009
PCMark2002 Pro – Build 100
CPU

Setup

Score

200T w/ Onboard Graphics
5998
200T w/ Ti4800SE
5964
200T w/ Ti4800SE @ 3.0GHz
7464

Memory

200T w/ Onboard Graphics
6865
200T w/ Ti4800SE
8037
200T w/ Ti4800SE @ 3.0GHz
9911

HDD

200T w/ Onboard Graphics
1152
200T w/ Ti4800SE
1182
200T w/ Ti4800SE @ 3.0GHz
1471
Quake 3 Arena – Four Demo
1024×768 – NoAA / NoAF

Setup

FPS

200T w/ Onboard Graphics
41.3
200T w/ Ti4800SE
237.7
200T w/ Ti4800SE @ 3.0GHz
240.6

1280×1024 – NoAA / NoAF

200T w/ Onboard Graphics
n/a – locked
200T w/ Ti4800SE
188.7
200T w/ Ti4800SE @ 3.0GHz
189.4
3DMark2001SE – Build 330
1024×768 – NoAA / NoAF

Setup

3DMarks

200T w/ Onboard Graphics
2698
200T w/ Ti4800SE
12094
200T w/ Ti4800SE @ 3.0GHz
12131

1280×1024 – NoAA / NoAF

200T w/ Onboard Graphics
1983
200T w/ Ti4800SE
9455
200T w/ Ti4800SE @ 3.0GHz
9496
The results clearly show that using the onboard graphics can affect system performance. Will you notice it while typing in Word or Excel? Not likely. Will you notice it while doing more intense processing or editing, such as video editing or PhotoShop? Maybe. I would tend not to use the onboard graphics solution of any motherboard, but it is a great backup for the unlikely event that your AGP card goes the way of the Dodo. Better to have something rather than nothing while you RMA that precious $350 card, right?

Conclusion and Final Score
---
I think you can tell by now that I am very happy with and impressed by the iDEQ 200T. If you're an Intel fan and need a small PC, then you absolutely can't go wrong with the 200T. It's not as quiet as a new Dell system, but I think it's quiet enough for many offices, especially if it's located under the desk and not on top.
The looks and style are great, thanks to the brushed aluminum and ability to cover the drives. Installing and working in the 200T was easy enough. I don't think less experienced users will have any problems, and if they do, the instructions are good enough that they should help in most situations.
Thankfully, you don't have to sacrifice performance if you want to go with this SFF system. The 200T performs as well as average i865 systems with a video card installed. The onboard Intel Extreme 2 graphics will work fine for every day office applications and web surfing. Playing older games would be fine too I suppose, but for anything graphics intensive, you will want to install an AGP card. Because of the arrangement of the PCI and AGP slots, you can even fit a two-slot video card in if you already have one or plan to purchase one. The 200T is surprisingly flexible despite its small stature.
Performance

8.5

It's not going to outperform the best P4 solutions around, but for a SFF system it's quite powerful. Plus, it will perform just as well as many full size systems. Onboard graphics are quite weak though.
Features

9

Great features and style. Onboard 6-channel sound, onboard LAN, onboard graphics, driver cover, good cooling solution, front access ports, SATA RAID and much more. A lot fit into a little package! The pre-routed cables is a much appreciated touch.
Bundle

7.5

The bundle is not bad. StudioFun is a cool inclusion, and the manuals are quite good.

Quality / Install

9

I didn't have any issues during installation, and I didn't notice any quality problems. I would prefer a harder plastic or aluminum front bezel though.
Price / Value

9

You can get the 200T at Newegg for around $242 right now after rebate ($272 regular price). For that price, you get graphics, sound, aluminum case, power supply, motherboard and a heatsink/fan. When you look at it like that, I think it's a fair price and good value for sure.
Final Score: 9
Pros:
Easy and great overclocker
Not too noisy
Great performance and small package
Pre-routed cables help keep the case's inside neat and makes installation easier and faster
Great looks — brushed aluminum, can hide drives
Some good tweaking options in BIOS
Cons:
Only one PCI slot (same as most other SFF systems though)
Harder to remove side and top panels than would have liked
Drive cover door might get on your nerves
No PAT