USB flash drives are a great and convenient way to carry around important files, MP3s or any other data you want. This review looks at Plexuscom's USB 2.0 W@lk Key, in the 128MB variety. It's slim, sleek and silver… check it out!
Introduction
---
USB flash drives. You've seen tens, if not hundreds, of reviews of various shapes, sizes and capacities. You would think all USB 1.1 flash drives (key drives, thumb drives or whatever you want to call them) would perform the same. Many of them do perform about the same and offer the same benefits, and a few stand out from the crowd because of features or higher performance.
With the introduction and proliferation of USB 2.0 though, who cares about those USB 1.1 flash drives? I want a USB 2.0 drive! Okay, the USB 1.1 drives are still quite useful of course, but I want a fast and useful device.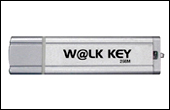 Thanks to Plexuscom, I now have a small, fast and stylish 128MB to carry around with me. If you haven't guessed it yet, this review will cover Plexuscom's 128MB USB 2.0 "W@lk Key" flash drive. Read on to see how well this cool little device performs.
Features and Package
---
Features
Full compliance with USB Specification v2.0
No driver required for Windows ME/2000/XP
Support Windows 98/98SE with device driver
Compact size:68mmx17.5mmx8mm
Light weight:15g
Hot plug and play
Utilizing NAND Flash Memory
Capacity from 64MB-512MB
One other feature of the W@lk Key that I received that is worth mentioning is the casing. As you can see in the pics, it is silver and looks metallic. Well, that's because it is. The casing is aluminum! I love aluminum cases, so I was thrilled to see that Plexuscom took the aluminum case trend and applied it to their W@lk Key! What a great idea; it makes for such a stylish and good looking flash drive.
Package Contents
W@lk Key USB 2.0 Flash Drive
3′ Long USB Extension Cable
Driver CD for Windows 95/98
Users without front USB ports on their cases will definitely appreciate the 3-foot long USB extension cable that Plexuscom includes with the W@lk Key. Other than that, there really isn't much to get excited about in the package.
Performance and Use
---
Everyone knows how convenient and useful a USB flash drive can be, especially for users with laptops, students and business people who need to transport files to and from various destinations. The W@lk Key of course offers this convenience, but it goes a step further because of its thinner form factor. You can actually fit two W@lk Keys side by side in adjacent USB ports or even one on top of the other.

This is not the case with most other competing flash drives because they are usually too bulky to allow inserting two of the same drive in adjacent ports. Bulkier flash drives can also impede the use of other USB devices, such as flash card readers, and not just flash drives by making it difficult or impossible to even plug in a regular USB cable into a free USB port next to such a drive. You won't have this problem with a W@lk Key though. Kudos to Plexuscom for making the W@lk Key no bigger or bulkier than it really needs to be.
Okay, let's get to the performance of the W@lk Key. My test system is using Windows XP Pro SP1 and the Chaintech 7NJS Zenith motherboard. I'm just going to do a quick comparison in Sandra 2004 of the USB 2.0 W@lk Key versus my USB 1.1 JungSoft NexDisk.
| | | |
| --- | --- | --- |
| Sandra 2004 – File System Benchmark – W@lk Key | Sandra 2004 – File System Benchmark – JungSoft USB 1.1 NexDisk | Sandra 2004 – Removable Storage / Flash Benchmark – W@lk Key |
As you can see, the W@lk Key outperforms the USB 1.1 NexDisk by a large margin. The overall performance compared to other USB 2.0 flash drives as listed in the Sandra database is average though. Keep in mind that these are synthetic benchmarks and don't always accurately reflect real-world performance. To test real-world performance, I simply did some file transfers. I copied 28.7MB of MP3s from my hard drive to the W@lk Key, and the transfer took 13 seconds, which translates to almost 2.21MB/s transfer rate. That's decent but nothing to brag about. Overall, I'm pretty happy with the W@lk Key's performance. I use it almost every day to transfer files from home to work and back, and it has worked great for me.
One thing I did notice about the W@lk Key is that it gets pretty warm if it's in use a lot. This is no doubt because of the aluminum casing, which seems to act like a sort of heatsink for the chips inside the W@lk Key casing. The device cools down rather quickly though after removing it from the USB port. All flash drives probably get warm in the same way. You just won't really notice it with the typical, thicker plastic-casing flash drives. The slimmer form factor and aluminum casing just makes it evident with the W@lk Key, which really isn't a good or bad thing. I just wanted to point it out.
Conclusion
---
The 128MB W@lk Key from Plexuscom is a handy little device. It's not even really noticeable in my pocket. It provides great performance when compared to USB 1.1 solutions and decent performance when compared to the competition. The W@lk Key might not be the fastest performer in flash drive land, but it has a couple things going for it that the competition is lacking. First, it is very stylish. The aluminum casing looks great, is light and should be very durable. Keep in mind that Plexuscom also makes a plastic W@lk Key. The second feature that most of the competition lacks is the small, slim form factor. The fact that the W@lk Key will not get in the way of your other USB devices is a big plus in my books.
Because of its sleek look, good performance and small size, I'm awarding the W@lk Key a 8 out of 10.