The Samsung 173T is a TFT monitor that not only offers a good response time (25ms) but also has some nice features for the non-gamer.
Introduction
---
It is time to look at another LCD from Samsung. Over the past couple of months we have looked at the 192T and the 172MP. Now we have the 173T. All of these monitors have offered something special about them. 192T was the nice big 19" screen and the 172MP brought us a true multimedia with TV tuner and many inputs. What the 173T brings us is a 17" monitor that can be rotated for working on web pages or desktop publishing.
Features and Specifications
---
The one thing that Samsung wants us to continue to point out is that even with a 25ms response time, a CRT is still the best for gaming. You will still see ghosting in past paced movement in some games. With that said I did play the entire Max Payne 2 game using this monitor and did not have any issues. This could be because I am getting used to flat screens with this being the 3rd one I have looked at recently.
Let's look at the specs of the monitor: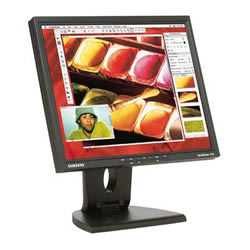 The 173T is a sleek and 'sexy' TFT monitor.
| | |
| --- | --- |
| Model: | 173T-Black |
| Panel type: | a-si TFT / PVA |
| Size: | 17″ |
| Pixel Pitch (mm) | 0.264 |
| Brightness | 270 cd/m2 |
| Contrast Ratio | 450:1 |
| Viewing Angle | 150/120 |
| Aspect Ratio | 4:3 |
| Response Time | 25 ms |
| Interface | Analog/Digital |
| Frequency Horizontal | (Analog) 30-81, (Digital) 30-63 |
| Vertical Rate | 56-75 |
| Bandwidth | 135 |
| Resolution Maximum | 1280×1024 (both Analog and Digital) |
| Native | 1280×1024 |
| Color Maximum | 16.2M |
| Input Connectors | 15pin D-sub, DVI-D |
| Power On / Working | 40 Watts (Max) |
| Weight | 11.0 lbs |
| Physical Dimensions | 14.5″ x 15.5″ x 7.0″ |
| Features | Dual CPU input, built-in power supply, narrow bezel, pivot technology. |
The 173T has 3 things that really impressed us compared to the other Samsungs we have looked at.
No power block with this monitor, it uses the standard pc power cable plugging into the back of the unit.
Being able to rotate the screen is a very nice feature. This can be controlled with Pivot Pro software that is included with the monitor or with the NVIDIA rotation control inside their drivers.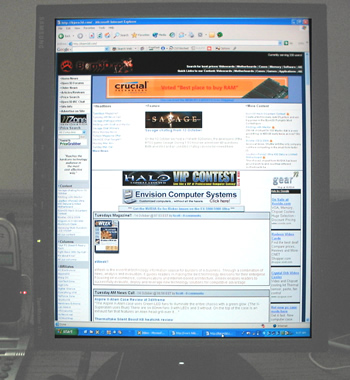 Rotating the monitor to see more of the scree is great. (Note – this image was enchanced in Fireworks since it was so dark. Any strange colours on the edge of the monitor image is a result of this.)
Dual CPU input. The 3rd thing we liked was bringing in a notebook, plugging in the analog input into the back of the notebook and using the front panel source switch to change between displaying our desktop image over to the notebook. We found this could be very handy in an office environment.
Hook up 2 computers to the monitor and switch between them on the front.
Testing
---
In keeping with traditional Samsung tradition the monitor does have its Magic Bright controls to set the screen up for the most popular setting that could be used. These include the following:
User Adjusted
Text
Internet
Entertainment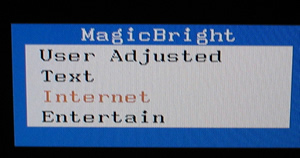 Magic Bright lets you set up preset settings for different kind of uses.
The thing that flew us for a loop at first was the location of this button. It normally has its own button but on the 173T it uses the – button with a little brightness symbol under it.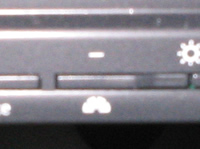 The Magic Bright button is now the same button as –
Text:
Using the monitor to work on the website, doing the company books and surfing the net worked just fine. We did use the pivot to do some more work on this review and it was great seeing more on the screen. We did have a reader purchase this monitor and he has had some concern on ghosting even in text. What we found was that if you dragged windows around you did notice the text blur some. We tried it on this monitor and did see what he was talking about, but we also saw it on the 192T I purchased after doing the review of it. It is a little more pronounced on the 173T since the screen is smaller. We did find that turning on Clear Type in Windows did clear this up some. We also spent an hour on the phone with Samsung and they went into great detail explaining that is all with response time and the screen technology. To sum it up you will see this happen until LCD technology gets a lot better which is still a couple years out.
Multimedia:
We once again grabbed the U571 DVD and played it back. We did notice some of the same ghosting in the periscope cables during the depth charge attack at the beginning that we saw with the 192T. Part of this shows up due to the grey cables shacking quickly against the black background. We also looked at Band of Brothers DVD and did not notice any problems with its playback.
Streaming videos on the internet played just fine and we did not notice and problems. We also watched several of the movies from www.bmwfilms.com and had no issues with playback.
Gaming:
Like I said earlier we played all of Max Payne 2 and saw no problems with this game. We did notice some slight ghosting in UT 2003 if we spun around fast. This was more noticeable on inside dark lighted levels. We also played Halo and found no problems or ghosting.
Testing with Monitor Toolkit:
Once again using Monitors Directs (Monitor Toolkit) we did not see any ghosting in a brightly lighted or a totally dark room. We are also happy to report no dead pixels showed up. So the monitor is falling in line with a good LCD from their test.
Conclusion
---
This is another good monitor from samsung. Since CRT's are slowly becoming a thing of the past (Sony even decided to get out of the CRT market last week) we can expect more R&D to continue to improve the technology more. Until that happens LCD's are not going to be the best for gaming or fast moving motion, but the 173T was not designed for that. It is designed to be a very high quality text monitor and do ok in the gaming and high speed motion applications and as such it delivers.

Pros:
Pivot Monitor
No Power Brick
Multi Computer Input and Switching
Price: 485.00- 590.00
Cons:
Some Ghosting in Fast Motion Applications
For its excellent performance we award this monitor the Seal of Approval.