Have you ever been interested in keyboards that allow you to do more than just type characters? iocombo.com has a whole line of Eumax keyboards that fit meet these needs. We took a look at the EZ7000BK, an office/multimedia keyboard with tons of extra functionality, and the EZ3000B, a foldable USB keyboard. Read the review to find out what we thought about these keyboards.
Introduction
---
Have you ever wished you could do more with your keyboard? Or maybe you travel with your keyboard a lot, so you wish you could roll it up and stick in a bag and not worry about it. As you probably already know, there are many options available to meet these two needs.
Today, we will be taking a look at two very different keyboards provided by iocombo.com that meet these two different needs. First, we have the Eumax EZ7000 BK, which is marketed as an office keyboard because of its numerous buttons for direct access to frequently used applications, tasks and functions.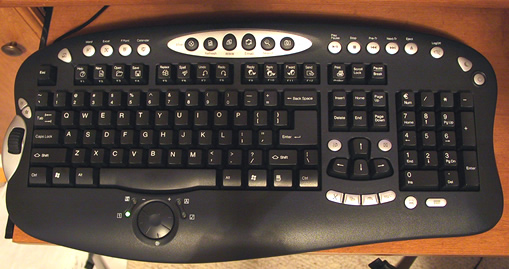 Also, we have the Eumax EZ3000B foldable keyboard, which is sealed so that water or dirt will not get into it and cause it to malfunction. Of course, this means it is washable and works fine with water or other materials on it.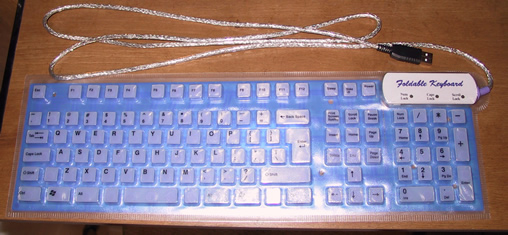 Eumax EZ7000 BK
---
This keyboard has a lot more to offer than your standard 101-key keyboard. First, let's take a look at it features:
Features
Office Application Key Zone: 4 Hot Keys
Office Key Zone: 1 Office Lock Key + 13 Office Keys for Enhanced Function Keys
Internet Key Zone: 8 Hot Keys
Multimedia Key Zone: 5 Hot Keys + 1 Volume Wheel
Clipboard Key Zone: 6 Hot Keys + 1 Navig. Wheel (w/pop-up function)
Application Key Zone: 5 Hot Keys
Direct Access to € Euro Dollar Sign
Dimension: 500(L) x 240(W) x 42(H) mm
PS/2 and PS/2 to USB available
100% compatible with Win95/98/ME/NT/2000/XP and Office 97/2000/XP
FCC, CE Windows Logo approved
The "Key Zones" are the main selling point of this keyboard. Each of these zones provides easy access to useful applications or functions, and many of them can be customized in case the default just does not work out for you. Pictured below, the software provided with the keyboard allows you to customize the buttons shown.

The Key Zones

In the upper left section of the keyboard, there are four hot keys that make up the "Office Application Key Zone." As you can see, the default behaviors of these keys are to open the Microsoft Office applications that are named above each of them. However, each of these keys is customizable to do a function or launch a different application or even a website. Also, there is an "Office Key Zone," which is meant to be useful in Office applications. The leftmost button in this picture shows the Office Lock Key. When the Office Lock is on, the behaviors of the standard Function keys (F1, F2, etc.) change to match what is pictured on them, such as Help, Save, Open, Undo, and eight other common Office functions.

Moving to the right, the "Internet Key Zone" is next with its six hot keys. Two other keys that belong in this grouping are on the far left of the keyboard. One is for going forward and the other for going backward in Internet Explorer. Unfortunately, these keys do not seem to work with Mozilla. Obviously, it is a very Microsoft-centric keyboard.

To the right of these Internet hot keys, there are the five hot keys that make up the "Multimedia Key Zone." These keys allow you to control various multimedia applications. I tried these keys with both Media Player 9 and Power DVD, and they worked as expected. The volume wheel located on the "bottom" of the keyboard is also considered part of this zone. I really appreciate the quick access to the system's main volume control that this wheel allows. It even mutesunmutes the volume when you push in the wheel!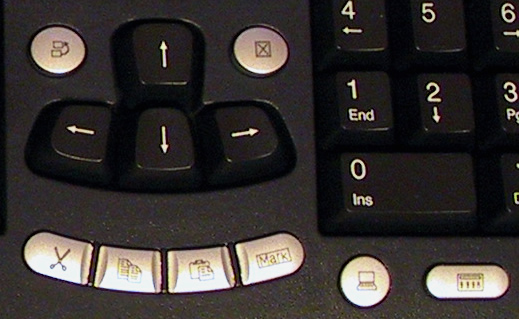 The "Clipboard Key Zone" is located near the southeast corner of the keyboard, and it allows for one key cutting, copying, and pasting within various applications. I successfully used the keys in Word, Notepad, and Fireworks MX. One thing I found interesting about the "Cut" key is that in Windows Explorer, it does not behave like a regular Control+x cut, which will only move the file if you paste it somewhere after cutting it. This "Cut" key acts more like a Shift+Delete, which is used to delete a file, bypassing Window's Recycle Bin. Also, in this picture on the left, we can see keys for launching the default Calculator in Windows, opening "My Computer," closing the active window, and switching between applications, just like Alt+Tab does.

The EZ7000 also features a scroll wheel on its left side. This wheel allows you to scroll up and down just like a wheel on a mouse. This can save you from having to reach for your mouse just to scroll, but, if you want to scroll and click, then you must revert to the mouse. One other feature provided by this scroll wheel is that it can be clicked (pushed down) just like a wheel on a mouse. When it is clicked, a small menu shows up on the screen with shortcuts to "My Computer," "My Documents," etc. It also has a "My Text" submenu that allows you to customize five strings of text to whatever you want so that you can have quick access to text you use often. I think it's one of those things that some people would really like and use a lot and others would just forget about and never use, but it is a nice addition nonetheless.
This keyboard also has keys that allow you to log off or shut down Windows or place it in stand-by. The idea of a button that could accidentally be pushed and shut down your current Windows session may seem a little worrisome, but I don't think it would be too big of a concern for most people. In the week or so that I've been using this keyboard, I have not even come close to accidentally shutting down my system. Eumax designed this button so that it is a little bit sunk into the keyboard's plastic, and there is even a little ring of plastic raised around the button as a nice reminder of what button your finger is on.
Performance
Are all these special keys really worth anything? I think so. I like having the volume wheel, the scroll wheel, the shut down key, and all the others that I occassionally use. The main obstacle is getting used to having all these functions and applications within easy reach of my fingers. I also like the way the general keys feel; they are what I would call quiet keys since they do not make much noise when you depress them; whereas my old Microsoft Internet Keyboard makes pretty loud clacks with each key press. I used to think that a quiet keyboard would drive me crazy, but now that I've been using this one, I like it a lot. I even played Typer Shark, a Yahoo game, for about 45 minutes to make sure this keyboard did not have a negative impact on my accuracy or speed when typing. The results were positive. I experienced no decrease in speed or accuracy. I have one little problem with the layout/design of this keyboard. The Enter key is one of those huge backwards L-shaped monsters, which puts the " in an awkward, hard-to-reach location beneath the Enter key. I have never understood why anyone would make the Enter key so freakin' big. Isn't it big enough if it is the size of more than two keys across. Why add more? It's a bad choice if you ask me, and I thought I would never see it on a modern keyboard such as this one. Unfortunately, I was mistaken.
What about gaming? There is no way I could talk kindly about a keyboard if I was not comfortable with the way its keys felt during gaming. I cranked up some Unreal Tournament 2003 to check out the classic FPS key configuration of WASD and space bar. Shooters are my favorite games so the feeling of the WASD was critical to this keyboard getting any good final words from me. Fortunately for it, I enjoyed playing UT2K3 with it.
Conclusion
The Eumax EZ7000 is a great keyboard for everyday use, whether it be gaming or document editing or multimedia application control. For someone like me who is used to using shortcuts like Ctrl+c for copying, some of this keyboard's shortcuts, like those in the "Clipboard Key Zone," may go unused 99 percent of the time. If you are not used to having a keyboard that has so much functionality, it may take a while to get accustomed to using the hot keys instead of the mouse or combination of regular keys. This may make using these hot keys feel forced for a while, but I'm convinced that eventually it will seem like those keys should be on every keyboard.
The great thing is that you can get all this functionality in a keyboard for about $20 at iocombo.com. They show the list price as over $50! That's a pretty good deal. I don't think I'd pay $50 for it (or any other keyboard, for that matter), but $20 is well worth what you get in this keyboard.
Pros:
Tons of hot keys for quick access to commonly used functions, tasks, and applications
Customizability of many of the keys' functions
Feels nice and responds well

Cons:
Big L-shaped Enter key is overkill
Placement of " key due to Enter key's size

For being a great keyboard at a great price, the Eumax EZ7000 BK earns an 8.5 out of 10. To me, the two cons listed above were enough to knock this keyboard down from a 9.

Eumax EZ3000B
---
The main selling points of the EZ3000 are that it is flexible and resistant to liquids and dirt. Before we get to my impressions of this interesting keyboard, let's take a look at its features, as listed on iocombo.com.
Features:
Sealed design for preventing fluid, dirt, grime, acid, etc
Water resistant, foldable, portable and washable
Dimension: 475(L) x 155(W) x 14(H) mm
Weight: 220 g ± 10g
Color: Translucent blue, red, purple, orange, or green
PS/2 and USB available
Switch life: 10 million life cycles
Operating humidity: -20° C – 50° C
Operating temperature : -36° C – 165° C
Demattia flexing: 150,000 cycles non-damaged
100% compatible with Win95/98/ME/NT/2000 and Office 97/2000
FCC, CE, CNS, VCCI, EMI, AUSTEL, Windows Logo approved
This foldable keyboard seems to be a great option for people who travel a lot with their entire PC, including mouse and keyboard. And many LAN party goers would certainly fit this description. This keyboard can simply be rolled up (like in the picture below) and stuck in a backpack or even somehow attached to the side of a case with Velcro or something like that. Sounds more convenient than lugging around a full-size hard plastic keyboard.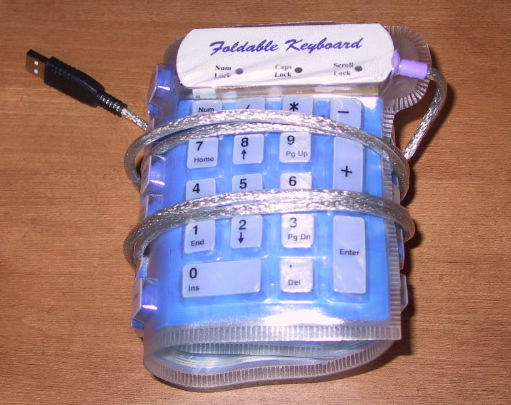 Performance
As you can see in the picture below, I ran water on this keyboard to test the claim in the specs that it is water resistant. The keyboard still works after running the water over it, and there does not appear to be any water inside its casing. This leads me to believe you could pour, dump, or spill just about anything and probably even submerge this keyboard into just about anything, and it will work just fine. You could even use it with the liquid (or whatever) still on it if you wanted or needed to. Just think, the next time you're at a LAN party taking a break in the middle of a UT2K3 fragfest to grab a drink of your beer or your favorite caffeinated beverage you could spill it all over this keyboard and just keep on fragging. No problem.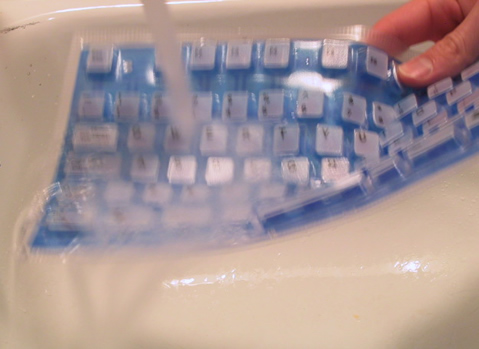 If I think this keyboard could be used by LAN party goers, it has to pass the gameplay test. Again, I played Unreal Tournament 2003 for about an hour to get a good idea of how this keyboard feels. I liked it! The soft feel of the plastic covering it and of the keys themselves was nice and didn't interfere with my fragging at all.
I also subjected this keyboard to the typing test presented by Yahoo! Games' Typer Shark. I had no problem getting used to this keyboard, and it did not have any adverse affect on my typing performance most of the time.
Conclusion
The Eumax EZ3000 is a great keyboard for people who want a small flexible keyboard that they can just roll or fold up and stick into a bag. Being resistant to liquid, dirt and most anything else is another great feature of this keyboard that would benefit anyone who is usually careless or accident prone around their keyboard or anyone who works in an environment where foreign materials near the keyboard is the norm. The current price for this keyboard at iocombo.com is $17.25.
Pros:
Small and flexible
Resistant to nearly any foreign material
Washable

Cons:
Some people may not like the soft, squishy feeling of the keys
The plastic covering is thin and feels kind of cheap

For being a good option for people who like LAN parties and people who are prone to expose their keyboards to things that would harm a standard keyboard, I am giving the Eumax EZ3000B an 8.5 out of 10.