Smooth and Sleek. this is too nice to be a computer case. If you're in the market for a mATX case, you will definitely want to check out this review of Antec's Minuet.
Introduction
---
Have you ever thought about the name of your case? Most are some series of numbers and letters, but not so with Antec's LifeStyle series cases: Sonata, Overture, and Minuet. All of these refer to aspects of classical music. In particular, we're looking at the Minuet case Antec sent over for review.
min•u•et
A slow, stately pattern dance in 3/4 time for groups of couples, originating in 17th-century France.
The music for or in the rhythm of the minuet.
A movement in 3/4 time that is usually the third, but sometimes the second, of a four-movement symphony or string quartet.
The word itself originates from Old French and means "small, dainty (from the small steps characteristic of the dance); diminutive of menu; small, from Latin mintus." As its name suggests, this case is definitely small. However, it will hold up to a micro-ATX sized motherboard. At first I was skeptical, but it does indeed hold a micro-ATX board as long as you use RAM that is short enough to miss colliding with the CD/DVD ROM drive. Most popular brands will fit inside the case nicely.
It's even evident that Antec is trying to convey the elegance of this case before it's even out of the box. Instead of the old, tired, plain brown box, you get a near photo quality printed box.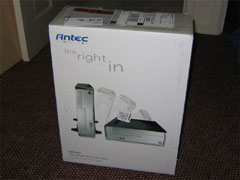 Features, Specifications and Package Contents
---
Features:
SmartPower 220Watt ATX12V power supply
Front mounted USB & IEEE 1394 (FireWire, i.Link) ports
Front Audio ports
3 Drive Bays in easy to install Flip-UP Drive Cage: – 1 x 5.25″ external drive bay – 1 x 3.5″ external drive bay – 1 x 3.5″ internal drive bay
Cooling: Up to 1 40mm Fan – 1 rear (optional)
Motherboards up to MicroATX
Accepts half height expansion cards

Specs:
Model: LS938
Net Weight: 12.6 lbs. / 5.7 kg
Gross Weight: 14.2 lbs. / 6.4 kg
Dimensions: 3.8" (H) x 12.75" (W) x 16.8" (D)

Box Contents:
Minuet Piano Black Slimline PC case
220 Watt ATX12V power supply (installed)
2 Vertical placement stands
Power cord
Set of Screws and standoffs
Manual

Closer Inspection
---
The first thing that hits you about this case is the glossy piano black finish to the outside of the case. Again, Antec is tying into the classical music theme. As you can see from the pic below, the case can reflect objects with great clarity. I used the Powercolor box because if you are looking of a good graphics card to put into this case, then the Powercolor RADEON 9200SE 128MB Low Profile is the one for you. It is one of the VERY FEW that come with a half height (low profile) replacement back plate. That's right, this case only accepts half height expansion cards. That said, integrated video and audio might be something to look for when buying your hardware. The computer industry seems to be offering more compact and full featured components (such as motherboards), so it's not out of the question to have a decent computer crammed into this case.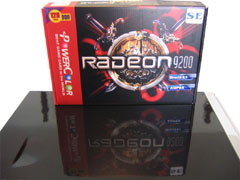 Like most cases, the frame and body are made of steel. The front bezel is primarily plastic with a chrome finish to it. However, only the outer rim is visible. Antec has been nice enough to glue an aluminum cover to the front. This gives the front a nice clean look without being too shiny. The power button is made of the same type of chromed plastic that's found around the outer edge of the front. I hope that you can see from the pics that these coatings are well applied and give the plastic a great metallic look.
On the right side of the front is where you'll find the front I/O ports: audio-out, audio-in, Firewire, and two USB ports. There is no flip down or retractable cover over these ports. However, the precision of the aluminum facing keeps this area well groomed, and I feel that no cover is needed. I would have liked to see some blanks for the ports to keep out dust and other foreign objects since it's unlikely that anyone will leave things plugged in here. One thing that you won't find on the front is a reset button. I like to have one for that occasional lock up. I can't say why one was not put in, but it's a minor detail. The Minuet can be used in a vertical or horizontal position. It comes with two adjustable plastic stands that are used to add stability to the case while in the upright position. Just make sure that the CD/DVD drive that you use supports vertical mounting if you intend on putting the case upright.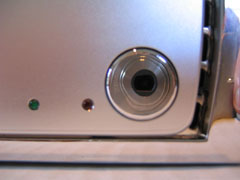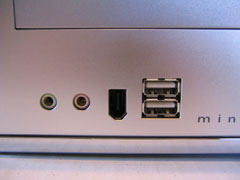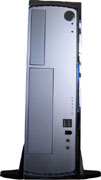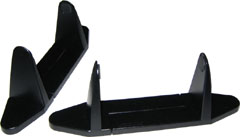 Once inside we find a smooth steel construction. Aluminum might have been a nice choice since it's so hard to cool a case this small, but then it would probably not be strong enough to hold any type of monitor if used horizontally on a desk top. All the drives mount to a bracket that swings in and out of the case. One nice part is that there are no screws holding the bracket in (the drives still use screws though). Instead of screws, it's held in place by the side panel via two rubber spacers. There is also a rubber stopper that sits under part of the hard drive. The only thing that I can think of is that it is there to take some of the weight load if a monitor is placed on top of the case when it sits horizontally. You might think that rounded cables would be a nice thing for this, but you would be wrong. Typically rounded cables have thick clunky ends on them to keep with the better looks of the cable. Once inside the minuet case these ends cause problems with making tight bends. I found it much easier to use the old flat cables that came with my motherboard. More care must be taken when running the cable, but in the end they fit better when everything is crammed inside. The cables for the front I/O panel are a little over a foot in length. This means that they are capable of reaching the back of the case if that's where the hook-ups for your audio are. These cables are of Antec's usual high quality, but are not overly thick so that they can be bent and stuffed out of the way.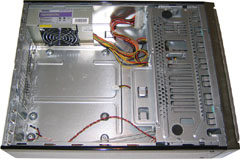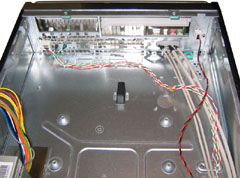 Also inside you'll find a SmartPower 220. This is a 220W ATX12V power supply made by Antec. While it might not be a good idea to run all of today's fastest (and hence most power hungry) hardware on this power supply, it should be able to keep lower end and older CPUs juiced up. The power supply also provides the only built-in cooling the case has. A thin 40mm fan draws air from inside the case and blows it out the back of the power supply. Not the best way to do it, but it gets the job done as long as the components inside don't run too hot. Due to limited space, a manual switch on the PSU was left off.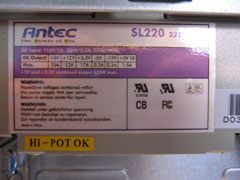 Conclusion
---
The Minuet scores well for its great looks, ease of use, and quality construction. However, I do have some issues with it. First is its weight. It's made of steel, nothing new there really, but that nice paint job packs on a little bit more weight than you think. For the case's small size, it's a bit hefty. Next was the same problem that all micro cases seem to have (can't really blame Antec), and that is heat build up. I have to say that Antec could have done better on this one. Only a single 40mm exhaust fan just doesn't cut it in my book, and it's not even included in the box. Your basic hard drive these days is a 7200rpm, and that alone can turn a case this small into an oven. While 5400rpm drives can be found, they are not as abundant as they used to be. Aside from these two issues, it's hard to find much wrong with this case. Its highest score comes from its looks. If you're looking for a nice small case for a second PC in your house, then this one is a good, stylish choice. Also the case shows potential for a basic home theater PC. Make sure you check out the Minuet's bigger brother, the Overture, though if you want to build a more powerful system.
Pros
Small size
Good looks
Solid construction
Antec Power Supply
Cons
Weight
Heat build up
Half height expansion slots

Final Score: 8 out of 10