Introduction
---
When RAIDMAX asked us if we wanted to look at one of their new cases, we of course said yes.
The first thing we noticed upon opening the box was the clear top panel with mounted clear fan. Then, we saw the design on the side panel with blue LED mounted fan. With the case being Titanium Grey (the color), this instantly stood out as one nice looking case. Something also adding a nice touch to the look of the case was the front cover and bay plates. The metal plates are also covered with a thin piece of clear plastic that gives a very high-tech look to the entire front of the case.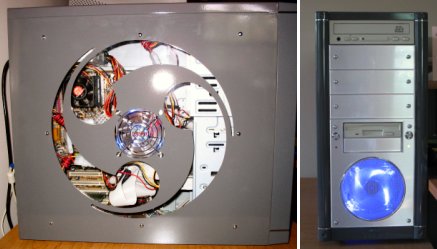 Left side and front of the case.

Specifications
---
Here are the features and specifications from RAIDMAX's website.
Features
Stylish front panel with blue LED fan.
2 x rear 80mm tempertrue control fans.
See-through clear window with 1 x 80mm tri-color LED fan
See-through clear TOP window with 1 x 80mm temperature control fan.
ATX 12V 350 watts power supply included.
Front mounted 2.0 version USB ports.
Cooling capacity up to 9 x 80mm fans
Specifications
External Drive Bays: 4 x 5.25″ and 2 x 3.5″
Internal Drive Bays: 4 x 3.5″ H.D.
System Board: ATX Form Factor 12″ x 10.5″ or smaller
Expansion slots: Standard ATX 7 slots
Material: 0.7mm SECC
Power Supply: PS2 size/ ATX12V P4 ready Power Supply
Dimension(WxDxH): 200 x 450 x 430 mm

Installation of Parts
---
The motherboard we installed in the system is an Asus A7N266-C nForce motherboard.
With this being a full-size ATX motherboard, I was happy to say I did not even get one nick on my fingers or hands installing it. The case actually gives you 1 ½ inches of room to spare before touching the 5 ¼" drive bays. On the downside of this, someone with bigger hands than mine may get a nick since the 5 ½" drive bay edges are not too rough, but depending on how well the bay is smoothed, it could be a problem.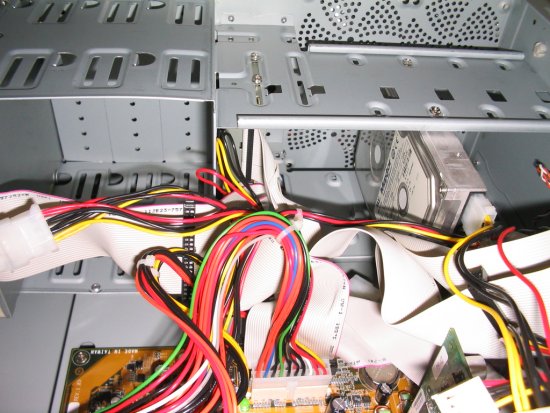 Rounded edges saves your fingers
The 3 ½ bays actually had rounded edges to make sure you did not get a nick. The other part that did really bother me about the case was the stamped I/O and expansion card area. I have always disliked cases that do not come with back plates and make you break away the slot cover. This case is one of the thinnest metal expansion slots areas I have seen. The entire back of the expansion area flexed during popping out the slot covers.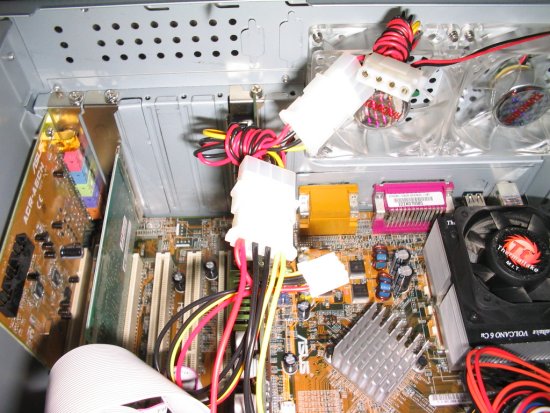 Why oh why do they use punch-out slot covers?

Testing
---
So, the install went fine and running the machine with SETI running for 24 hours yielded CPU reading of 50C and case reading of 26C. Considering the CPU is a 2100+, we are in a safe area for cooling.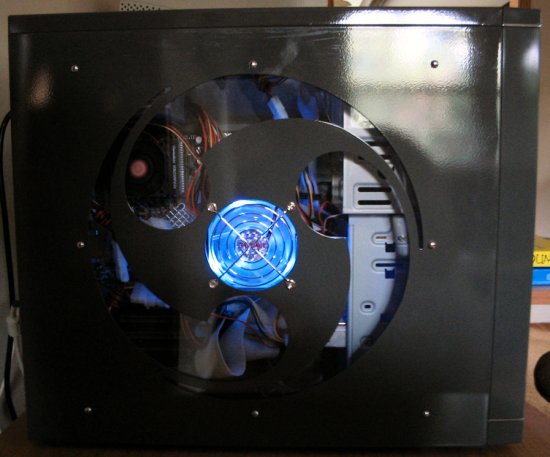 Look at that cool light
For an $80.00 case, I was impressed with the 350 Watt power supply. During the SETI runs the power supply stayed within the +/- 5% range on all voltages. I was even able to run a 5900 Ultra in the machine without a problem

Conclusion
---
Like I said before, for an $80.00 case, it is not a bad deal. The only other thing they could've done which would raise the case price is make the top fan a blue LED and the 2 rear fans blue LED. With that many lighted fans, it would look even better than it did.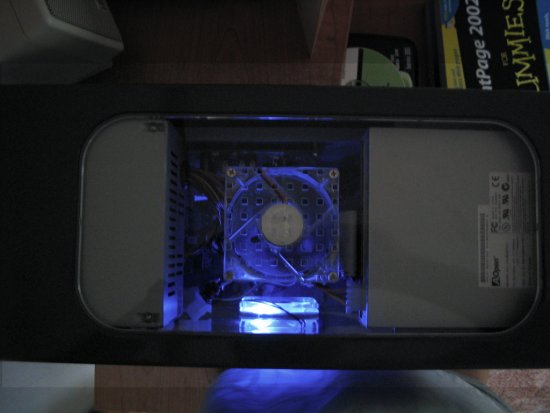 The blue led light through the top window.
Pros:
Plenty of room for a full size ATX Motherboard
Nice High-Tech look
Decent Power Supply
Price
Cons:
5 ¼ Bays could get you a nicked finger
Flimsy expansion plate
Expansion plate using punch outs
All the fans could have been lighted
Final score: 7.5 of 10