With the release of its new Infinity series (aimed at overclockers on a budget), DFI has also chosen to unleash its latest innovation — CMOS Reloaded. This new tech allows you to edit, save, load and rename two different CMOS/BIOS settings so you can quickly change between them.
Introduction
---
What turned me (like many of you I'm guessing) on to DFI several months ago was the LANParty series of motherboards. It is a brilliant product marketing strategy that got the DFI name into thousands of more homes than it was in at the beginning of this year. Before LANParty, I'm not sure if I even knew what DFI was. Now, it's one of the few companies I keep my eye on for new innovations or even just new LANParty series boards. DFI definitely achieved their goal with this consumer.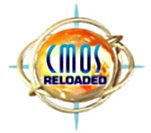 And they aim to do it again with a new approach to BIOS settings. While launching its new Infinity series of mainboards targeting overclockers on a budget, DFI is also bringing out CMOS Reloaded, which enables the user to select/tweak, define, save, and rename the CMOS. Currently, CMOS Reloaded allows you to save two distinct CMOS configurations. DFI has saved this announcement for Computex, and they will be getting the word out as much as they can.

You may have seen some teaser press releases about CMOS Reloaded on many sites around the WWW, but today is officially the day that a review can be released featuring CMOS Reloaded, and thanks to DFI, we're one of a few sites with such a review. Read on to learn more about this Infinity series Springdale motherboard and CMOS Reloaded.
Features, Specs and Package Contents
---
Features at a Glance
Hyper-Threading Technology
800MHz FSB
AGP 8x
DDR400
6-channel audio and S/PDIF-in/out
4 Serial ATA
Gigabit LAN
USB 2.0 and 3 IEEE 1394
Super PATCH
CMOS Reloaded
Specifications
CPU
* Intel® Pentium® 4 Processor with Hyper-Threading Technology
  – 800MHz/533MHz system data bus
* Intel® Pentium® 4 Northwood processor
  – 533MHz/400MHz system data bus
* Intel® Celeron® Northwood processor
  – 400MHz system data bus

CPU Socket
* Socket 478

Chipset
* Intel® 865PE chipset
  – Intel® 865PE Memory Controller Hub (MCH)
  – Intel® 82801EB I/O Controller Hub (ICH5)

Memory
* Four 184-pin DDR DIMM sockets
* Supports dual channel (128-bit wide) memory interface
* Supports up to 4GB system memory
* Synchronous operation with processor system bus
  – PC2100/PC2700/PC3200 (DDR266/DDR333/DDR400) with 800MHz FSB CPU. DDR333 will run at 320MHz memory frequency when used with 800MHz FSB CPU.
  – PC2100/PC2700 (DDR266/DDR333) with 533MHz FSB CPU
  – PC2100 (DDR266) with 400MHz FSB CPU
* Supports non-ECC (x64) DIMM using 128Mb, 256Mb or 512Mb
* Supports unbuffered DIMMs

BIOS
* Award BIOS, Windows® 98SE/2000/ME/XP Plug and Play compatible
* Genie BIOS provides:
     – CPU/DRAM overclocking
     – AGP/PCI/SATA overclocking
     – CPU/DIMM/AGP overvoltage
* Flash EPROM for easy BIOS upgrades
* 4Mbit flash memory

Power Management
* Supports ACPI STR (Suspend to RAM)function
* Wake-On-Events include:
     – Wake-On-Keyboard/Mouse
     – Wake-On-USB Keyboard
     – Wake-On-Ring (external modem)
     – Wake-On-LAN
     – RTC timer to power-on the system

Hardware Monitor
* Monitors CPU/system temperature and overheat alarm
* Monitors CPU/1.5V/5VSB/VBAT/3.3V/5V/±12V voltages and failure alarm
* Monitors CPU/chassis/2nd fan speed and failure alarm
* Automatic chassis/2nd fans on/off control
* Read back capability that displays temperature, voltage and fan speed
* Opened chassis alarm

Audio
* C-Media CMI9739a 6-channel codec
* 20-bit stereo full-duplex codec with independent variable sampling rate
* High quality differential CD input
* True stereo line level outputs
* S/PDIF-in/out interface

LAN
* Realtek RTL8110S Gigabit LAN PCI controller
* Full duplex support at both 10, 100 and 1000 Mbps

PCI IDE
* Supports ATA/33, ATA/66 and ATA/100 hard drives
* PIO Mode 4 Enhanced IDE (data transfer rate up to 14MB/sec.)

SATA IDE/RAID
* Silicon Image Sil3112A PCI to Serial ATA controller
* Supports two SATA (Serial ATA) interfaces which are compliant with SATA 1.0 specification (1.5Gbps interface)
* Supports RAID 0 and RAID 1

IEEE 1394
* VIA VT6306 PCI 1394 integrated host controller
* Supports three 100/200/400 Mb/sec ports

AGP
* Supports 1.5V AGP 8x (2.13GB/sec.) and AGP 4x(1066MB/sec.) for 3D graphics applications (AGP 2x and 3.3V AGP card are not supported)
* Supports AGP 3.0 and AGP 2.0 spec.

Rear Panel I/O Ports
* 1 PS/2 mouse port
* 1 PS/2 keyboard port
* 1 DB-9 serial port
* 1 DB-25 parallel port
* 4 USB 2.0/1.1 ports
* 1 1394 port
* 1 RJ45 LAN port
* 2 S/PDIF RCA jacks (S/PDIF-in and S/PDIF-out)
* 3 audio jacks: line-out, line-in and mic-in
* 2 audio jacks for center/bass and rear out

I/O Connectors
* 2 connectors for 4 additional external USB 2.0/1.1 ports
* 2 connectors for 2 external IEEE 1394 ports
* 1 front audio connector for external line-out and mic-in jacks
* 1 connector for an external game/MIDI port
* 2 internal audio connectors (CD-in and AUX-in)
* 1 S/PDIF connector for optical cable connection
* 1 connector for IrDA interface
* 4 Serial ATA connectors
* 2 IDE connectors
* 1 floppy connector
* 2 ATX power connectors (20-pin and 4-pin 12V)
* 1 Wake-On-LAN connector
* 1 opened chassis alarm connector
* CPU fan, chassis fan and 2nd fan connectors

Expansion Slots
* 1 AGP slot
* 5 PCI slots

Compatibility
* PCI 2.2 and AC '97 compliant
* Intel AGP version 3.0

PCB
* 4 layers, ATX form factor
* 30.5cm (12″) x 24.4cm (9.6″)
Package Contents
The Infinity System Board
User's Manual (in 5 languages)
RAID Manual
Two Serial ATA data cables
One IDE cable for ATA/33, ATA/66 or ATA/100 IDE drives
One 34-pin floppy drive cable
One I/O shield
One "Mainboard Utility" CD
One "Silicon Image Sil3112A RAID Drivers" diskette
One large motherboard layout and guide sticker
As I alluded to in the intro, the Infinity series is marketed towards users who want great features but do not want to break the bank to get them. That is why the 865PE Infinity package isn't full of extras. You basically get what you need, and that's it. There is only one IDE cable unfortunately, but the large motherboard layout and guide sticker is a nice little extra. I'm not sure where you'd stick it, but I bet a few of you out there would find a great use for it. As I mentioned in the MSI Neo2-FIS2R review, I really dislike the cheap, flimsy I/O shields, but that's what DFI has included here.

Board Layout and Installation
---
I used the exact same hardware and case that I used in my MSI Neo2-FIS2R (another 865PE board) for this review. Once again, I have very little bad to say about the layout of the board. I like the red PCB, and overall the layout is quite logical and not too cluttered. The only complaint I have is about the placement of the CD-in and AUX-in connectors, which are located 'below' the PCI slots. This is a hassle obviously if you for some reason need to plug in or unplug a CD-ROM audio cable, but you have PCI cards in the way. Admittedly, this might not affect too many users, but it's worth noting nonetheless. You can click the thumbnail below for a higher resolution (1024×768) shot of the board if you want to see it a little closer up.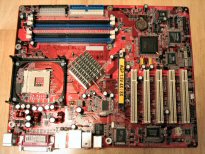 Now that you have seen it up close, here are some more shots of the 865PE Infinity, including shots of each corner of the board so that you can see how it's really laid out. As I said, I had no issues with installation. Everything went smoothly.
| | | |
| --- | --- | --- |
| Another Pic of the Entire 865PE Infinity Board | Here's One Half of the Board | The Other Half of the Board |
| | | | |
| --- | --- | --- | --- |
| PCI Slots, CD-IN, AUX-IN, Etc. | DIMM Slots, IDE Connections, Floppy Connection, Main Power Connection, Etc. | SATA Connections, Front Panel Headers, 1 Fan Header, USB Headers (Yellow), Etc. | I/O Connectors, CPU Socket, 4-Pin 12V Power Connector, NB Heatsink, Etc. |
This board includes three fan headers, two USB 2.0 headers for four additional external USB ports and two IEEE 1394 headers for two external FireWire ports. One thing a lot of users will like to see is that the back I/O panel actually includes a FireWire connection. I haven't seen that included on many boards, so it's definitely worth pointing out.

In addition to the FireWire port, the I/O panel includes four USB 2.0 ports and a lot of audio ports, including two S/PDIF RCA jacks (S/PDIF-in and S/PDIF-out), line-out, line-in, mic-in, center/bass and rear out.
Not only was hardware installation trouble-free, but software and driver installation was also as easy as it should be. I had no issues installing the Intel chipset drivers, C-Media audio drivers, Realtek Gigabit LAN drivers or the hardware monitor utility.
BIOS and CMOS Reloaded
---
The 865PE Infinity features the Phoenix AwardBIOS, and the date of the BIOS used in this review is 8/8/03. As I am writing this, the 8/8/03 BIOS is the only one available. Just as with the LANParty series, DFI includes the "Genie BIOS" for overclocking and tweaking. Here's a list of tweak ranges.
CPU Clock (FSB): 200 – 400MHz (1 MHz increments)
AGP/PCI/SATA Clock: Disabled, 66/33/100MHz, 80/40/100MHz, 72/36/100MHz
CPU Voltage: 1.5250 – 1.9750V
DIMM Voltage: 2.6 – 2.9V (0.1V increments)
AGP Voltage: 1.5 – 1.8V (0.1V increments)
Now, let's take a closer look at the BIOS. I apologize that some of the pictures are blurry.
| | | |
| --- | --- | --- |
| Main BIOS Menu | Advanced BIOS Features | Advanced Chipset Features |
| Integrated Peripherals | PC Health Status | Genie BIOS Setting |
| Genie BIOS – AGP/PCI/SATA Clock | Genie BIOS – CPU Voltage | Genie BIOS – DIMM Voltage |
If you've seen a DFI BIOS before, then there's nothing too surprising in these pictures to you. One thing that you may have noticed though is the CMOS Reloaded main menu item. I'll discuss this more shortly, but first I'd like to briefly mention another feature that may have caught your eye in the Genie BIOS screen — Super PATCH. DFI has enabled Intel's PAT (Performance Acceleration Technology) function and labeled it Super PATCH. It's funny to see all the different names companies have come up with to call PAT on their Springdale boards. If your hardware is good enough to handle this more stressful setting, you will see a nice boost in performance with Super PATCH enabled.
CMOS Reloaded
CMOS Reloaded is perfect for those of you who have a couple main configurations that you like to use. Maybe you have one CMOS configuration for surfing the Web and doing homework, and you have another higher performance config for gaming. This can easily be achieved with CMOS Reloaded. You just set everything the way you want it for the first configuration, and then you go to the CMOS Reloaded screen and select "Backup." Press Enter, and then it saves your CMOS settings. You also have the option to "Rename" it; something like "Normal Everyday Work" makes sense. You could then find the best settings for the highest performance your hardware will allow, and then follow those same steps. Maybe this time you name the configuration "Overclocked for Gaming." Now, whenever you boot up your PC, you can just go into the BIOS setup screen, choose CMOS Reloaded and then load your BIOS of choice for your specific use at that time. Pretty handy!

System Peformance
---
To test the system performance of the DFI 865PE Infinity mainboard, I used SiSoftware's Sandra 2003 and Futuremark's PCMark2002. I will be comparing it directly to the recently reviewed MSI 865PE Neo2-FIS2R. In all benchmarks, HyperThreading was enabled.
I'm going to compare both boards side-by-side with PAT disabled and with it enabled. Recall that DFI has labeled the PAT feature "Super PATCH." Also recall from the MSI Neo2-FIS2R review that MSI's board also supports PAT (called "MAT" by MSI) by turning the Performance setting in the BIOS to Turbo or Ultra-Turbo. The other two options, Slow and Fast, do not enable MAT. In the tests with MAT disabled, Performance was set to Fast. In the tests with MAT enabled, Performance was set to Turbo. My test system is listed below.
Test System:
Case: Kingwin KT-424 Aluminum Case
Processor: Intel Pentium 4 2.4GHz "C" 800MHz FSB (provided by EnvisionCS.net)
Memory: Corsair TWINX1024-4000 (2x512MB 500MHz DDR)
Hard Drive: Maxtor 80GB DiamondMax Plus9 Ultra w/ 8MB Buffer
Optical Drive: Plextor PlexWriter 12/10/32A
Video Card: Leadtek GeForce4 Ti4600
Power Supply: Kingwin KWI-450WABK 450W
NVIDIA Drivers: Detonator 45.23
DirectX Version: 9.0b
SiSoftware's Sandra 2003
FSB (front side bus) was set at default 200MHz for the following Sandra tests. With Super PATCH enabled on the DFI board, I had to adjust some BIOS settings to maintain stability. Memory timings were set to 3-4-4-7, DIMM voltage was set to 2.8V and CPU voltage was set to 1.550V. Other settings were default unless otherwise noted.
Memory – PAT Disabled
Int Buffered

Motherboard

Score

DFI 865PE Infinity
4401
MSI 865PE Neo2-FIS2R
4476

Float Buffered

DFI 865PE Infinity
4423
MSI 865PE Neo2-FIS2R
4486
Memory – PAT Enabled
Int Buffered

Motherboard

Score

DFI 865PE Infinity
4822
MSI 865PE Neo2-FIS2R
4740

Float Buffered

DFI 865PE Infinity
4758
MSI 865PE Neo2-FIS2R
4698
With PAT disabled, the two boards are very close. The Neo2 barely edges the Infinity out. The tables turn though when PAT is enabled. Then, it's the Infinity's turn to take a slight lead over the Neo2.
CPU Arithmetic – PAT Disabled
Dhrystone

Motherboard

Score

DFI 865PE Infinity
7268
MSI 865PE Neo2-FIS2R
7509

Whetstone

DFI 865PE Infinity
4629
MSI 865PE Neo2-FIS2R
4475
CPU Arithmetic – PAT Enabled
Dhrystone

Motherboard

Score

DFI 865PE Infinity
7399
MSI 865PE Neo2-FIS2R
7563

Whetstone

DFI 865PE Infinity
4614
MSI 865PE Neo2-FIS2R
4695
These results aren't quite as clear-cut as the memory scores. With PAT disabled, the two mainboards share victory, but then enabling PAT leads to the Neo2 beating out the Infinity, but not by much on the Whetstone score.
File System
Motherboard

Score

DFI 865PE Infinity
29914
MSI 865PE Neo2-FIS2R
30599
The scores for this test are very close. Both boards put up very nice scores around the 30,000 mark.
FutureMark's PCMark2002 – PAT Disabled
CPU

Motherboard

Score

DFI 865PE Infinity
5968
MSI 865PE Neo2-FIS2R
6047

Memory

DFI 865PE Infinity
8194
MSI 865PE Neo2-FIS2R
8678

HDD

DFI 865PE Infinity
1194
MSI 865PE Neo2-FIS2R
1205
FutureMark's PCMark2002 – PAT Enabled
CPU

Motherboard

Score

DFI 865PE Infinity
5946
MSI 865PE Neo2-FIS2R
6012

Memory

DFI 865PE Infinity
8845
MSI 865PE Neo2-FIS2R
9007

HDD

DFI 865PE Infinity
1194
MSI 865PE Neo2-FIS2R
1190
The results that interest me the most here are the memory scores. While the Neo2 is able to claim a lead in overall score with PAT disabled and with it enabled, look at the performance boost after enabling PAT. The Infinity's score increased by 651 while the Neo2's improvement was just over half that at 329. In some ways, the Infinity did have more room for improvement, but I find the 8% increase rather impressive. Still, the score of 9007 posted by the Neo2 can't be ignored.
Game Performance
---
Just as with the 865PE Neo2-FIS2R, I tested the 865PE Infinity's gaming performance using Quake 3 Arena's Four demo in Q3Bench and Futuremark's 3DMark2001SE (Build 330). When running these tests, anisotropic filtering and anti-aliasing were disabled, and performance was set to Quality. Version 45.23 of NVIDIA's Detonator drivers were used.
These charts will only show results with PAT disabled due to a problem I ran into with the Infinity board. Even after relaxing memory timings and increasing voltages, my system locked up each time I tried to run 3DMark2001. It's disappointing considering the excellent boost in performance shown in the charts above. I am working with DFI to figure out the problem, and I will update this review with any information I can share about it. Keep in mind that it might be my hardware causing an issue, but it could also be the board. As far as I know, DFI has gotten great results with Super PATCH enabled, so maybe I'm having bad luck. I just can't say with certainty… Now, let's move on to some results.
Update: It appears that the problem with Super PATCH being enabled was most likely due to the TWINX1024-4000 DDR and not the Infinity board. I swapped the TWINX1024-4000 with two 256MB Corsair XMS3500 modules, and the system did not lock up while trying to run 3DMark2001. DFI experienced similar problems with Corsair's TWINX1024-4000, but they said XMS3200 works fine for Super PATCH and overclocking, as do other brands, such as Geil.
3DMark2001 SE (Build 330)
1024×768 – NoAA / NoAF

Motherboard

3DMarks

DFI 865PE Infinity
12517
MSI 865PE Neo2-FIS2R
12924

1280×1024 – NoAA / NoAF

DFI 865PE Infinity
10056
MSI 865PE Neo2-FIS2R
10408
Quake 3 Arena (Four Demo)
1024×768 – NoAA / NoAF

Motherboard

FPS

DFI 865PE Infinity
244.9
MSI 865PE Neo2-FIS2R
254.3

1280×1024 – NoAA / NoAF

DFI 865PE Infinity
203.2
MSI 865PE Neo2-FIS2R
209.3
It's quite clear that the MSI 865PE Neo2-FIS2R edges out the 865PE Infinity in the game benchmarks when PAT is disabled. Keep in mind that the MSI board is set to "High" (which is the second level, after "Low") in its Performance setting, which could very well be why it's pulling ahead of the Infinity here. DFI's board only allows for the enabling/disabling of PAT. Unlike the Neo2-FIS2R, there is no Performance setting associated with it.

Overclocking
---
After seeing that enabling Super PATCH hindered system stability (i.e. 3DMark2001 would lock up), I wasn't expecting too much in the overclocking arena with the Infinity. I was pleasantly surprised though… but I was also let down again. While I was easily able to achieve CPU clocks of 225MHz (900MHz), 250MHz (1000MHz) and 260 (1040MHz), the system did so with the apparent sacrifice in audio. Somehow these overclocked settings disabled the onboard audio device. This is another issue I'm trying to get an answer about from DFI.
While trying to overclock, it is important to leave Super PATCH disabled so that it doesn't hinder your efforts. I relaxed the memory timings to 3-4-4-7 while overclocking. Although I set the AGP/PCI/SATA clock to 66/33/100, my Leadtek Ti4600 didn't seem to like the FSB cranked up very high. It makes me wonder if the AGP clock really was locked at 66. Even though the system wasn't 100% usable after overclocking due to the lack of sound, I'd still like to present some numbers for you to look at. Just keep the problems I mentioned in mind as you look at them.
Update: DFI has informed me that they will fix the audio issue with a BIOS revision very soon. It turns out that the audio was basically getting overclocked as well, which resulted in the device not starting.
FutureMark's PCMark2002
CPU

Setting

Score

200MHz FSB
5968
225MHz FSB
6701
250MHz FSB
7447

Memory

200MHz FSB
8194
225MHz FSB
8690
250MHz FSB
9563
The performance increase was quite similar with the Sandra tests. At 225MHz, the game performance increased by 5.5-7.5%. At 250MHz, the performance dropped in 3DMark2001, and at times, it was locking up. This is what made me suspect that the AGP clock is not staying set at 66MHz.
Obviously, your overclocking mileage will vary depending on what hardware you have, but I think the potential of this board is excellent. I could see a lot of people having fun trying to sqeeze out the best performance with Super PATCH and overclocking. Sounds like a good challenge!
Conclusion
---
DFI's 865PE Infinity board may have a few wrinkles, but I think with a BIOS revision, they will all be ironed out very soon. Regardless, it is a good performing board that turns into an awesome performing board once you enable Super PATCH. Super PATCH makes it into one of the (if not the) best performing Springdale boards that you can get for around $120 (ZipZoomFly.com — formerly GoogleGear — currently sells it for $121). The boost in performance that Super PATCH tends to provide is undoubtedly impressive.
In addition to Super PATCH, DFI is strongly marketing the CMOS Reloaded feature, which I found to work as advertised. It's a neat feature that will appeal to many enthusiasts, especially those who experiment a lot with different settings and those who wish they could have a couple of main configurations to easily switch between. As a consumer and a reviewer, I appreciate DFI's effort to innovate, and I can't wait to see what else they come up with. I'm also looking forward to seeing what the competition comes up with in the near future in response to this.
Final Score
---
Performance

8

The performance with Super PATCH enabled is superb (like a 9+), but without it, the board is average (around a 7). So I'm giving it an 8 since that's right in between.
Features

8

Super PATCH and CMOS Reloaded are the two biggest features that this board sports. Users will definitely have fun with these. Gigabit ethernet, 6-channel sound, 4 SATA ports, RAID and other features are nice additions as well. Overclockers will appreciate the ease of use of Genie BIOS.
Bundle

7.5

This is a limited bundle, which DFI chose to make the package more affordable. The trade off will be worth it to many users who don't want the extra fluff.
Installation

9

Installation was simple and trouble-free, just as it should be. Overall, the board layout is good.
Price / Value

9

With a price around $120, the DFI 865PE Infinity is a great buy for a high performing Springdale mobo. If you want high performance without a high price and you don't need a bunch of extras, then you should consider this board!
Final Score: 8.5
The innovation and thought put into this new Infinity board is easy to appreciate. Super PATCH and CMOS Reloaded will put a smile on the face of many users. A BIOS revision should help this already good product get even better.