Small size, fast reads, and multi-formats make this device a winner!
Introduction
---
Crucial has been making memory modules for the PC industry for many years. Over the last couple of years, though, they have expanded into the video card, flash disk , networking, and I/O device markets.
This review looks at their new Hi-Speed USB 7-in-1 Card Reader. Flash memory is a great development within the PC industry, but the plethora of devices and formats can make it difficult to organize and keep track of all your memory cards. Chances are that your current or future still or digital camera, MP3 player, cell phone, and PDA will all require some type of flash memory and unless you limit your choices to a single format you're going to end up with multiple cards of varying types. That means you could have at least half a dozen card readers vying for a USB slot and desktop space.
Multi-format card readers can make life simpler when sharing different types of flash memory. A good, fast reader takes up just one USB slot and one small spot on your desktop while simplifying your compatibility issues. Crucial's Hi-Speed USB 7-in-1 Card Reader fits that need with USB 2.0 support and small size. How small? It can easily fit into a shirt pocket or a notebook PC case. It is cleary designed for ease of use with its flat, compact design and flip-forward face plate.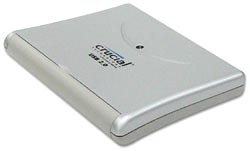 Features & Specifications
---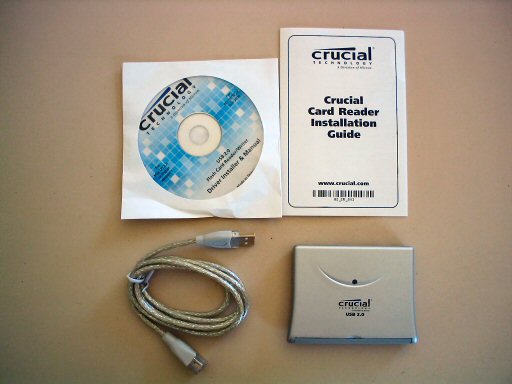 Transfer rates up to 12Mbps (USB 1.1)/480Mbps (USB 2.0)
Supports Windows 98, Windows 98SE, Windows ME, Windows 2000, Windows XP, and Mac OS 8.6, 9.x, and X (from 10.1.2)
Compatible media

CompactFlash Type I/II
IBM Microdrive
SmartMedia
MultiMediaCard
Secure Digital
Memory Stick
Memory Stick Pro (1 bit)
Features true Plug & Play and hot-swapping capability.
Easily view and edit images, files, music, and video directly on the reader.
Compact and slim, features multiple slots and can read and write various types of flash memory.
For use with notebooks, digital still/video cameras, MP3 players, PDAs, cellular phones and similar devices.
Specifications:

Dimension: 101mm x 76mm x 14.5mm
Weight: 2.29 ounces
Use & Performance
---
The 7-in-1 Card Reader plugs into an available USB 2.0 or 1.1 slot and is then ready to go. The reader can use all four of its memory slots at the same time, assigning a drive letter to each socket. This lets you easily copy data from one form of storage device to the other.
To test performance of the Hub we used SiSoftware's Sandra MAX3! File System Test on the 7-in-1 Card Reader and compared it to a USB 1.1 SanDisk card reader. The storage medium used for the testing was a SanDisk 32MB Compact Flash Card. The W@LK Key was tested on a USB 1.1 and then with the Belkin USB 2.0 Hub. USB 2.0 definitely gives the little flash drive a speed boost!
SanDisk USB 1.1 Reader: 894Kbs
Crucial 7-in-1 USB 2.0: 1460Kbs
Upgrading to this reader if you currently have a USB 1.1 device obviously would give you a significant speed boost. Couple that with the ability to read and write to so many media types and you end up with a truly useful device.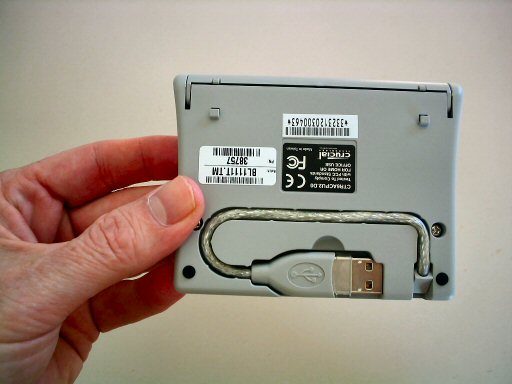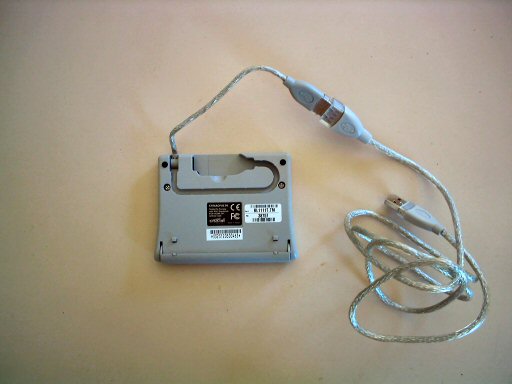 Conclusion
---
Crucial's foray into another product line has yielded more success and great product. It is listed at US$25.99 on Crucial's website and is a great value for the speed and multi-format support it delivers. However, there is a concern that the front flip-down panel could get easily broken off if the Reader is subjected to wear and tear. This may not happen in a pure desktop environment, but the road warrior who travels with a Reader may find himself flapless.
For speed, functionality, value, and design we award the Hi-Speed USB 7-in-1 Card Reader a 9 out of 10 and the Golden Bear Award.