If you have a digital camera, PDA or other device that uses flash cards, then you will definitely want to consider getting a flash card reader if you don't already own one. This review covers an internal / external 9-in-1 card reader from Atech Flash. It can be installed in a 3.5″ bay or used as an external reader / writer.
Introduction
---
A flash card reader is just one of those things in life that you really don't need, but once you get your hands on one, you won't want to live without it. You can of course buy card-specific readers, such as a CompactFlash (CF) card reader or a SecureDigital card reader, or you can cover as many bases as possible with a multi-format reader. I prefer the second approach because it keeps all the doors open, and I won't have to buy multiple card-specific readers if I ever get different kinds of flash media. Currently, I only own a 16MB and 128MB CF card and a 64MB SD card, but I can easily see myself needing to be able to read a Memory Stick or Smart Media card some day.
Flash card readers of course have to connect to your PC somehow, and usually that's done through a USB interface. Nowadays, you are hopefully looking for USB 2.0 (or Hi-Speed) certified devices so that you can move up to the 480 Mb/s (Mb = Megabits) data transfer rate. USB 1.1 is just agonizingly slow at 12 Mb/s, especially after you have experienced 2.0 speeds. A lot of older media won't really be able to hit those speeds, but newer media is getting faster and faster to really take advantage of that USB 2.0 potential.
We haven't looked at very many flash devices recently, but several months ago I did take a look at the SanDisk ImageMate 6-in-1 USB 2.0 card reader. I was very happy with it, and I have used it a lot in the months since that review. I've been wanting something else though — an internal multi-format reader. With the slow death of the floppy drive, an internal card reader can naturally fill that 3.5″ bay void if you opt not to install a floppy drive in your system.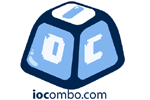 Thanks to ioCombo.com, I don't have to wish for an internal solution any longer. They sent me an Atech Flash PRO 9 USB 2.0 Internal/External 9 In 1 Card Reader.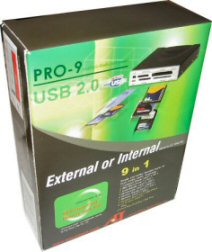 One exciting thing about this Atech PRO 9 model is that it can easily be installed internally or be used as an external reader. Another great thing is that it supports the two newest formats — xD-Picture Cards from Fuji and Memory Stick Pro cards. Read the rest of the review to learn more about this cool product.
Features and Specifications
---
Features:
Ultra High speed USB 2.0 interface – up to 480 Mb/s transfer rate to access to your flash media cards.
Backward compatible with USB 1.1 interface.
Front IEEE 1394 (FireWire) pass-through port – for easy connection to FireWire devices, such as Digital Video (DV) camcorders, FireWire Hard Drives and etc.
4 independent card slots – allow you to access 4 different media cards concurrently and direct file transferring among media cards in different slots.
Compatible with newer xD-Picture Card and Memory Stick PRO formats.
Fully Plug and Play – No software driver needed on Windows ME, XP or later.
USB powered – no additional power adaptor or battery required.
External or Internal Use – can be installed into a computer 3.5″ drive bay or use externally.
Available in Beige, Silver and Black.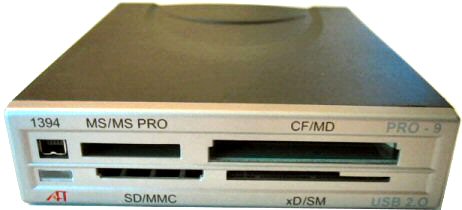 Specifications:
Dimension (W x H x D): 4.02 inch x 1 inch x 4.92 inch (102 mm x 25 mm x 125 mm)
Power Requirement: 5V DC (USB Bus powered)
Transfer rate:

Up to 480 Mbps (Via USB 2.0)
Up to 12 Mbps (Via USB 1.1)

Supported O/S: Windows 98 SE, Windows 2000, Windows ME (No driver required), Windows XP (No driver required), Mac OS 9.0 or higher
Supported media format:

Compact Flash (Type I & II)
IBM MicroDrive
Smart Media (3.3V)
MultiMedia
Secure Digital
Memory Stick
Memory Stick Pro
xD-Picture Card* (xD-Picture Card is a trademark owned by Fuji Photo Film Co., Ltd.)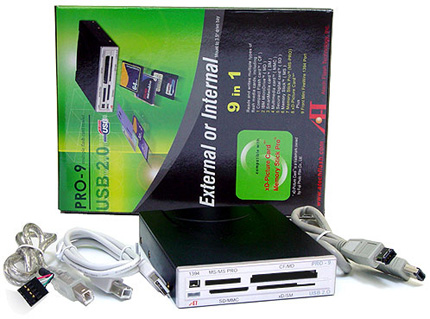 Package Contents:
PRO 9 reader unit
External USB cable
Internal USB cable
Internal IEEE1394 cable
PRO 9 setup CD
User's Manual
Strangely, the package does not include screws, but it does provide everything else you need. The unit I received is silver, but it is also available in black and beige. It's great of Atech to try to make three very common case colors available in order to make matching that case easier. If you're lucky enough to have a case that matches one of the available colors, you won't have to bust out the vinyl dye.
You may have noticed from the features that the PRO 9 unit can be used as either an internal card reader or an external reader. This may seem rather obvious to some, but I think it's important for those who may not have realized. Atech includes a nice long cable for external use.
Installation
---
As I've stated a couple times now, you could just simply use the Atech Flash PRO 9 as an external flash reader. If you choose to do this, then all you need to do is hook up the included external USB cable. Simply connect the correct plug to the back of the reader and then insert the USB plug into a USB port. Make sure it's a USB 2.0 port if you want to get full speed out of the device. You won't have to install any drivers to use the unit as long as you have Windows XP or ME. Windows 98 and 2000 users just have to insert the provided driver CD and install the drivers. It's very simple and painless.
Many of you will be looking at this unit though specifically because it is made to fit into an empty 3.5″ bay. That is definitely the big draw for me. There are other units like this available, but I haven't seen any others available in three colors and that offer 9-in-1 format capability.
You can probably gather from the pictures that the PRO 9 will install just like a floppy drive. It has three installation screw holes on each side, which should make it easy to find at least two holes that will work in your case. You can also see that the internal USB cable includes a motherboard connector that you use to connect to a USB header on your motherboard. Hopefully, you have a newer motherboard with USB 2.0, so you can really take advantage of this unit's potential. Although the instructions make it sound like you must use the provided internal USB cable for installing it in a case, I see no reason why you couldn't use the included external cable as a pass-through cable if you don't have a USB pin header on your motherboard. Just route the cable out the back of your PC and hook it into a free USB port on your back plate. That's basically the same thing as using it externally.
Either way you use the PRO 9 (internally or externally), you can see that installing it is a breeze. Plus, for those of you using it internally, you get a little bonus — the IEEE1394 (FireWire) pass-through connection on the front of the unit. In order to use this feature, you must hook the included internal FireWire cable to the back of the unit and then hook the other end into an available FireWire port, such as an internal connection on a PCI FireWire card. Unfortunately, the cable really isn't long enough to pass all the way through a full-ATX case, so if you don't have an internal connection, you might be out of luck. I don't have any FireWire devices so this really doesn't bother me.
Using the Card Reader
---
For those of you not familiar with using a device like this, I'll explain how it shows up in Windows Explorer after you hook it up. Basically, since the device has four independent card slots, it will show up as four new drive letters, as you can see below. Mine showed up as Removable Disk I, J, K and L.
The great thing about having these four independent slots is that you can actually copy data from card to card, such as from an SD card to a CF card. You can't obviously copy from one CF to another CF since there is only one CF slot, but I think you get the idea.
The front of the card reader features an LED in the lower left corner. The LED is off until you insert a card. After inserting a flash card, the LED lights green. While reading or writing, the light flashes red. It's nice and bright so you shouldn't have any problems noticing it.
Because my CF and SD card are older SanDisk models, they end up being the bottlenecks in my testing unfortunately. In other words, even though this card reader is USB 2.0 certified, my media will never be able to hit 480 Mb/s. Is it even worth having a USB 2.0 reader / writer then? But of course! You will definitely notice the increase in speed even if it doesn't show up in benchmarks, especially while viewing thumbnails of images off a digital camera's flash card in Windows Explorer or while trying to view a movie file or MP3s. Here are the results of two SiSoft Sandra 2002 File System tests, one with the CF card and one with the SD card.
| | |
| --- | --- |
| Sandra 2002 File System Test With 128MB SanDisk CF Card | Sandra 2002 File System Test With 64MB SanDisk SD Card |
So what does this mean in a real world test? Well, I transferred 27.5MB of pictures from a CF card in the PRO 9 to my hard drive, and it took just around 27 seconds to complete the transfer. That translates to roughly 1 MB/s data transfer rate, which is actually more like USB 1.1 speed. This is not the fault of the reader though. The CF card is the bottleneck here.
Conclusion
---
As I stated before, once you get a card reader, you'll wonder why you waited so long to get one. I'll add to that by saying that once you go USB 2.0, you'll wonder why you didn't get it sooner, and you'll wonder why the original USB wasn't this fast in the first place. Both of these luxuries make using those flash cards much easier and more convenient. Atech Flash's PRO 9 adds to that convenience and flexibility by being both an internal and external device.
If you have any flash cards that you use on a regular basis, I recommend that you visit ioCombo or your favorite store of choice and pick one of these units up. Don't forget it's available in black, silver and beige. I bet you are wondering how much it is, right? Well, ioCombo is selling it for about $38 right now, and that is a fair price for a great product.
Pros:
Good manual
Available in 3 common case colors – black, silver and beige
Internal or external operation
USB 2.0!!!
Small, easy to transport
Front FireWire pass-through port
Cons:
Doesn't feel as rugged/solid as the SanDisk ImageMate 6-in-1, but the lightness is a plus for portability
FireWire pass through cable is short
Because of its convenience, flexibility and great performance, I'm awarding the Atech Flash PRO 9 USB 2.0 Internal/External 9 In 1 Card Reader a 9 out of 10 and the Bjorn3d Seal of Approval!
So what are you waiting for? Contribute to the death of the floppy today! Yank out those floppy drives and put these babies in instead… or at least use the empty 3.5″ bay under that floppy drive so that the floppy knows its days are numbered. 🙂